Days 7-8: Lake Khovsgol, Mongolia
It was so peaceful and beautiful by Lake Khovsgol that we ended up camping in the snow for 2 more days. Khovsgol is quite similar to Lake Baikal- crystal blue water, white mountains in the distance, no noise, no one in sight. Just the wind brushing up against icy little waves, snow falling gently from the trees.
It got down to -12°C at night, but it was still worth going outside to see such incredible stars twinkling over the mountains and shimmering lake.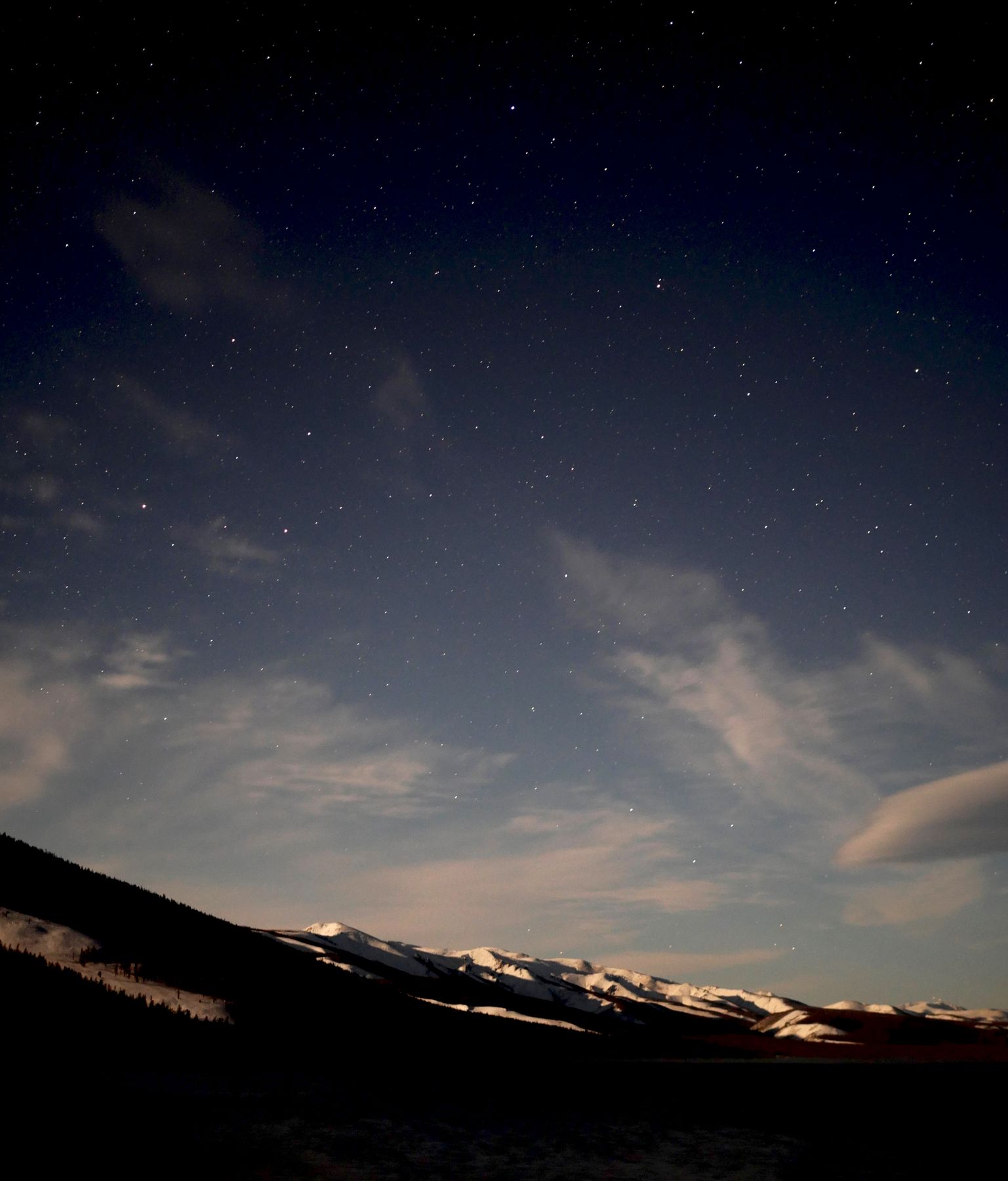 We ran out of food after 3 days of camping and decided to walk to a village called Hatgal, just south of Lake Khovsgol. We walked around this small village for over an hour, looking for a café or restaurant, but everything seemed closed! The locals seemed to understand "restaurant" and pointed us in some direction, but since it was "off-season", all we could find were little grocery stores and empty cafes with locks on the doors.
Then finally, a white guy in a truck stopped and greeted us. He was an American missionary who was doing some volunteering in Hatgal. He told us to hop in his truck and drove us a block away, to the only restaurant that was open. We would have never known that this place was a restaurant without this man. There was no sign of food, or the words хоол (food), зоог (meal), ресторан (restaurant), кафе (cafe), picture, or anything that would give us a clue that this was a restaurant. But that's great because it meant that it's real local (i.e. it's cheap!).
This is what the place looked like: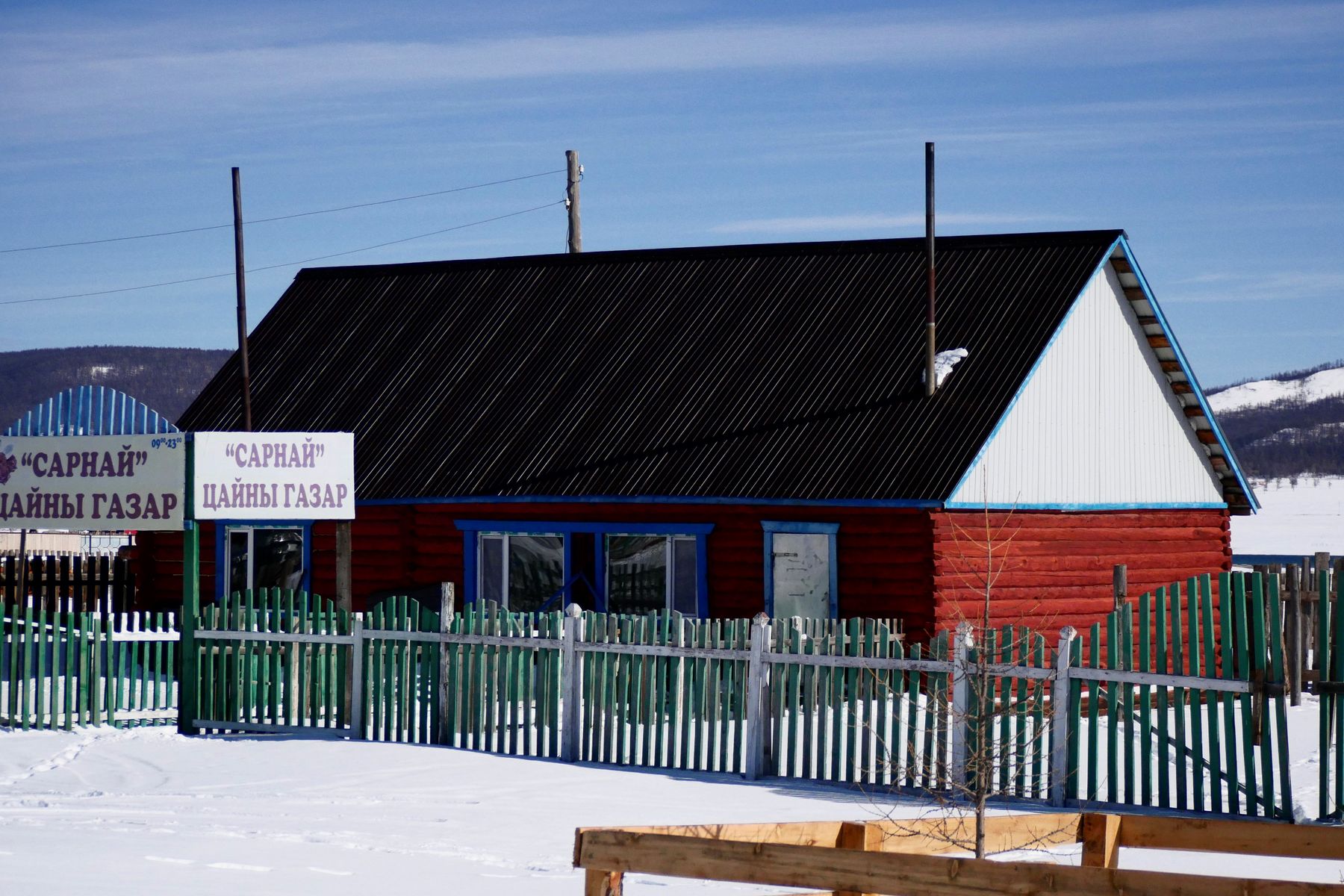 "Сарнай цайны газар" translates to "rose tea shop" :)
And then try ordering from this menu: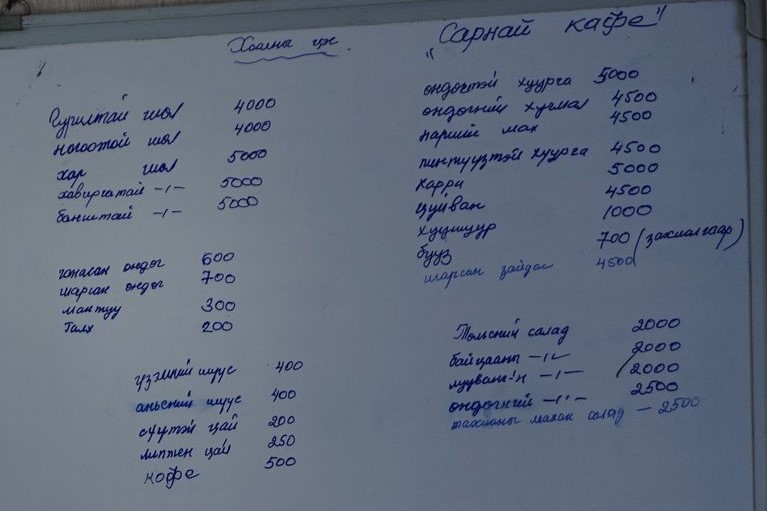 Lucky I can at least read the Cyrillic alphabet (that's usually what they use in Mongolia), and was familiar with a little bit of the food since it's similar to ethnic Siberian food.
We were starving by the time we entered this restaurant and ended up ordering so much food that we could barely move after ($3 each).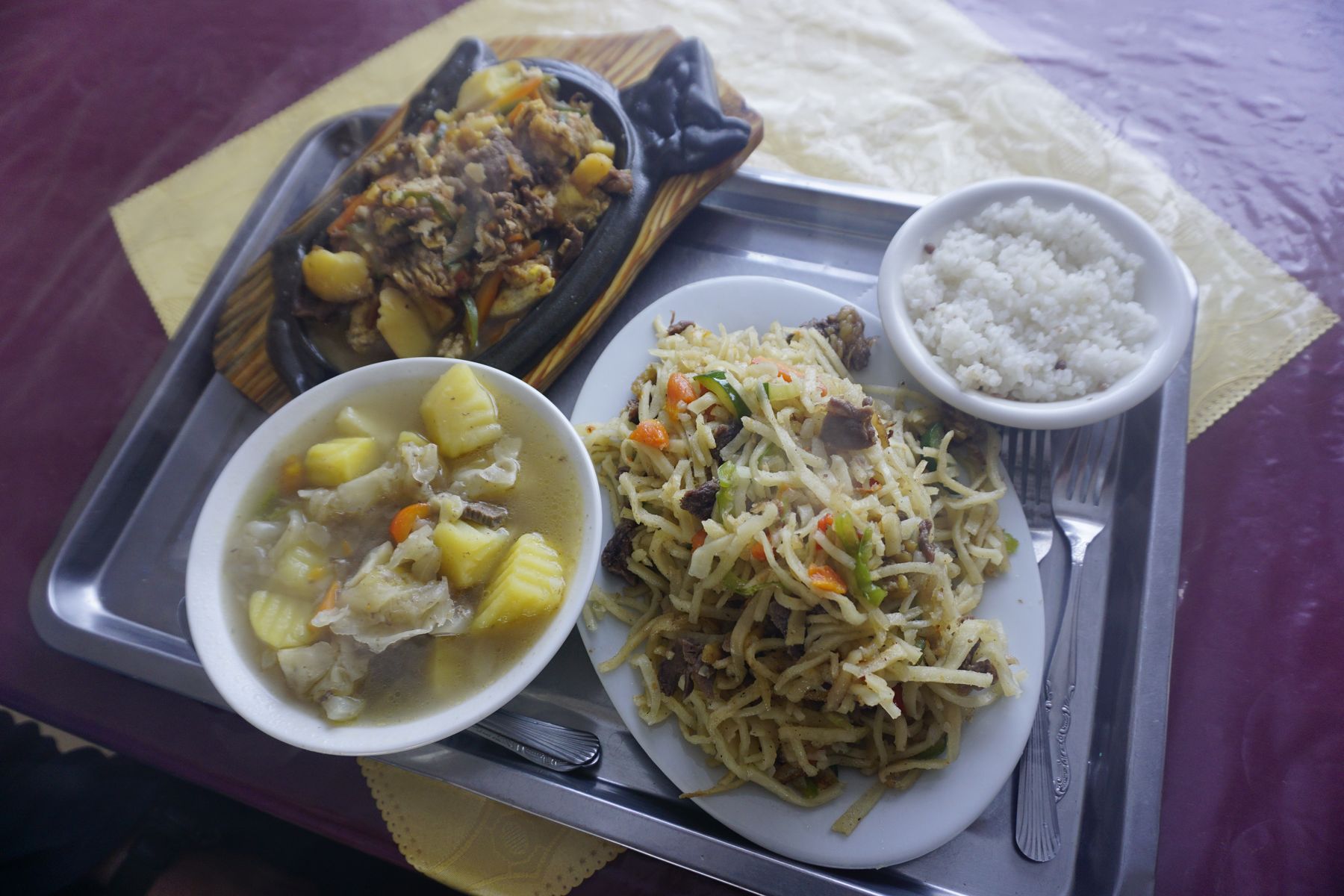 Then we decided to stay in a cabin in Hatgal ($8) so that we didn't have to move, and also so we could take a shower ($2).
Apart from in Ulaanbaatar, most houses (and yurts) in Mongolia don't have running water. That's also the case in most Russian villages, but the difference is that in Russia, almost every house in a village has a banya if they don't have running water- that's a sauna where you can also wash yourself. But in Mongolia, banya's are just not a "thing". They have public showers instead. One building with running water and a few different stalls where people take showers individually or with their little kids. Mongolian villagers go to a public shower once every week or two (or three), but we've been told that nomads will go 2-3 months without a shower in the winter. Despite that, I've never met a smelly Mongolian :) Maybe because it's too cold to sweat over here.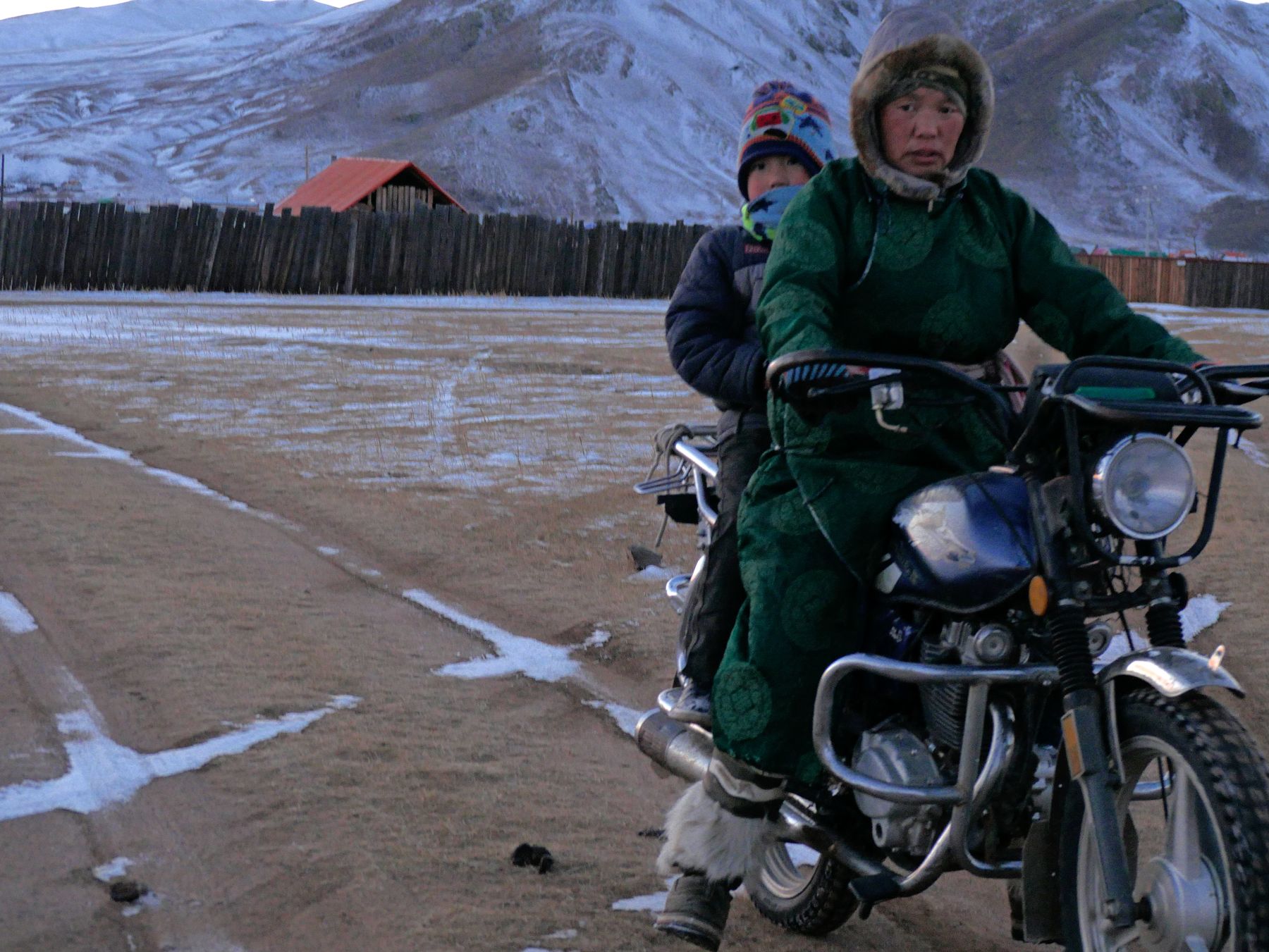 We searched for the public shower for about an hour (in like a 200 sq meter "block"), but it was closed in the middle of the day on a weekday. We waited around for a while, hoping that somebody would show up. Then when we gave up, we went to a little shop where we ran into two Swiss girls who happened to be looking for the public shower as well. Someone in the shop understood English and found the keys to the shower, then opened it up just for us.
I wonder if the locals think that white people have an obsession with showering :)
Total expenses of days 7 and 8 in Mongolia:
$8 guesthouse + $3 restaurant food + $2 shower
$13.00
Accommodation: tent and guesthouse
Food: cooked and restaurant
Total expenses so far of 8 days in Mongolia (including the price of getting to Mongolia):
$67.50
More pictures of Hatgal and Lake Khovsgol: