Part 4: Maui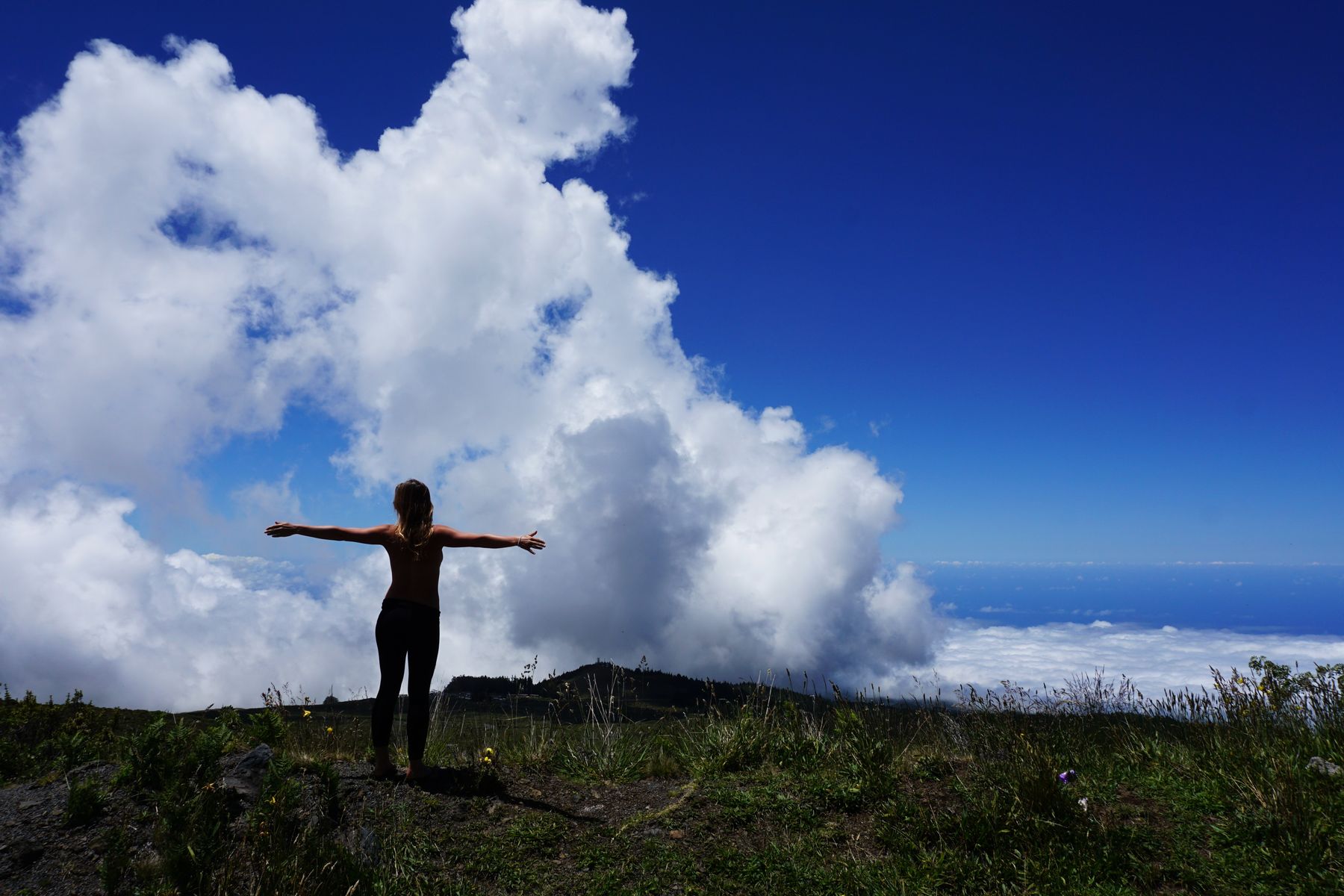 Emma went back to Australia, I got my new camera, then Aaron and I flew to Maui. Aaron had a friend named Bruce on Maui, who happened to be selling an old Honda Civic Wagon. We offered Bruce $600 and told him that we would give him back the difference once we sold it at the end of our trip. He agreed. We named the car Bruce.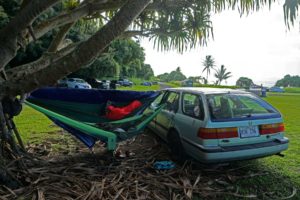 We wanted to see the infamous Haleakala sunrise (at the top of Maui's 3,000-meter volcano). You're supposed to buy tickets for this phenomenon and reserve a spot ahead of time (several weeks ahead) but we found it hard to grasp the concept of paying money to watch a sunrise. So instead of doing that, Aaron and I drove Bruce up to the top of Haleakala before sunset, watched the sunset (which was just as spectacular as the sunrise), slept in the car on top of the volcano and woke up to watch the sunrise in the morning. Nobody bothered us or asked for tickets.
I used a free app called AllTrails to look for the best hikes on the islands. You can filter the settings to your liking- top rating + greatest difficulty will usually get you a pretty bad-ass trek, like the Skyline Trail :)
And the Sliding Sands Trail-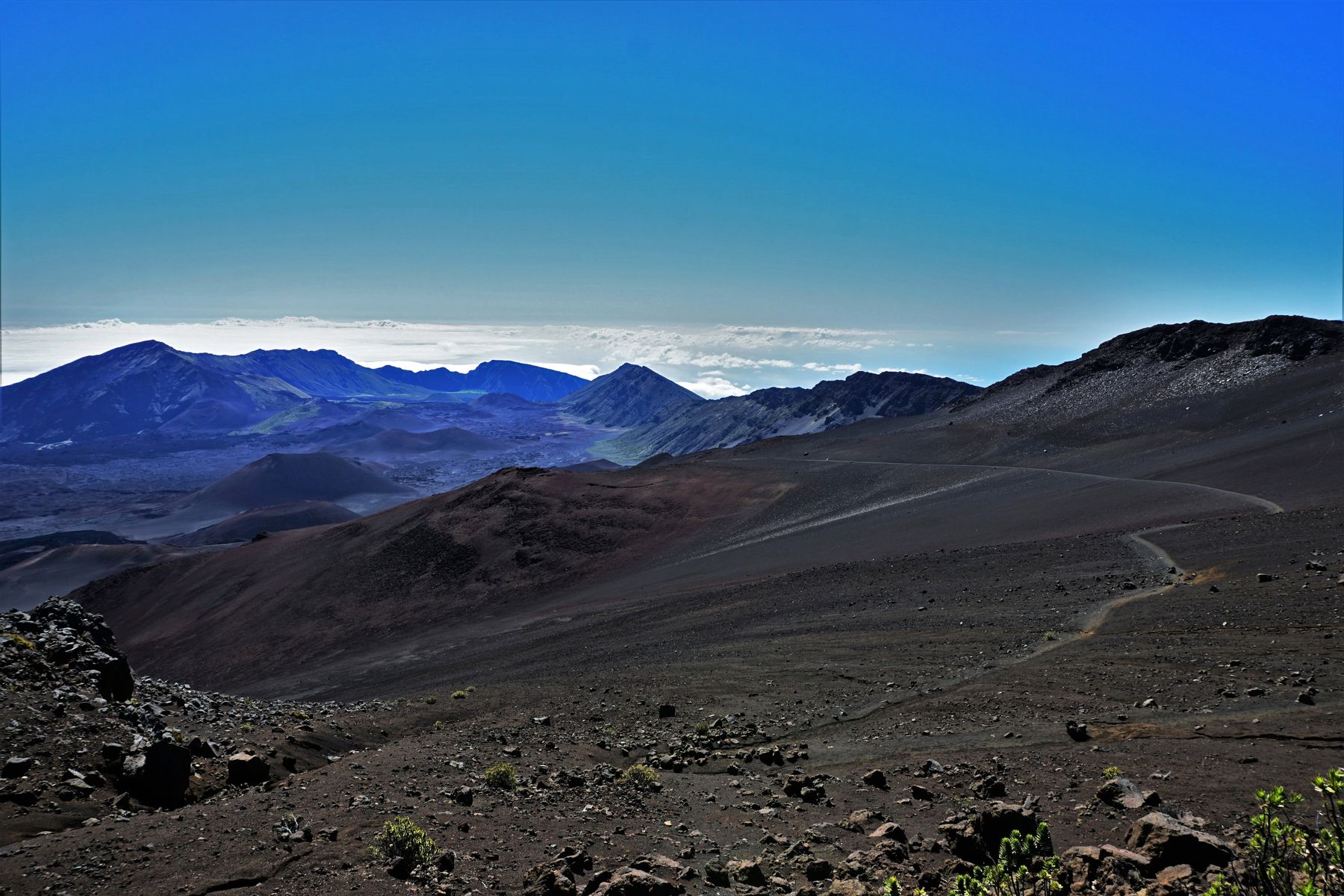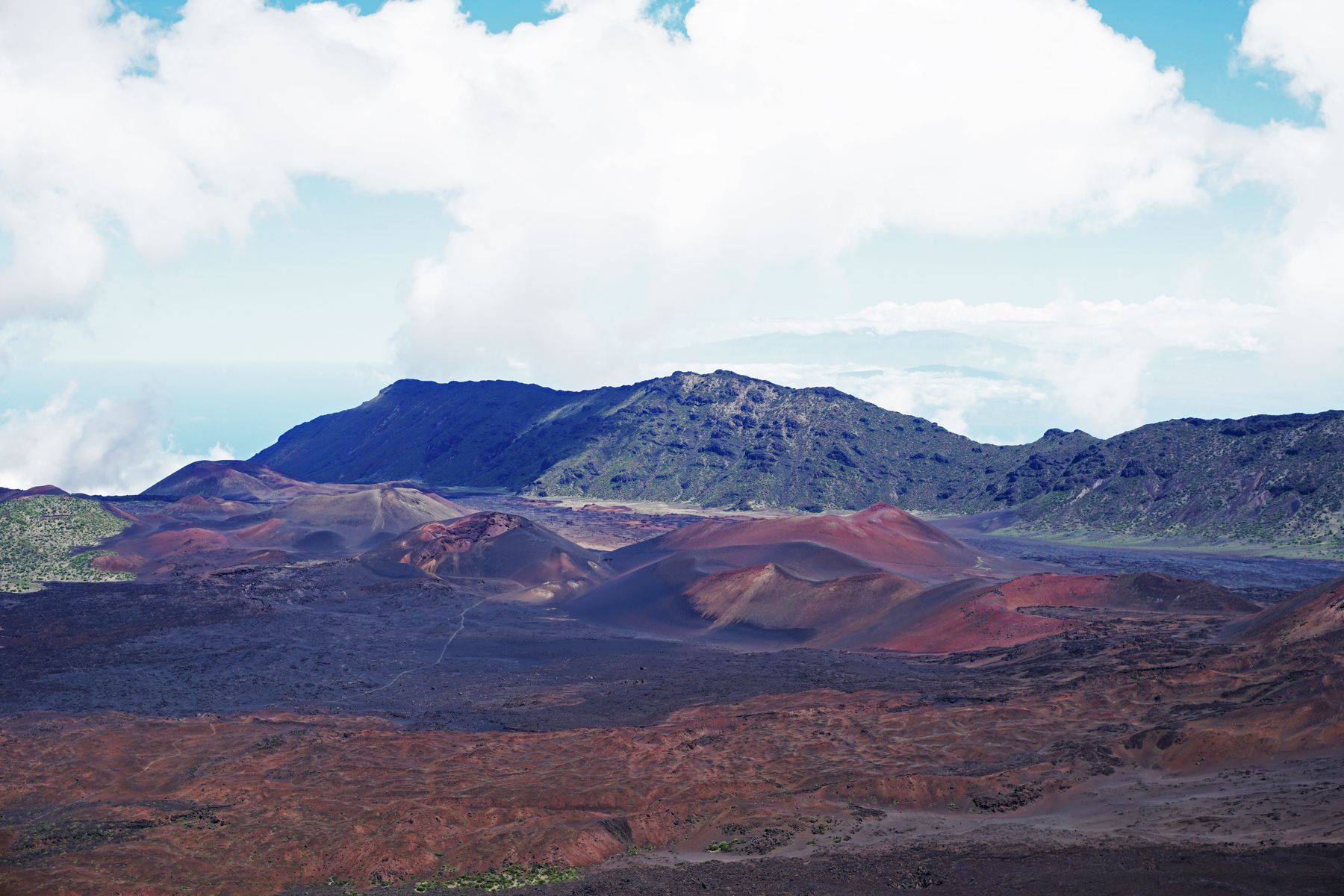 *You can see the trail through the lava field in between the two craters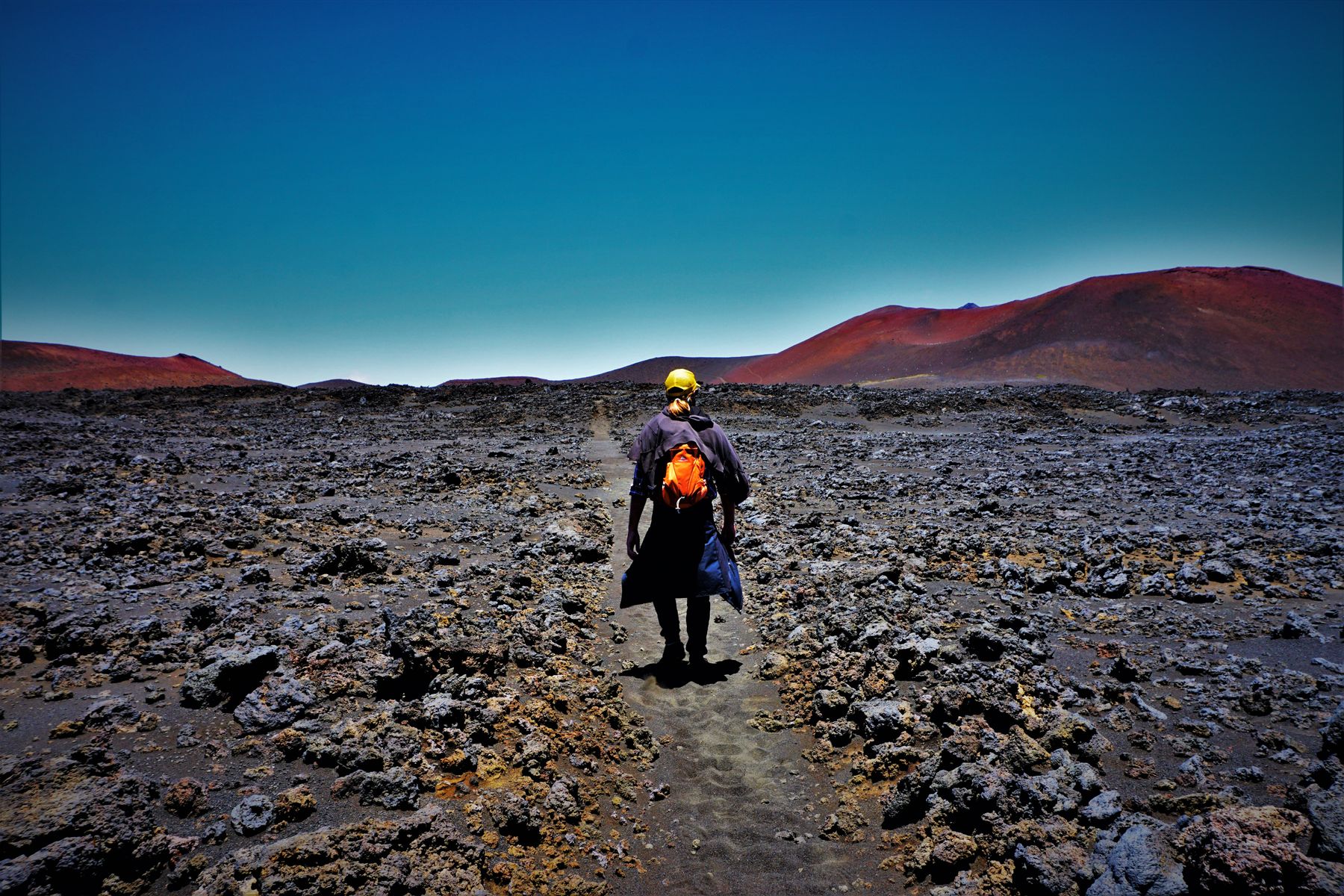 The view from the Sliding Sands Trail was something that I would imagine on Mars, not Earth. The further we walked, the more dramatic the scenery got. Every color of the rainbow appeared inside Haleakala. Dried up lava formed black rivers between the dusty colors. Rare flowers that exist nowhere else on Earth emerged from red dirt- the Silverswords. So precious and unique.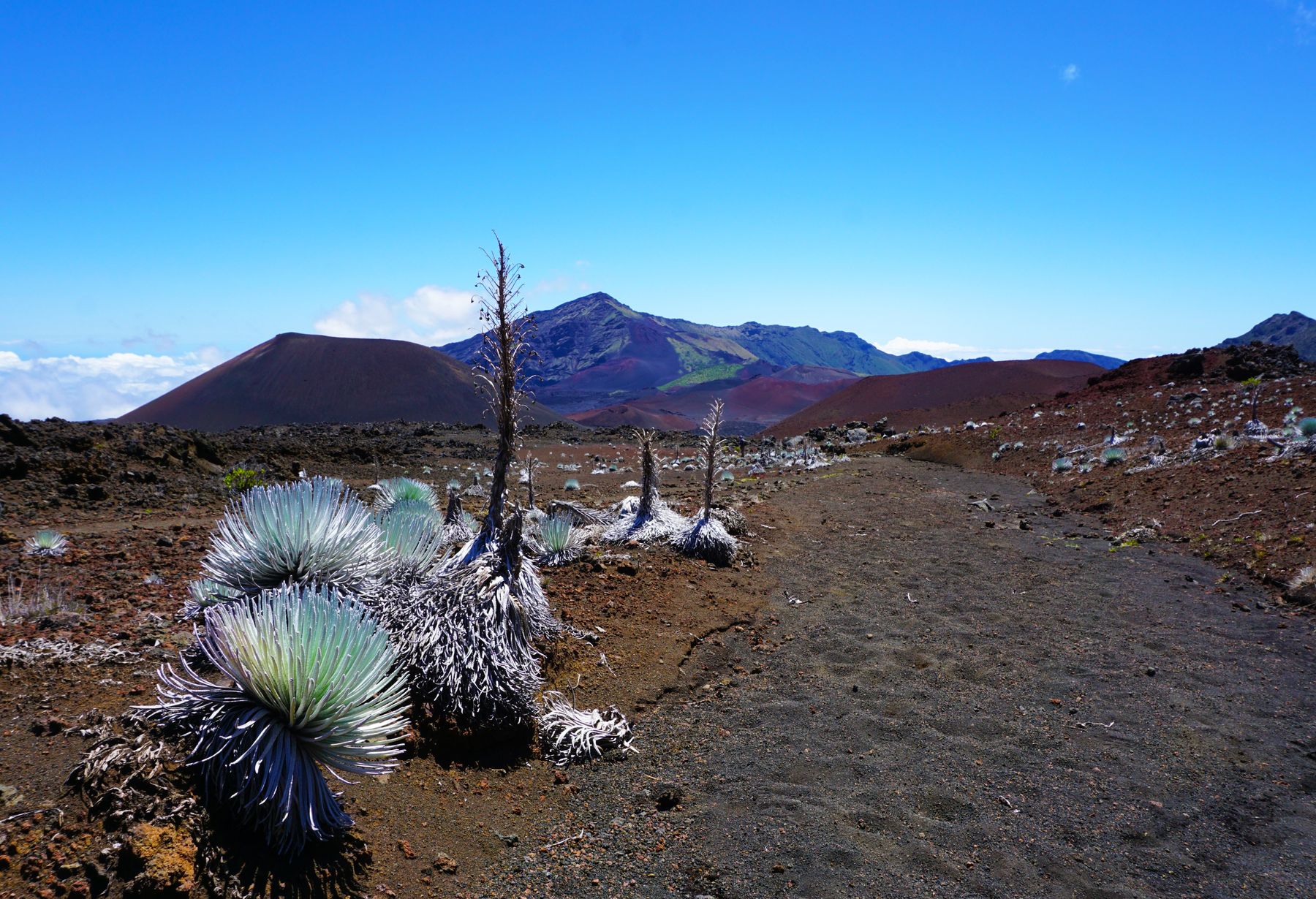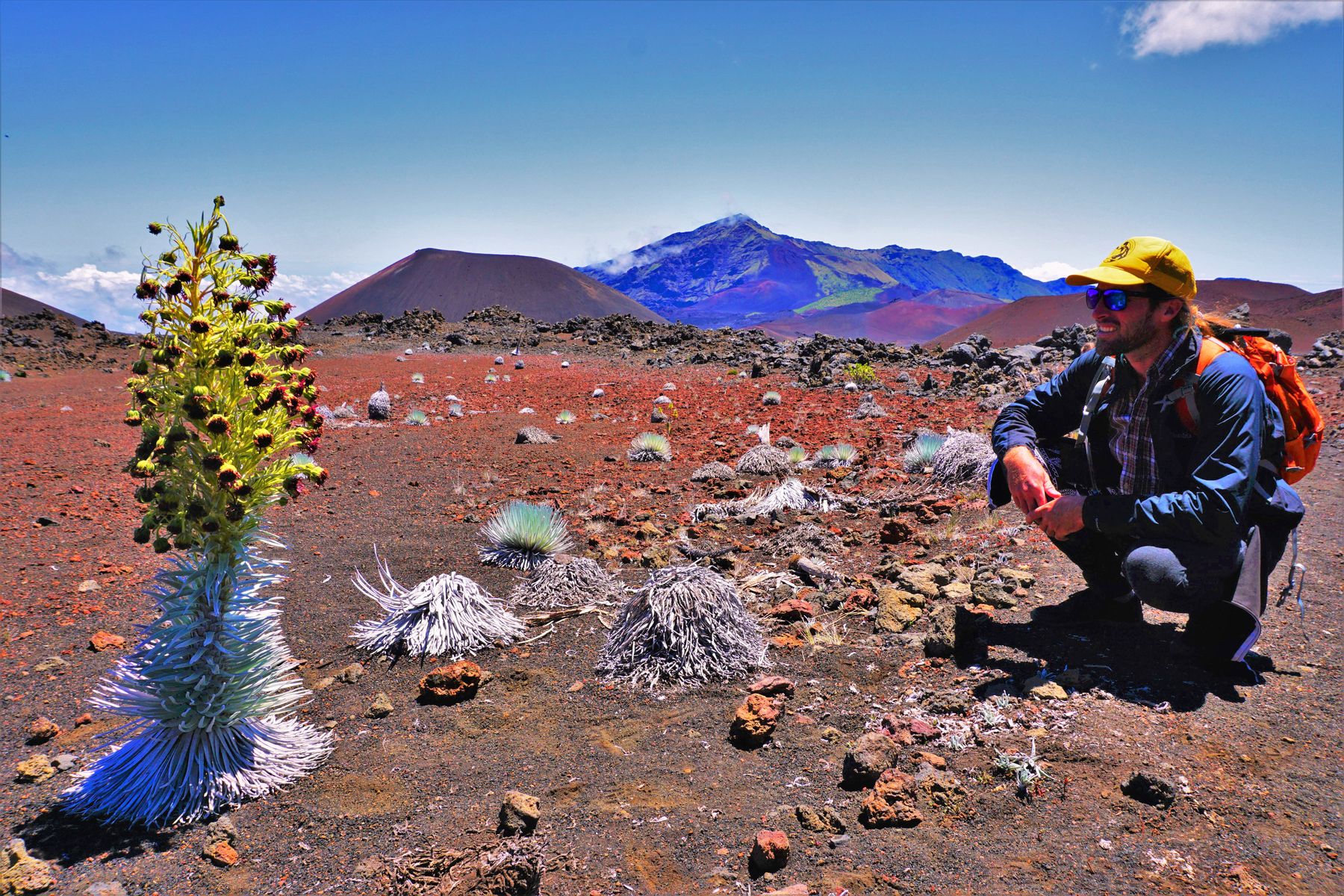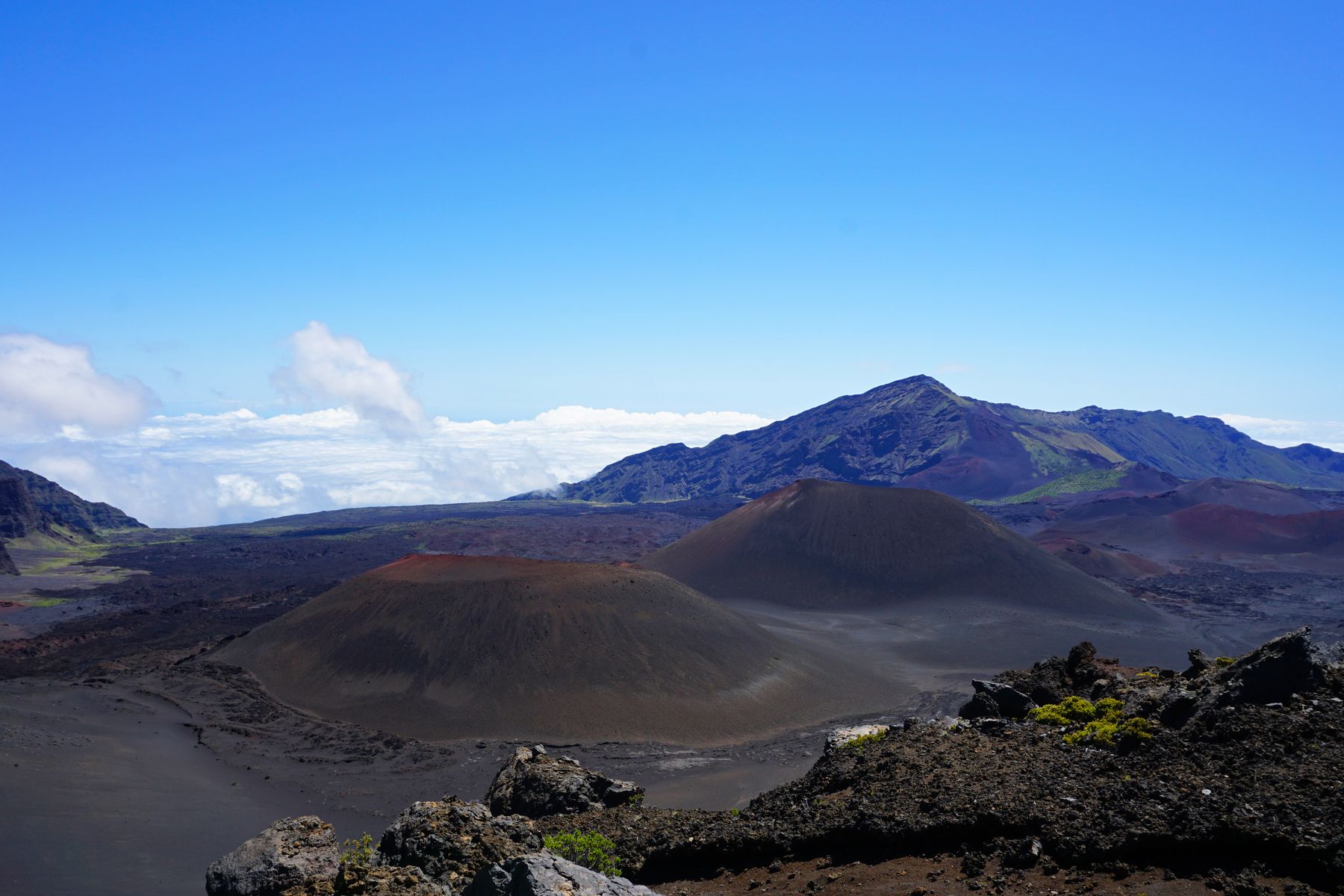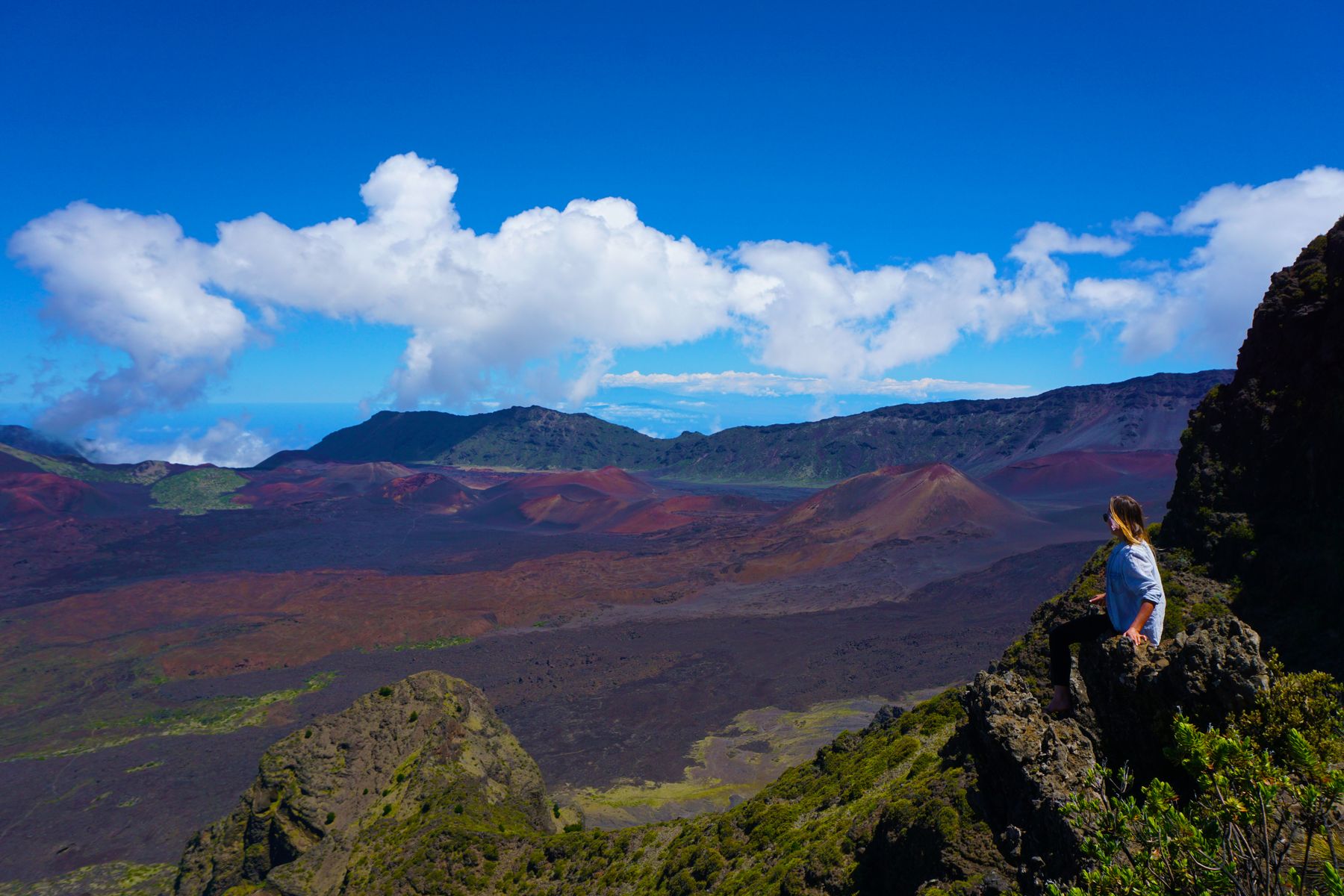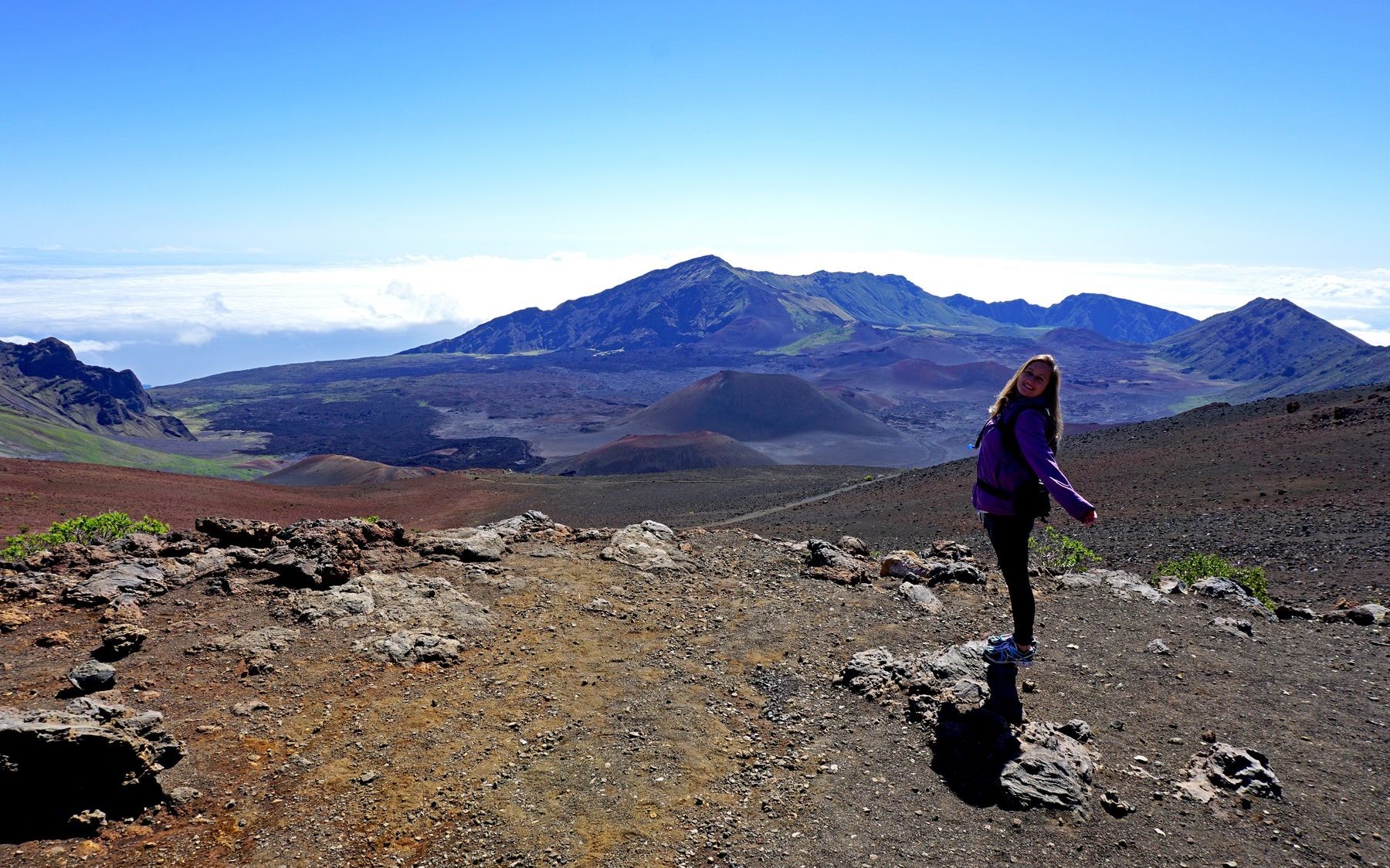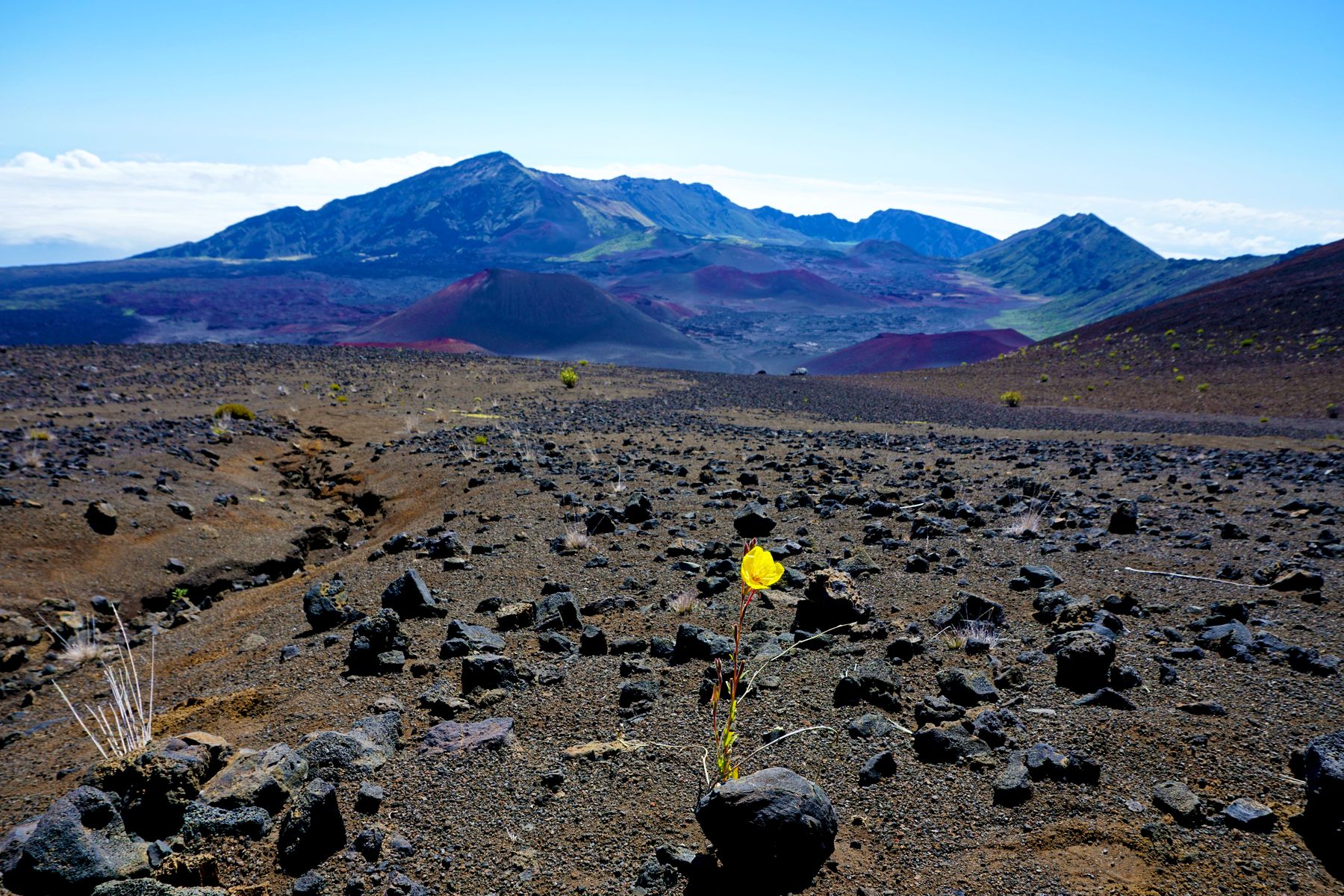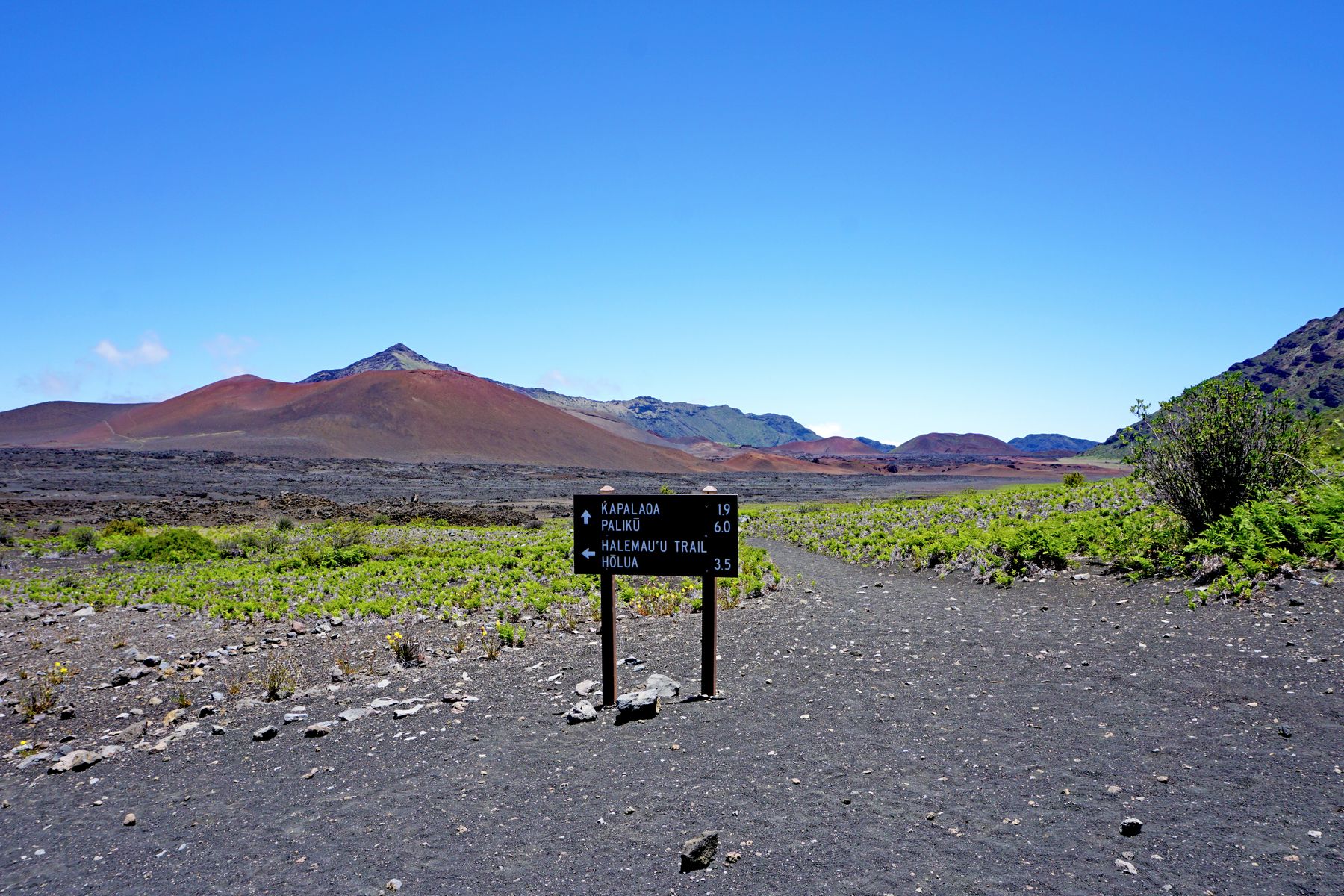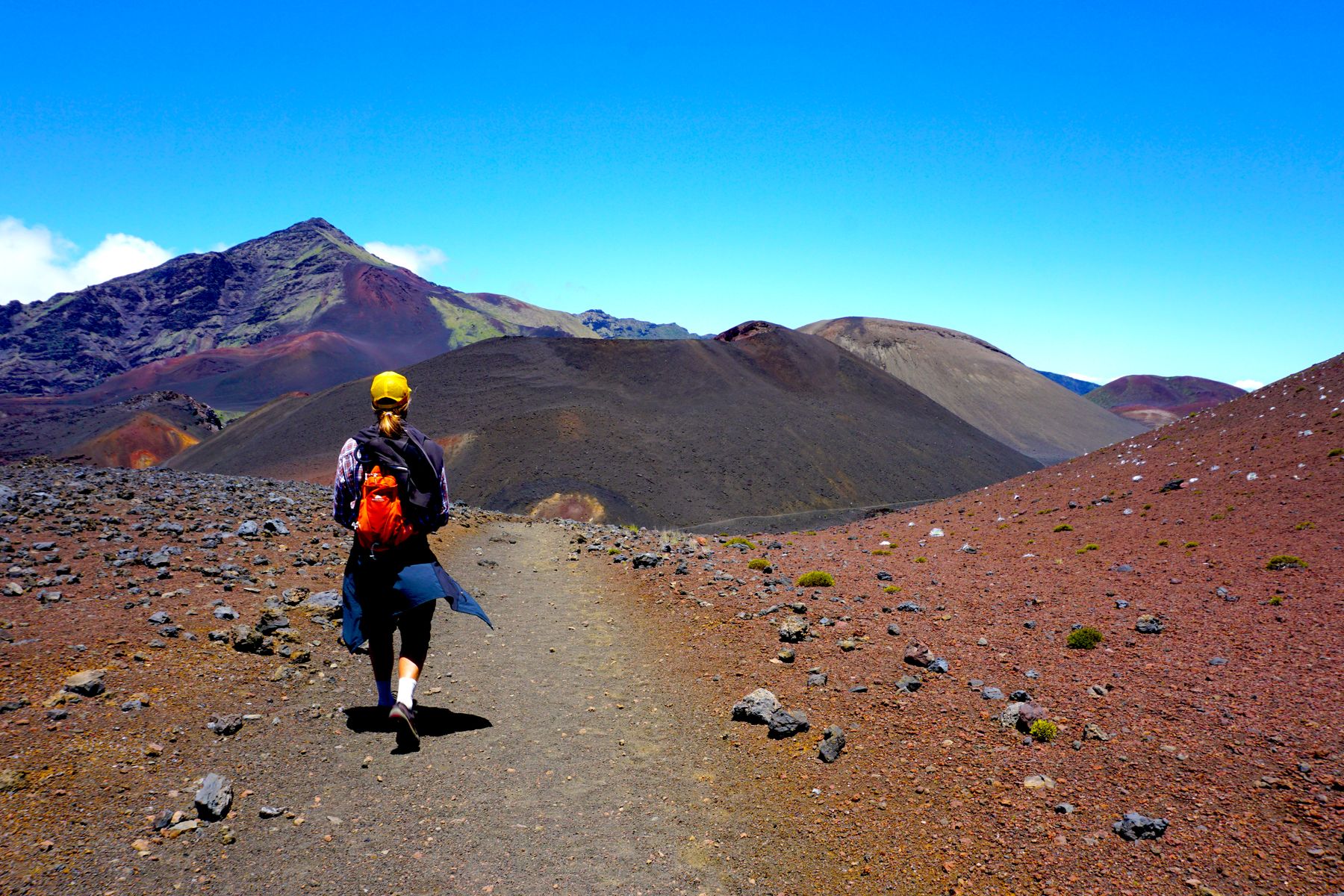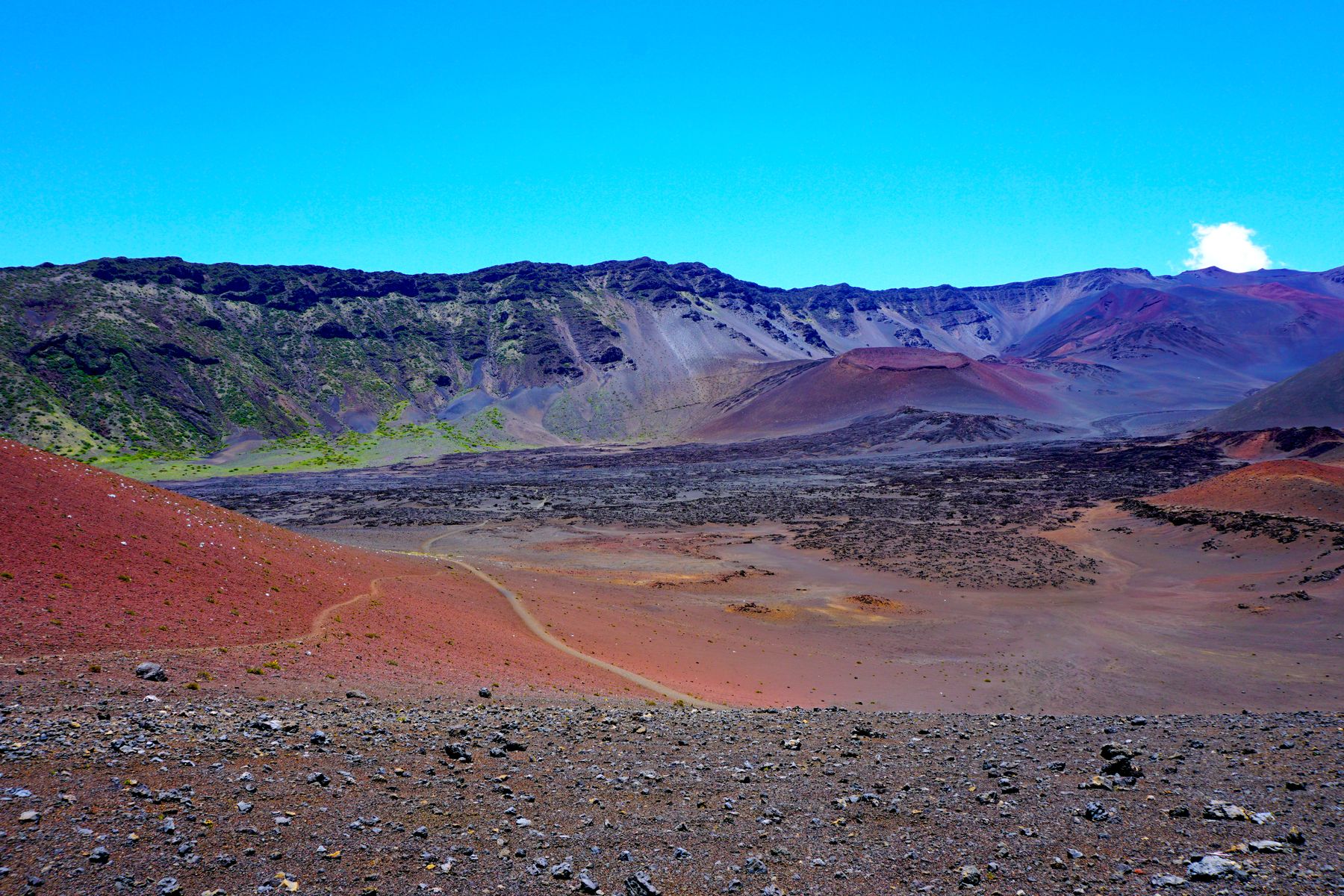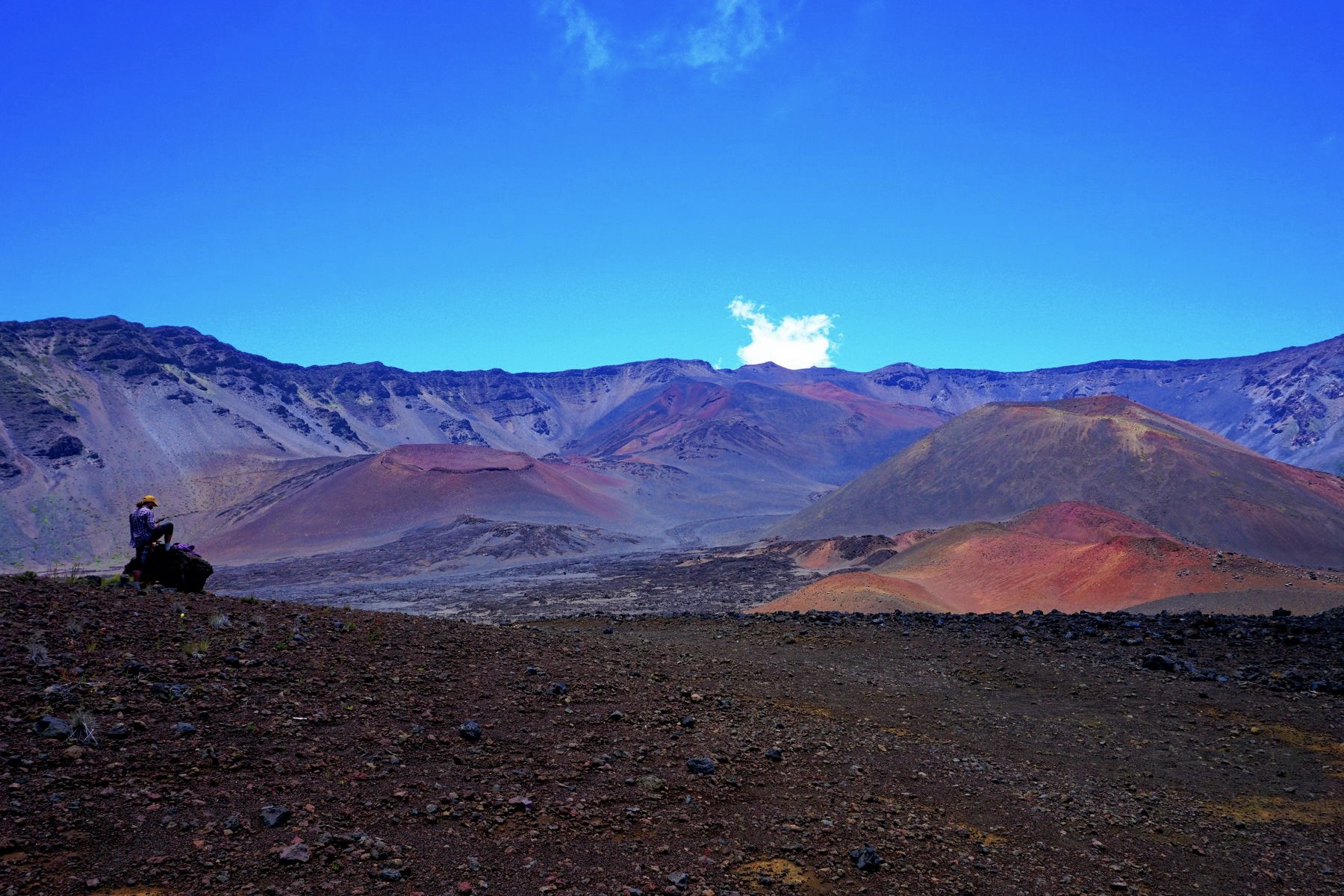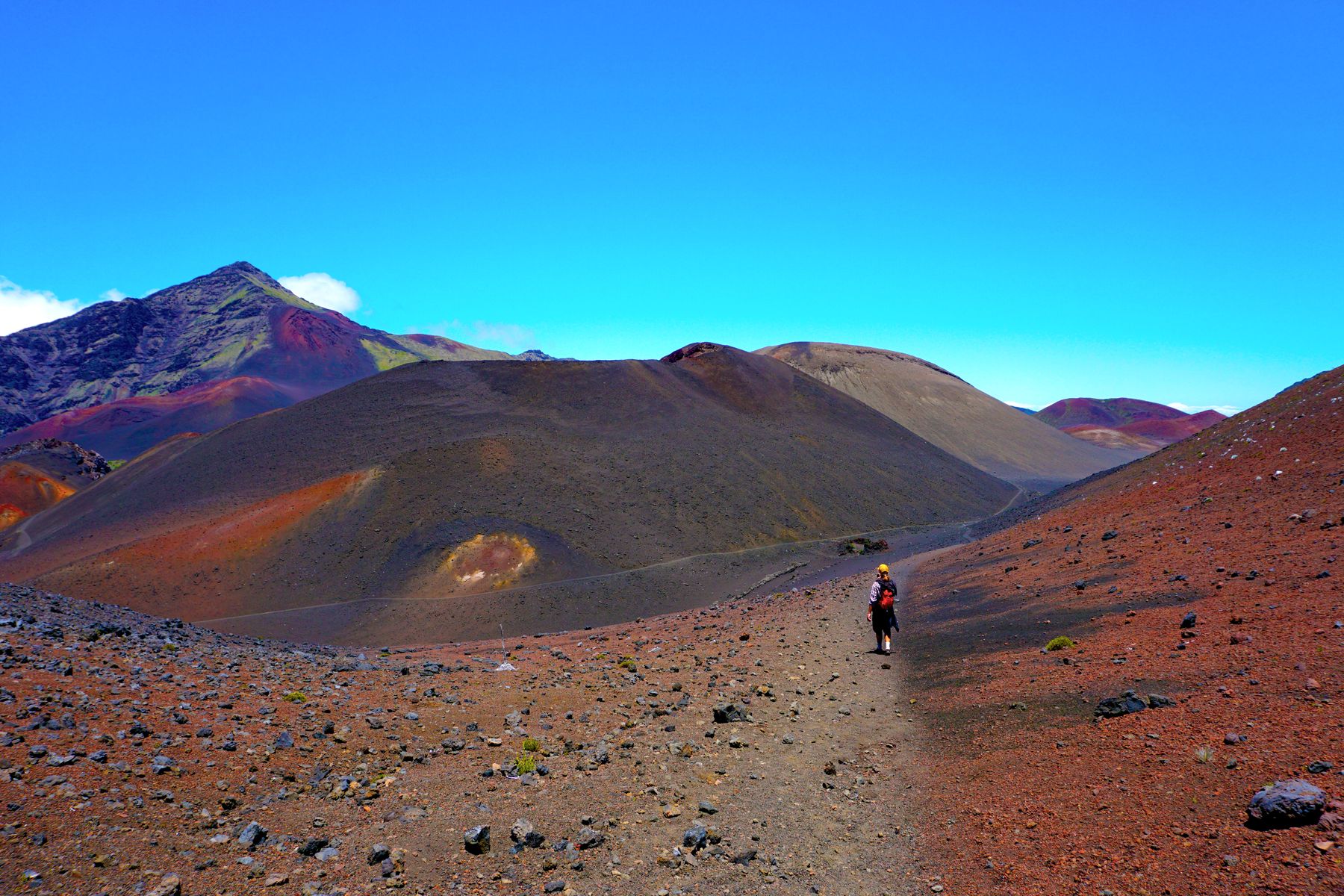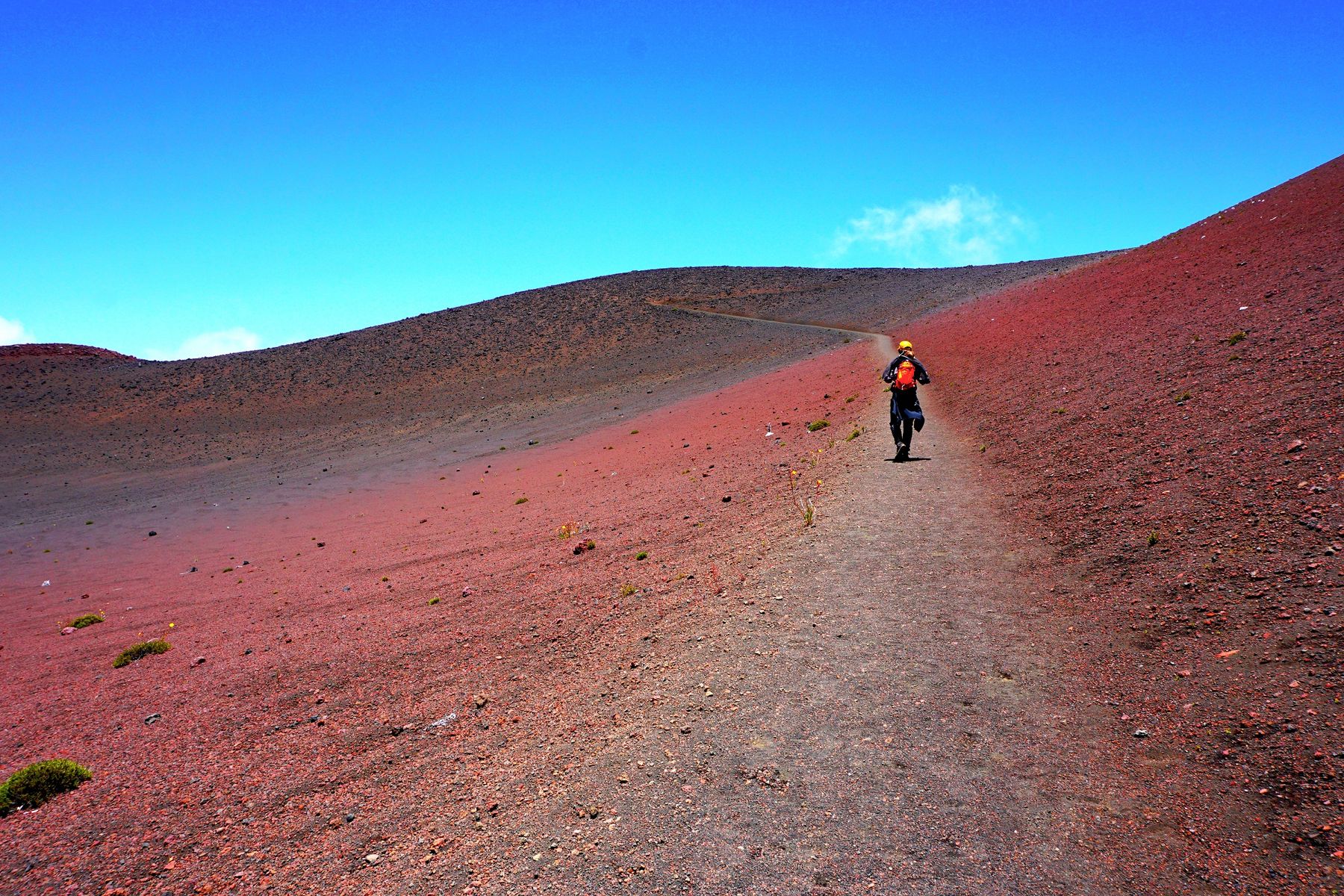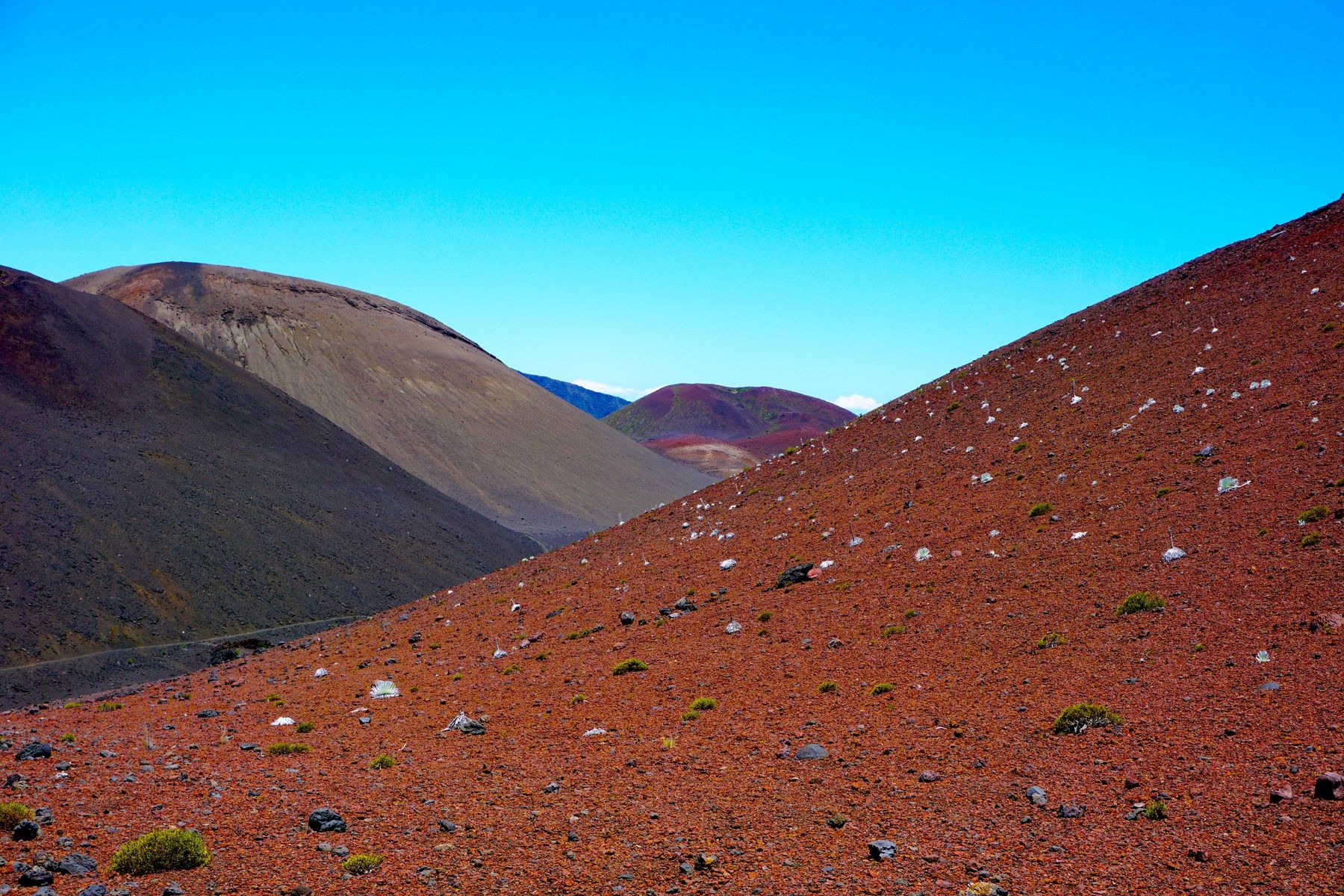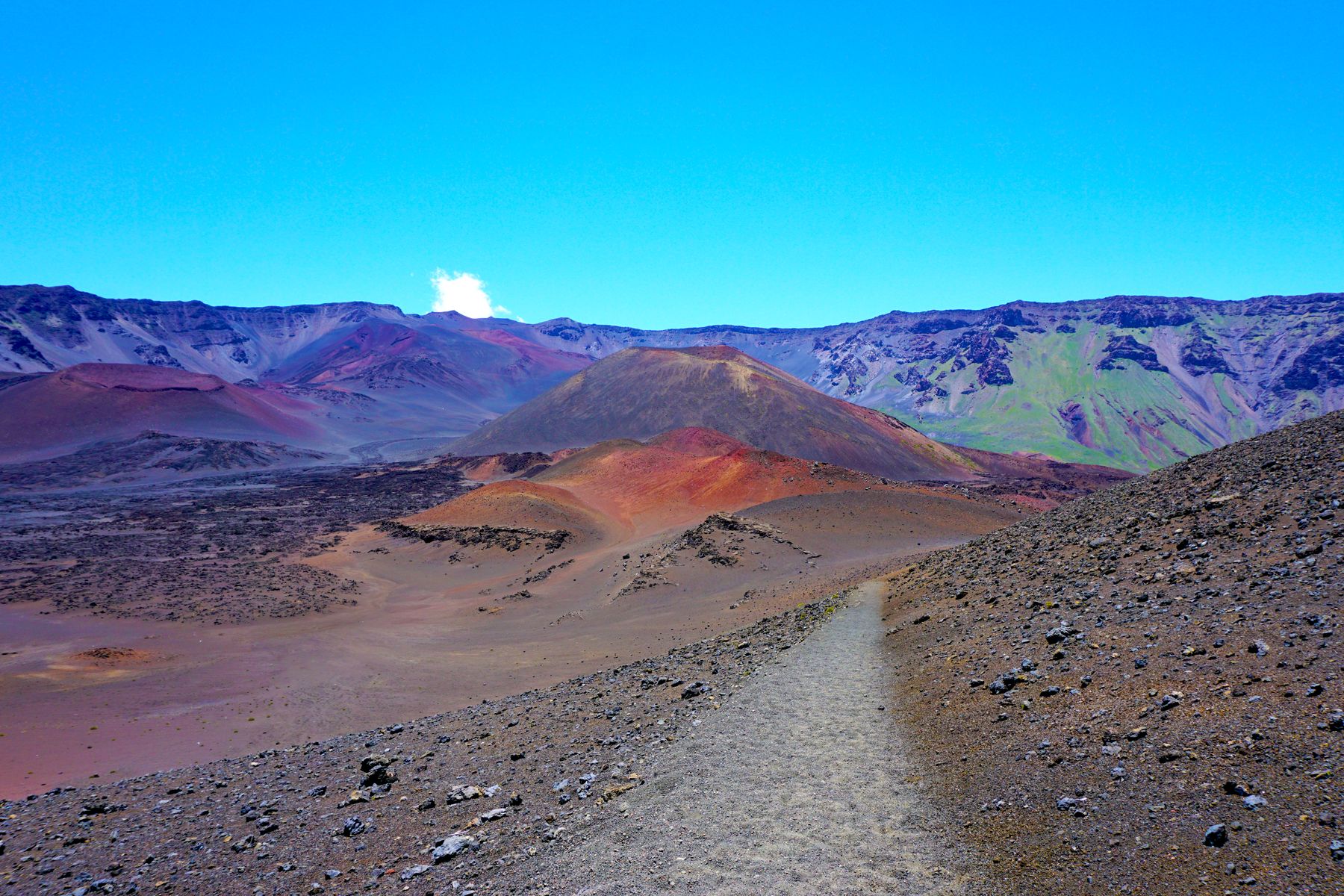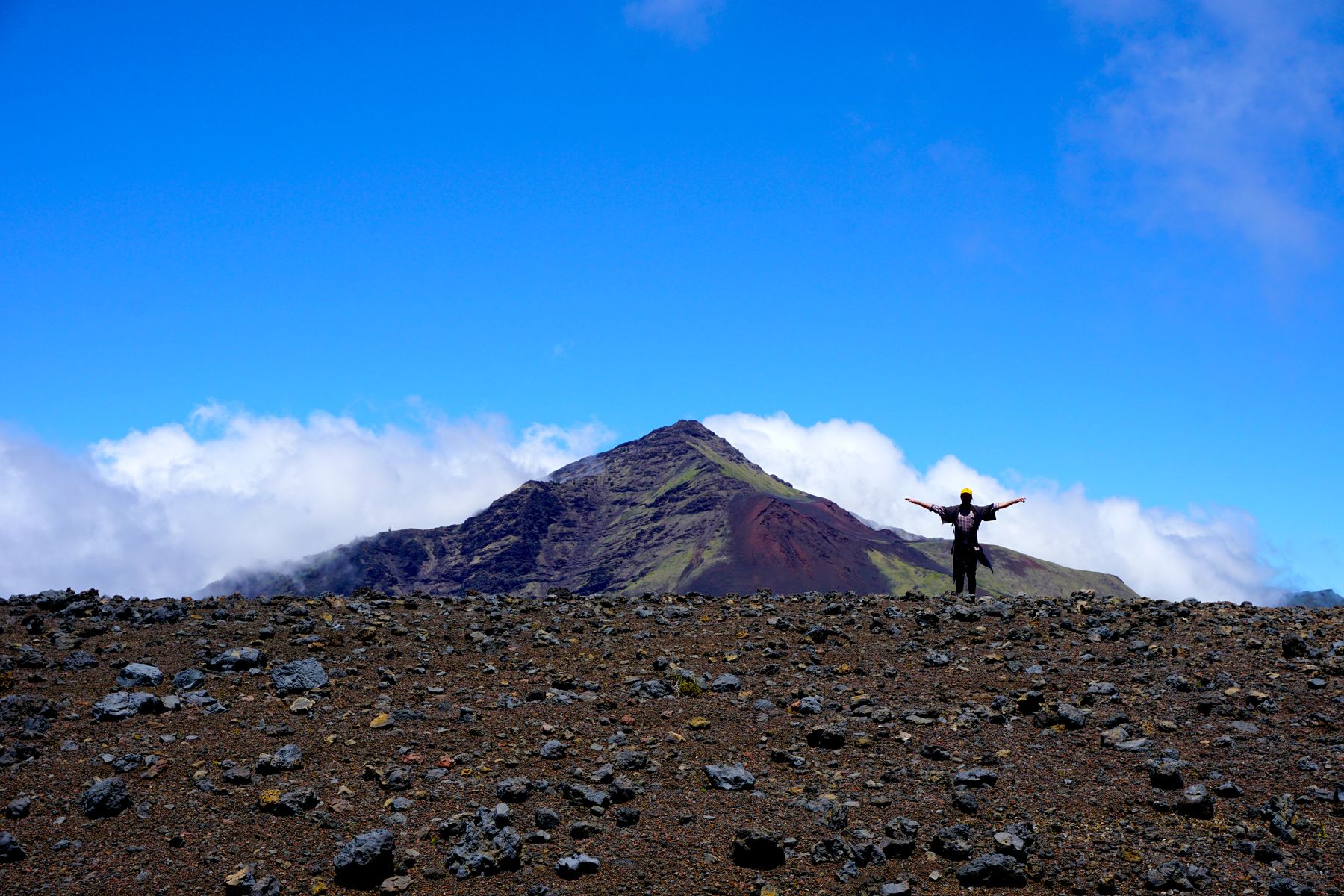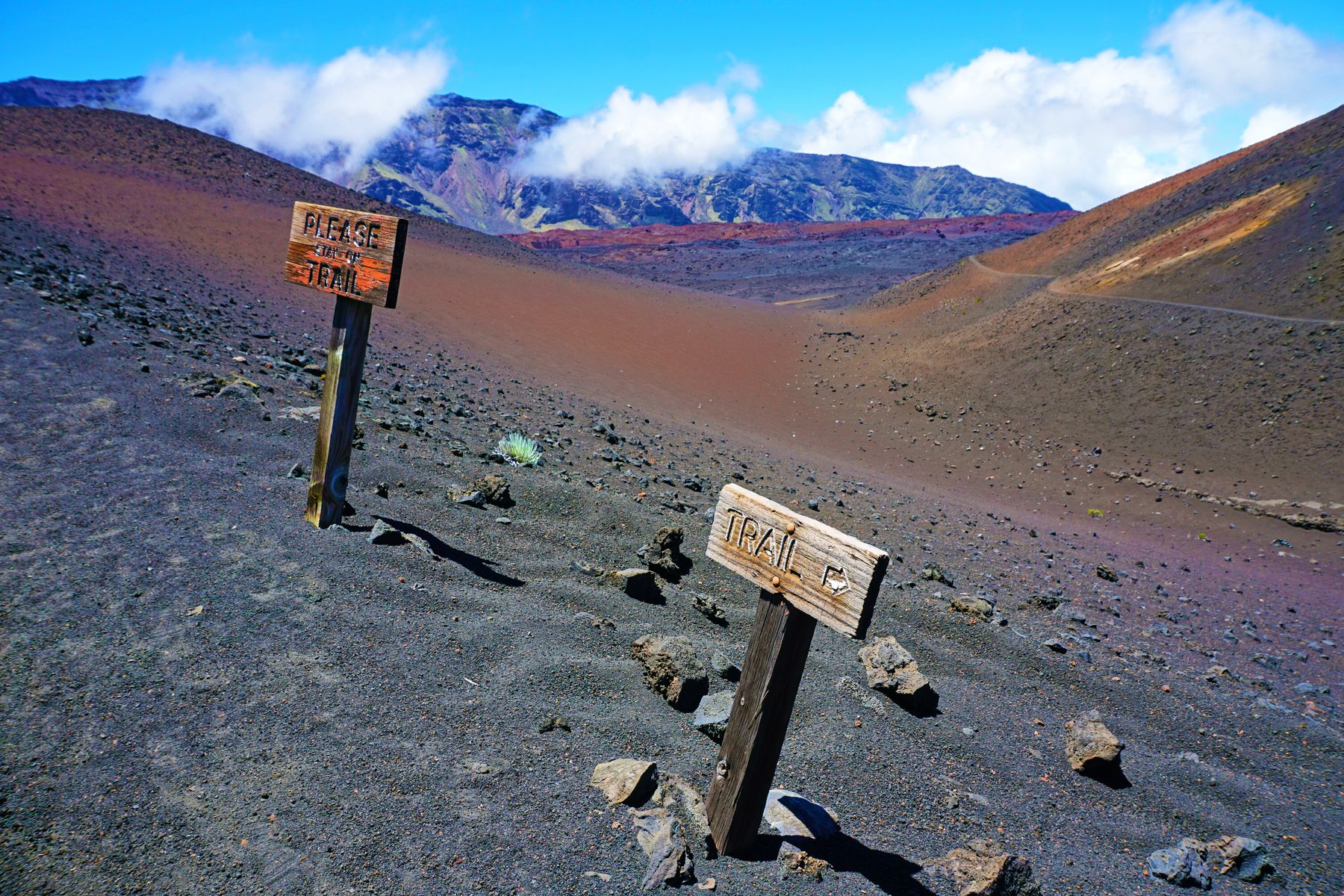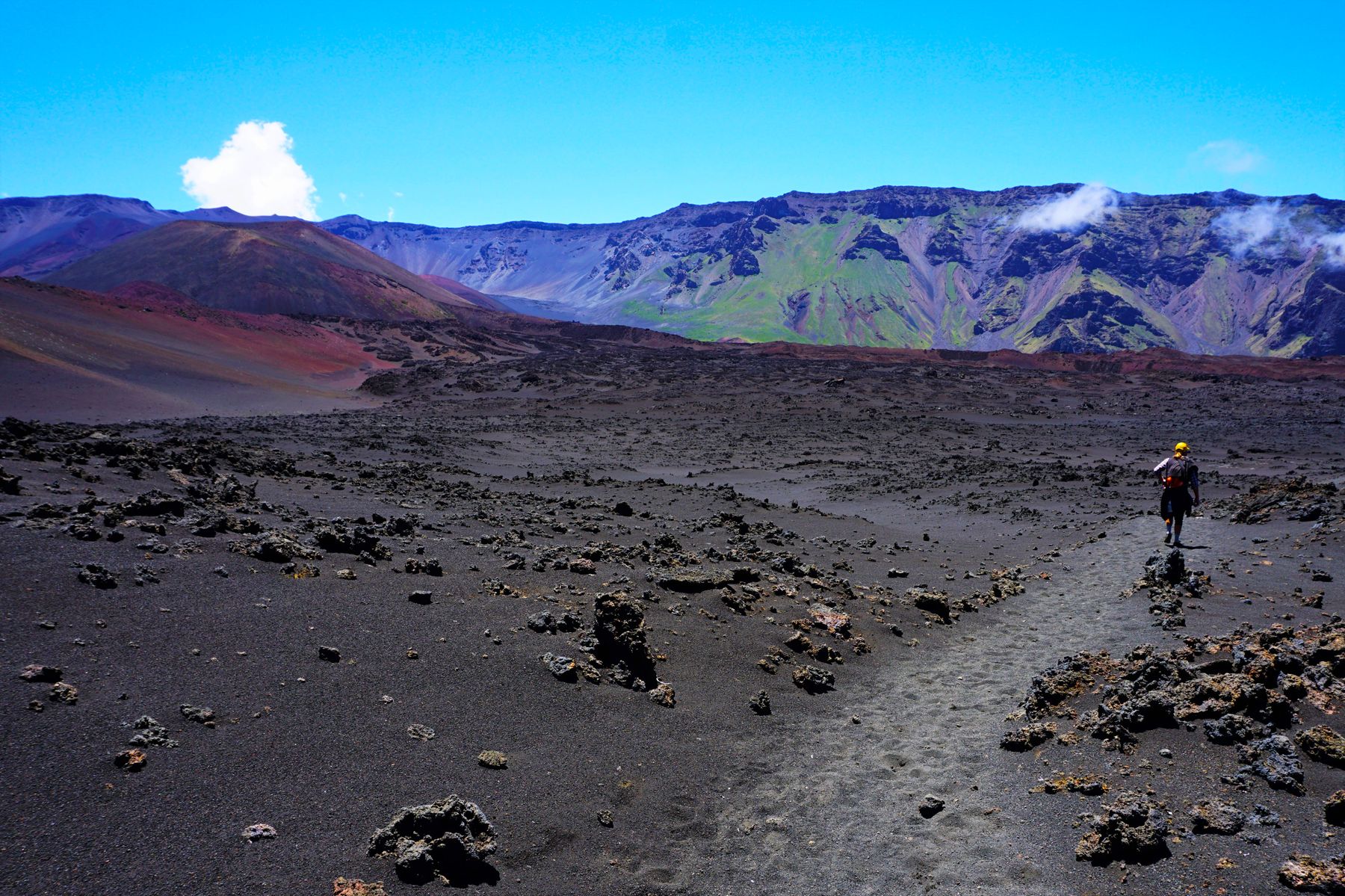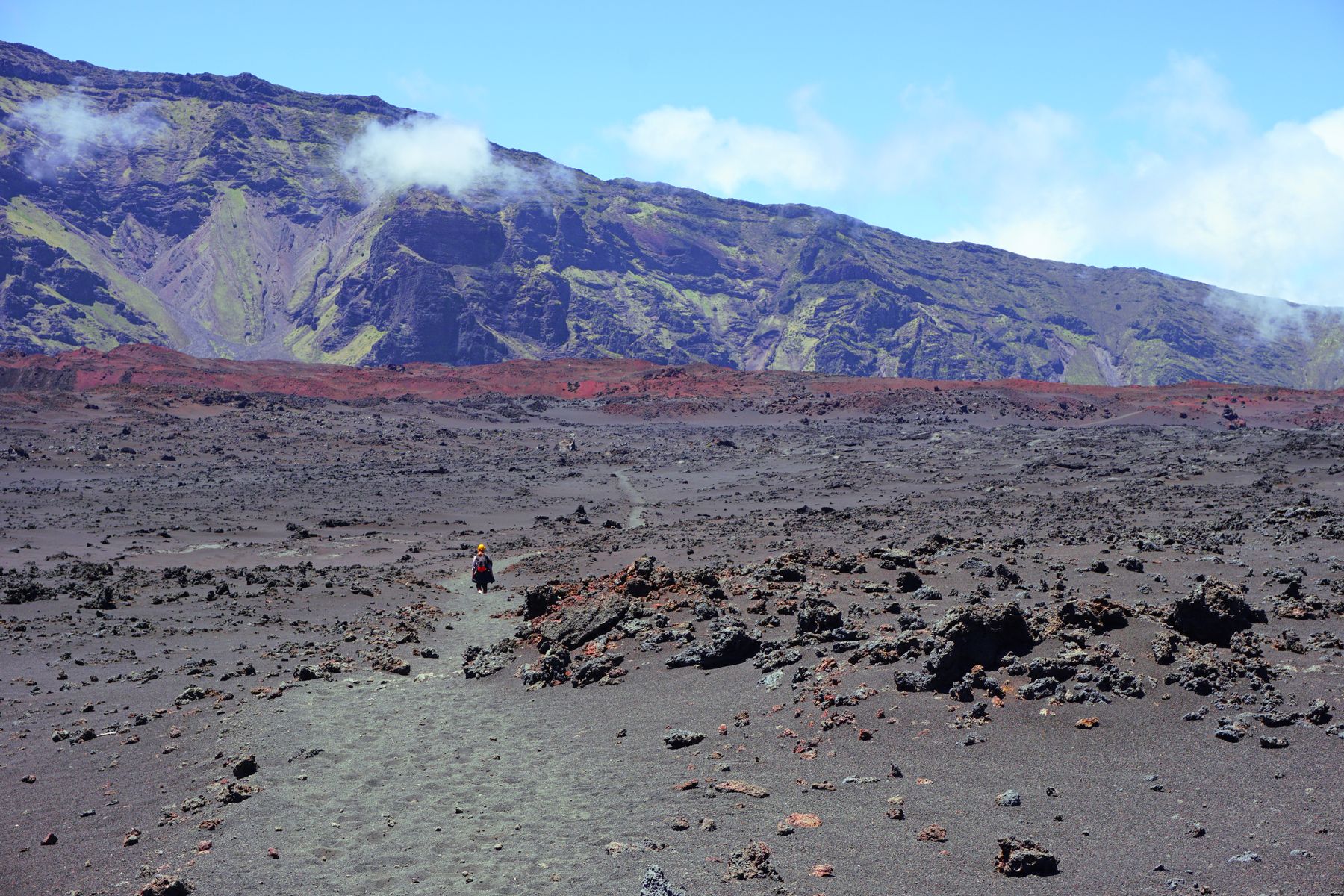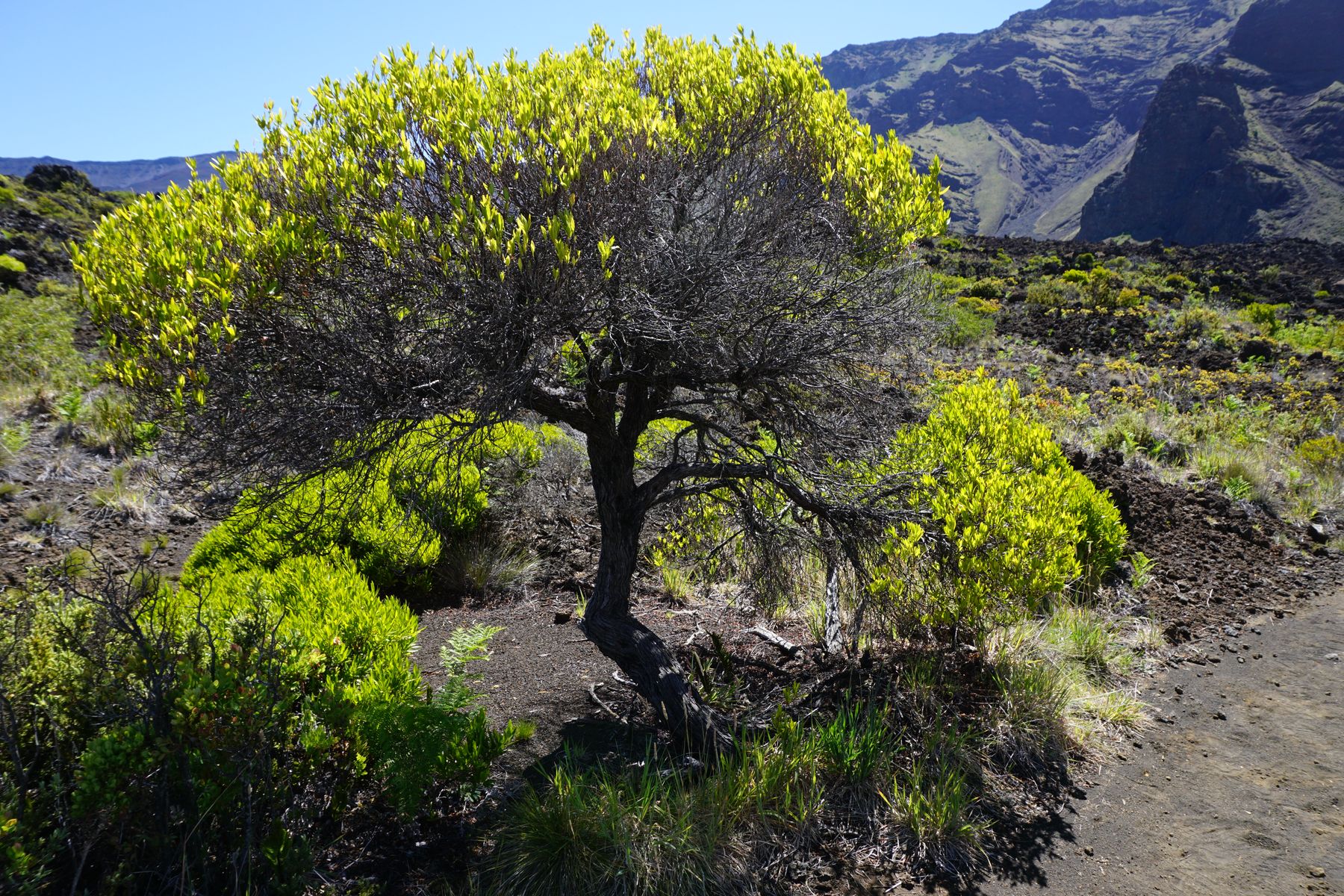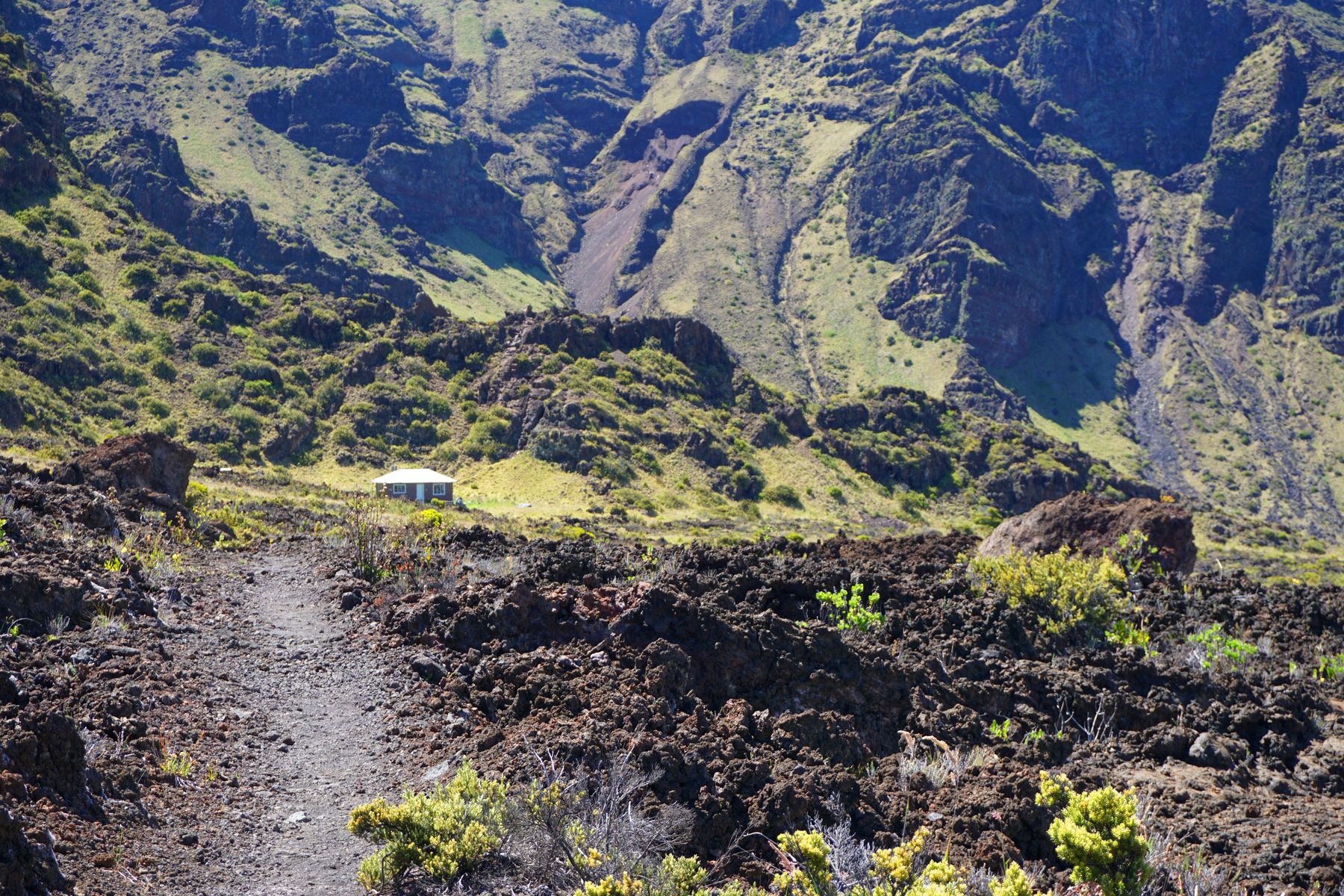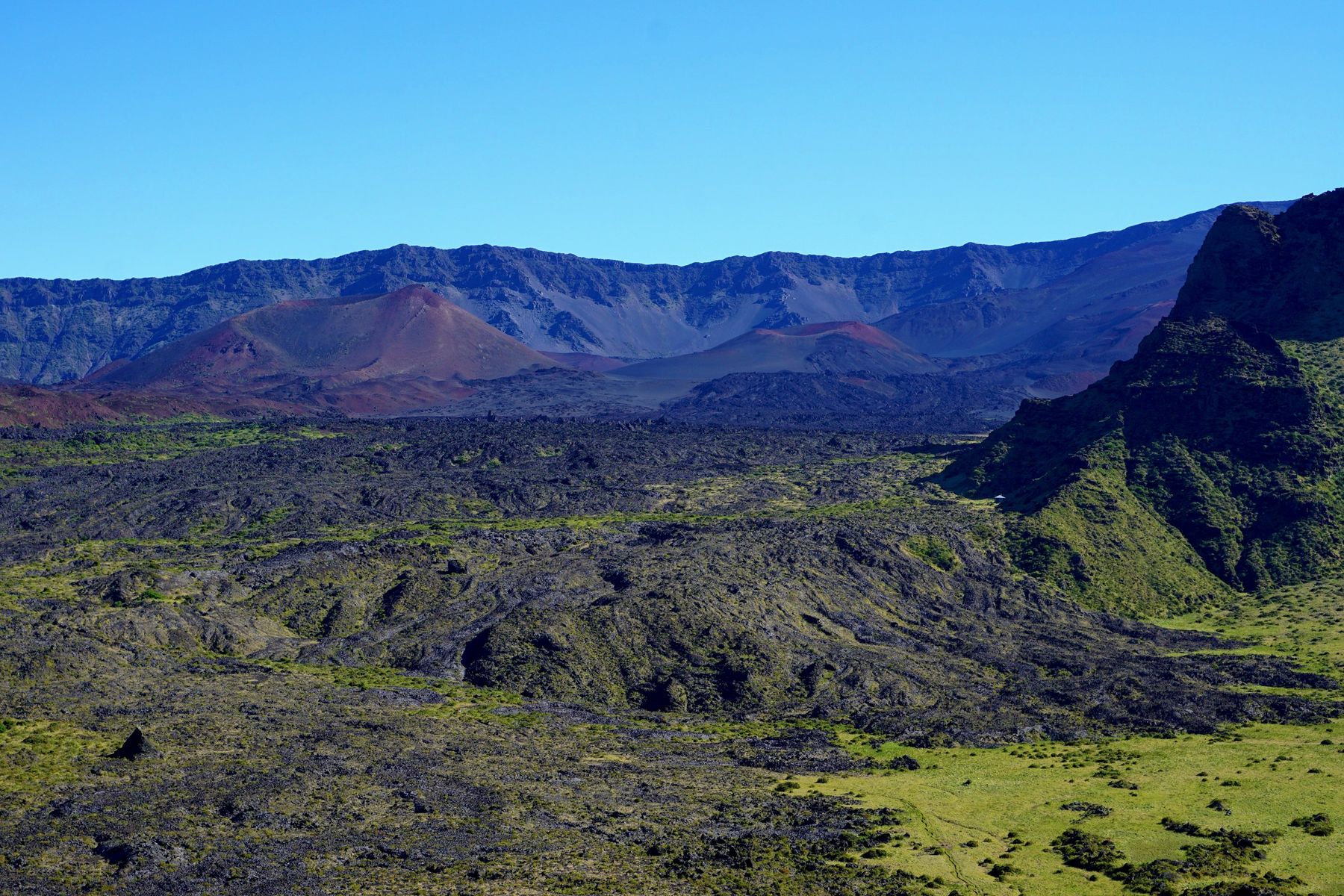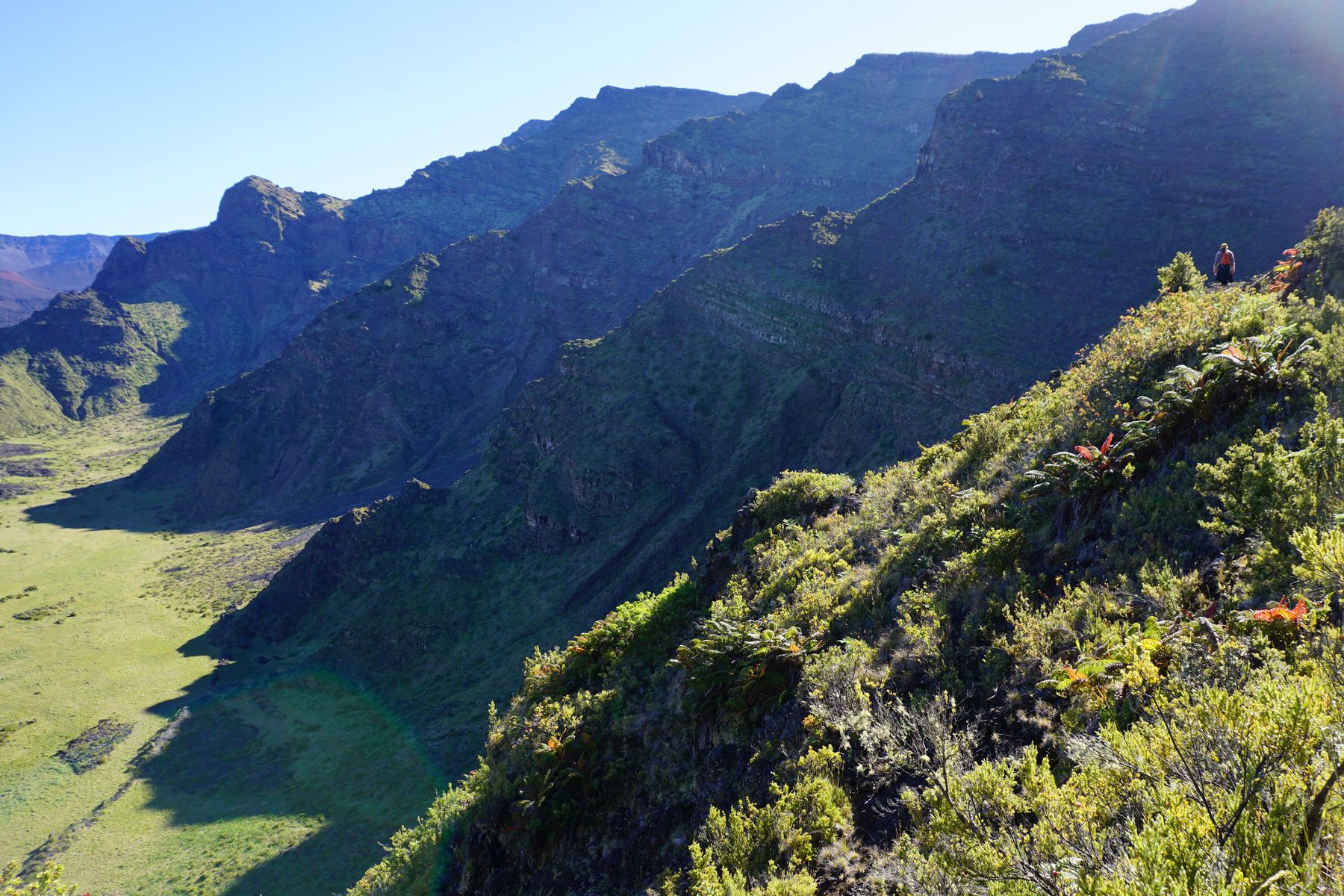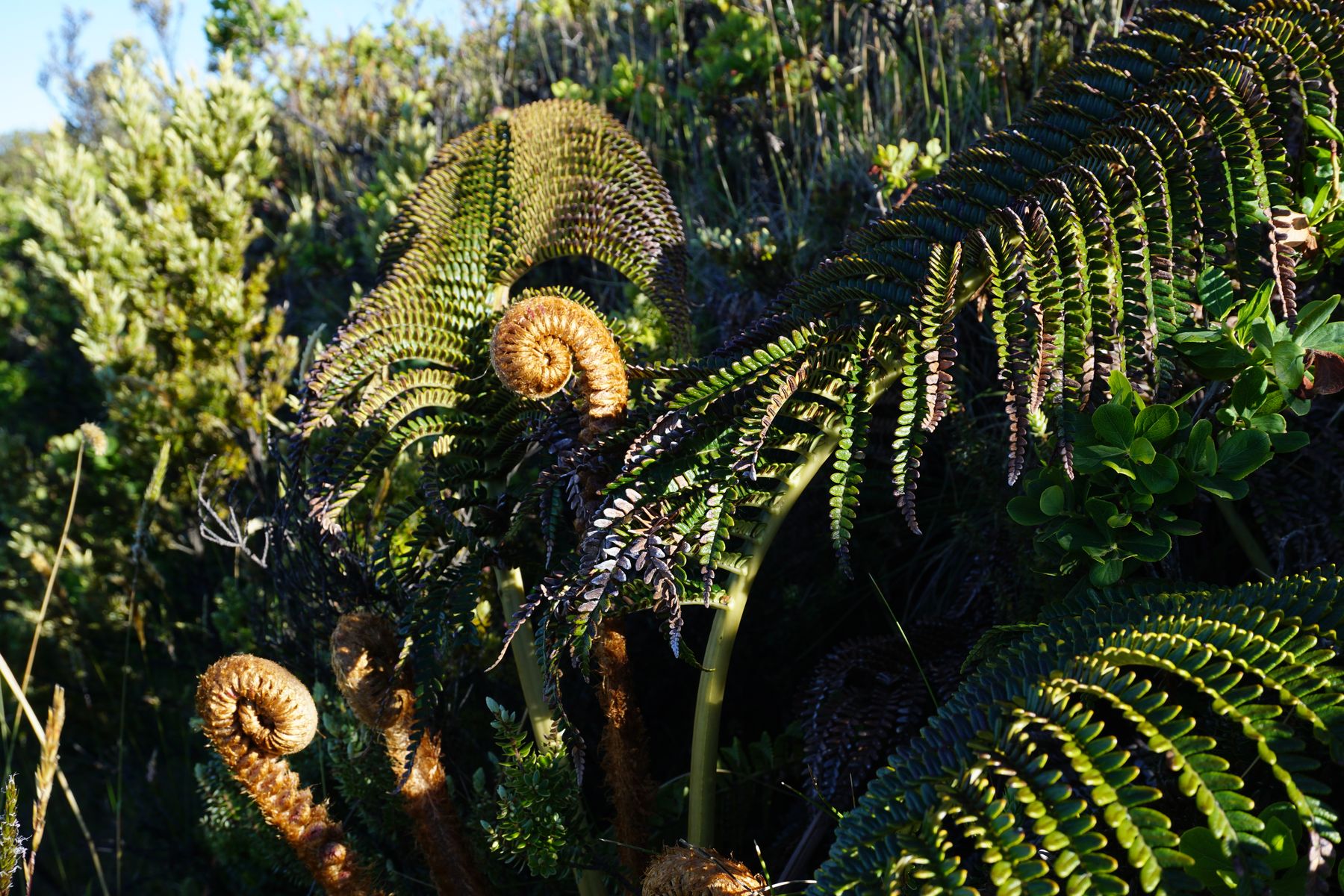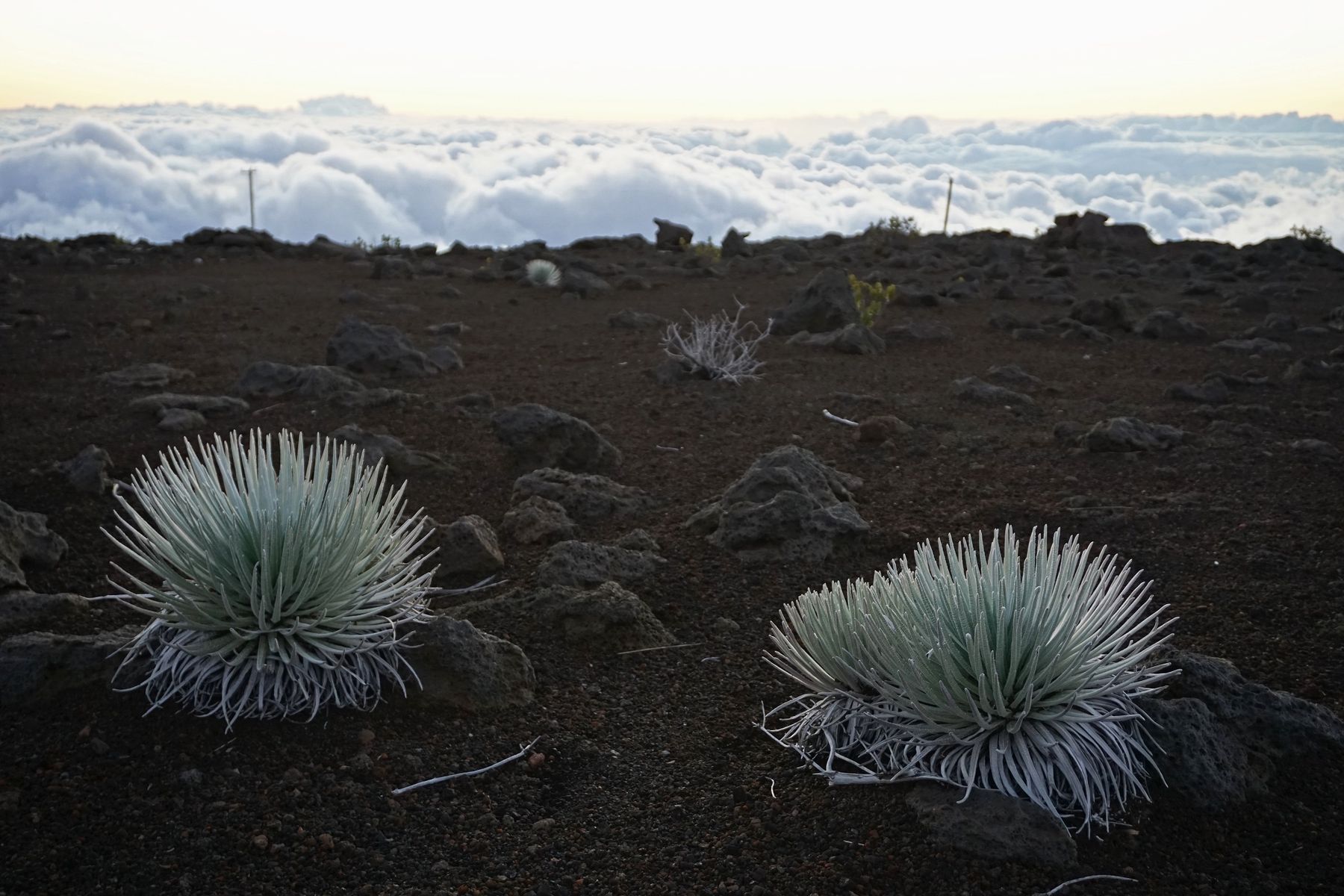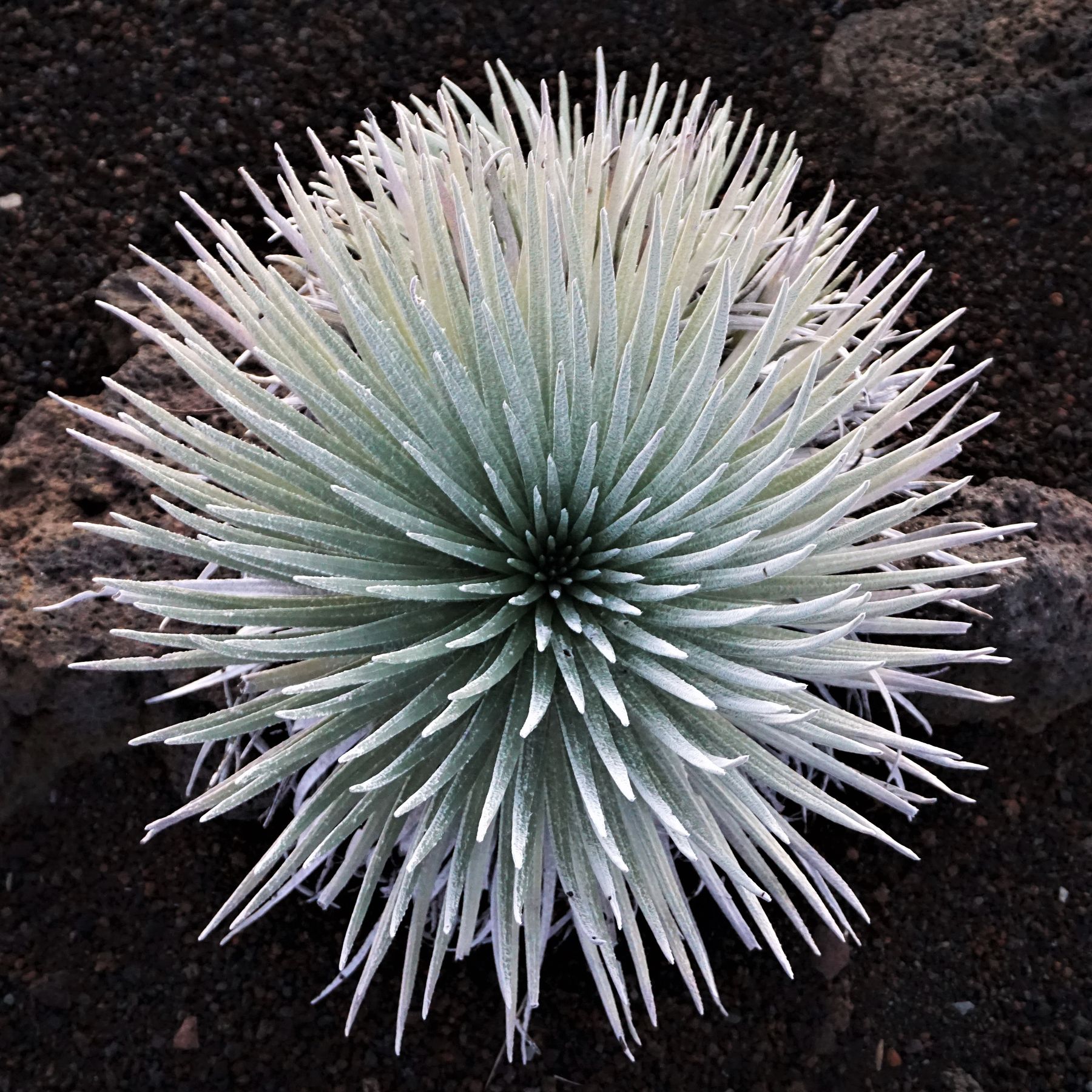 I was profoundly touched by the beauty of Haleakala. It is like no other place on Earth. Cold, hot; dramatic but silent. Dry and still, yet radiating powerful energy.
Breathe it in. Live.
This is what I live for.
How about you?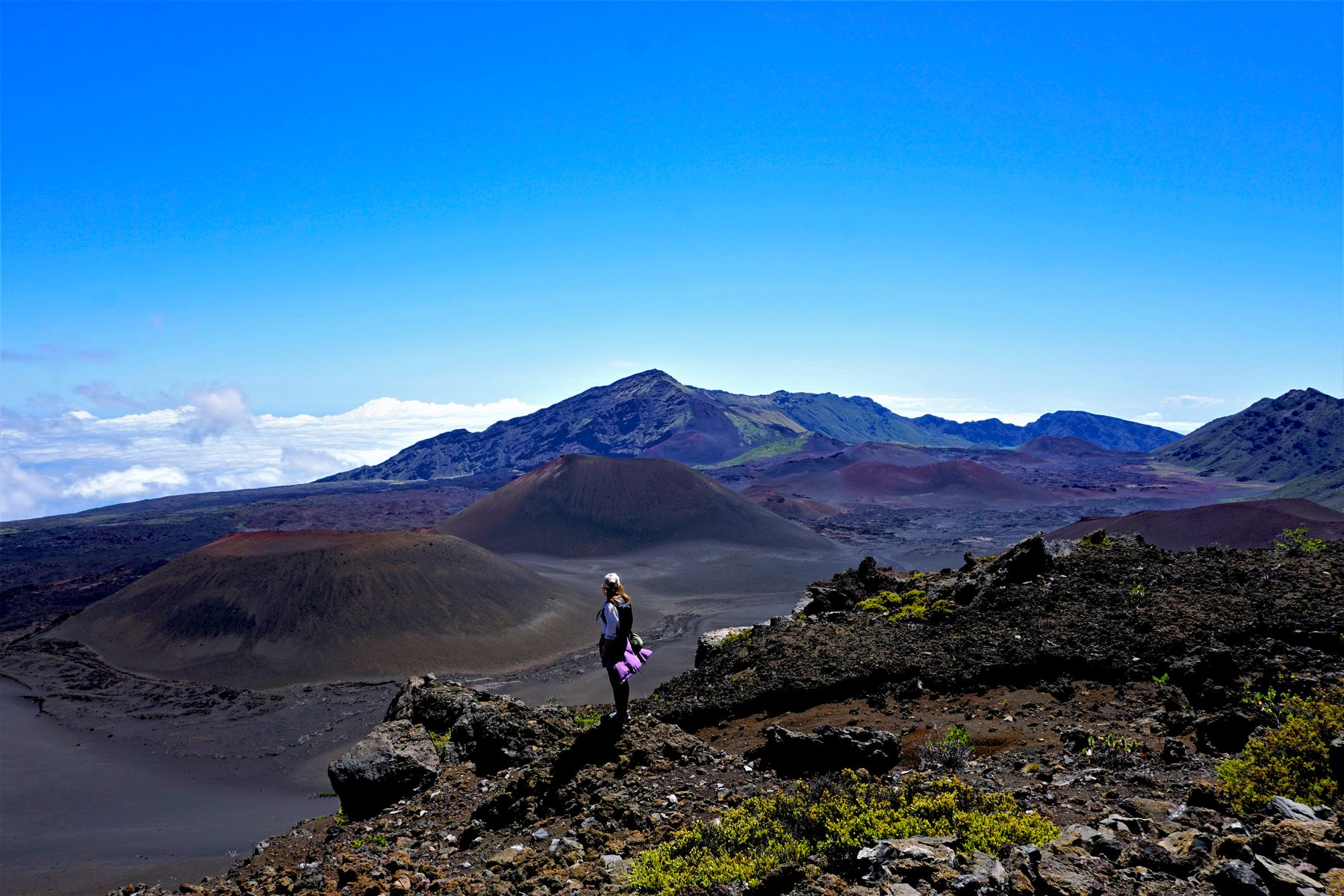 The entire Sliding Sands to Halemau'u Trail was 11-12 miles long but took us all day because it was hard to walk with our jaws on the ground :). We walked out of the crater several miles away from where we parked the car and hitched our way back up. We were picked up by the first car that came by and got to watch the sunset one more time before heading back to the jungle.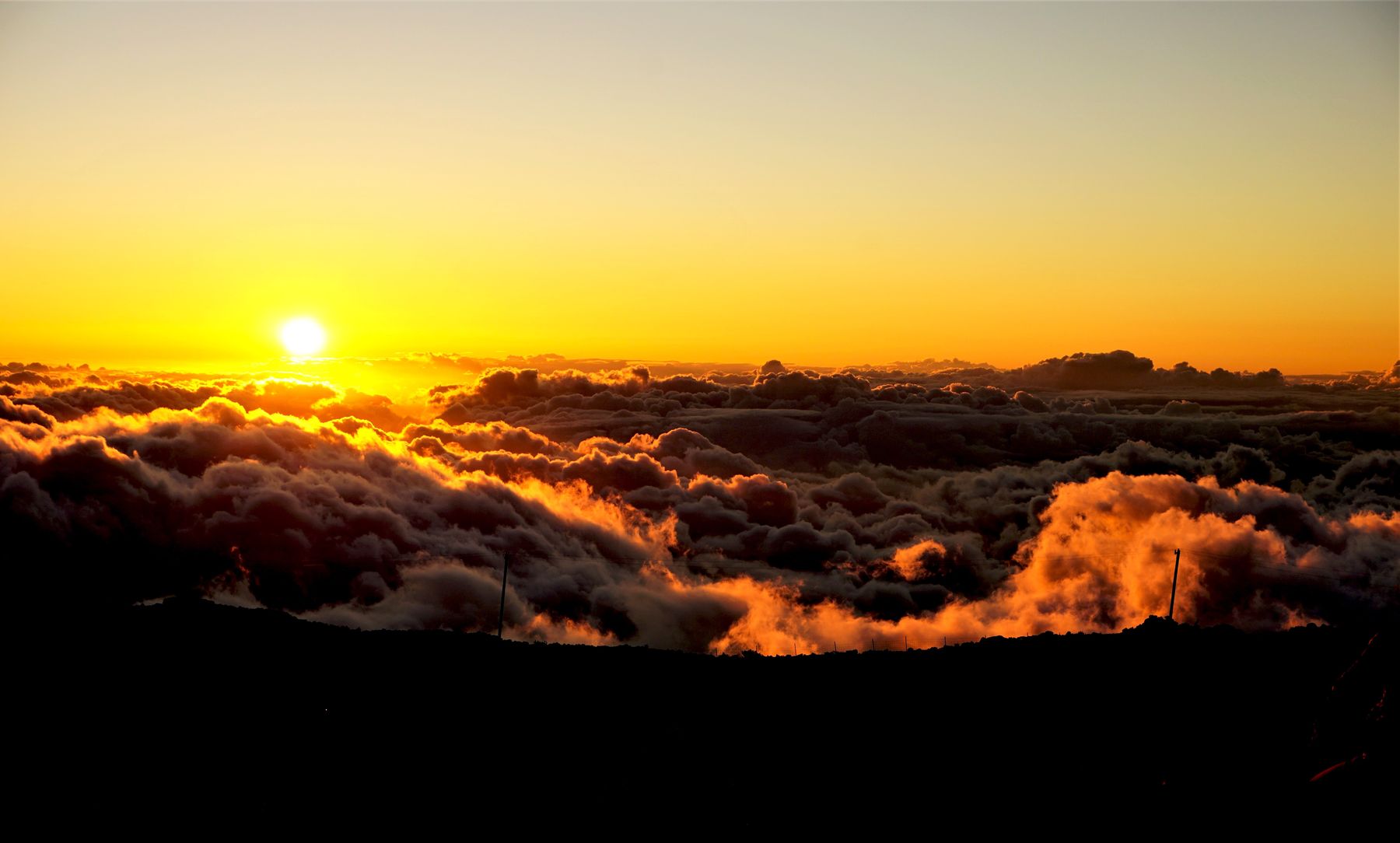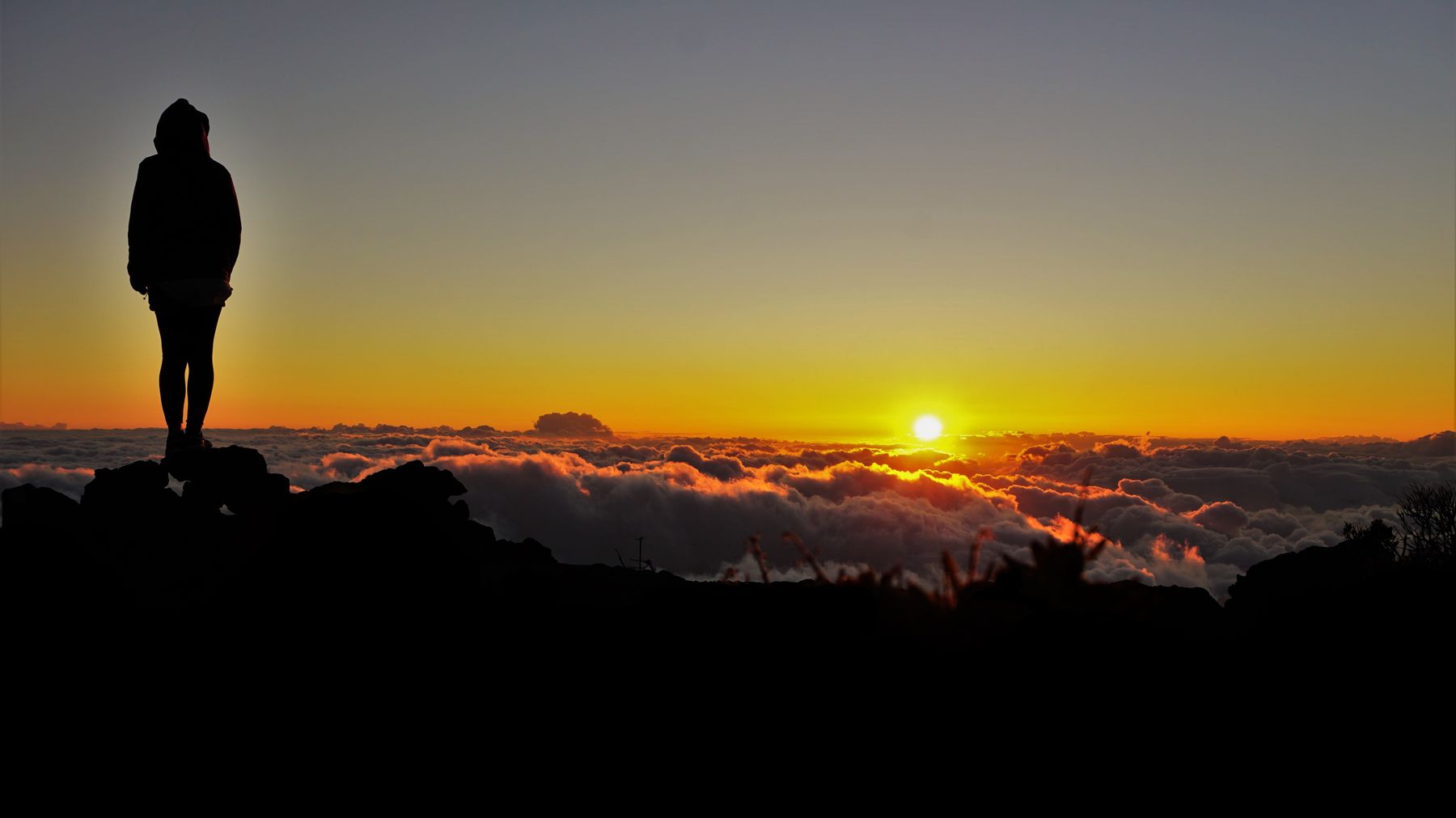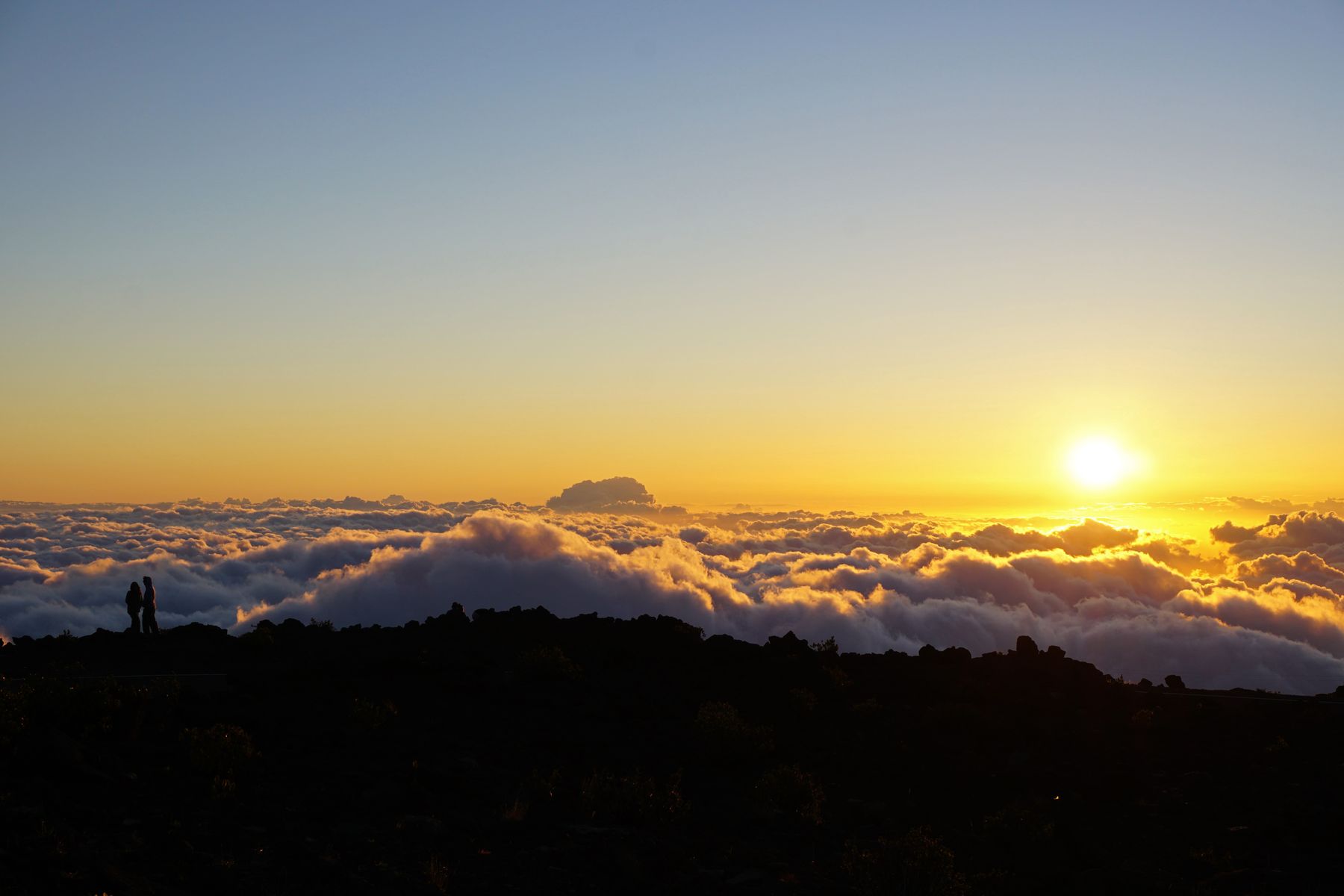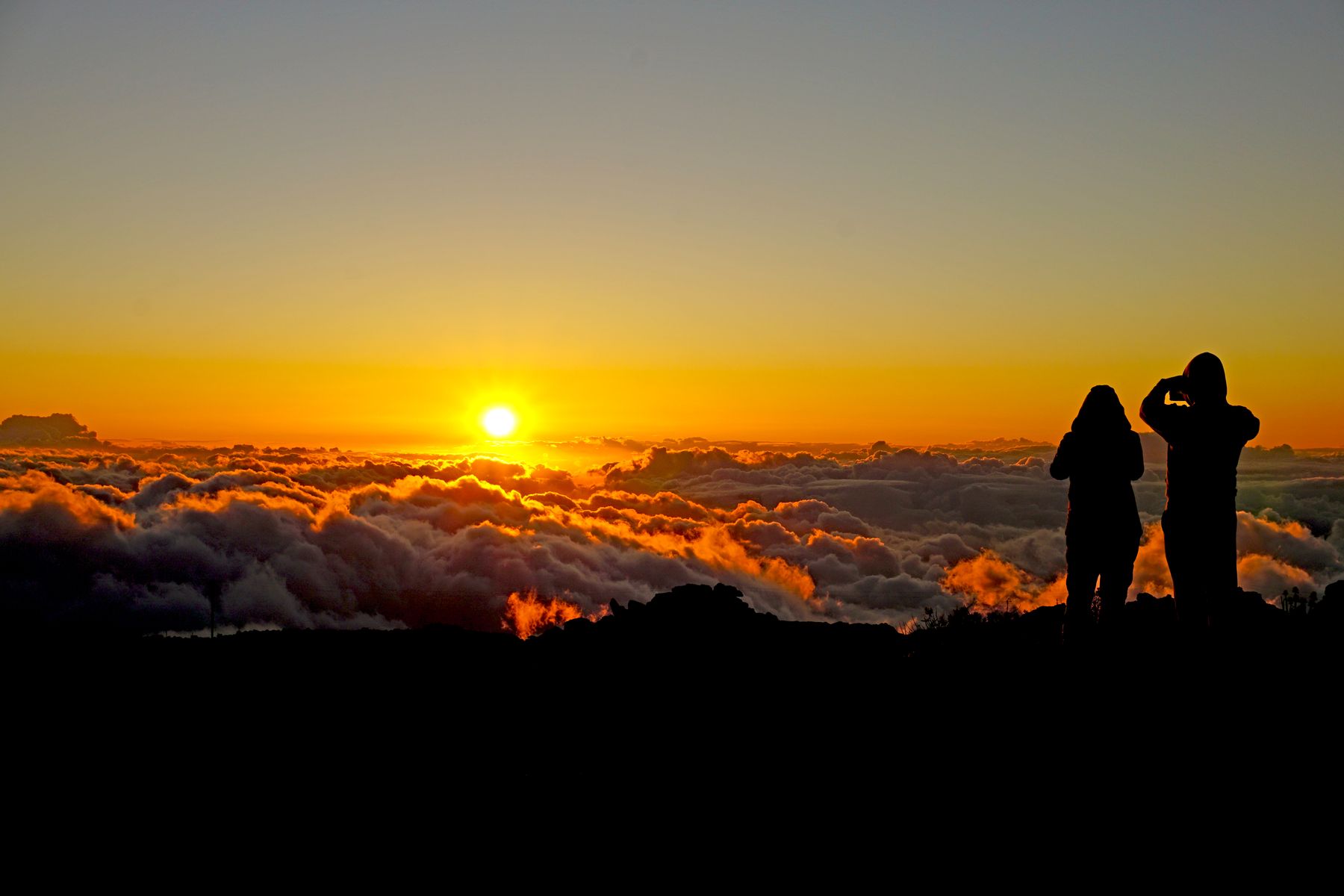 *If you come up to Haleakala make sure you bring a jacket. It gets very cold!!
After sunset we drove the long and winding road down the volcano. We didn't know where we would sleep that night but decided to drive south from Kula in order to take a new road that we hadn't discovered yet- the south-side road to Hana. Unfortunately, this left us with no chance to shower after the long hike and it was very difficult to find a safe place for us to hang up our hammocks for the night. After driving through a few small towns and some farmland, we were too tired to go any further so we ended up tying one side of our hammocks to our car, and the other side to a tree that happened to be in someone's back yard. It was dark so nobody bothered us at night, but I did have a nightmare that an evil vampire zombie was chasing me out of my hammock, then woke up to a man telling us that we had to get off of his property. It was good to get us up and on the road nice and early :)
We drove down the Piilani Highway (a dirt road for which you're "supposed to have a 4wd") to the Seven Sacred Pools, seeing lava fields and black ocean cliffs on the way. It was very windy and rugged, similar to the south side of the Big Island. You don't really need a 4wd for this road, just drive carefully and honk before going around corners.
The scenery changes from rough, windswept terrain to dense jungle around a little town called Kaupo. There, we found out about a bamboo forest hike (the Pipiwai Trail) that leads to a 400 ft waterfall called Waimoku Falls.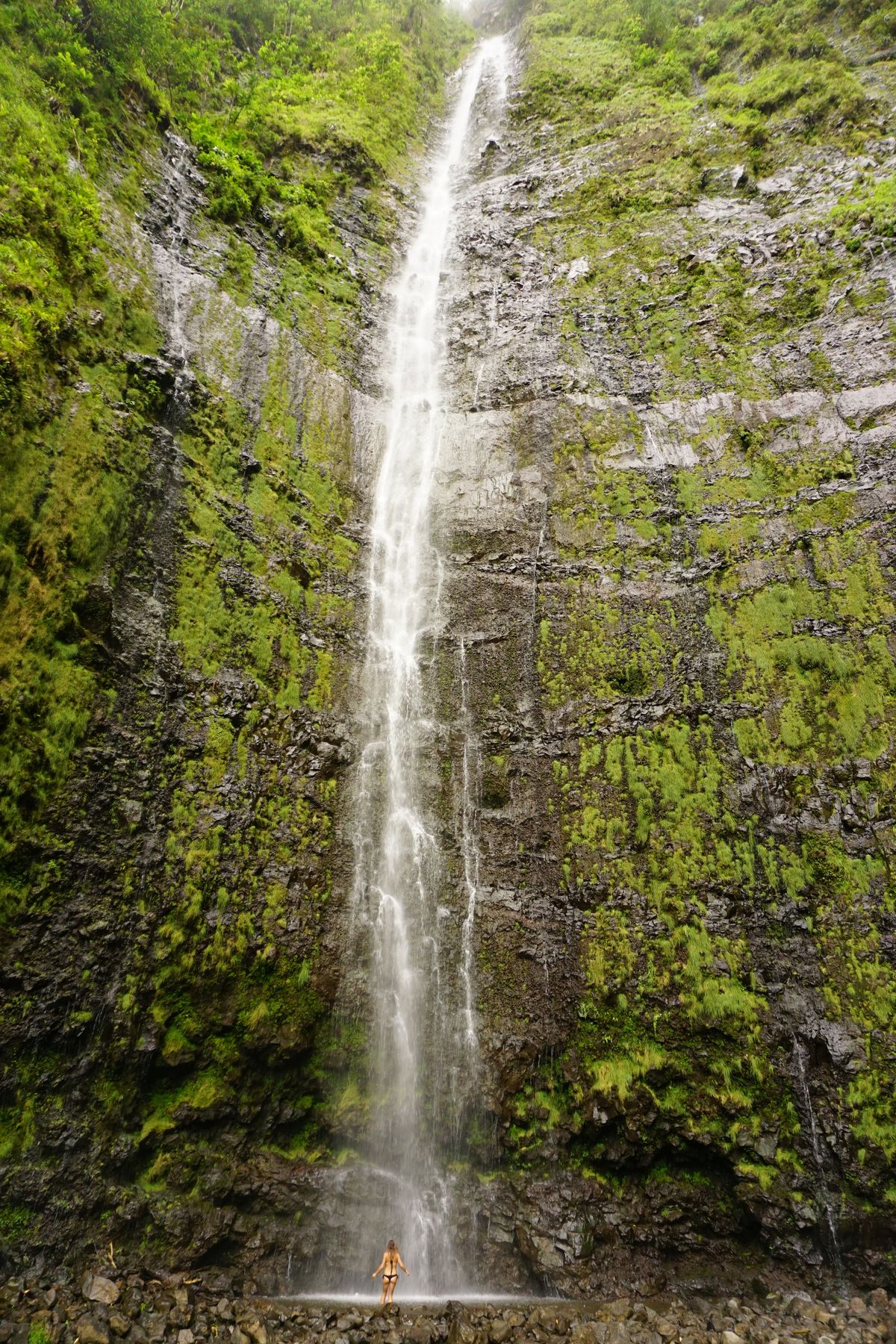 You're not really supposed to go anywhere near this waterfall because of the danger of falling rocks… but it's hard to drag me away from a waterfall :). It was spectacular, but scary. The rushing water was so intense that I had to run away after a couple of minutes.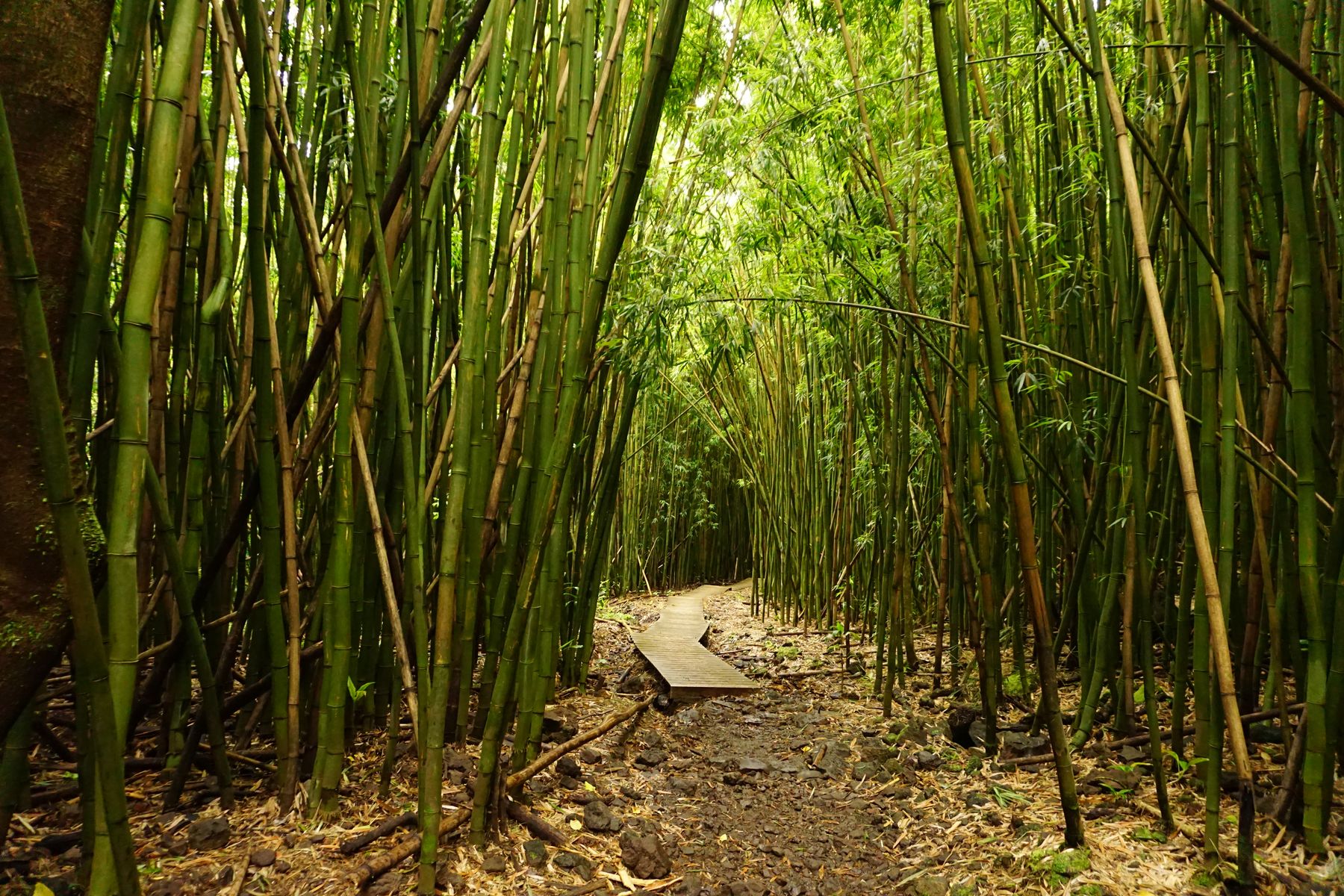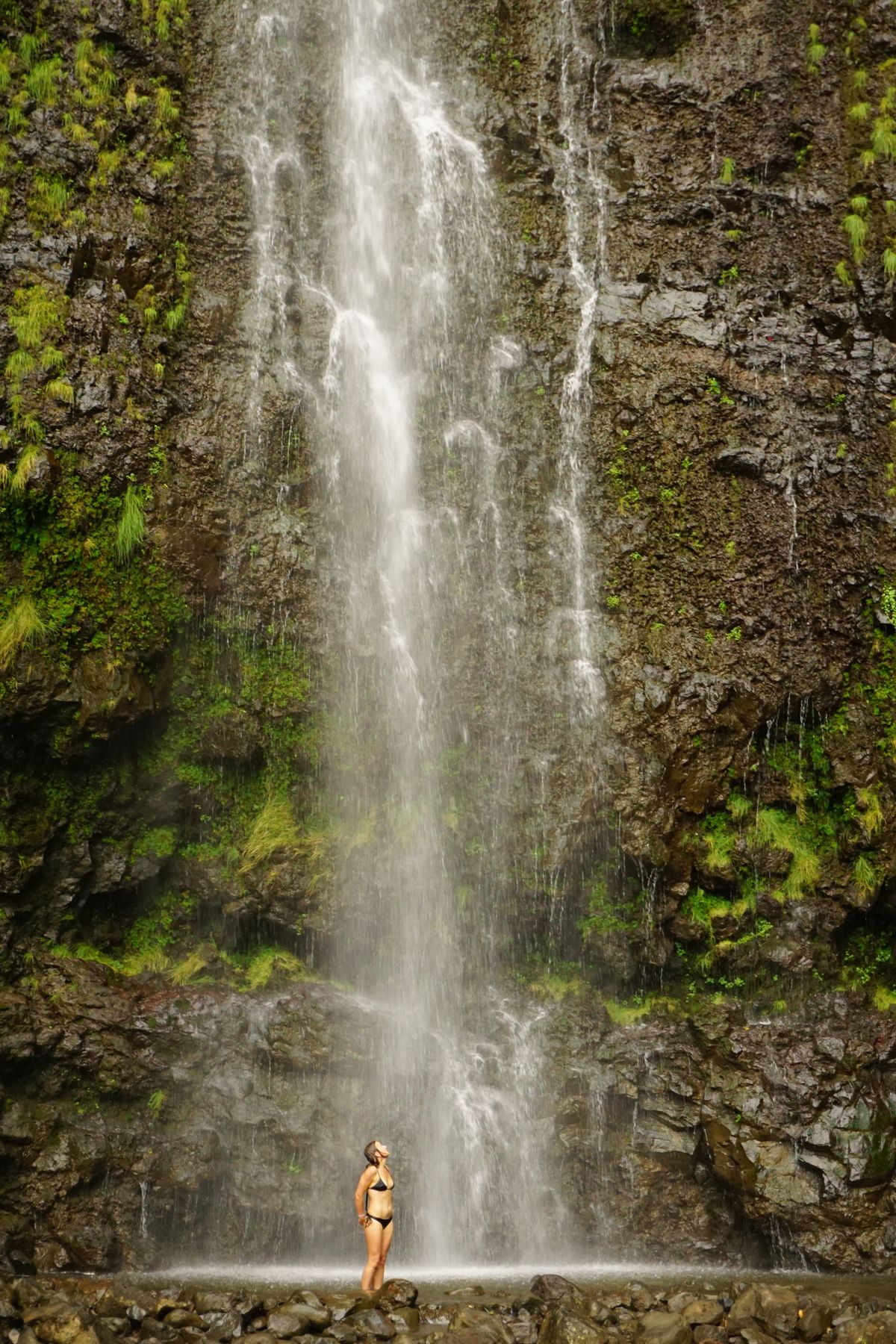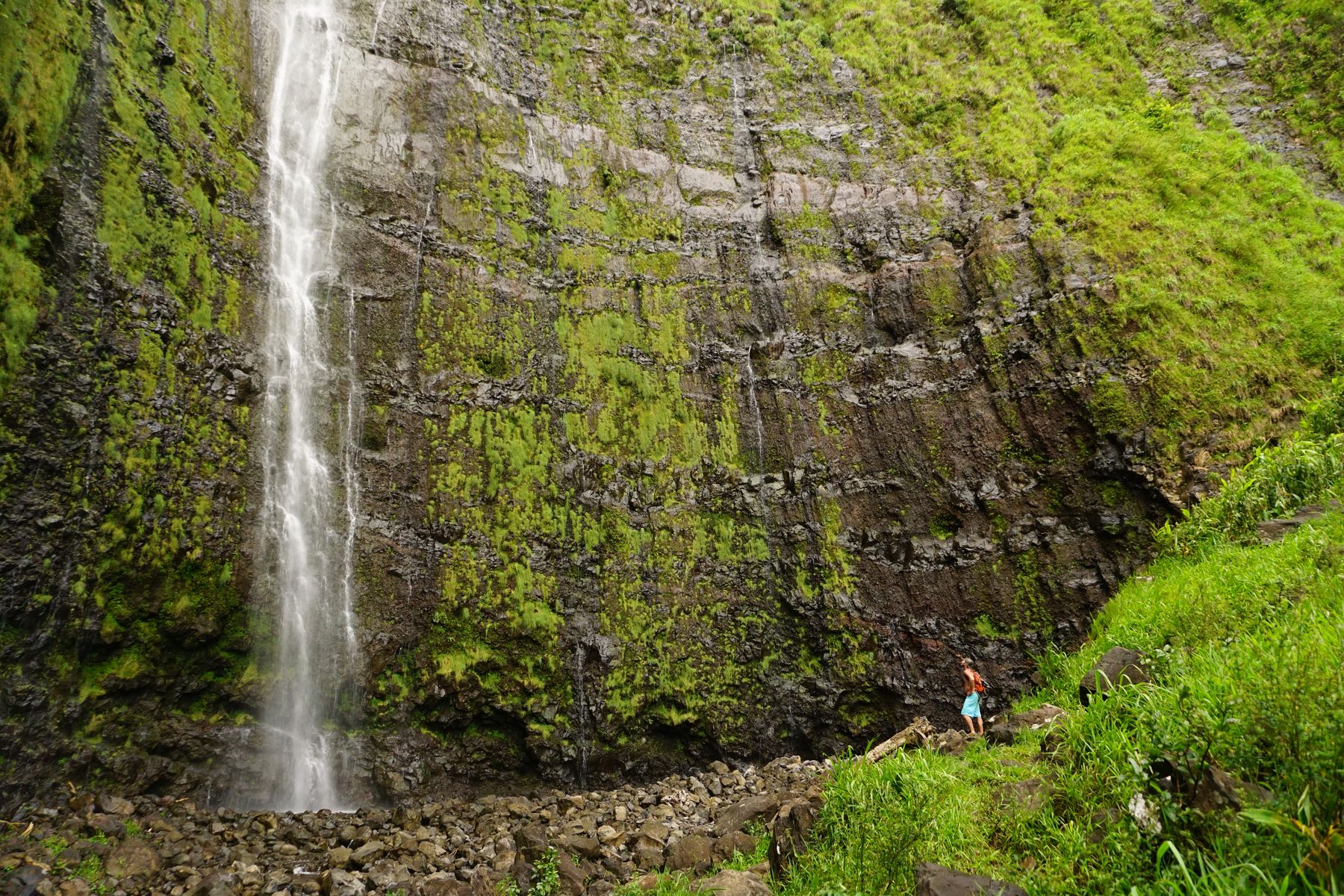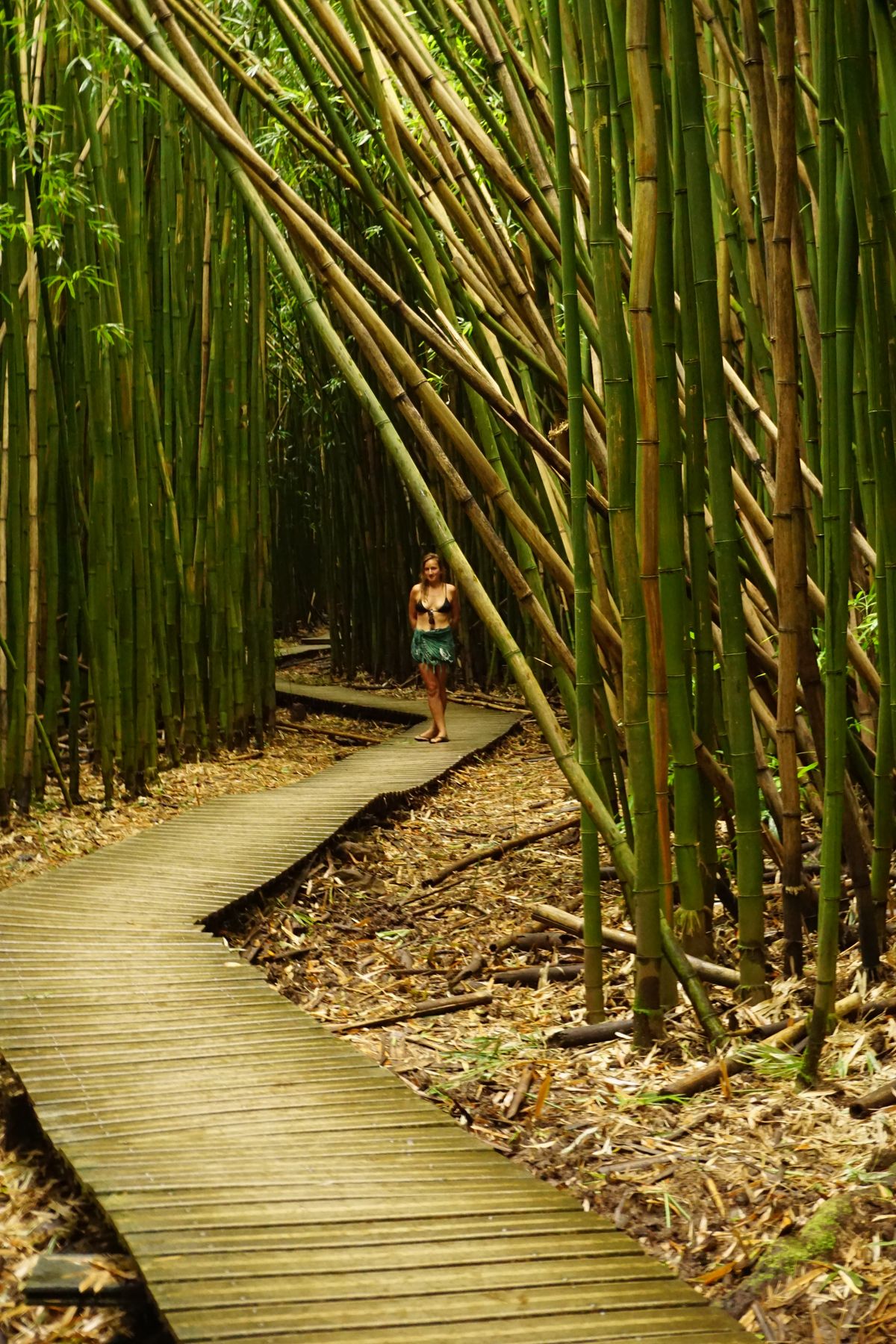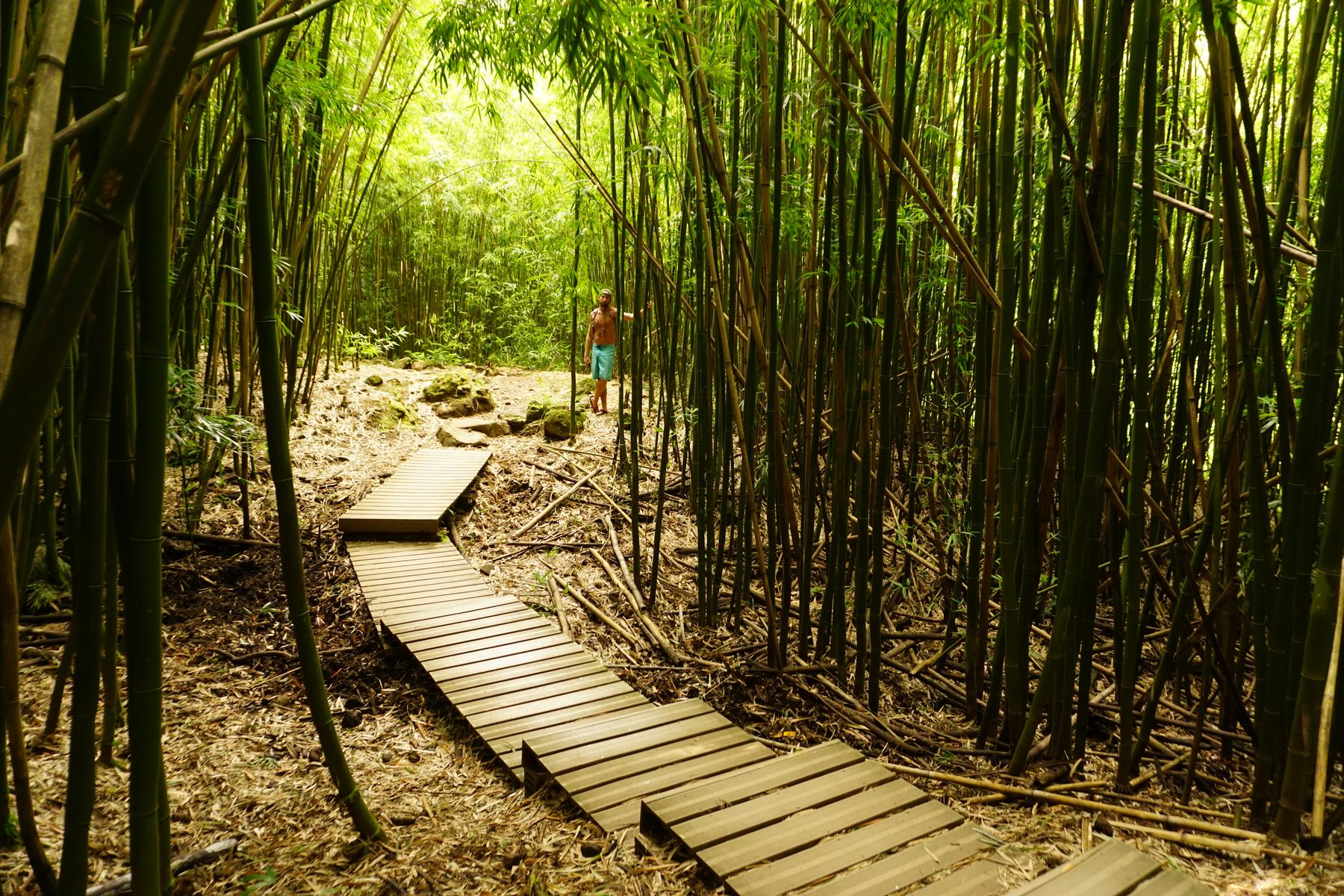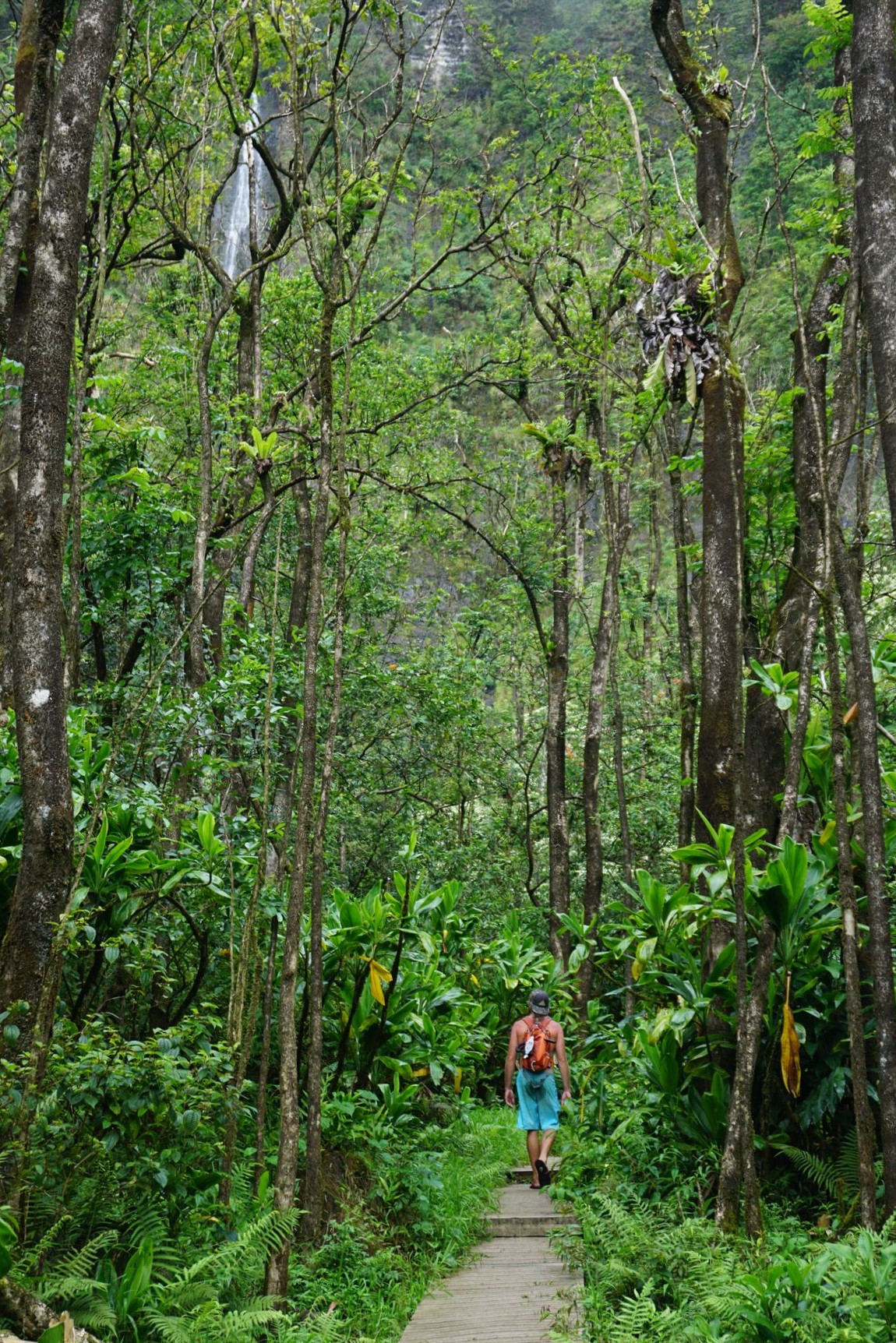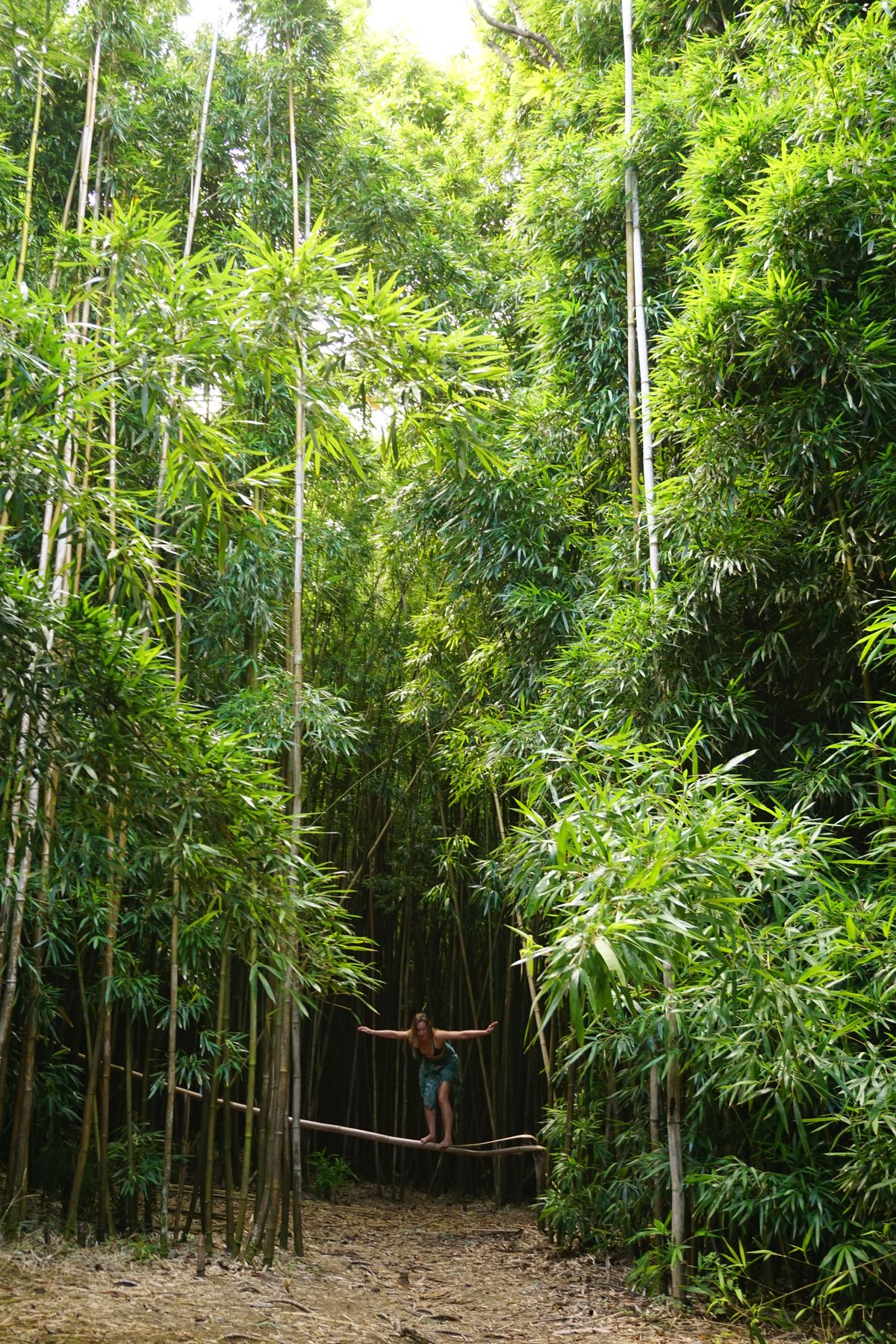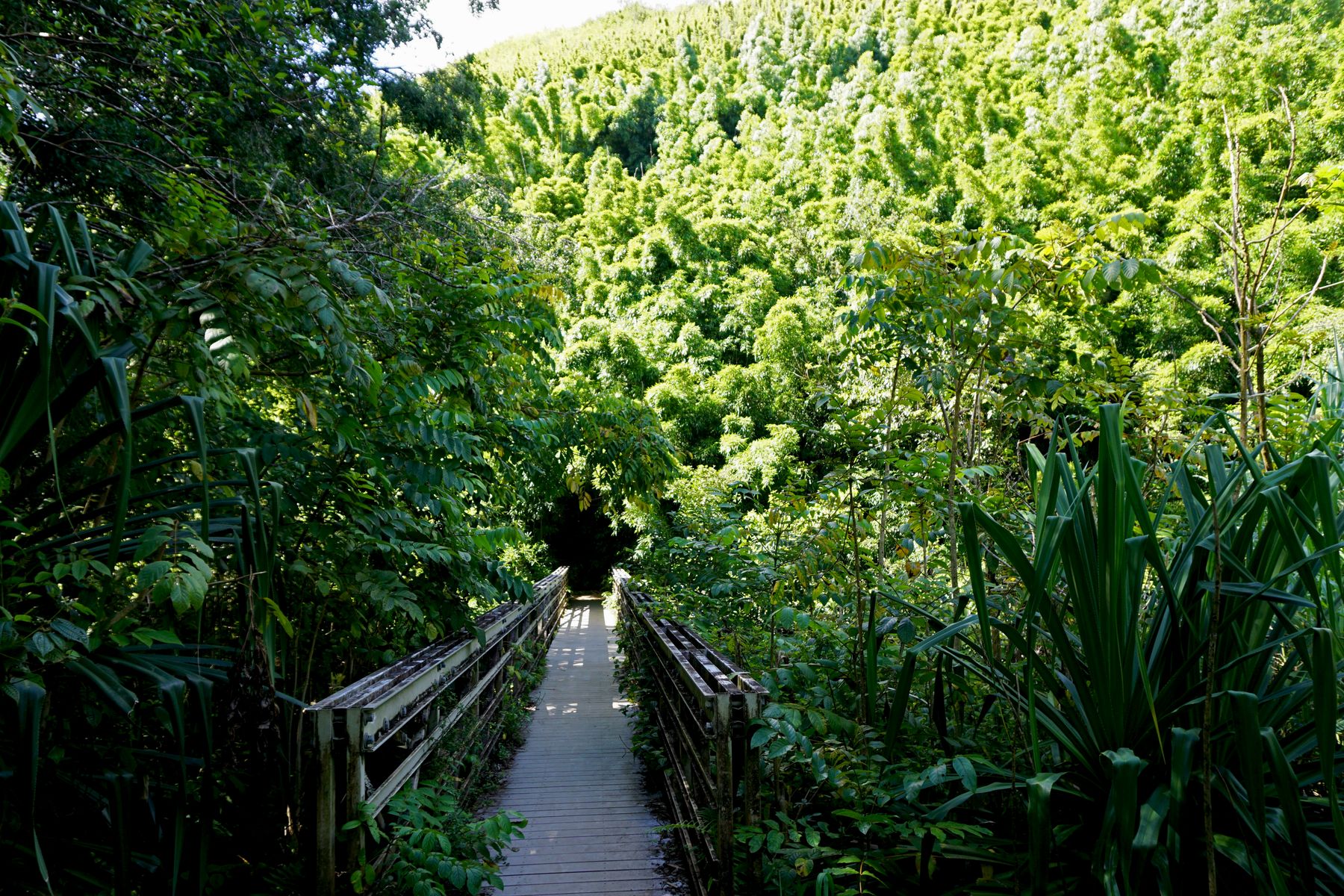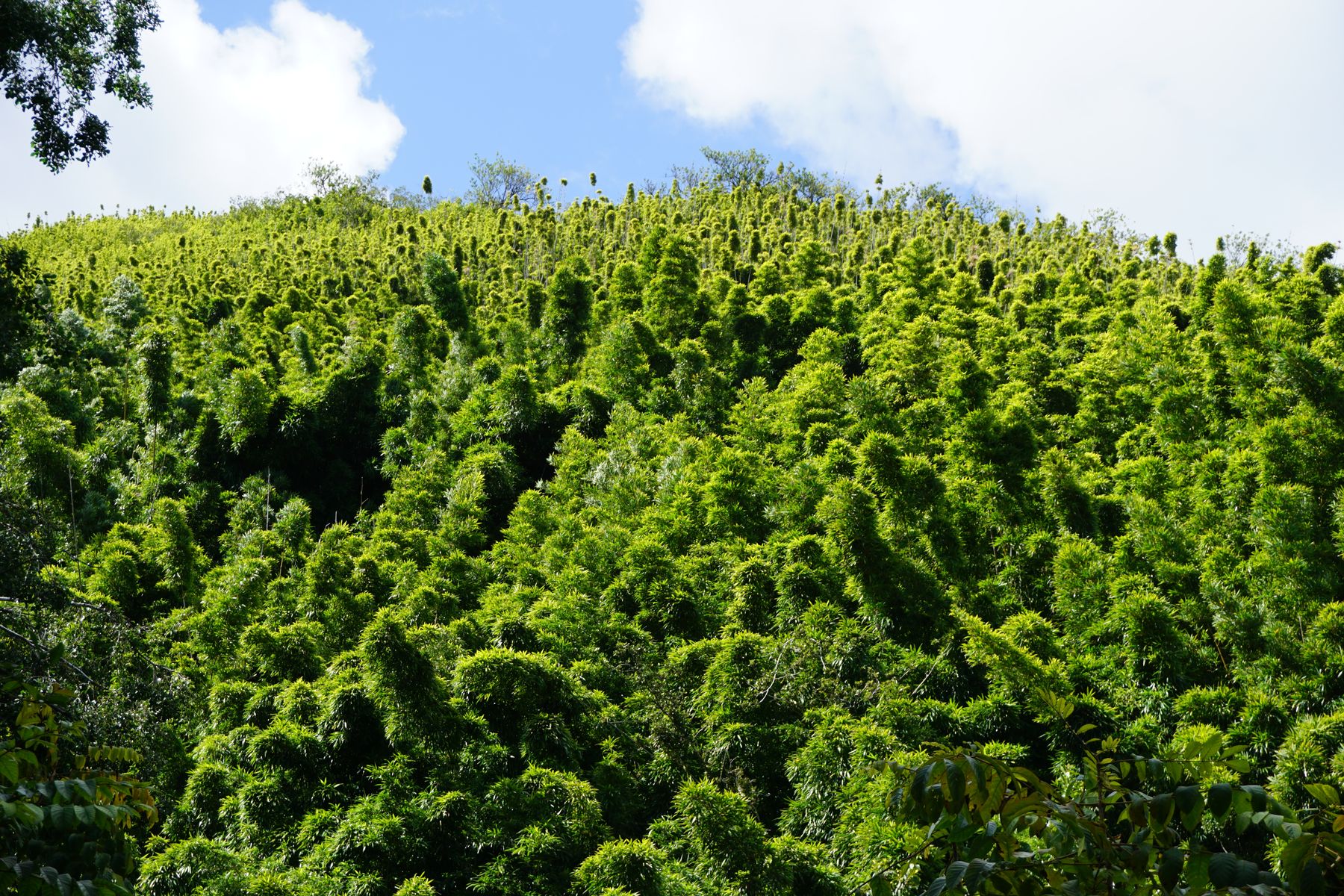 After this we played in the 7 Sacred Pools. -Another place with a "do not enter" sign :D this time because of a flood warning. We took our chances and swam in one sacred pool, climbed up its waterfall into another sacred pool, up another waterfall to another pool, and so on, until it was too dangerous to climb. The view from the biggest pool was incredible. Pool- waterfall-pool-waterfall-pool-waterfall- on and on until the freshwater reached the ocean and waves crashed against the falls. I think you would need a helicopter or a drone to get a decent shot of the pools, so unfortunately my photos don't do this place much justice.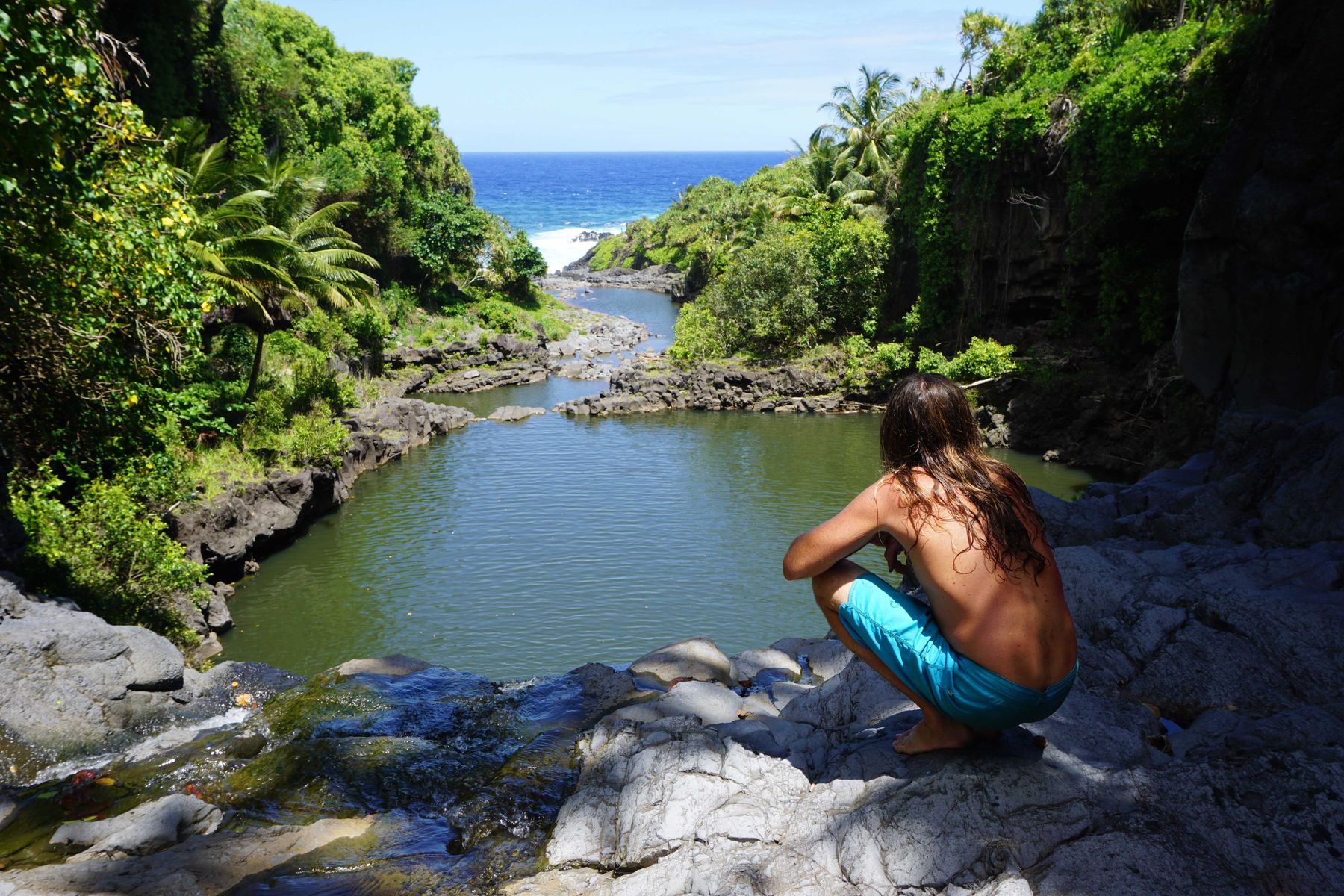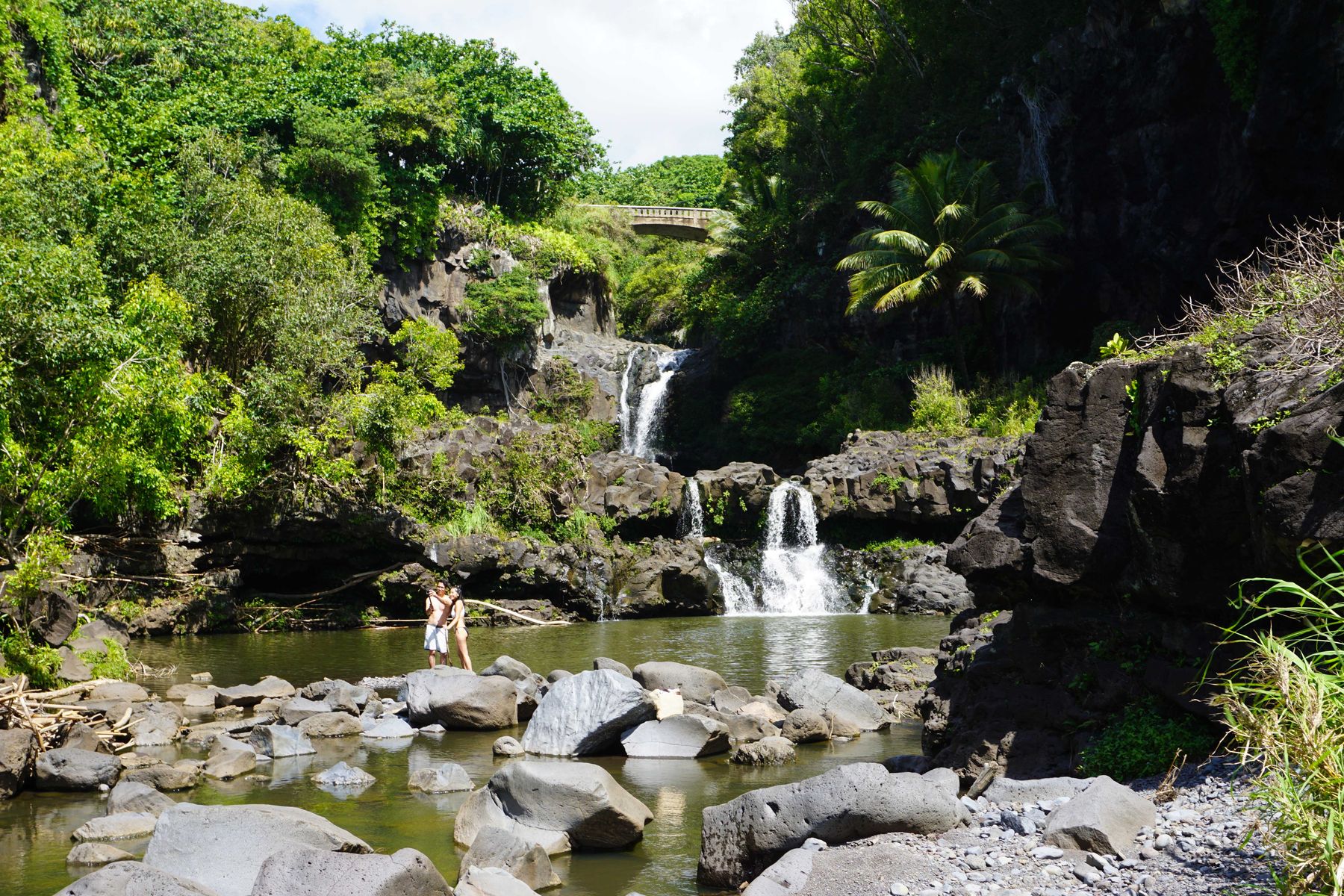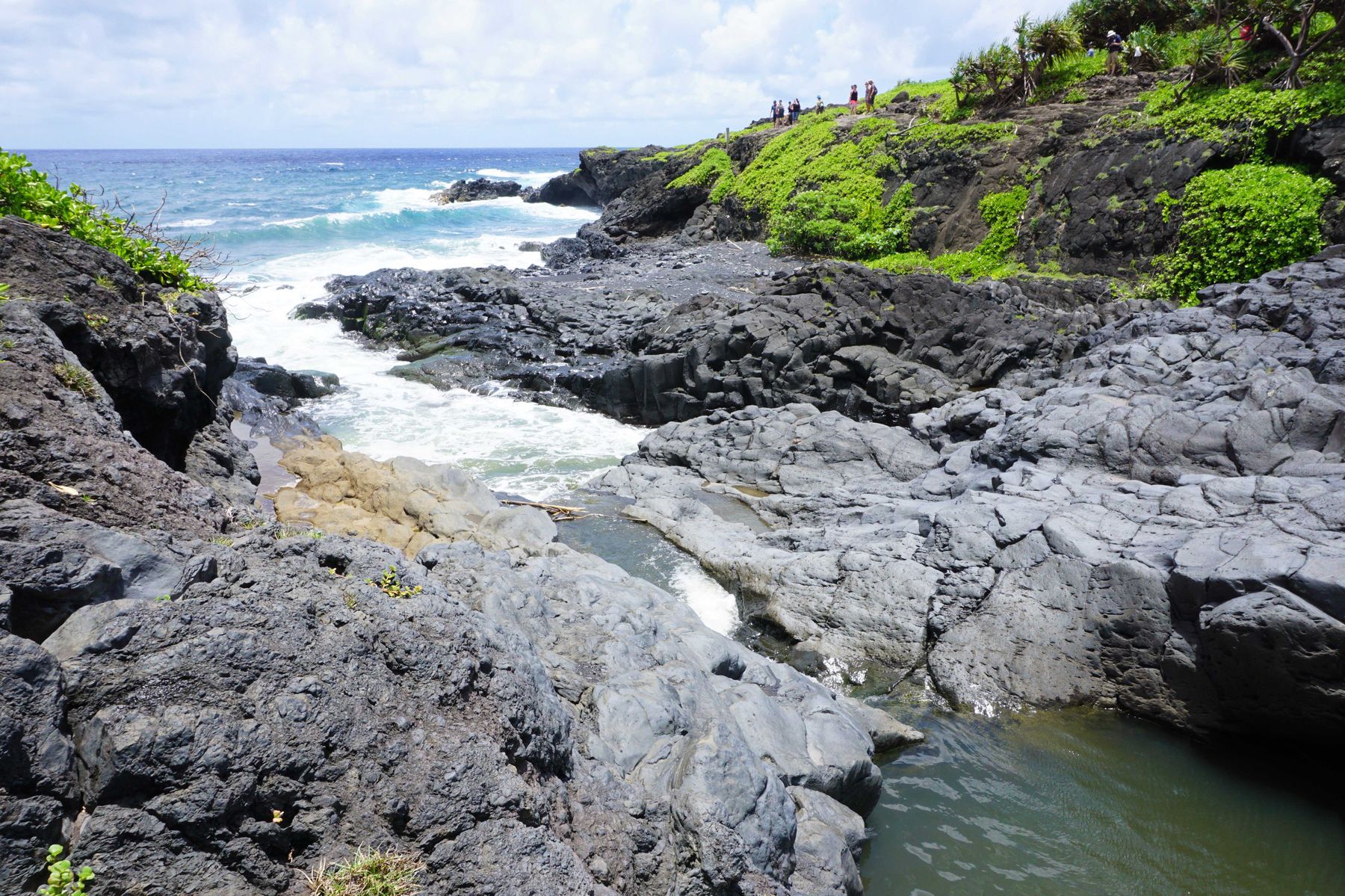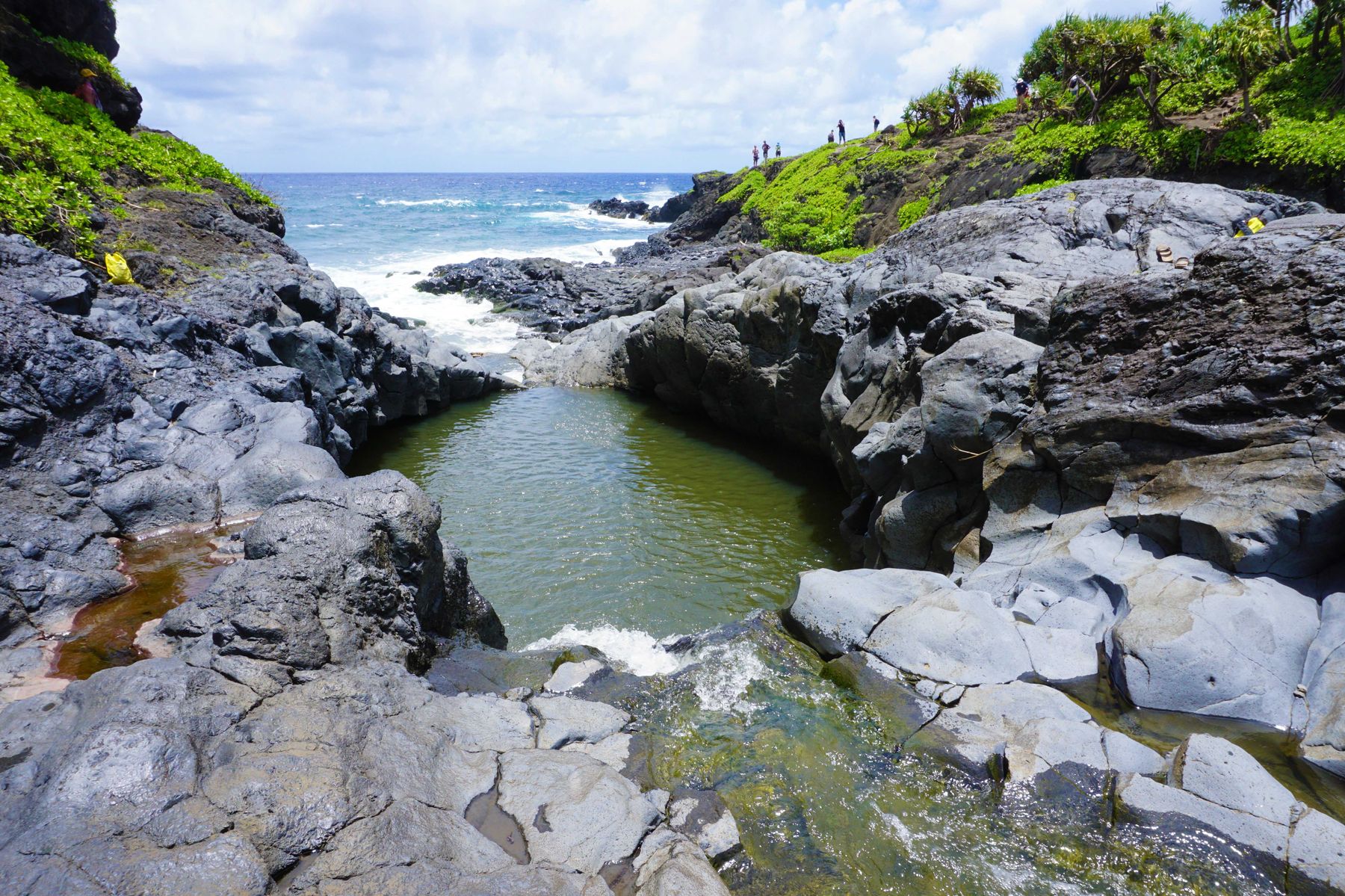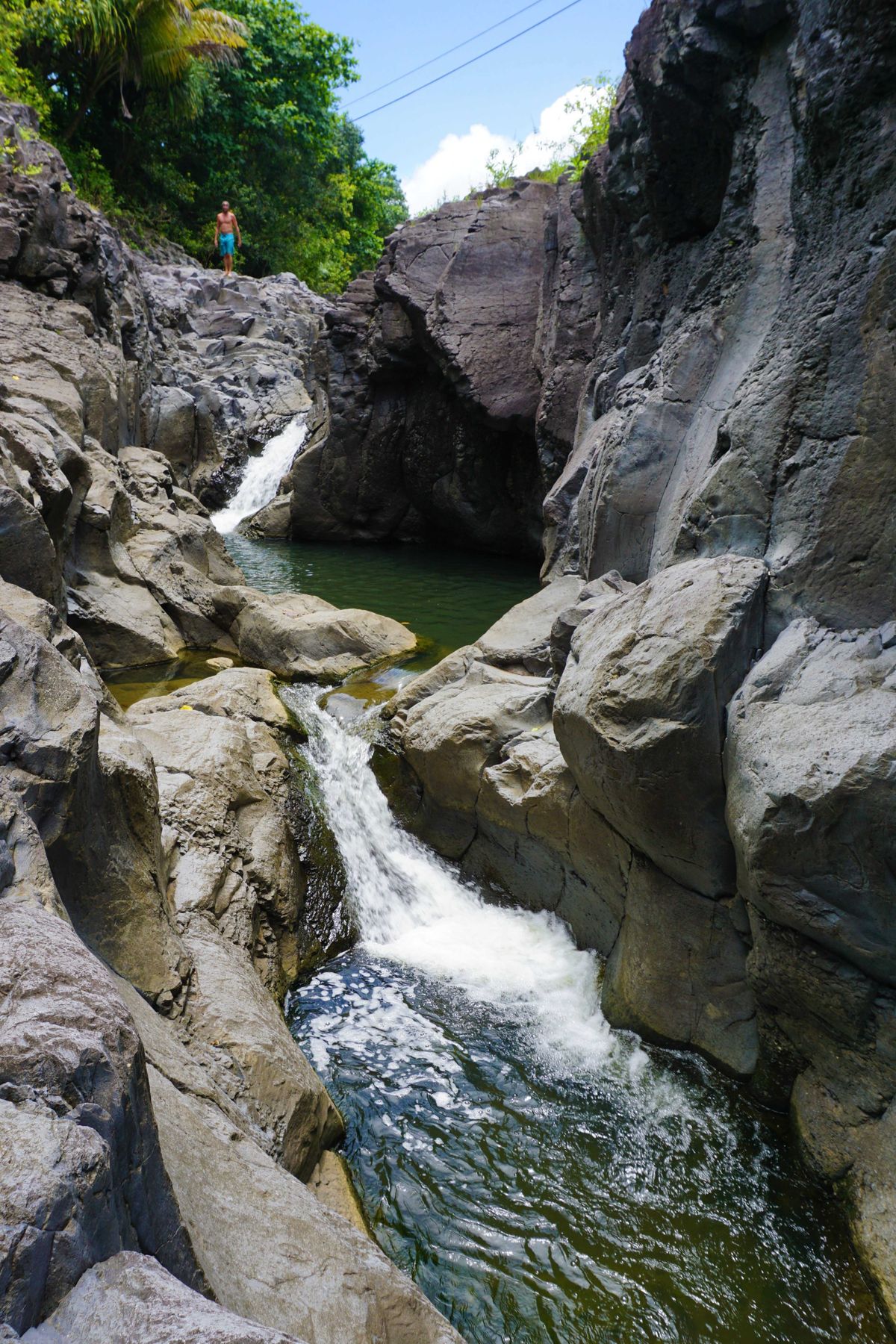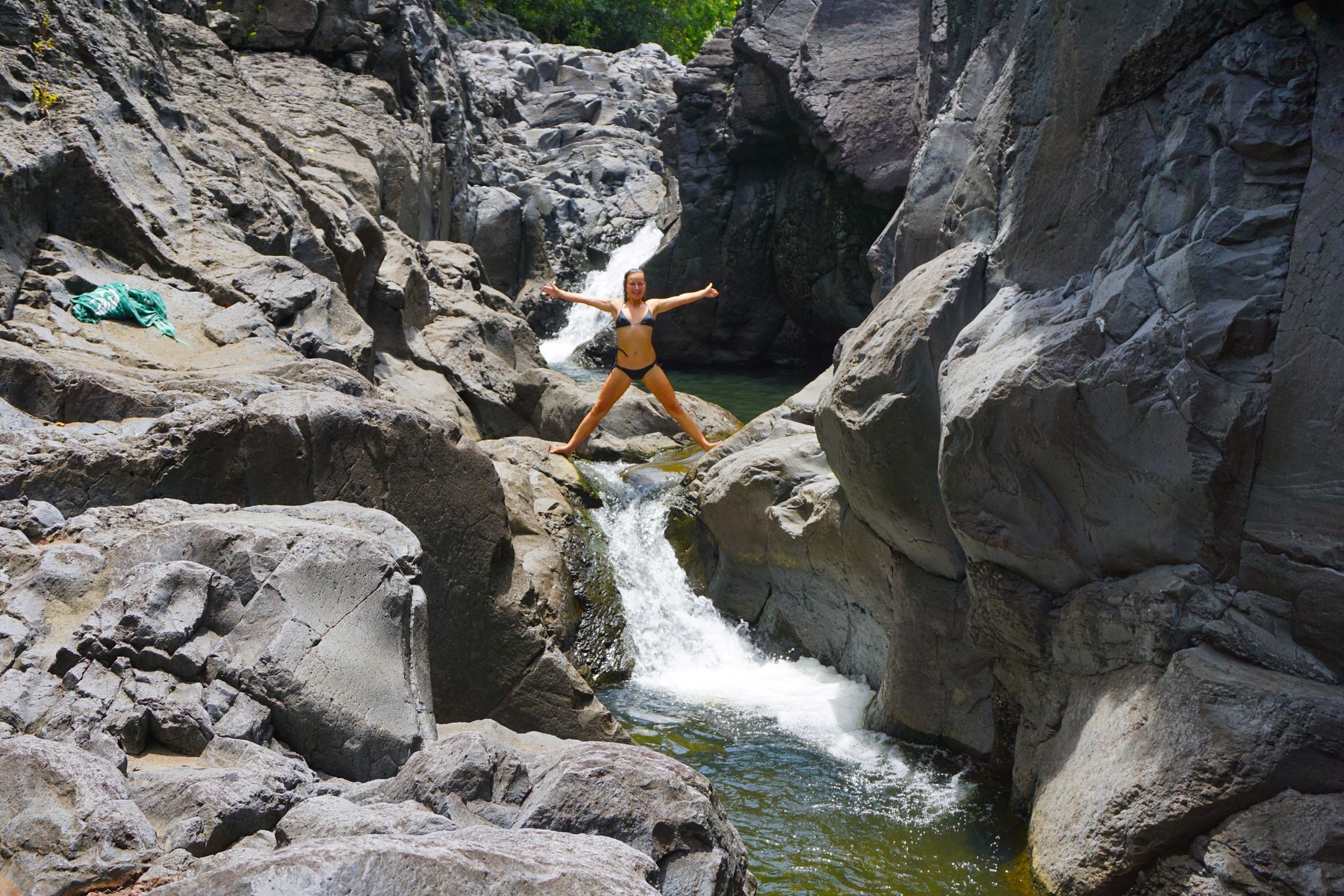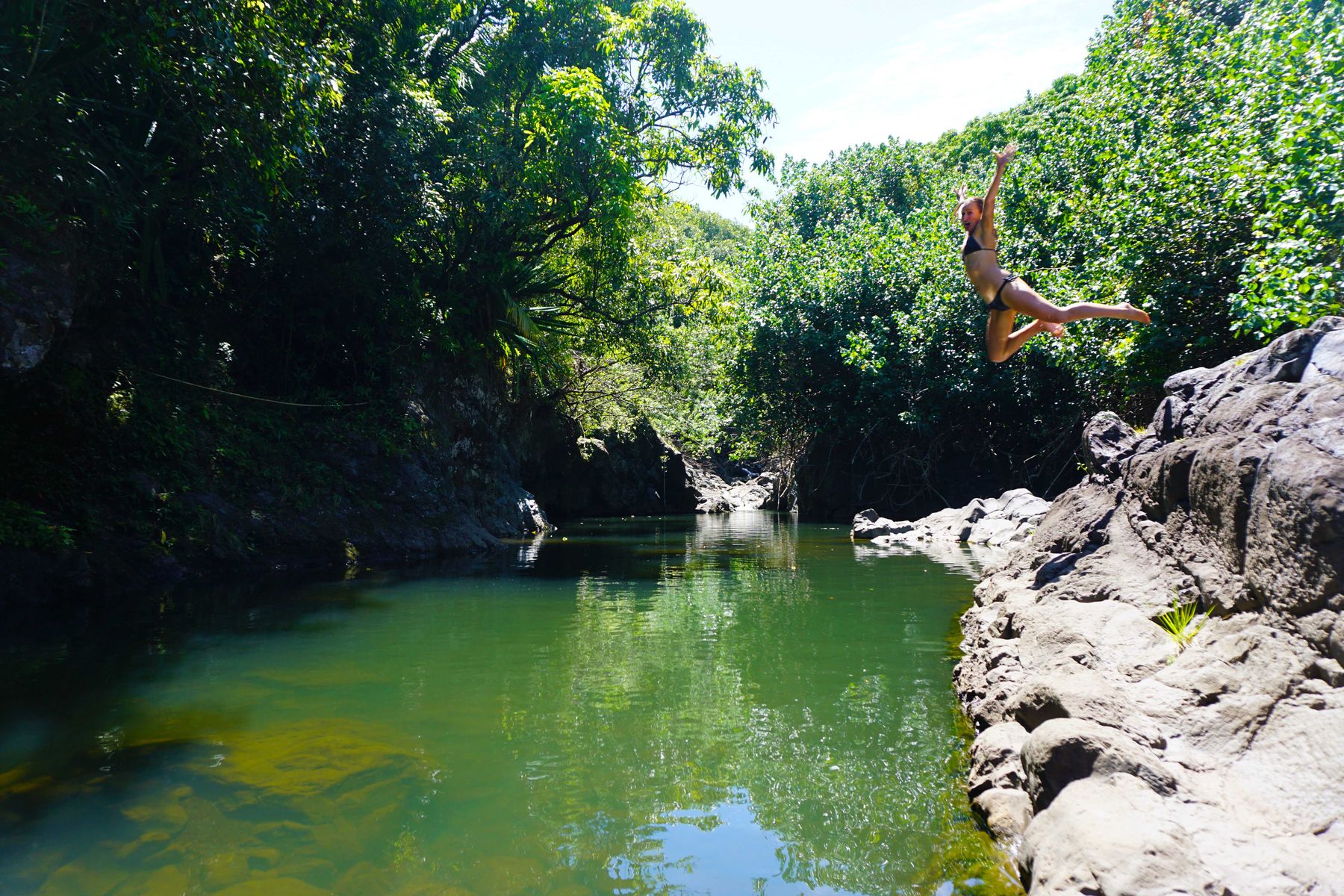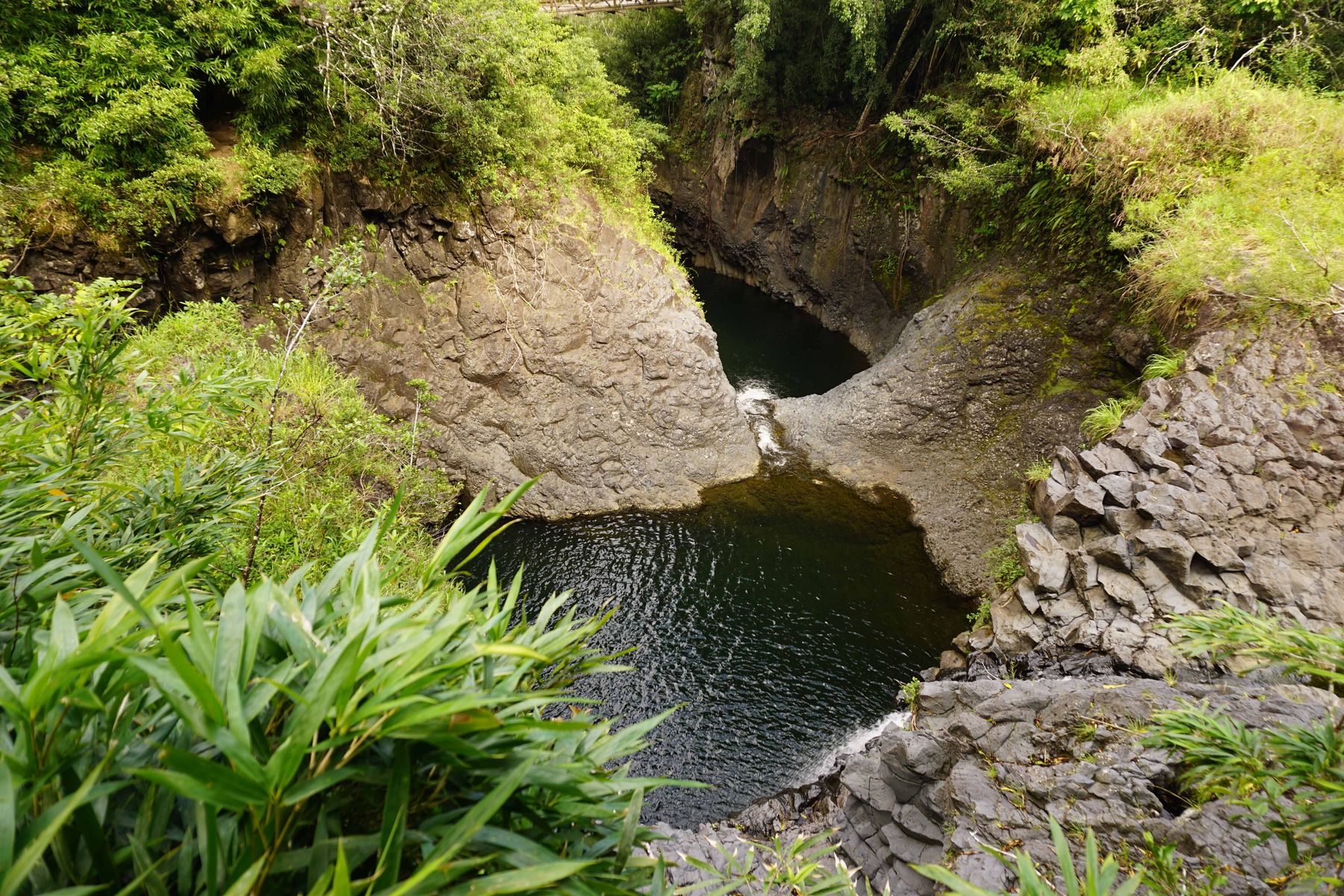 That night we hung up our hammocks in the campground by the pools, which was free with a national park pass. The park pass was about $25 for a year (for Hawaiian residents)- this includes Haleakala, the Seven Sacred Pools area, as well as the Big Island's Volcanoes National Park.
We picked fruit (mostly jackfruit, mangoes, avocados, bananas and coconuts), bought rice and other cheap products and cooked over a fire or ate sandwiches. Our biggest expense was fuel, which was about $30-40 a tank (and you could drive around more than half of the island on one tank). I didn't keep track of the money I spent during these adventures, but I'm sure that I didn't even reach $100/week on everything.
We didn't plan ahead of time, we just drove where we thought we wanted to go, talked to people, and found local secret spots along the way. One special place was called the Waioka Pond, a deep freshwater pool which was protected from the ocean by a rock wall. There were several fun spots to jump from, ranging from 1 meter high to about 8 meters.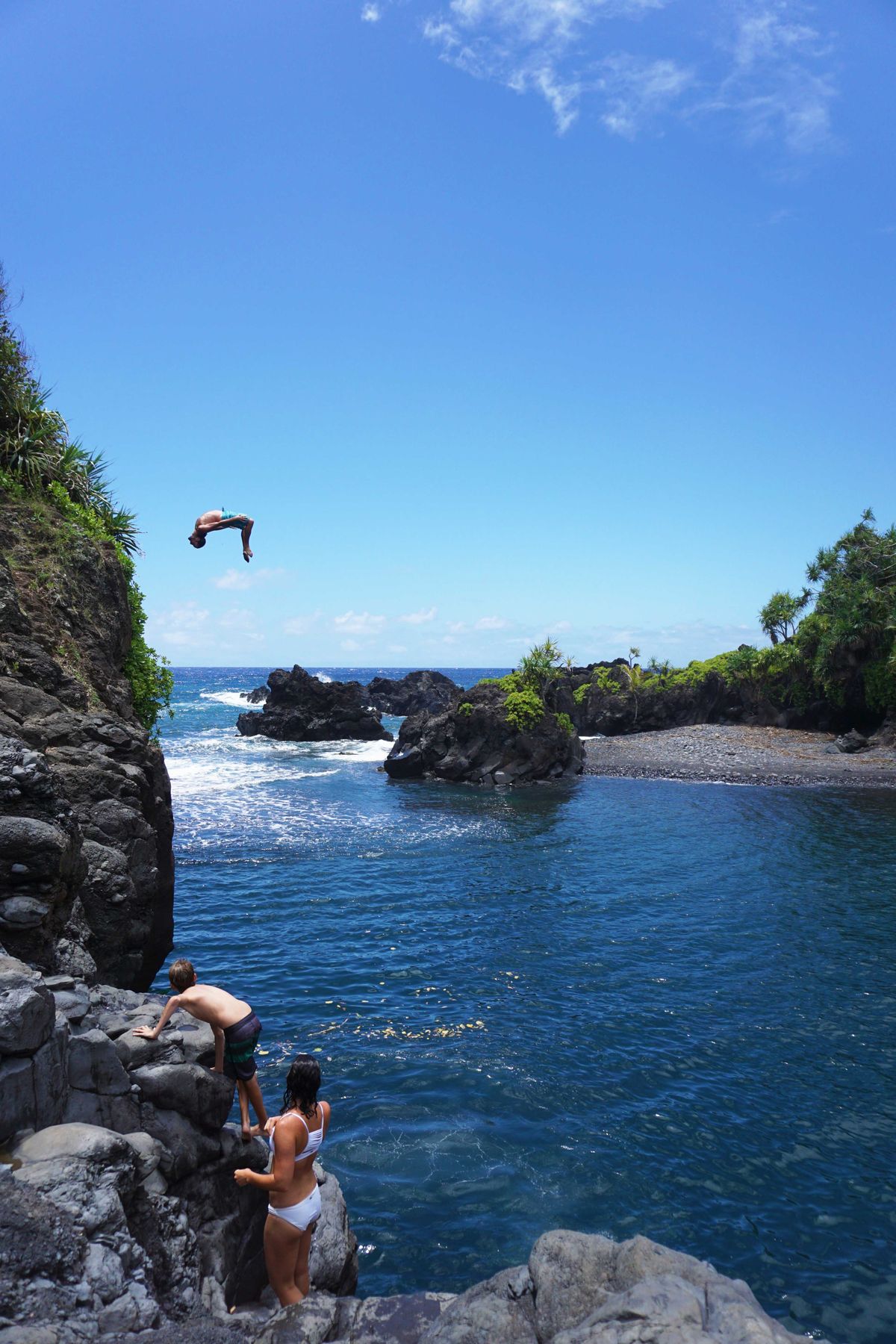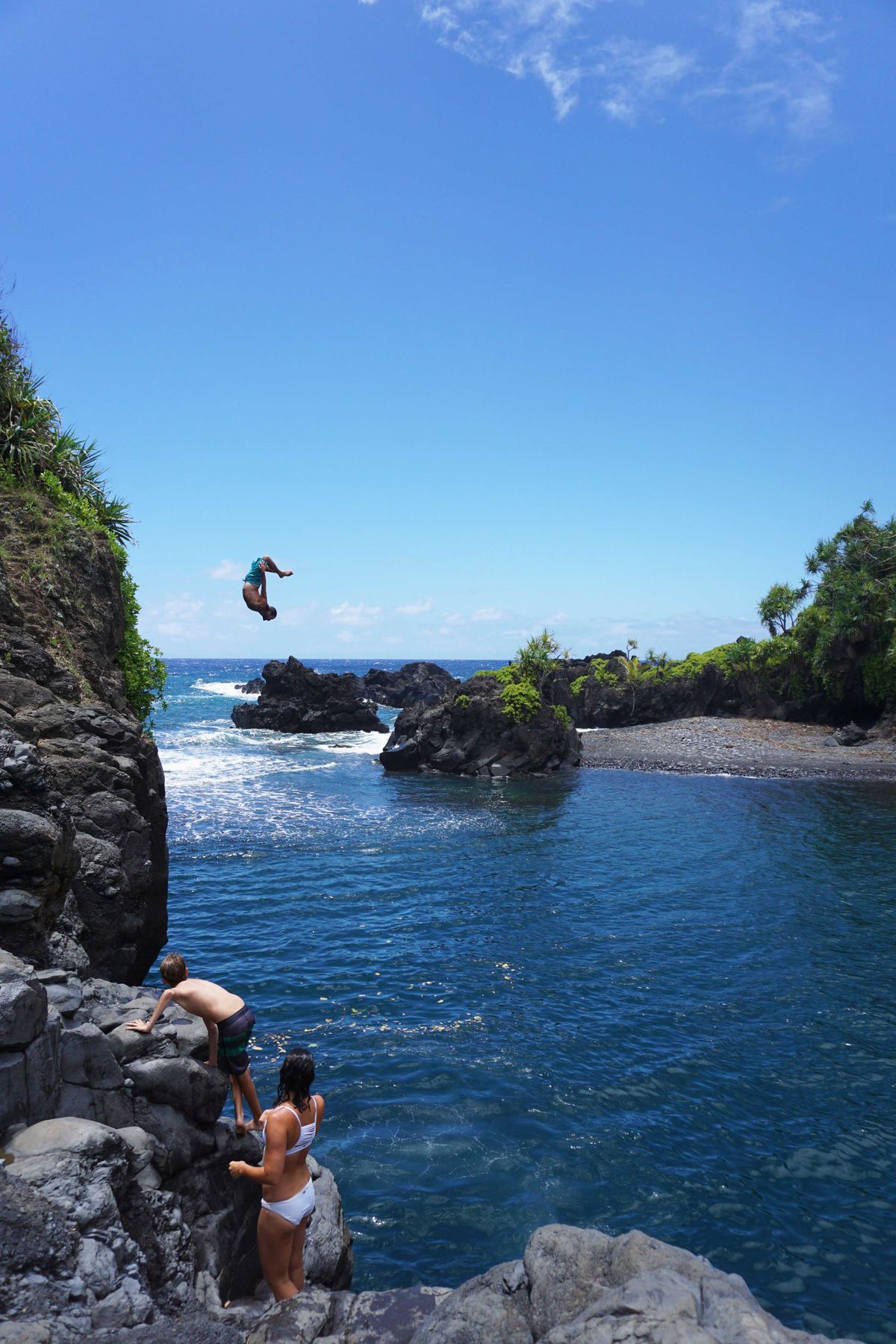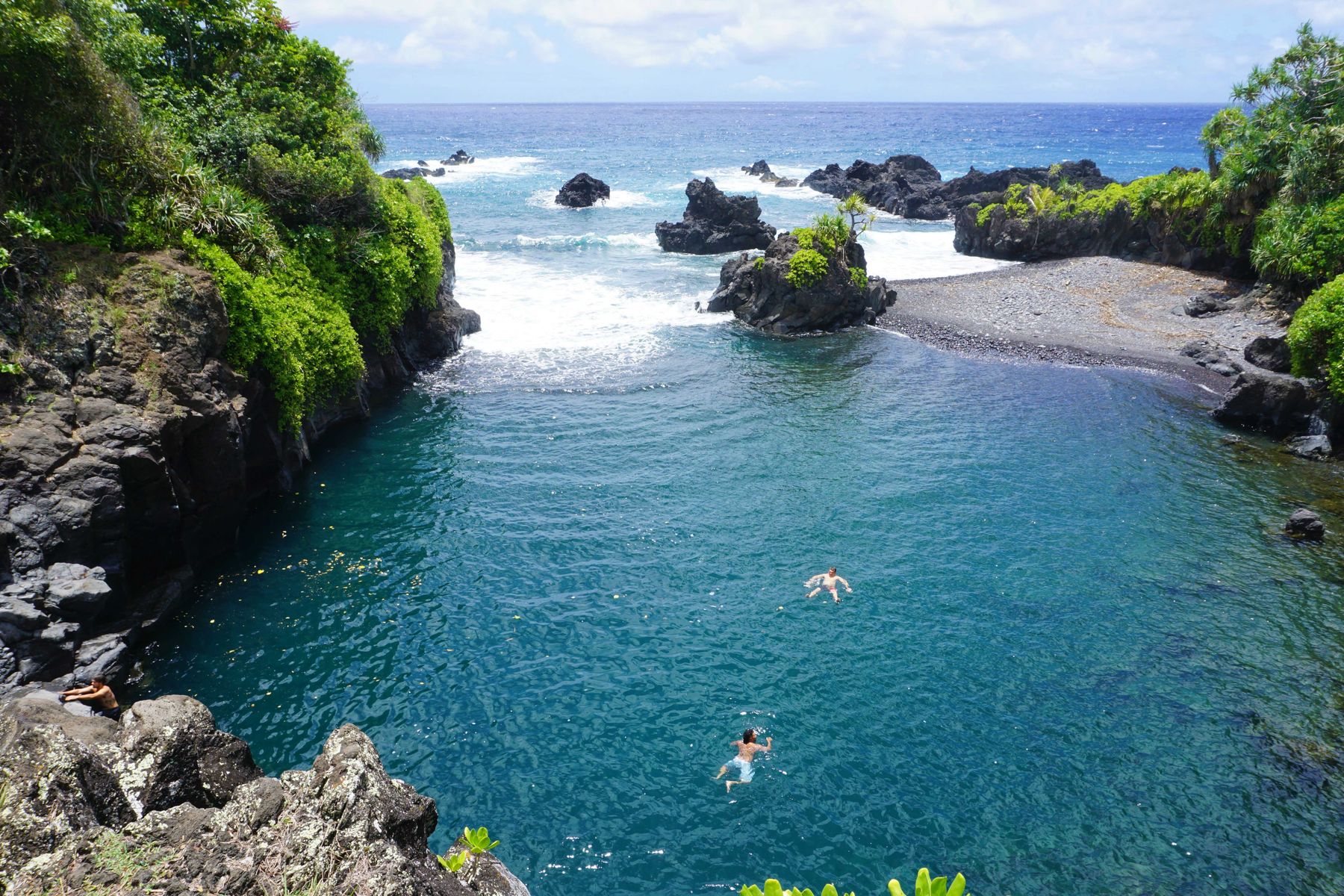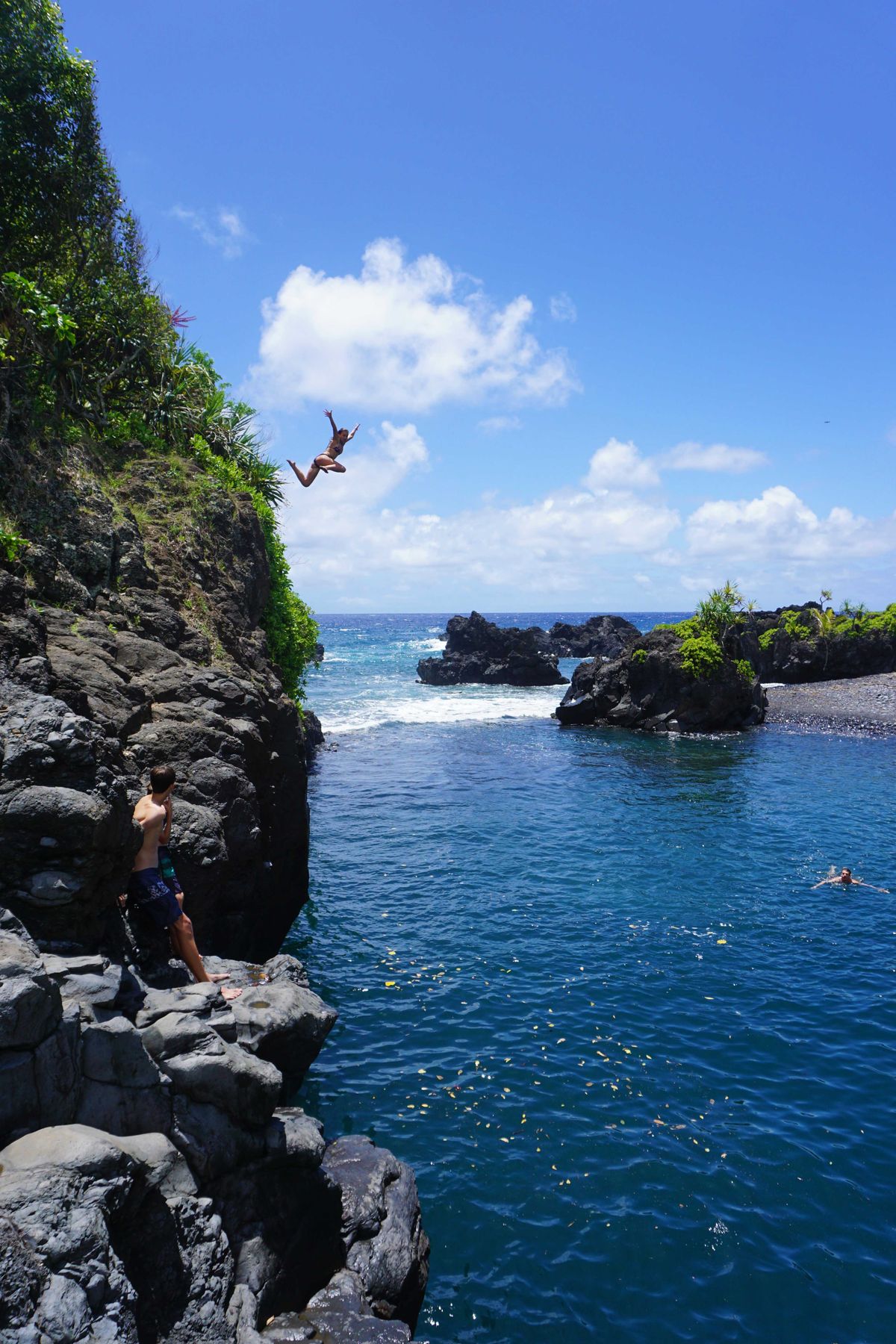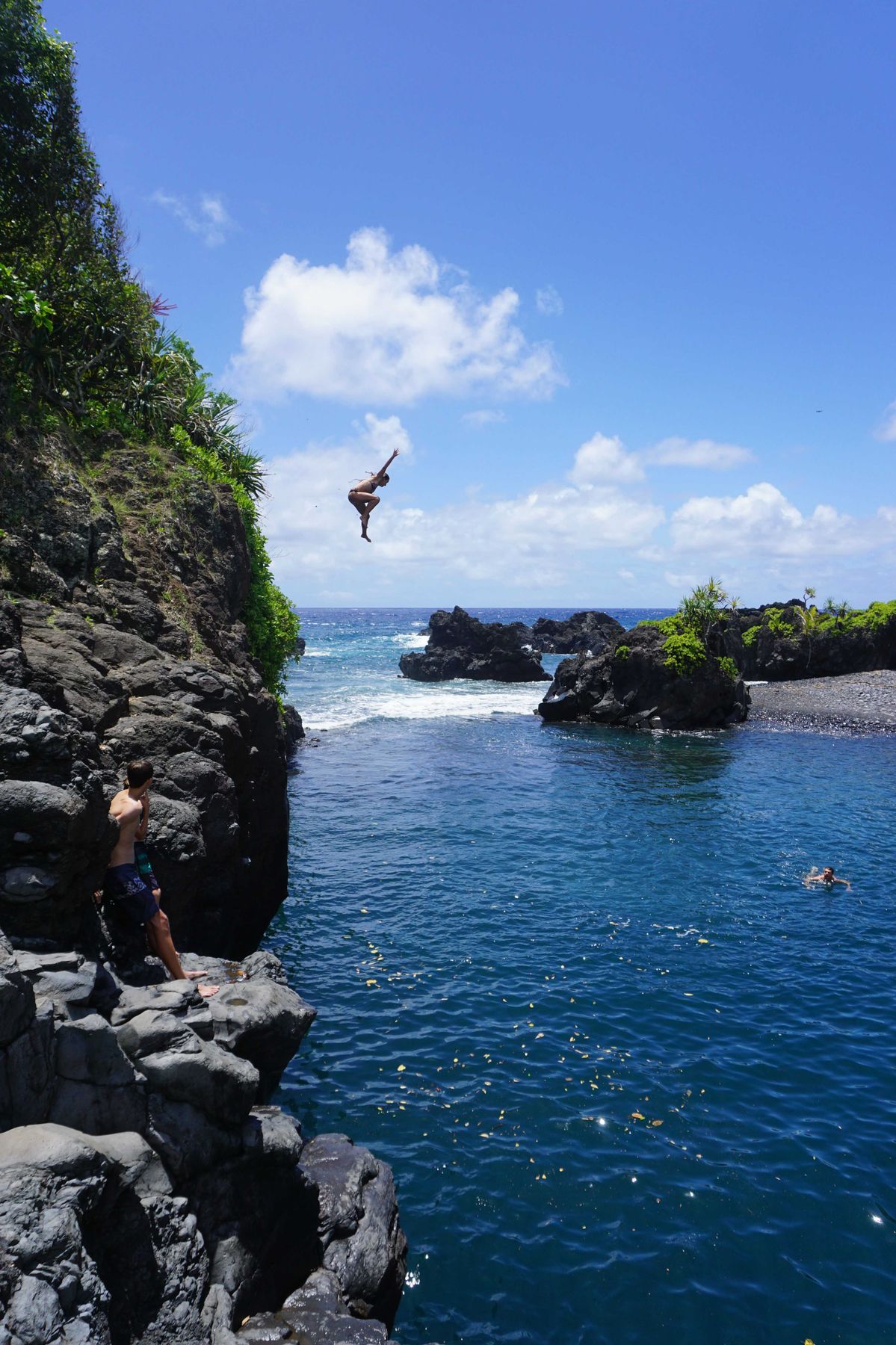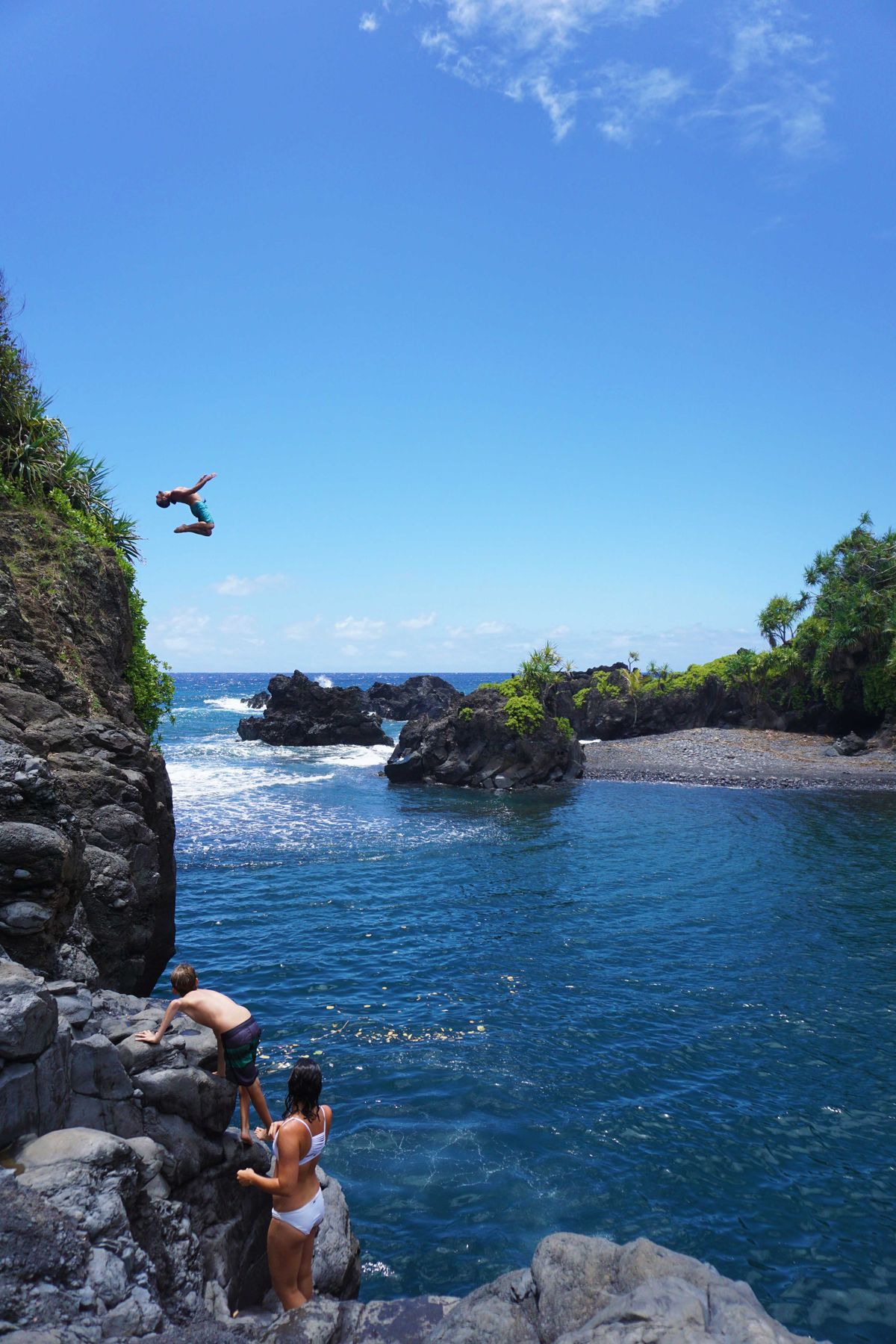 We drove up and down the Hana Highway several times and swam under many waterfalls (highly recommended). We spent time on Hana's exotic Red Sand Beach, nestled between rocks and deep green forest. The red sand comes from red and black lava cinders and is a spectacular contrast to the turquoise water.
We were not limited by time so we took our time to explore Maui. We talked to locals to find out about local life. We drove along every ocean-side road of the island, did many different hikes and explored new places every day. We slept anywhere we could hang up our hammocks and didn't worry much about anything :)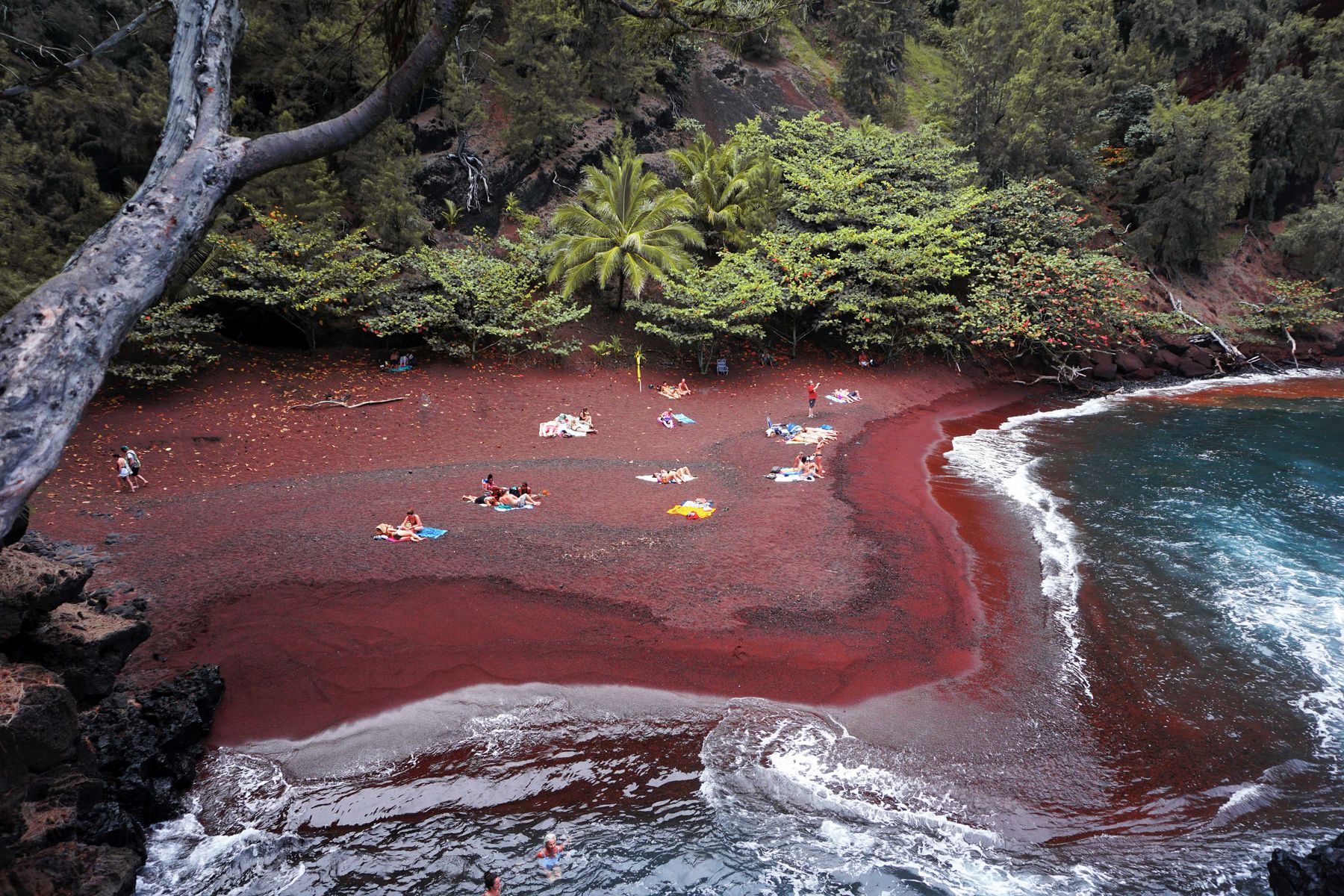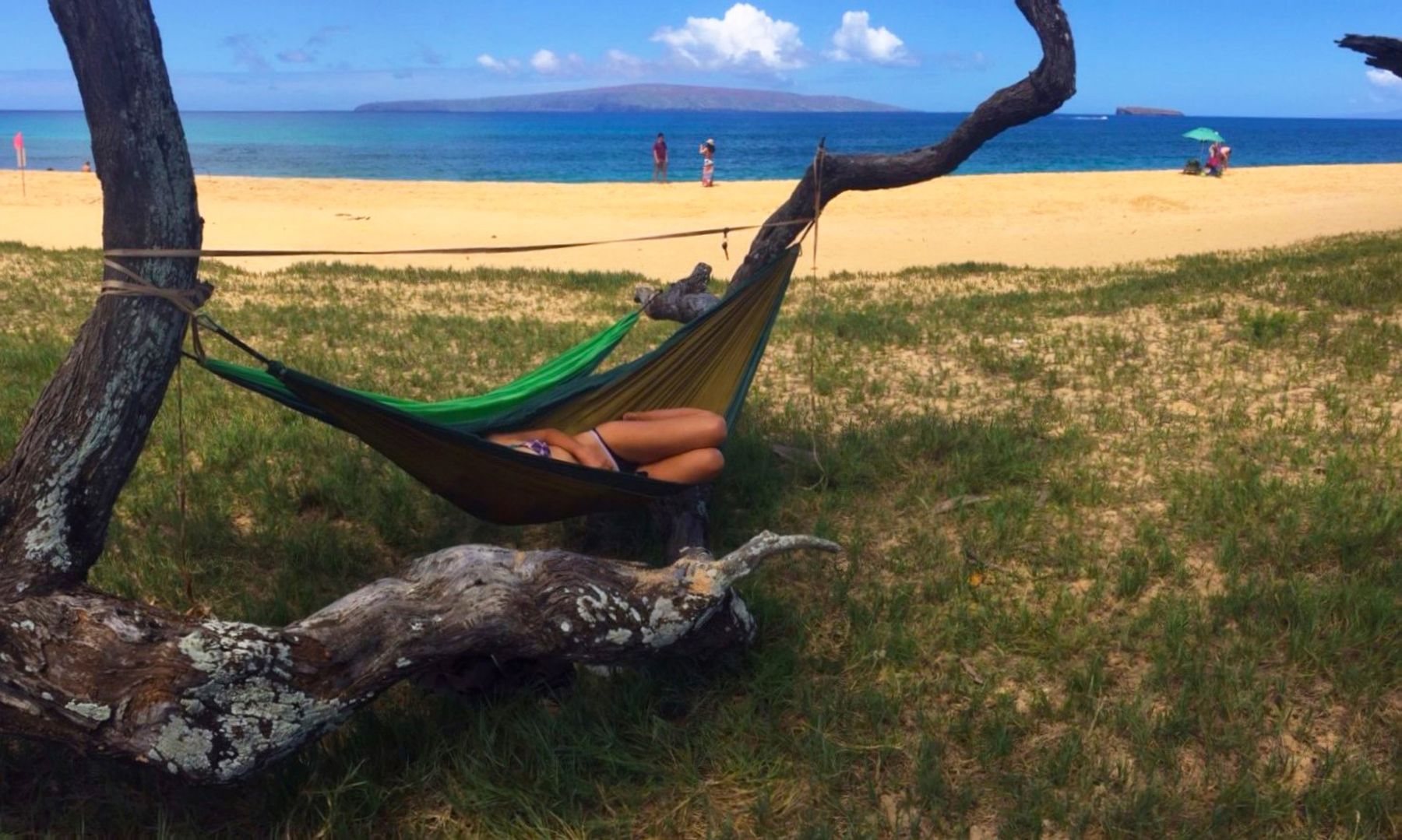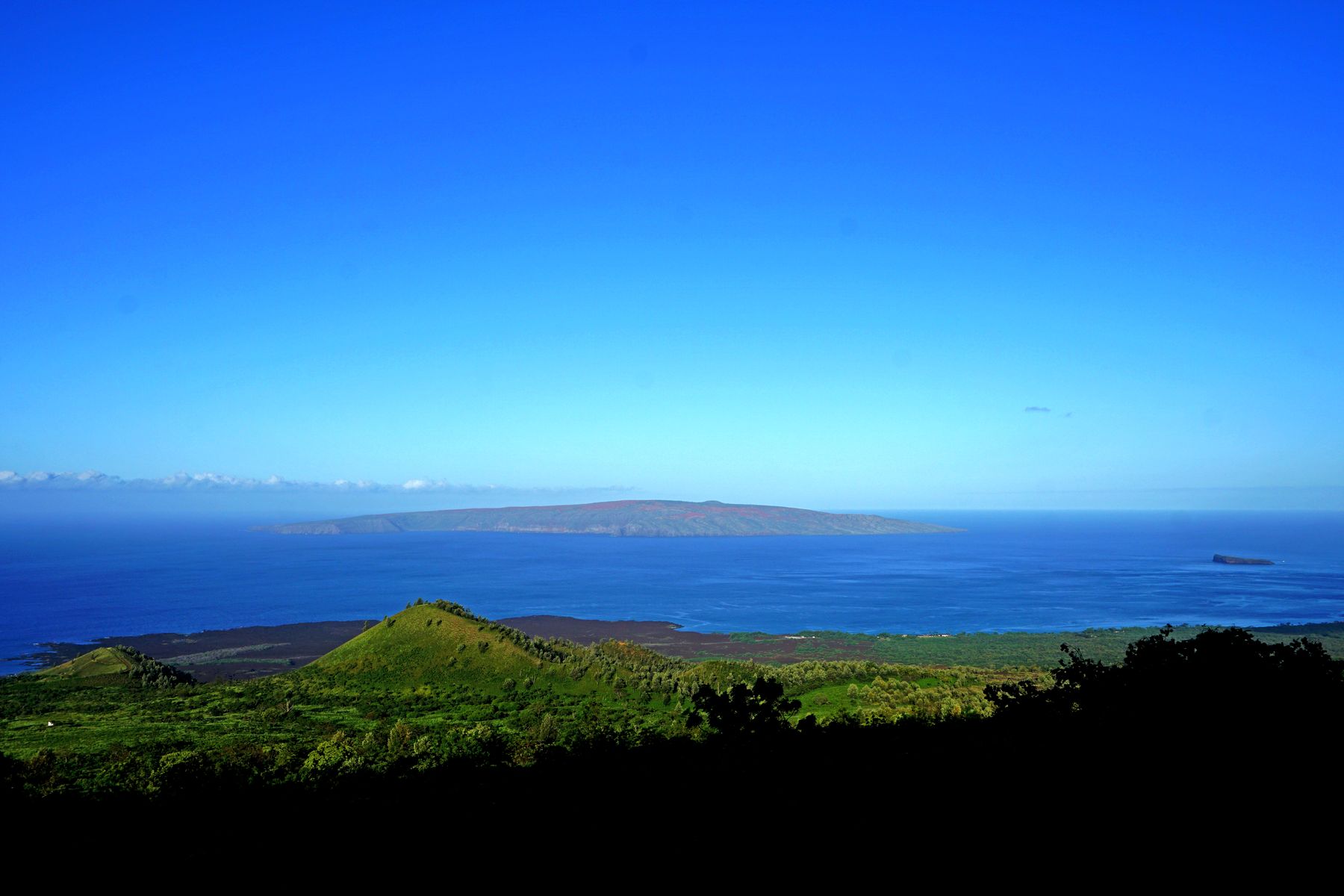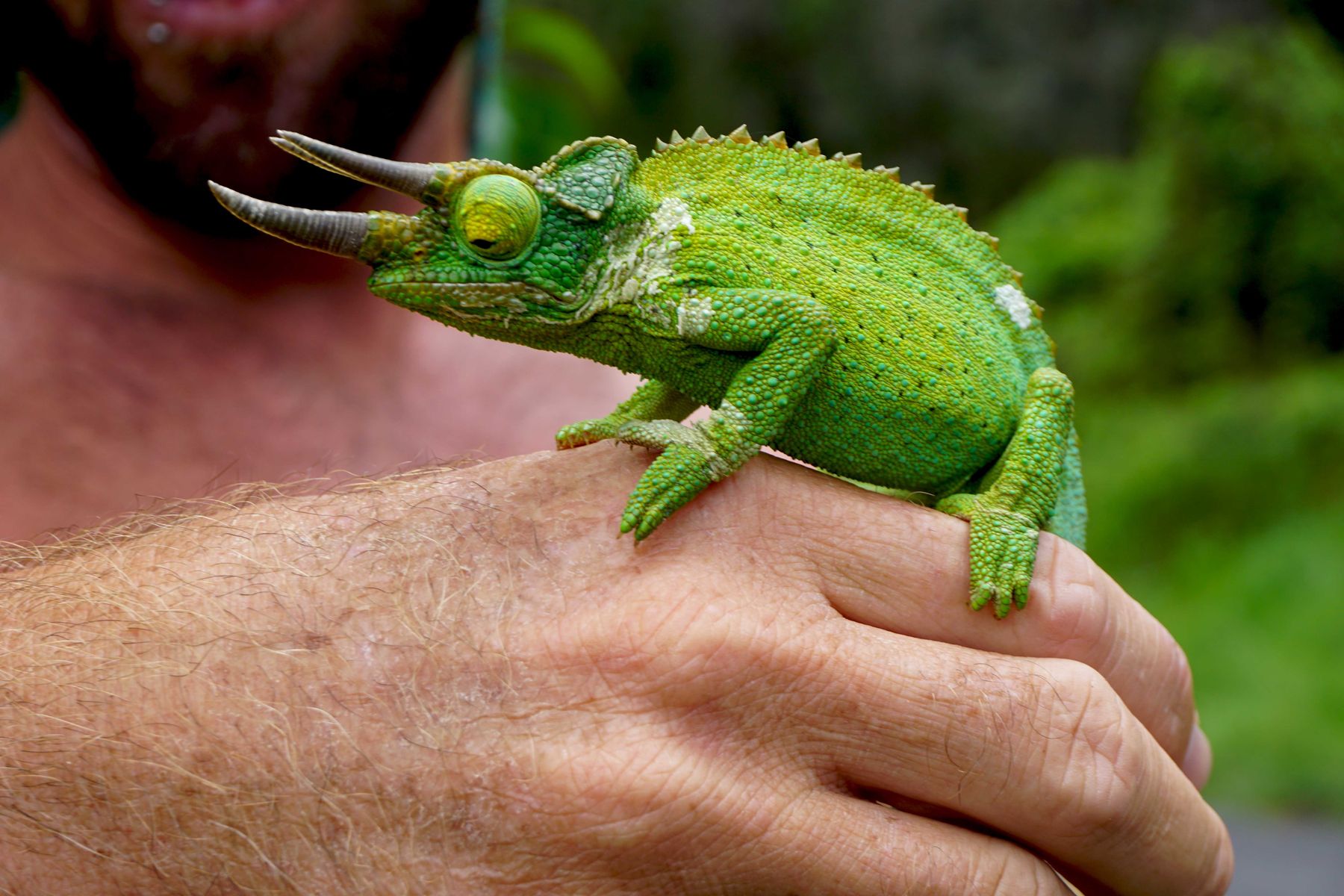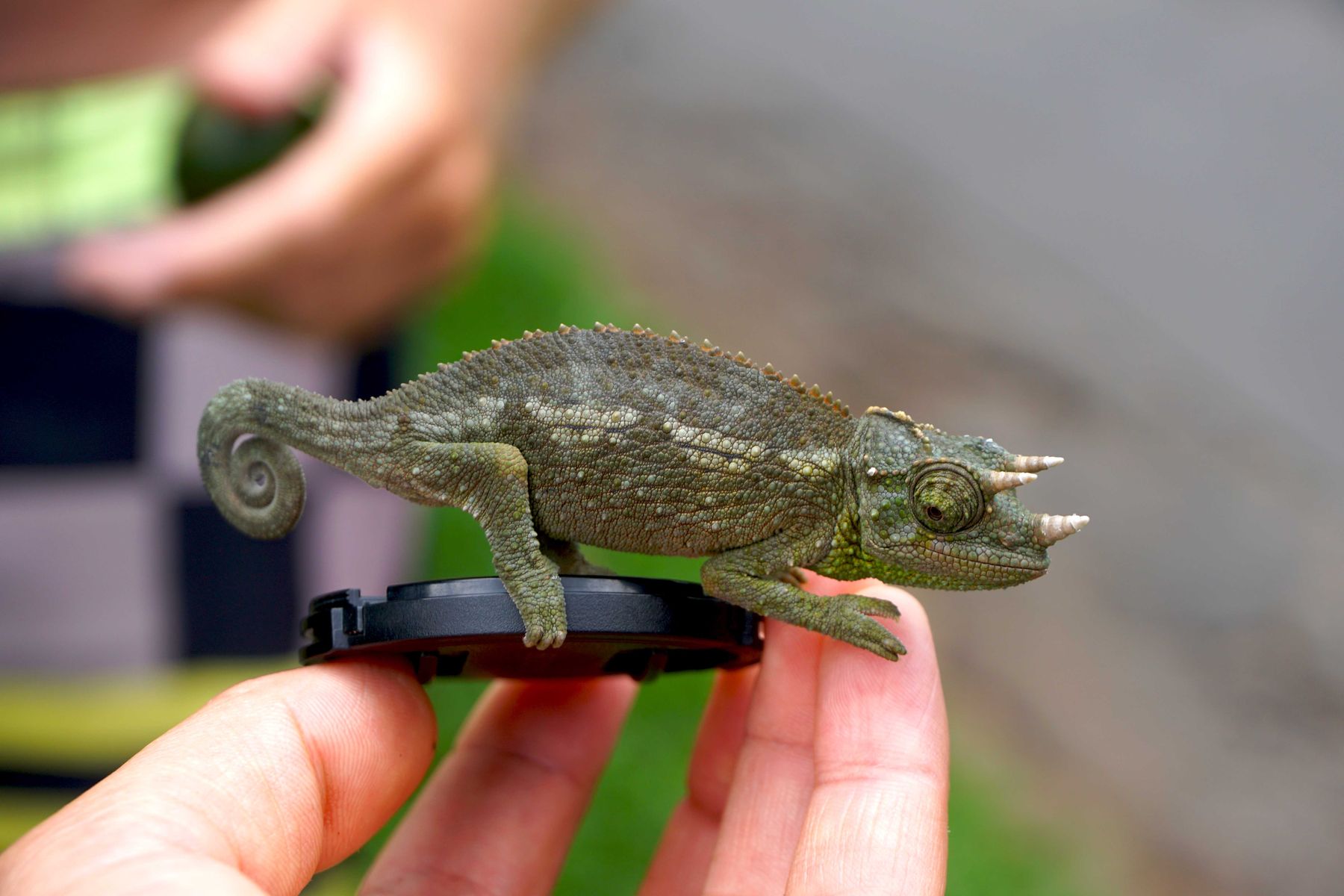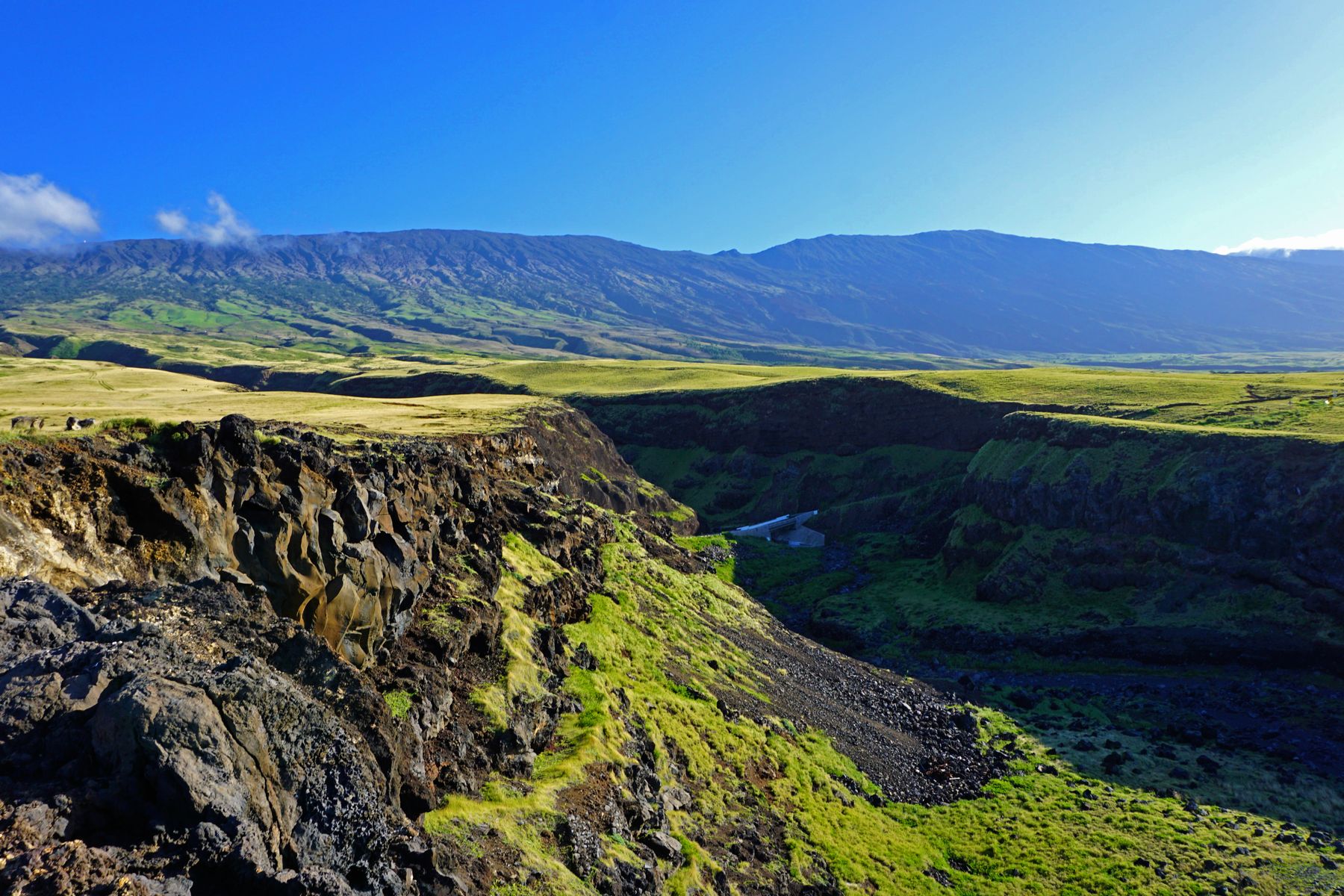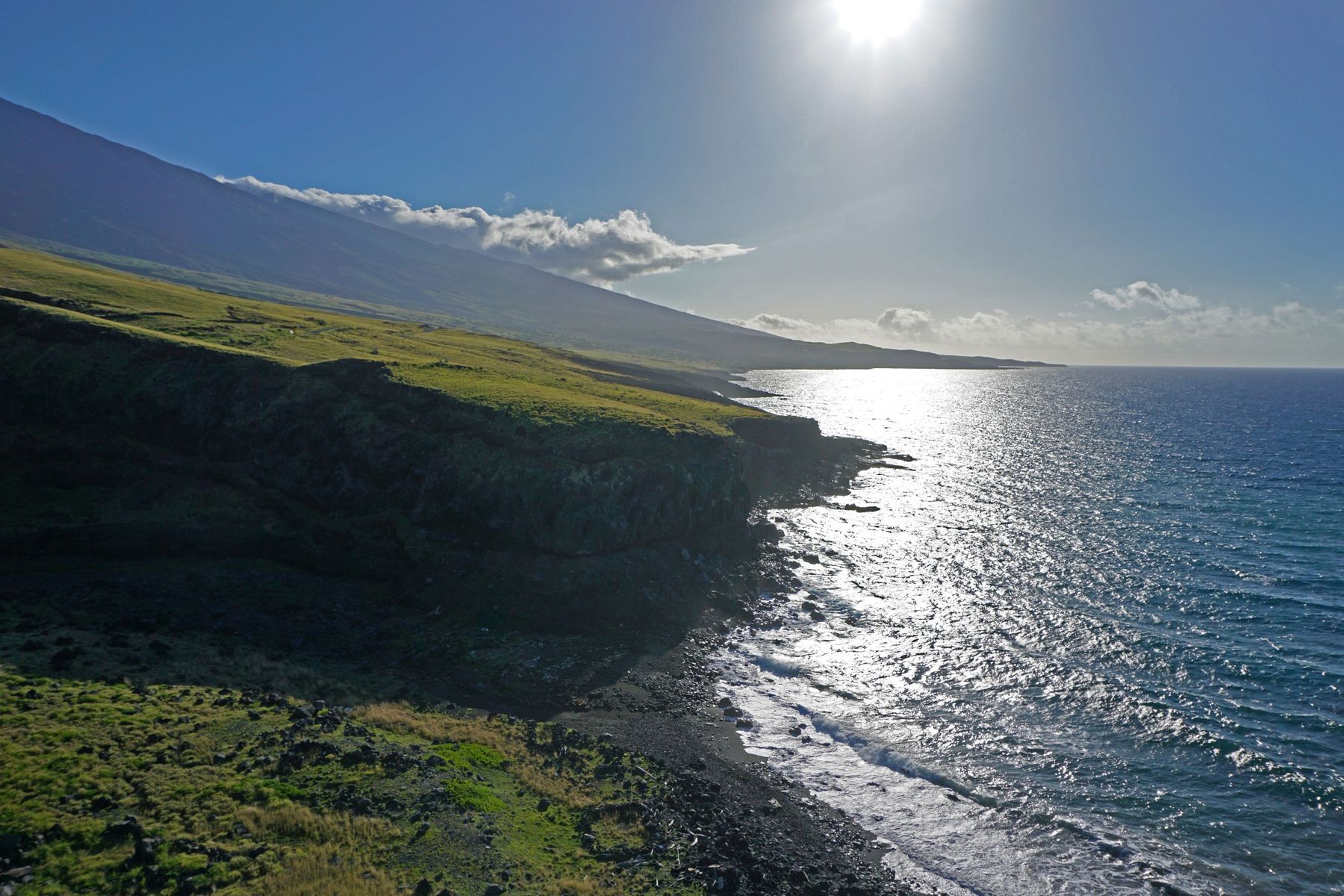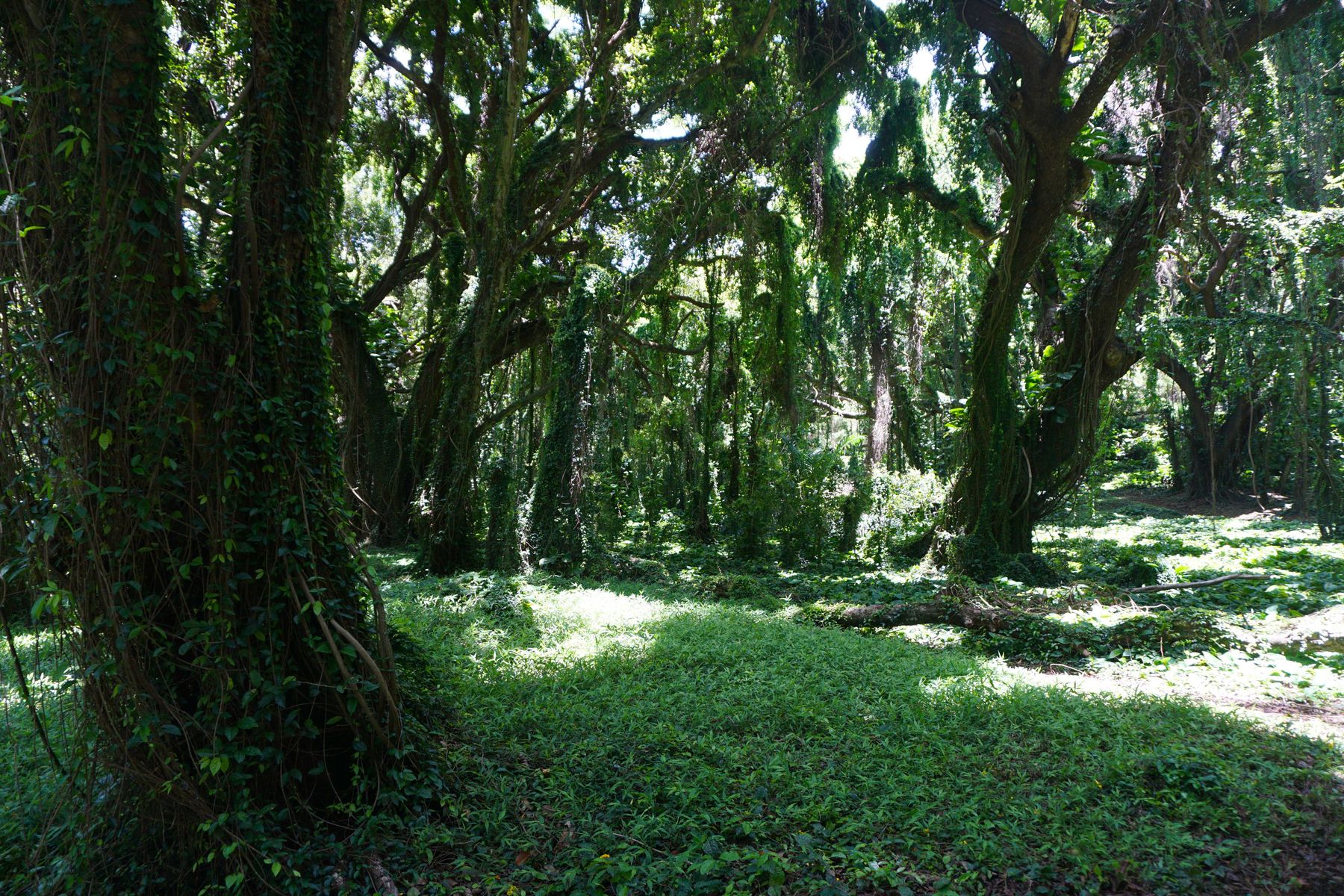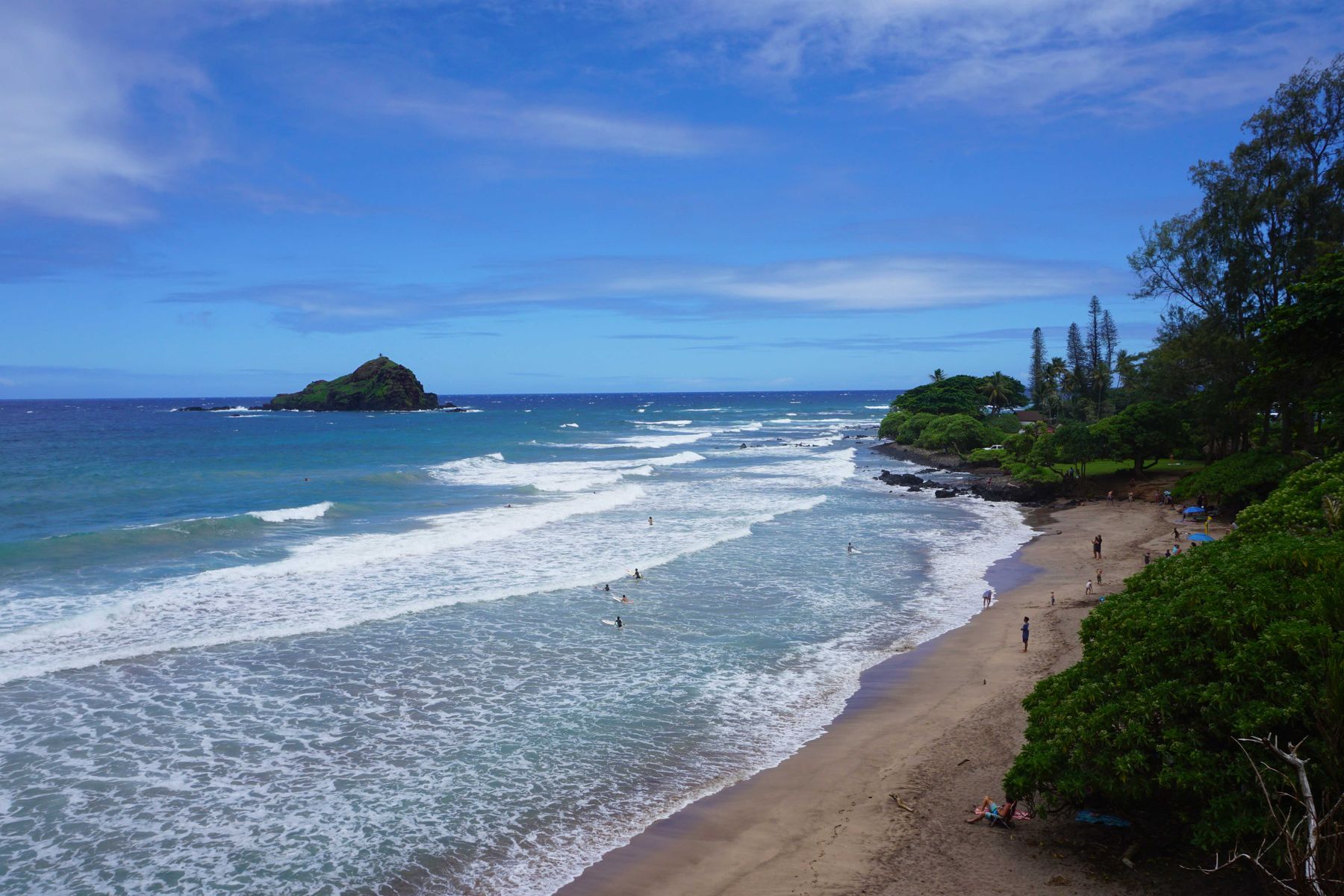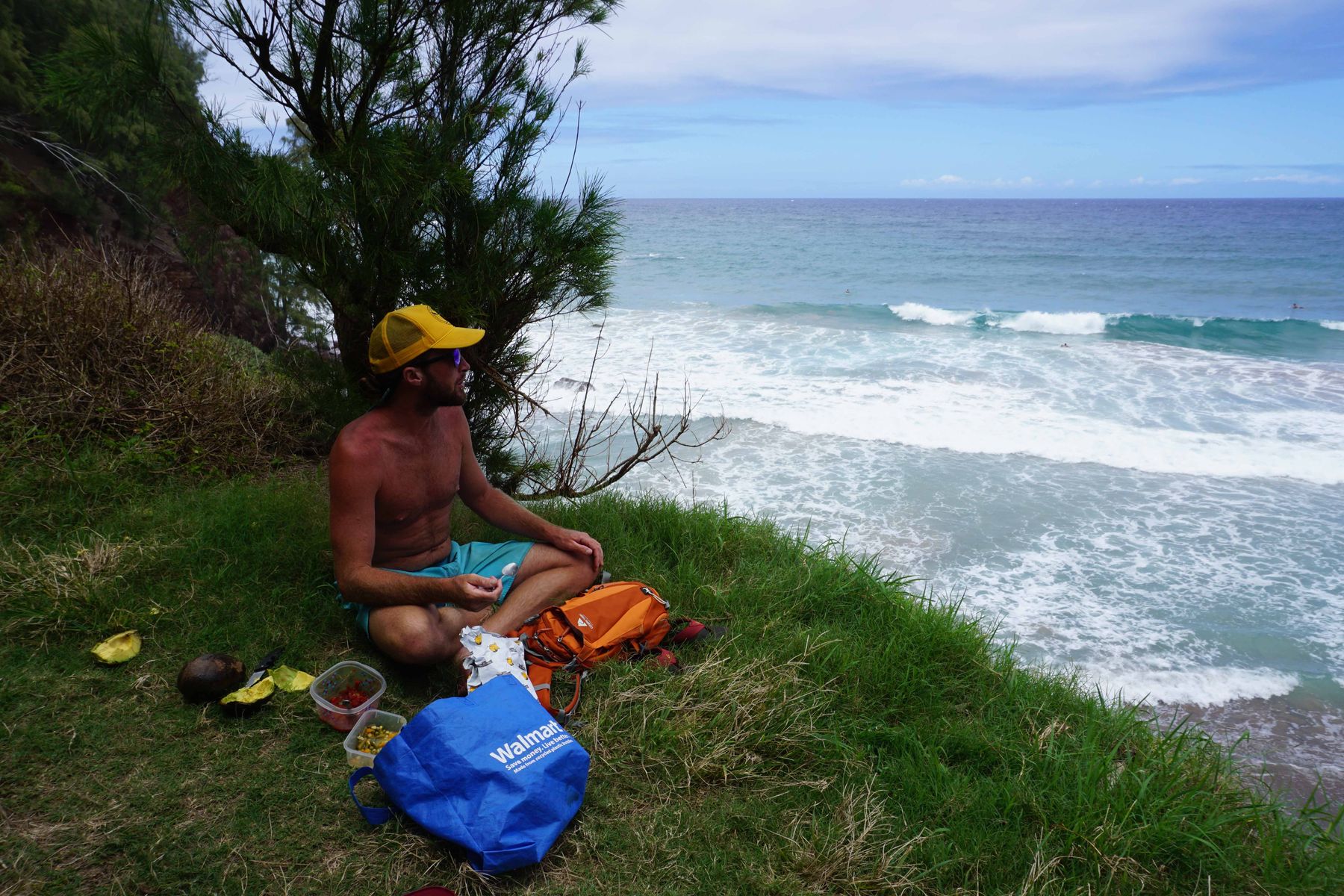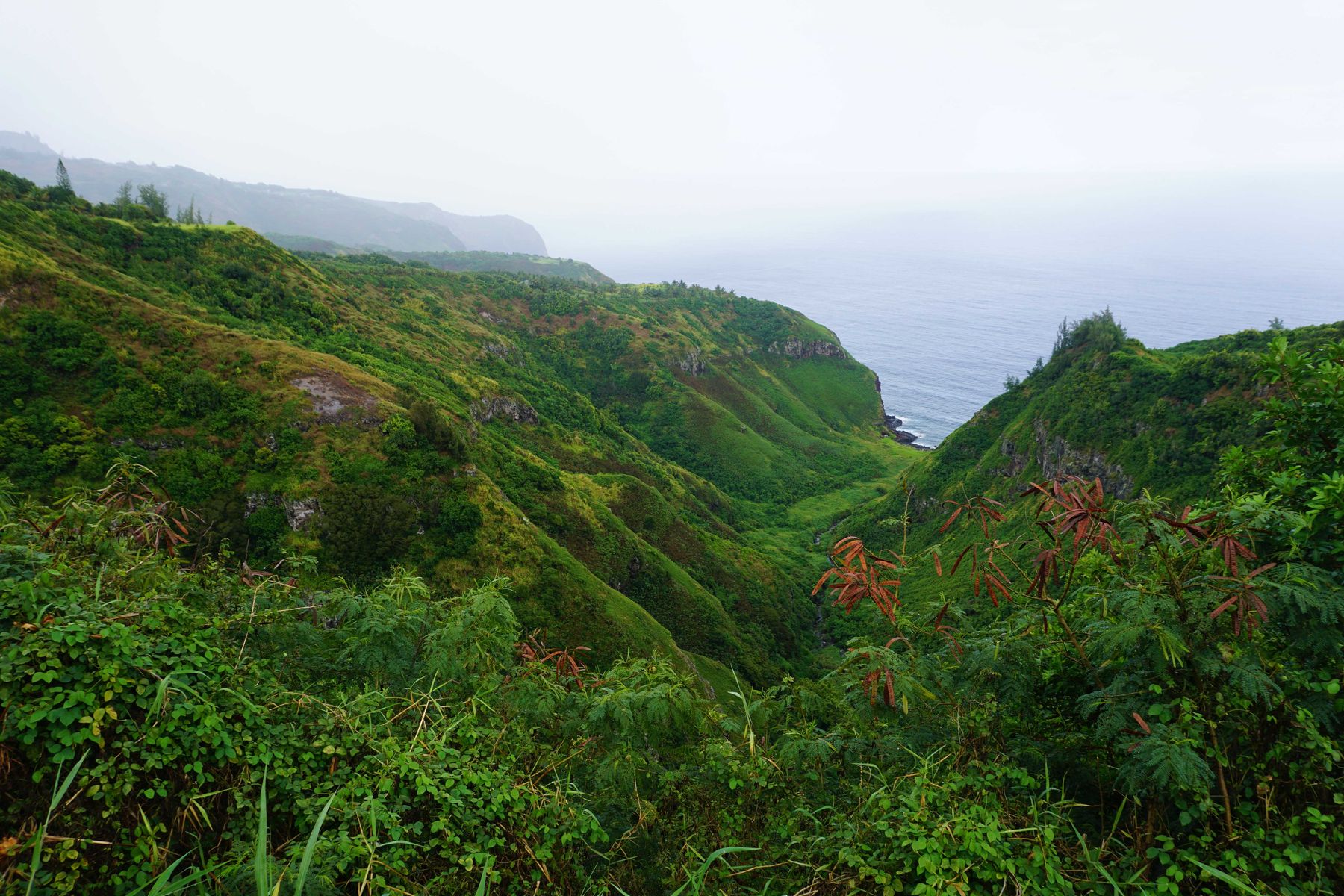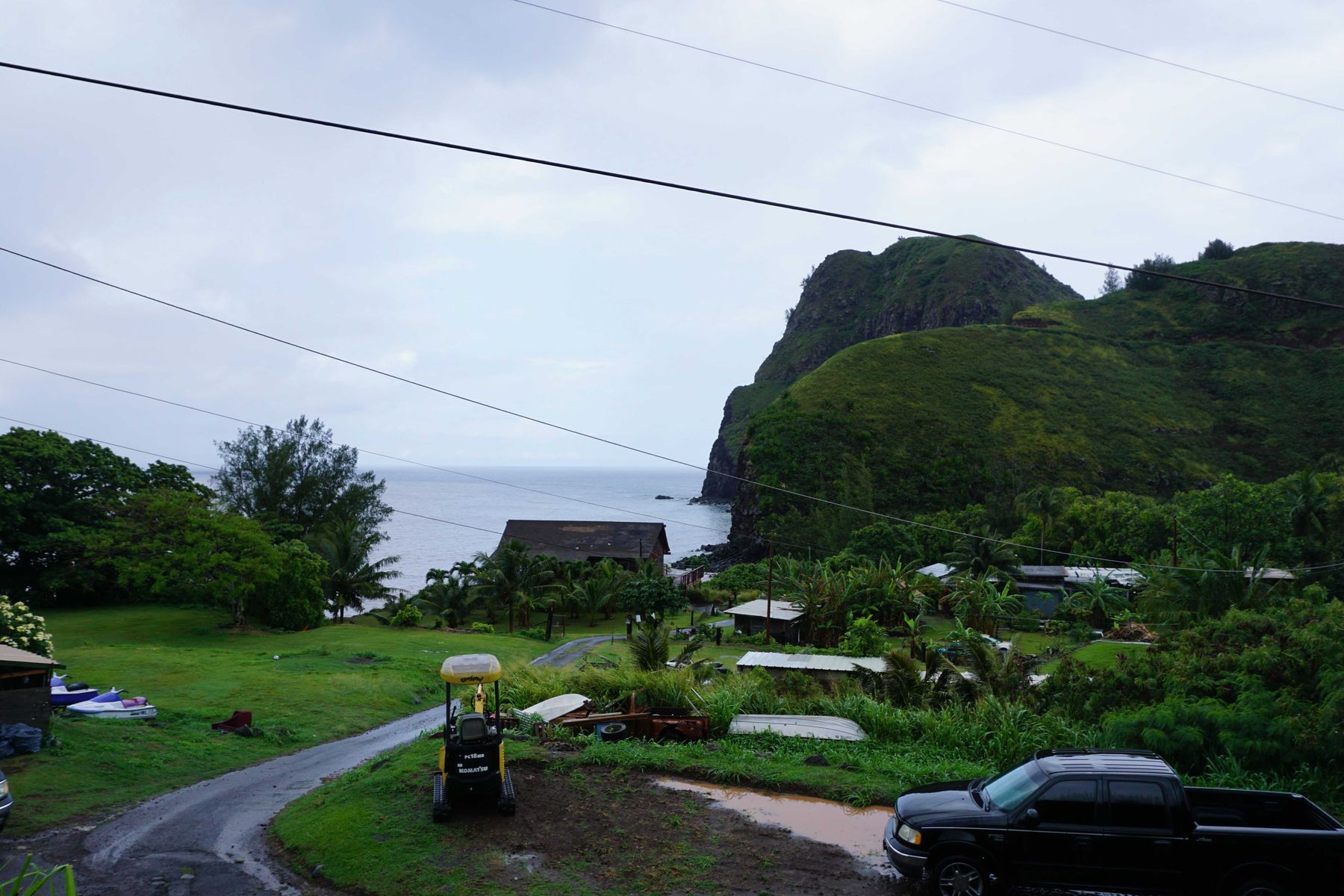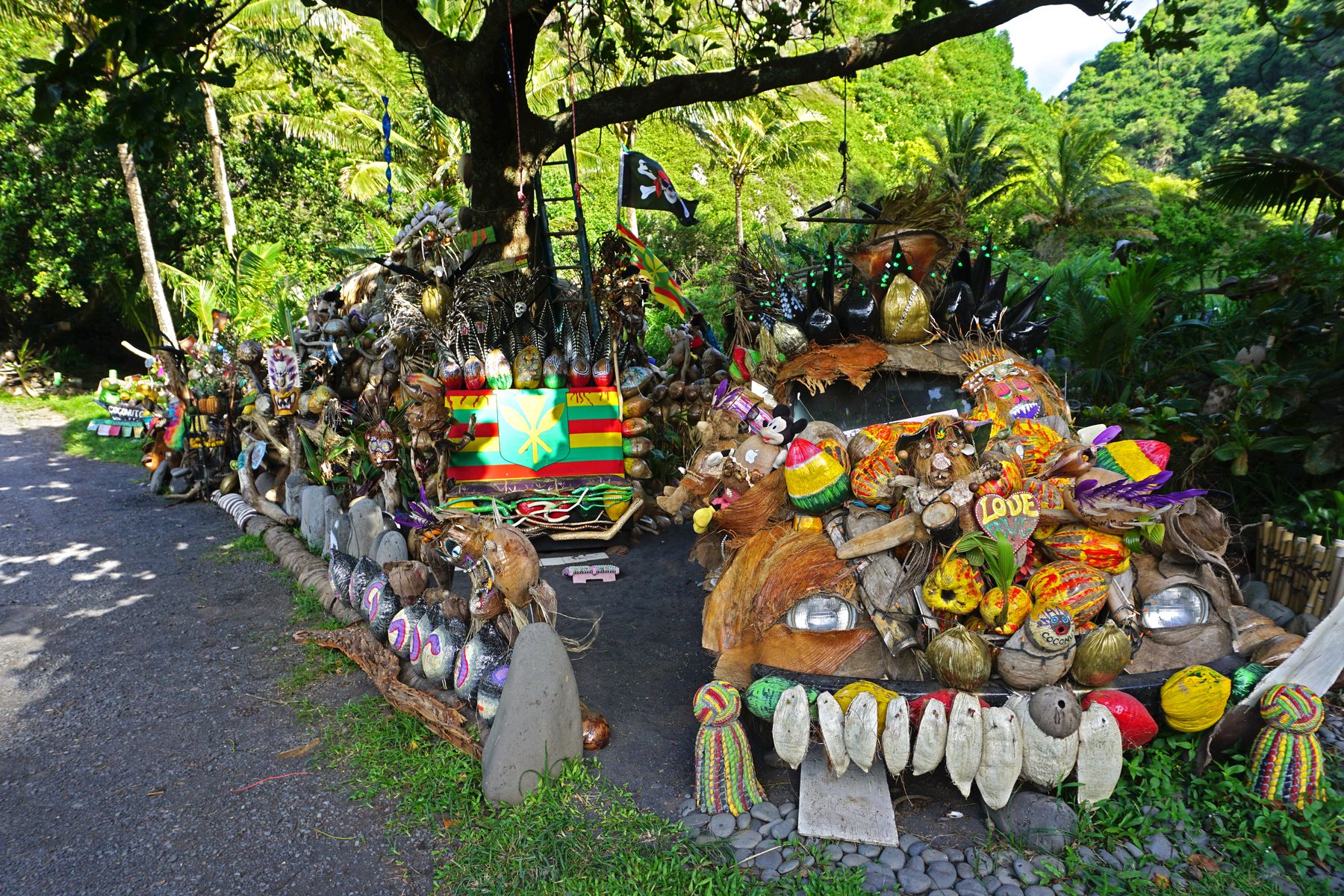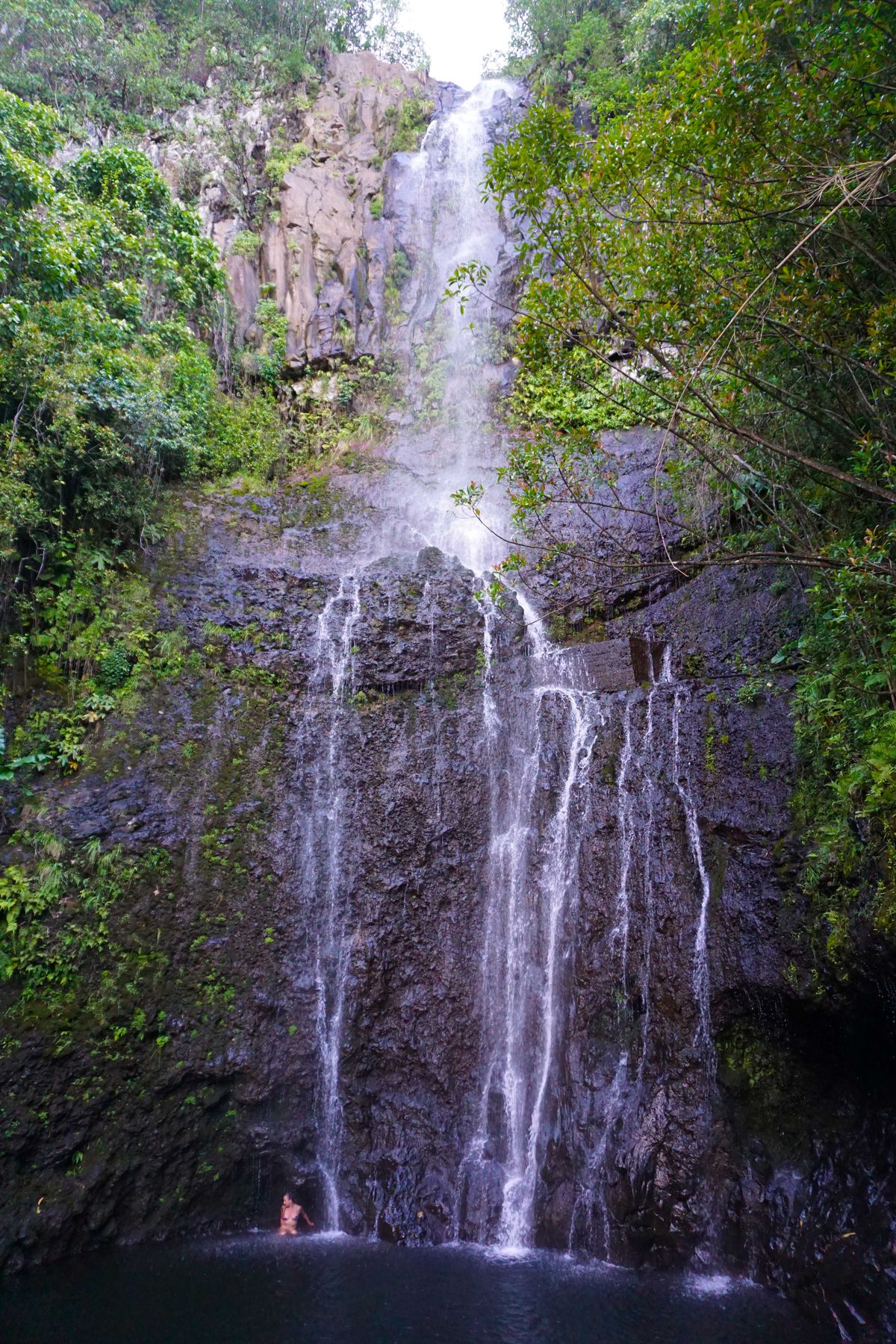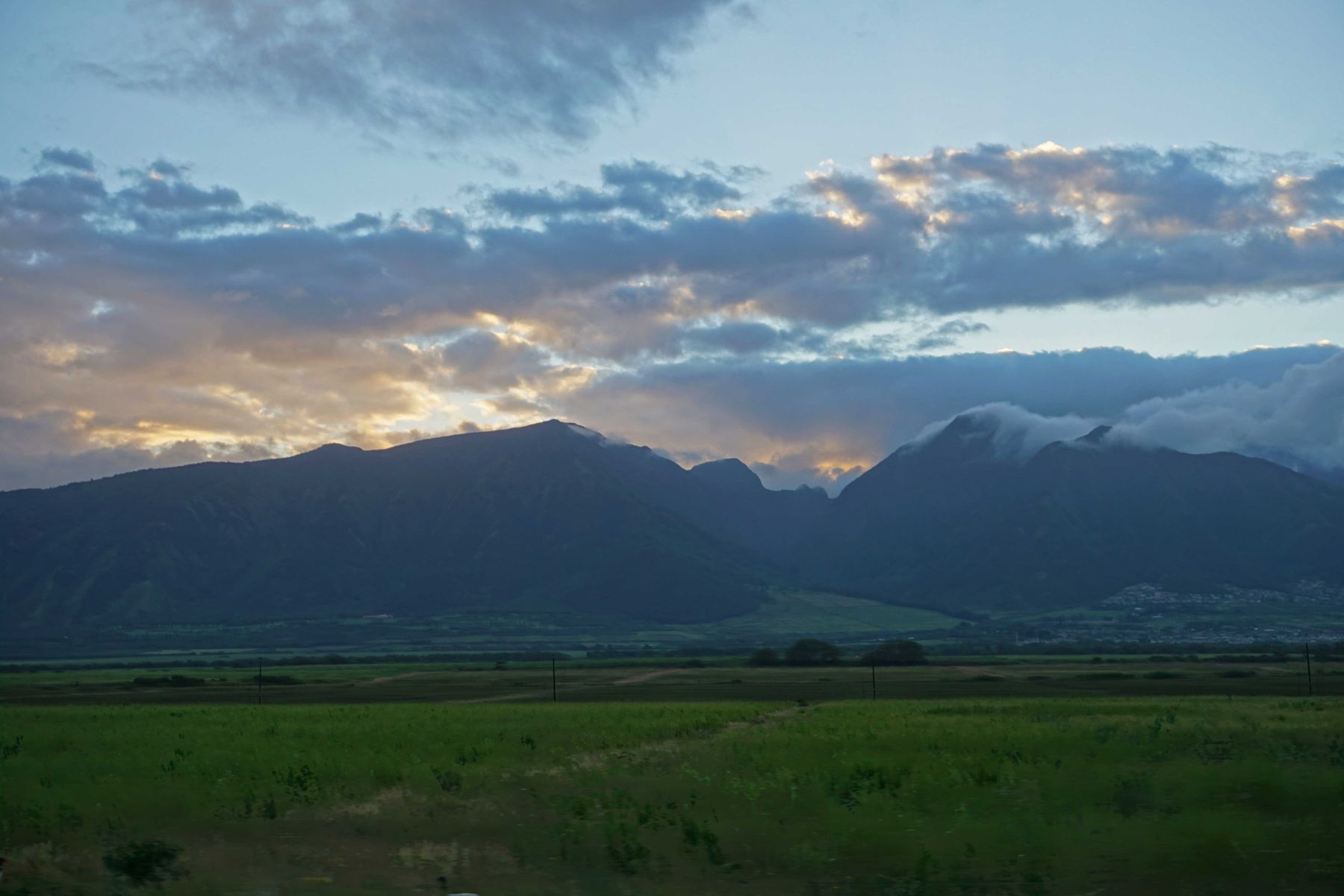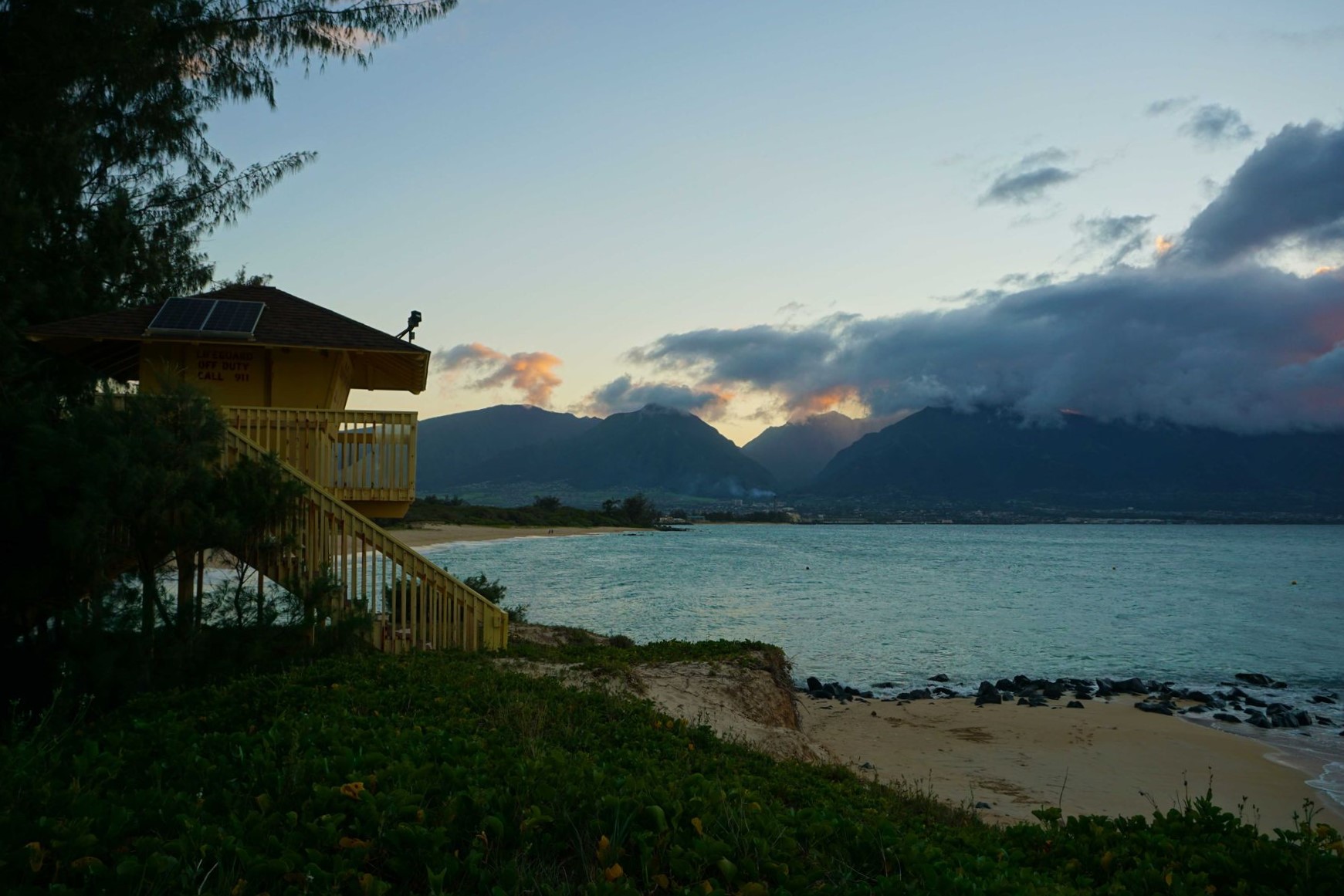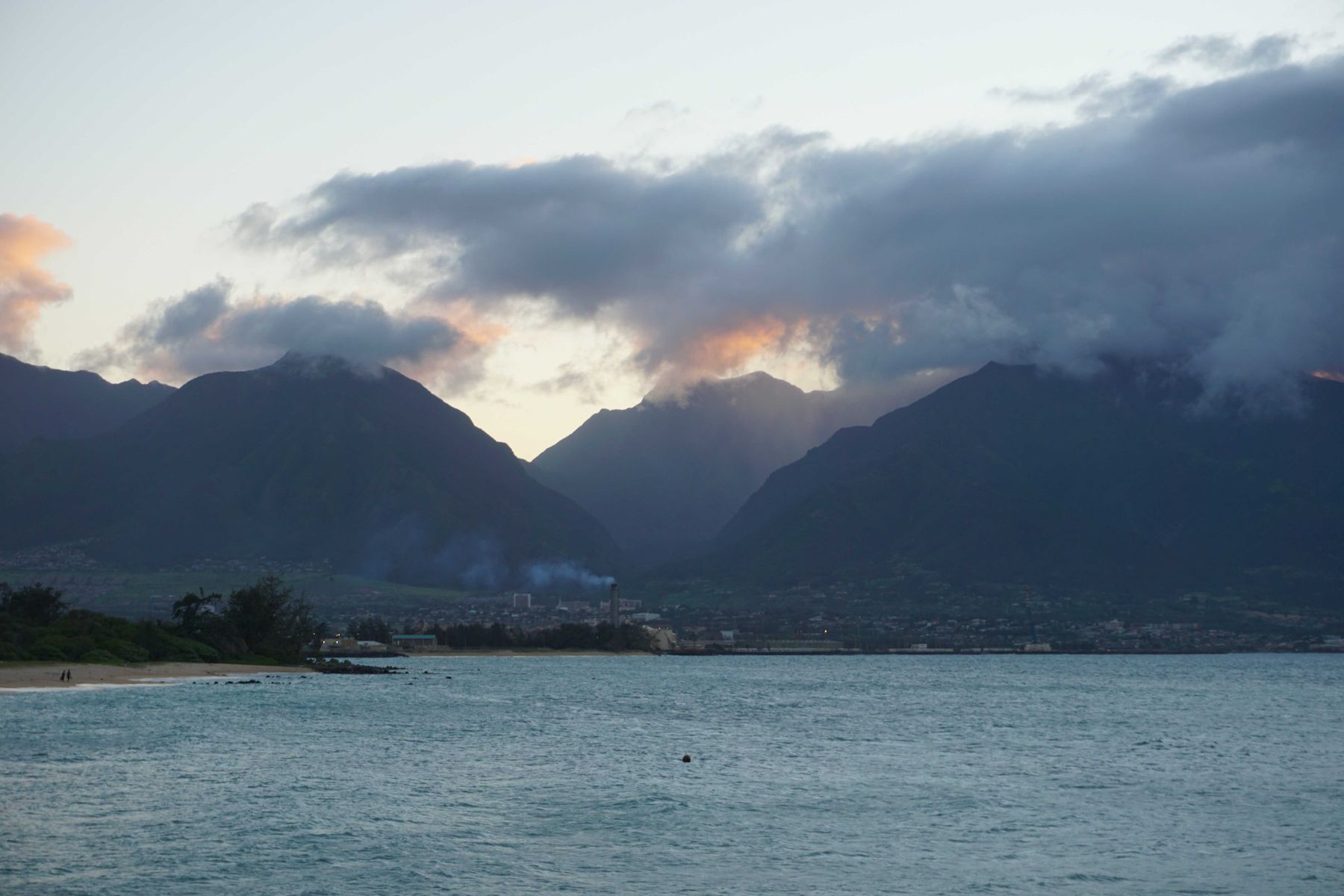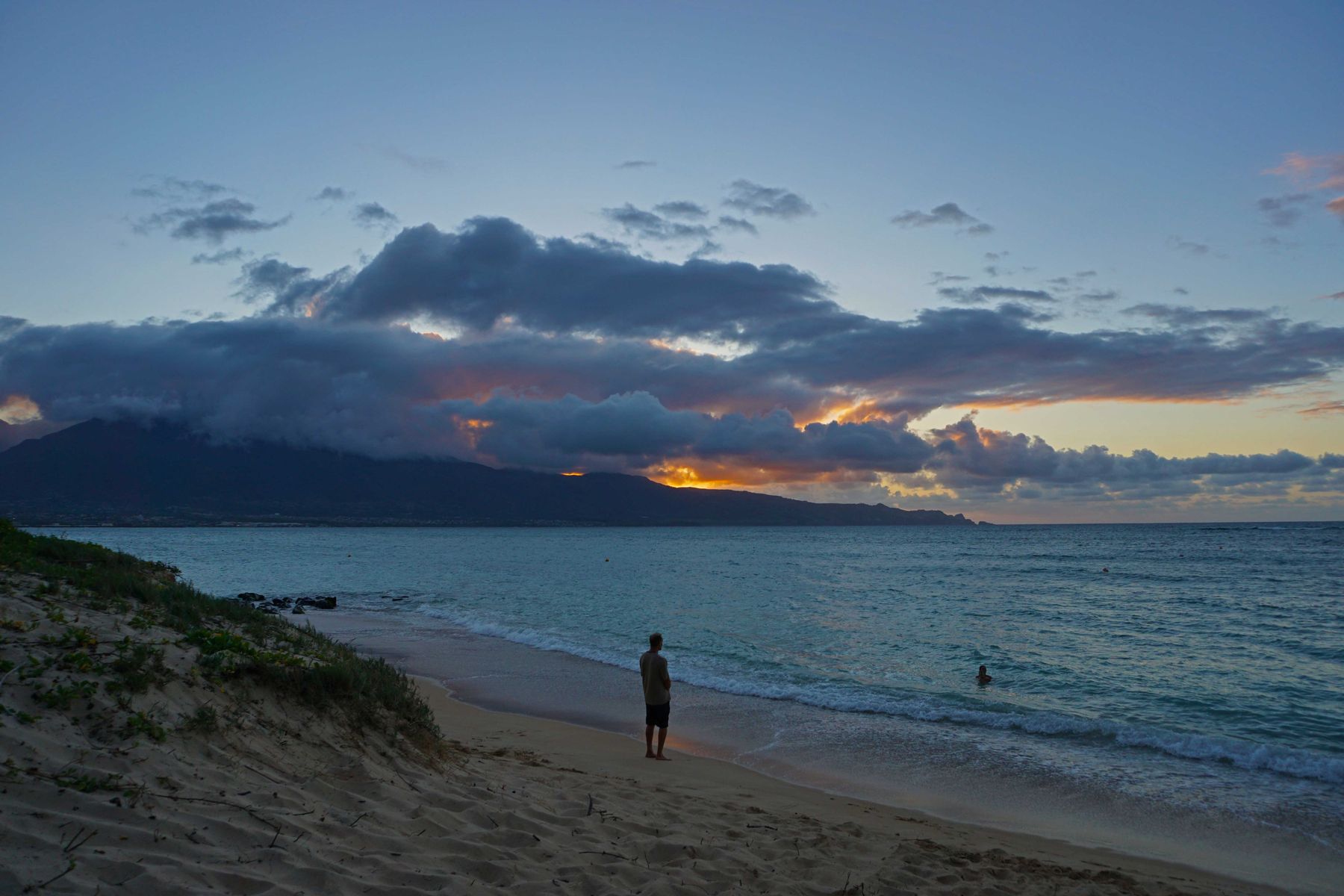 At the end of the trip we sold Bruce (the car) for $1200 :)
We didn't make a profit because we had to pay to register the car and gave the difference back to Bruce the man (as we promised), but at least we didn't lose any money on island transport. We were able to sell the car for a decent price because we didn't have a deadline. We hadn't bought flights yet because we didn't have to be anywhere on any particular day (i.e. we didn't have to go back to work from vacation).
So, grand total of a fantastic month on Maui for two people-
Accommodation: $0
Transport: ~$250 (2 x plane from Oahu + ferry to Lanai)
Gas: ~$200
Food: ~$200
Phone credit: $60 (2 x $30 sim card)
National Park Pass: $25
Maybe some beer and an ice cream or so on top of that but not much else.
I didn't buy any souvenirs because I didn't go from Maui back to "home" (where friends and family expect gifts from a faraway land).
I didn't have a "home" anywhere so I wasn't paying rent or a mortgage. I didn't have any bills. The closest thing I had to a bill was my $30/month phone credit. If I didn't pay the $30 once a month the phone would just not work without wifi. Not a big deal. I didn't pay for health insurance (I mentioned that here). Aaron registered the car on his name and decided to risk it with no insurance (I probably would have bought liability insurance if it was under my name but that was his decision). Everything else I explain on this page.
——–
Soo… grand total of 1 month on Maui=  ~$370 per person   :)
But there is an important point to understand here before I let you go :)
-The more you work, the less time you have to travel. Less time means more money because of restrictions and because of your own mentality.
Restrictions-
If you're in a rush because you only have 1 or 2 weeks of vacation time, you will probably plan ahead to make sure that you can see everything that you came there to see. Anytime you book something off island (especially overseas) I can guarantee you will be paying 2-3, maybe 10 times the local price. You also need certain dates- these dates may be more expensive than other ones.
If your time is not limited, you know that once you get to know the place and the people there, you will figure out how the locals do things (by locals, I mean other people that have little money :)). You can find a way to do what you came there to do for the local price (or at least a much better one), because if you stay in one place long enough, you will become a "kinda" local yourself. That's what traveling is all about for me. It's not about ticking off a checklist of places I want to see, it's about gaining a new local perspective of our world.
[See this blog.]
Mentality-
I think this is much more important than time restrictions.
What I mean by mentality here is the difference in mindset between being on vacation (holiday/leisure between periods of work) and traveling (living life in various places).
If you are going away for a set amount of time and have to come back home to your job on a certain date then your "traveling" is most likely just vacation. I don't actually consider most forms of vacation as traveling but many people do so I will try to make the distinction here.
People go on vacation to relax from all the hard work that they've been doing. They call this traveling because they relax (and maybe see some sites) somewhere other than where they live.
Their time is limited because they have to go back home, usually to go back to work or school. As a result, their mentality is that they have to get the most out of this short vacation time (relax, have fun, etc.). In order to get the most out of vacation, they splurge on all kinds of stuff- fancy food, cocktails, nice accommodation, souvenirs, whatever. This way they can have fun, relax, not worry much and then go back to work.
Clearly this is not my idea of traveling.
In fact, I'm sure that all of my fellow moneyless nomads can agree that this is quite the opposite of traveling :)
5 star resorts are not traveling. Fancy restaurants are not important.
Just because you're somewhere other than where you live, does not mean that you are traveling.
Traveling (by my definition) means taking your time to get to know the local people and place that you visit. It means trying to put yourself in the shoes of a local and taking time to see what is on the piece of Earth that you stand on.
Of course there are many grey areas between travel and vacation, like say backpacking through Europe for a month or two between semesters. If a person is making an effort to get to know the local place and its people, then I would consider this traveling. However, in my opinion, the purest form of traveling is when you quit everything and take off without a deadline or much of a plan. This is also the cheapest form of traveling because you free yourself from restrictions.
But more importantly, you free yourself from the mentality of being on vacation. Your mentality is not that you are relaxing/having fun for a short amount of time (so you can splurge on things), your mentality is that this is your life.
That's just it. This is life! Traveling is life. There are some challenges to life on Earth but you just have to learn to deal with those challenges while living life. Most of these challenges have to do with money because in the world we live in today, we need money to survive. So basically, in order to travel, you have to learn how to deal with living with little money (i.e. having the opposite mentality of being on vacation :)). Every dollar counts- the better you learn to play this game, the longer you can travel, the less you have to work. The less you work, the more time you have to travel. The more time you have to travel, the easier it is for you to find cheap deals on anything you want to do.
Seems like a win win situation to me :)
And the opposite seems like a lose lose situation…
The more you work, the less time you have to travel. The less time you have, the more you have to spend while traveling (because of time restrictions and your mentality). The more you spend, the more you have to work again… the more you work, the more tired you get from working, the more you end up spending on vacation… the more you have to work again.
What are you working for anyway?
Funny thing is, because I travel all the time and never go on vacation, I never need to go on vacation. Life itself is even better than vacation.
But I do understand that not everybody wants to climb volcanoes, swim under waterfalls and pick mangoes from other people's backyards while living out of a hammock :)
It's not important for you to travel. What's important for you is to do what you want. It's also important for you to realize that all of this- this game we play (the job game/ money game/ trade game) is really just a game. Really. "The real world" is just a game.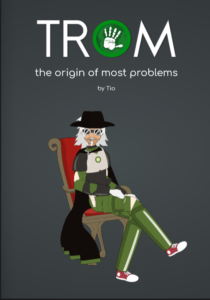 Think about what you actually need to survive with: air, water, food and sometimes shelter and clothing. You can go into the jungle and live off of the land to survive, or you can follow by the rules of the game we've created to get what you need to survive.
Game meaning: job – money – food , shelter, etc.
The only reason you need a job is to get the stuff you need to survive with on Earth.
It doesn't have to be so complicated. Get a job, get some money, buy some food. Or get a job for a little longer, save some money, quit, use this money to buy food for an extended amount of time. You don't have to make your job your lifestyle if you just learn to manage your money well. I probably haven't even worked for a quarter of my adult life and all of the jobs that I've had were ones that almost anybody can do (waitressing, bartending, babysitting, housekeeping, things like that).
Think about what this job really means to your existence as a living being on Planet Earth.
For sure a few of us make some amazing discoveries and scientific advancements for humankind, but the majority of us just work some mediocre (or shitty) jobs that basically only serve to keep the system going. And for what purpose? The system is destroying the environment that we depend on for survival.  -Climate change, pollution, deforestation and countless of other problems are all a result of the structure of our society.
– Our trade-based system is based on profiting from an infinite supply of resources, yet we live on a planet of finite resources. –
So why spend most of your life working to keep it going? What's the point?
Many of these monotonous jobs can already be replaced by automation, and will be replaced as soon as it is profitable enough to do so. When automation takes away enough jobs, people will no longer have the purchasing power to buy the goods created. And there goes the game and the great collapse. That's one scenario anyway, there are millions of others. The point is, there is no point of spending the majority of your life working simply because everybody else tells you that that's the right thing to do. If you love your job, that's fantastic! Keep at it! But if you're not happy, and you're stuck in this job because you've been conditioned to believe that that's the only way to live on Planet Earth… and you're one of those people who tell me they wish they could travel but can't because of the money… then maybe you should read some more of my blogs :)
One day you will die. And what did you live for? Did you live just to play the game? Did you win?
Don't kid yourself, nobody wins this game. One day we will all die out, the Earth will keep rotating, and we will all be big losers. We'll be bigger losers, however, if we bring our own selves to extinction through our own shitty game.