Day 25: Mukhar Shivert Canyon
The wind picked up and wrestled up the tent all night again, but in the morning, we woke up to this-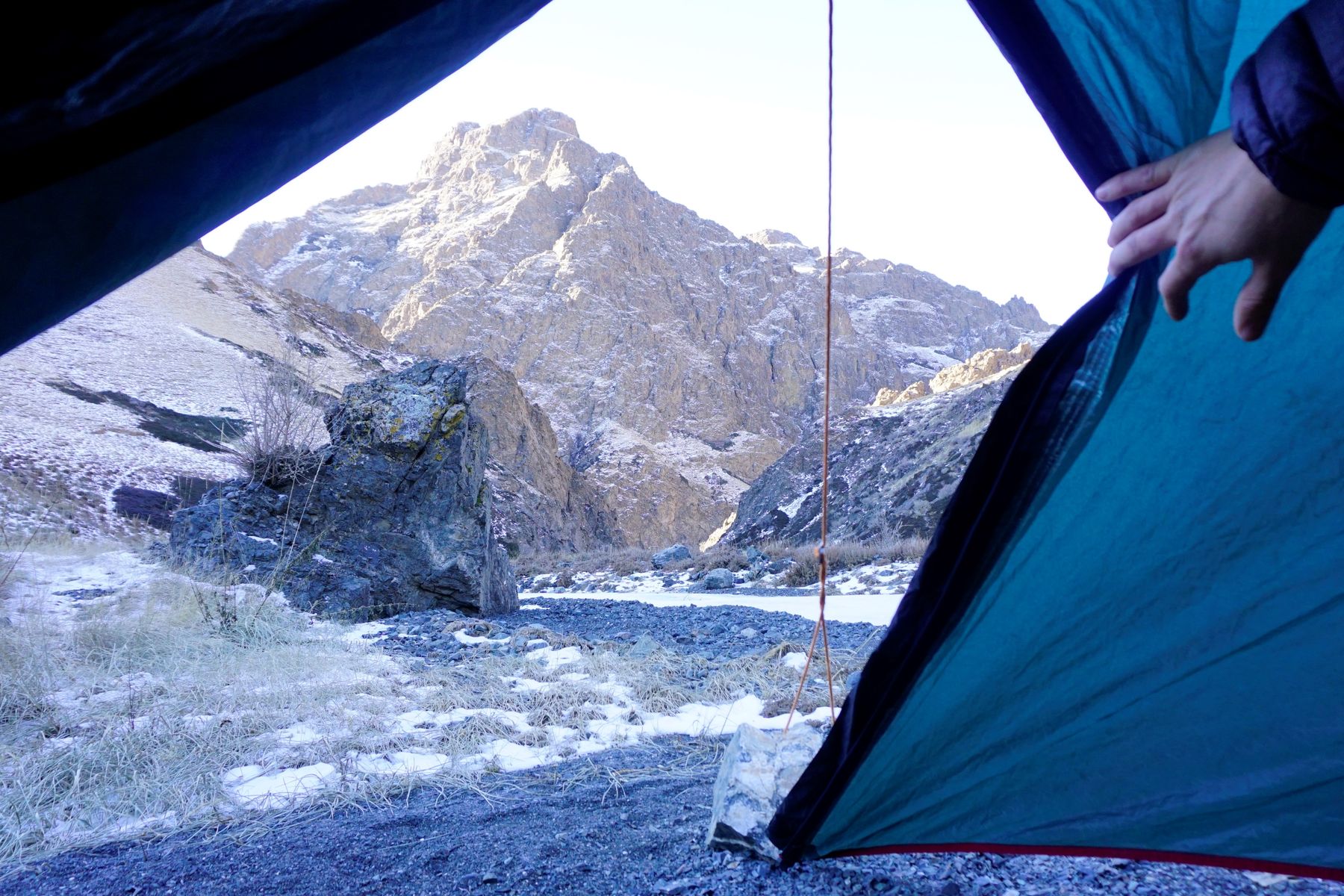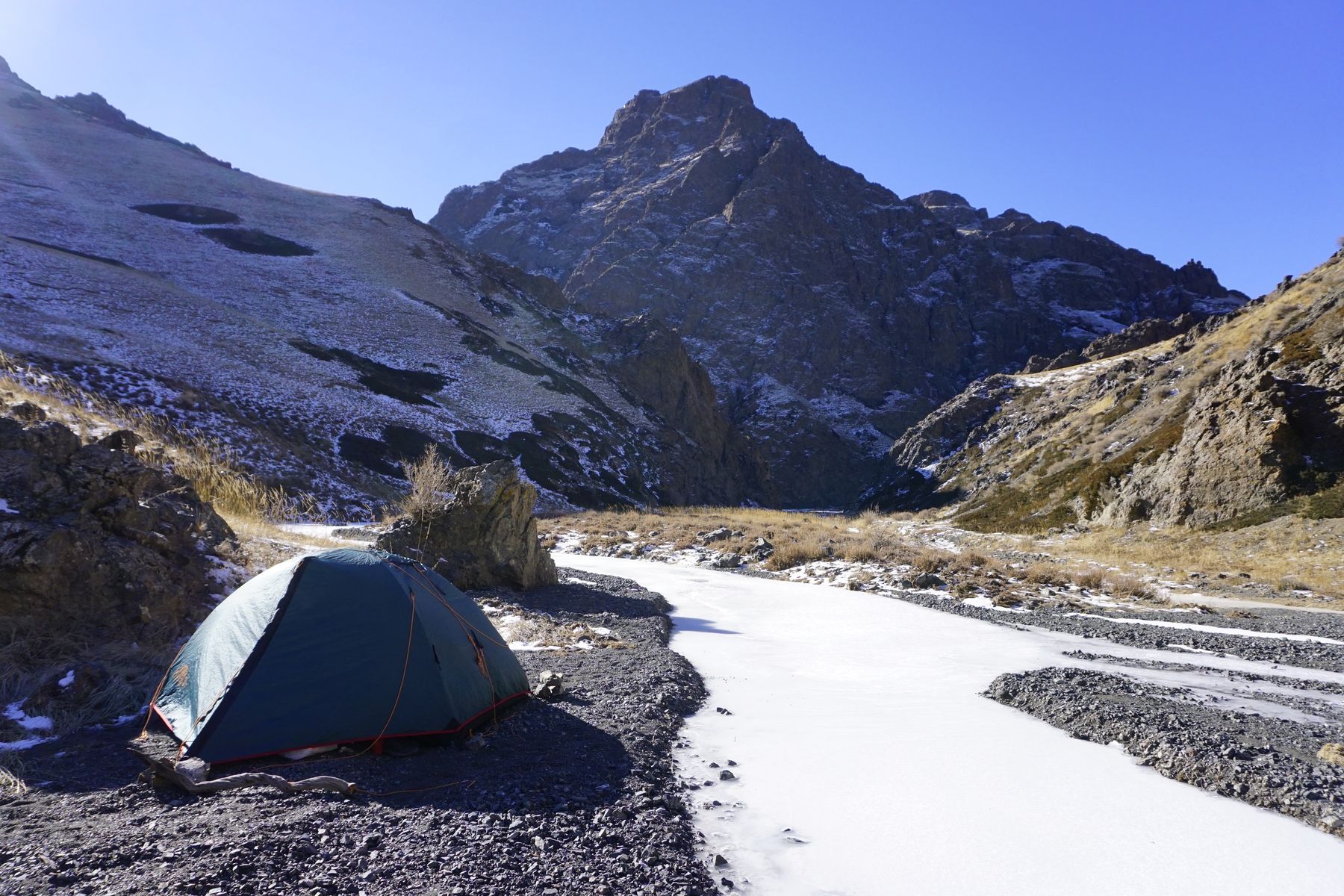 We cooked hot breakfast and got ready to hike through the rest of the canyon. It was a fantastic hike- more ice fields, streams and rocky walls. We spotted a wild ibex and some beautiful birds. The entire hike through the Yolin Am Canyon would be quite safe in a dry summer period or mid-winter, but in November there were a few places where we had to walk over precariously thin ice and climb some small rock walls to avoid exposed rivers.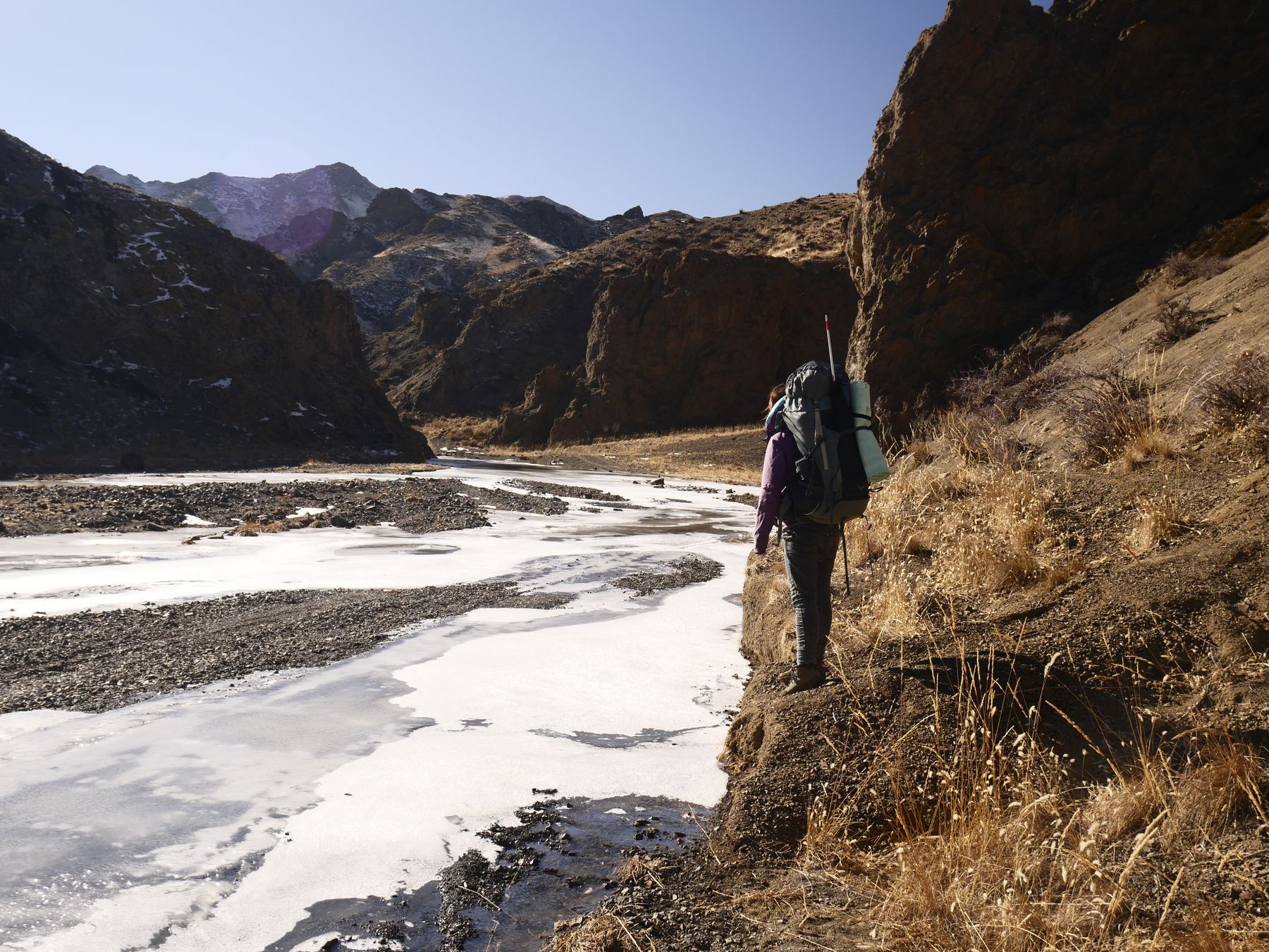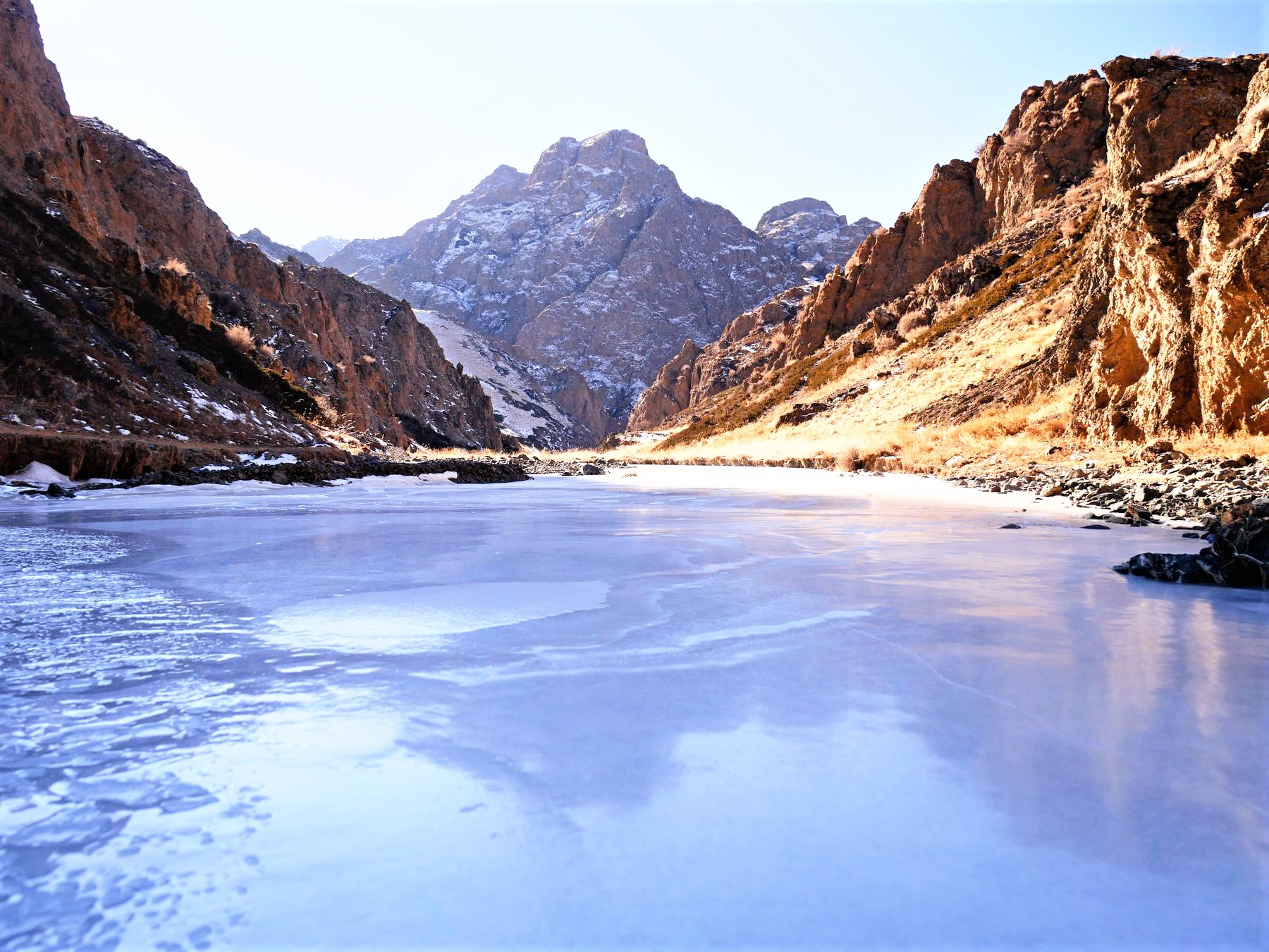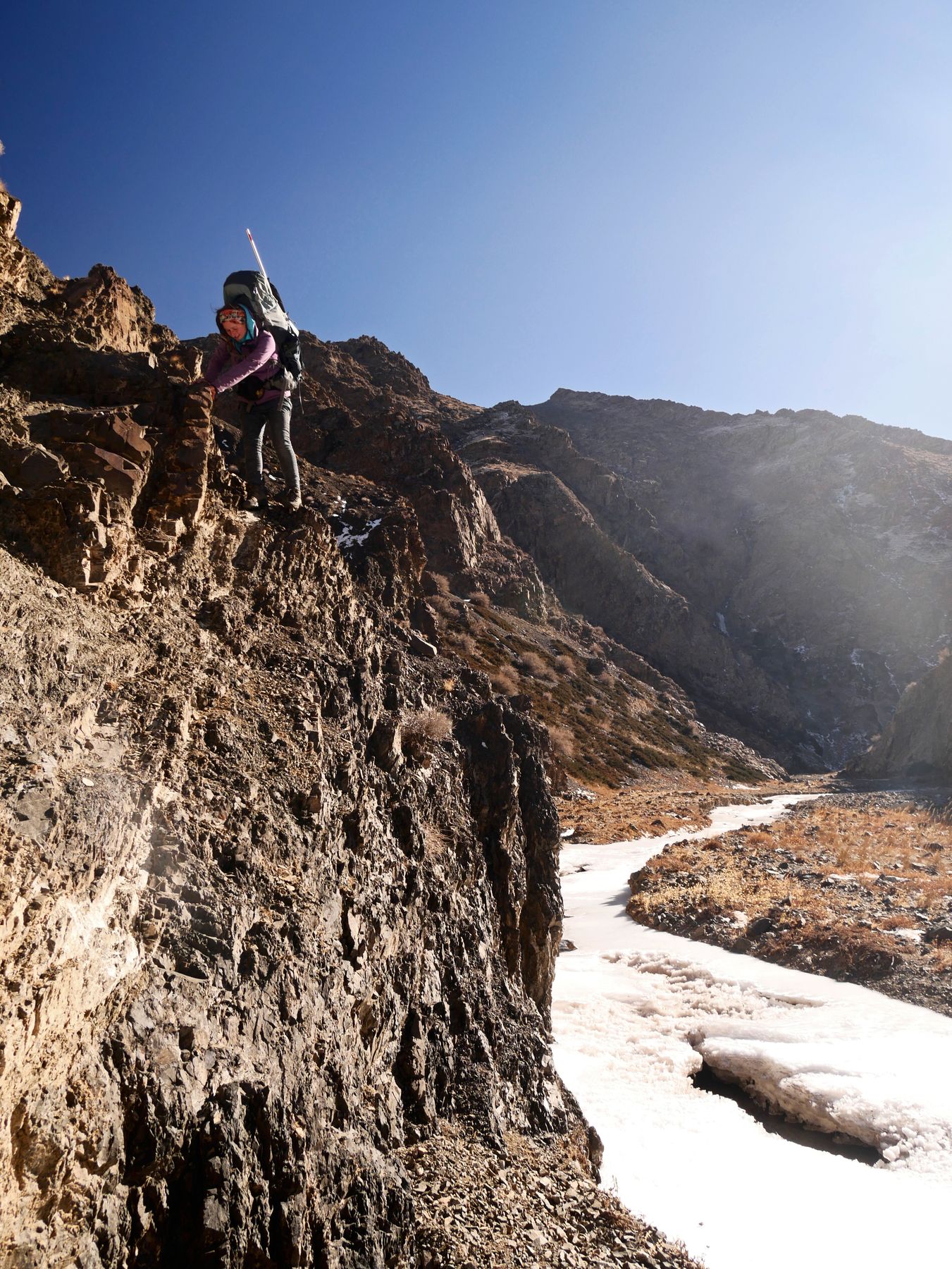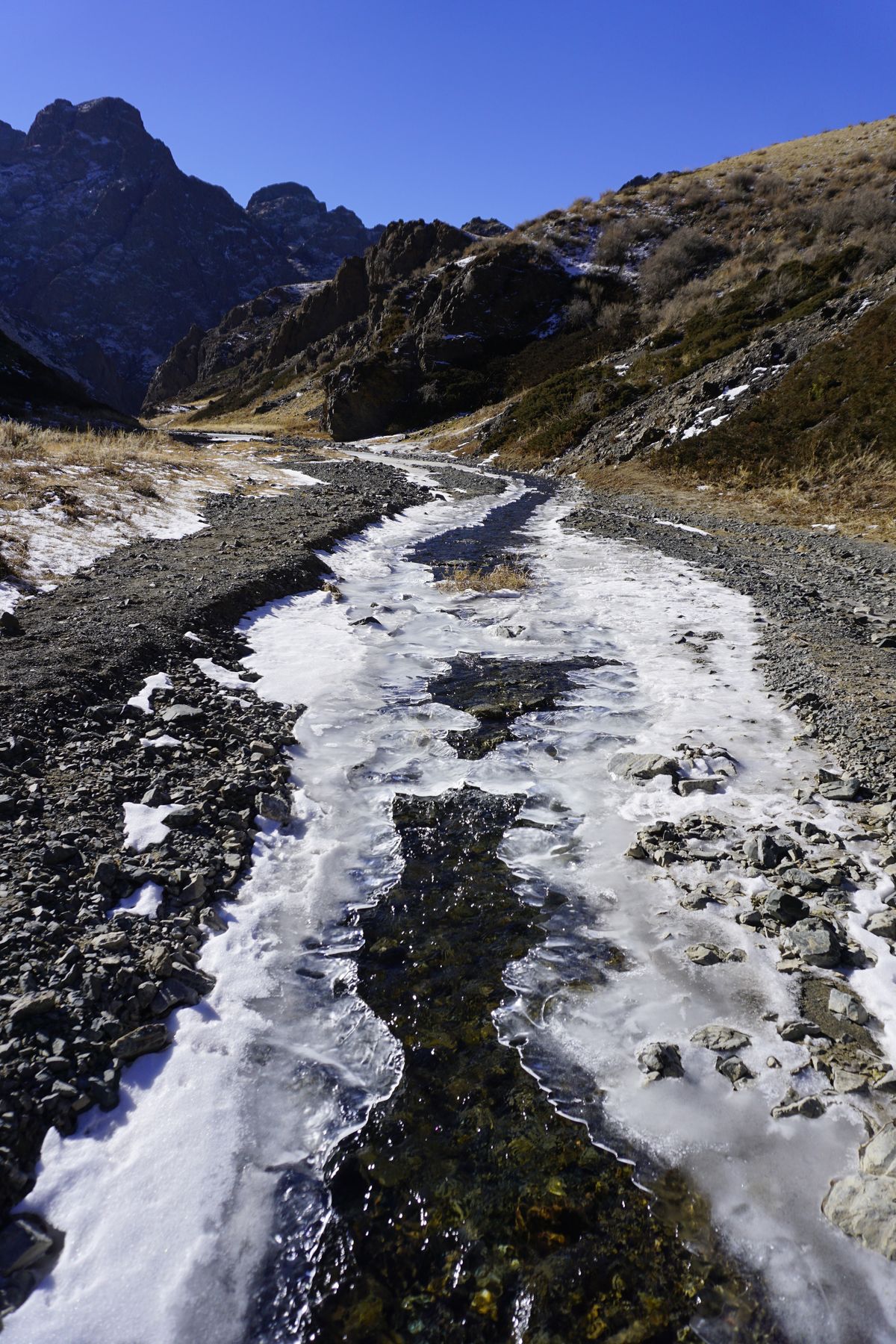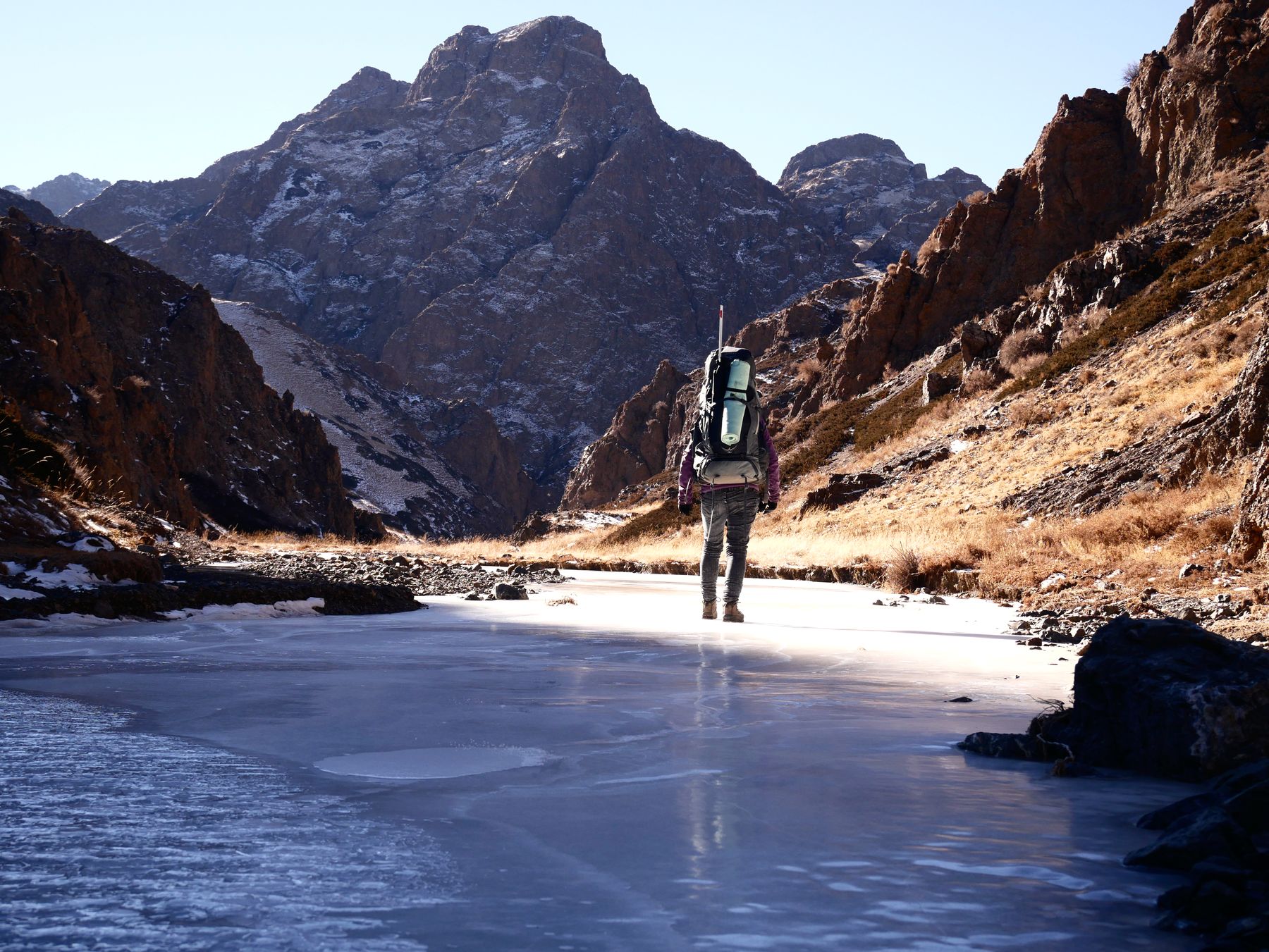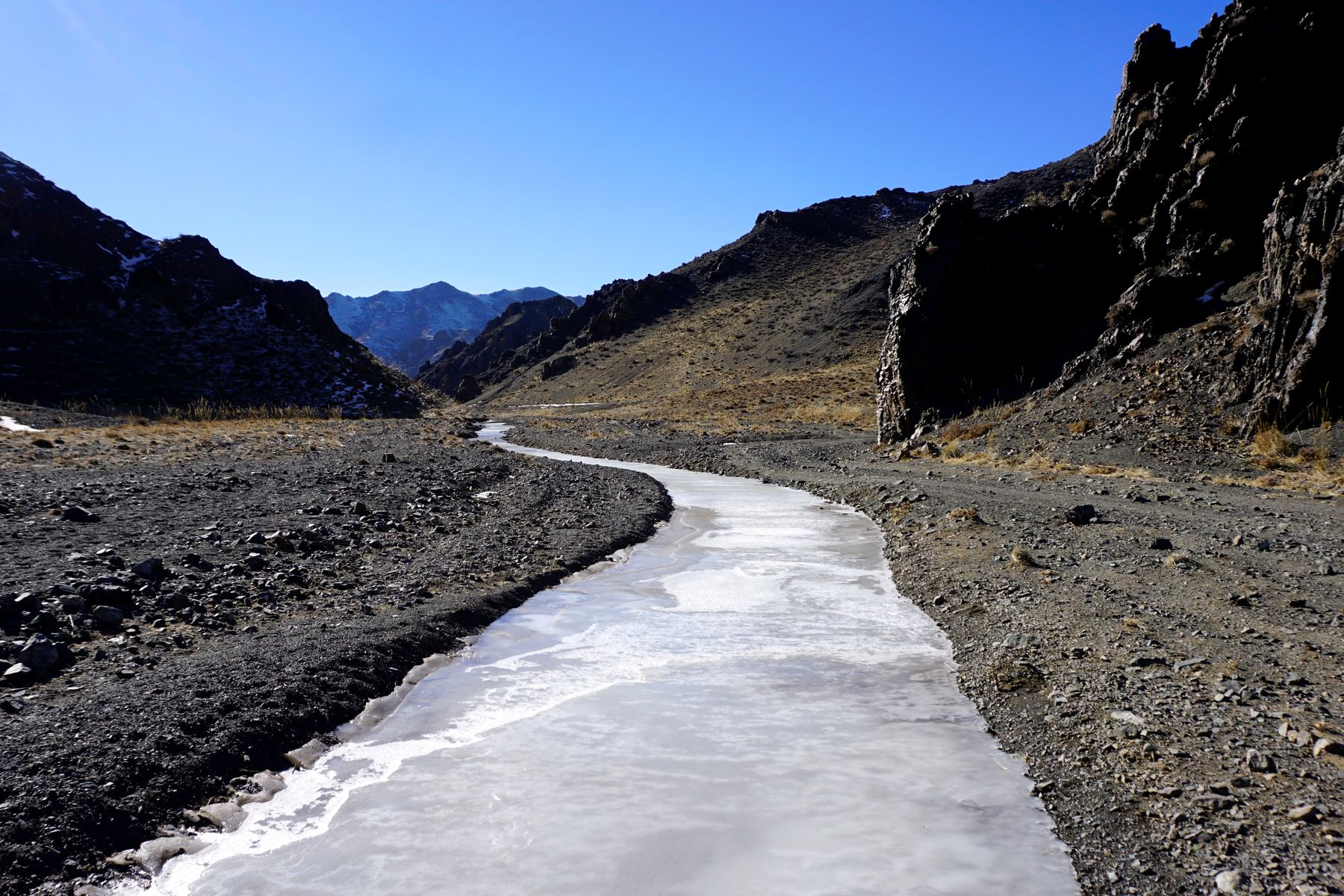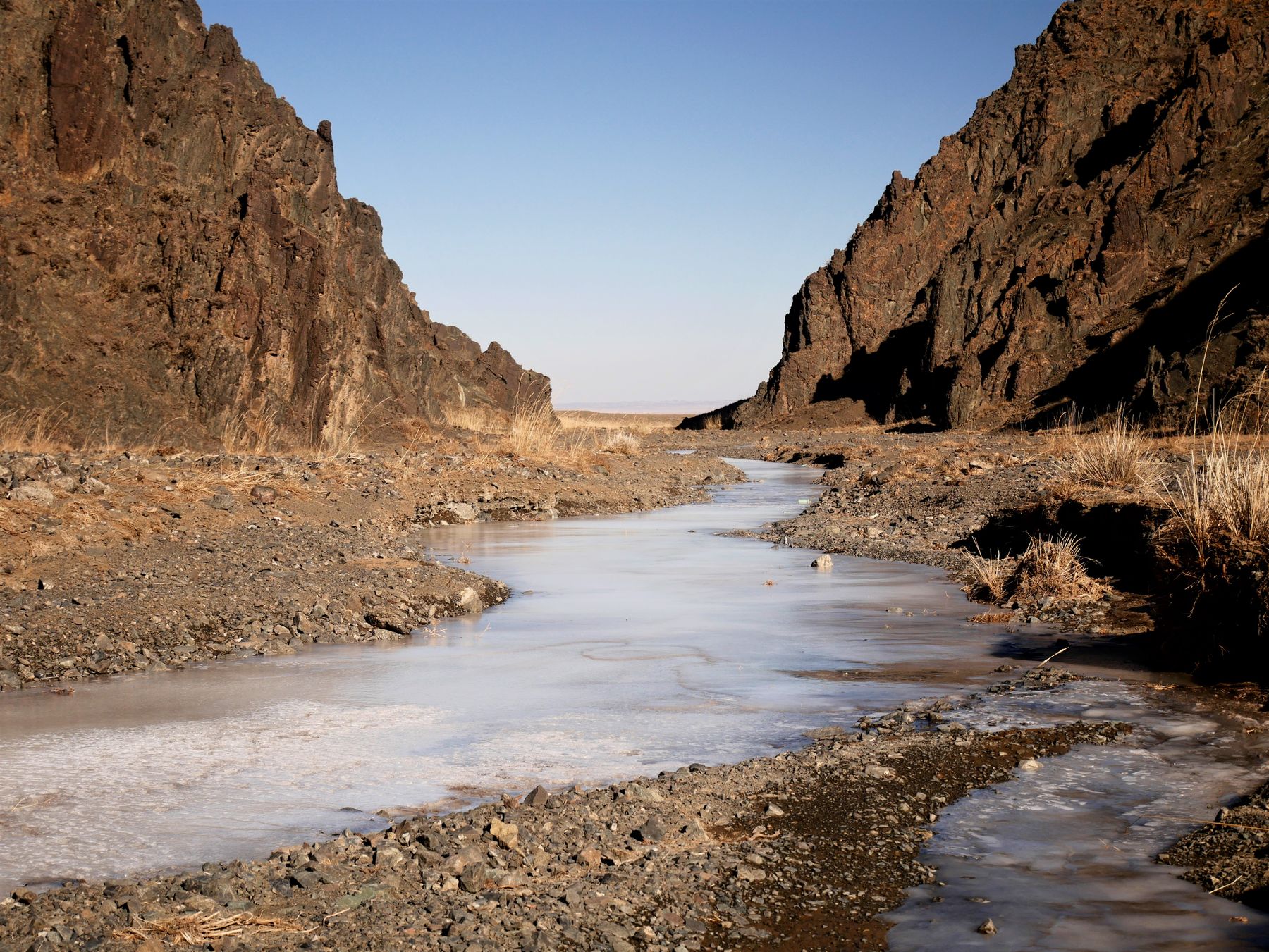 We hiked 4-5 km through the canyon before we reached a dirt road that lead to an extremely windy valley. The wind was so strong that we could barely hear each other speak. According to the map, we needed to walk another 10km or so down this road to reach the main road that went back to Dalanzadgad. Lucky for us, there were a couple of cars in this valley and one of them stopped to give us a lift.
It was another family. They didn't speak much English, but after about a 20 minute drive, we understood that they weren't going back to the main road, but to another canyon.
"Cool!", we thought, "another extra cherry on the pie" :)
This other canyon was called "Mukhar Shivert", it was much smaller than Yolin Am and had a dead end, but was a spectacular sight as well. It was like a big trench with tall vertical walls and a floorbed of slick, glassy blue ice. At the dead end, there was a big frozen waterfall.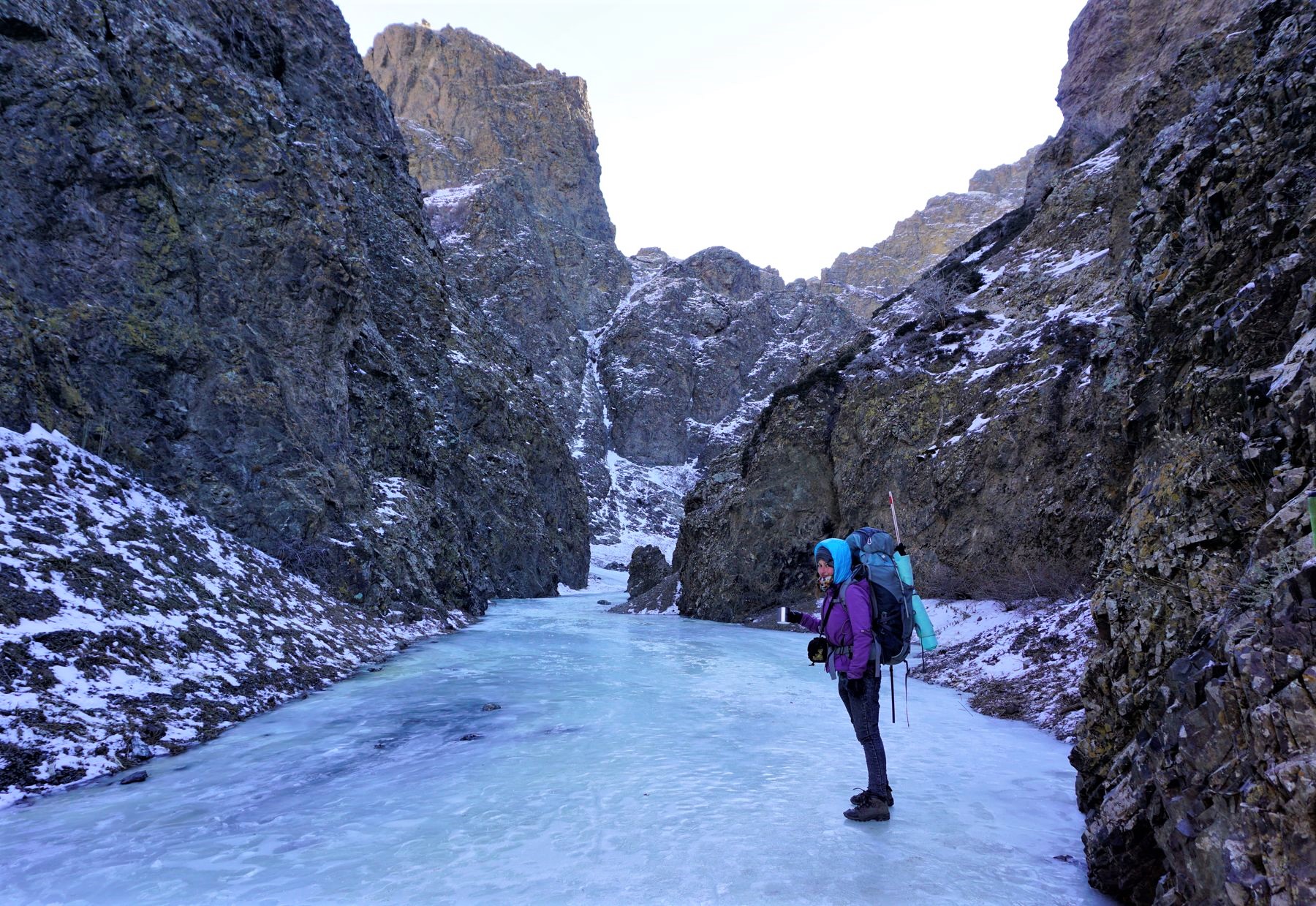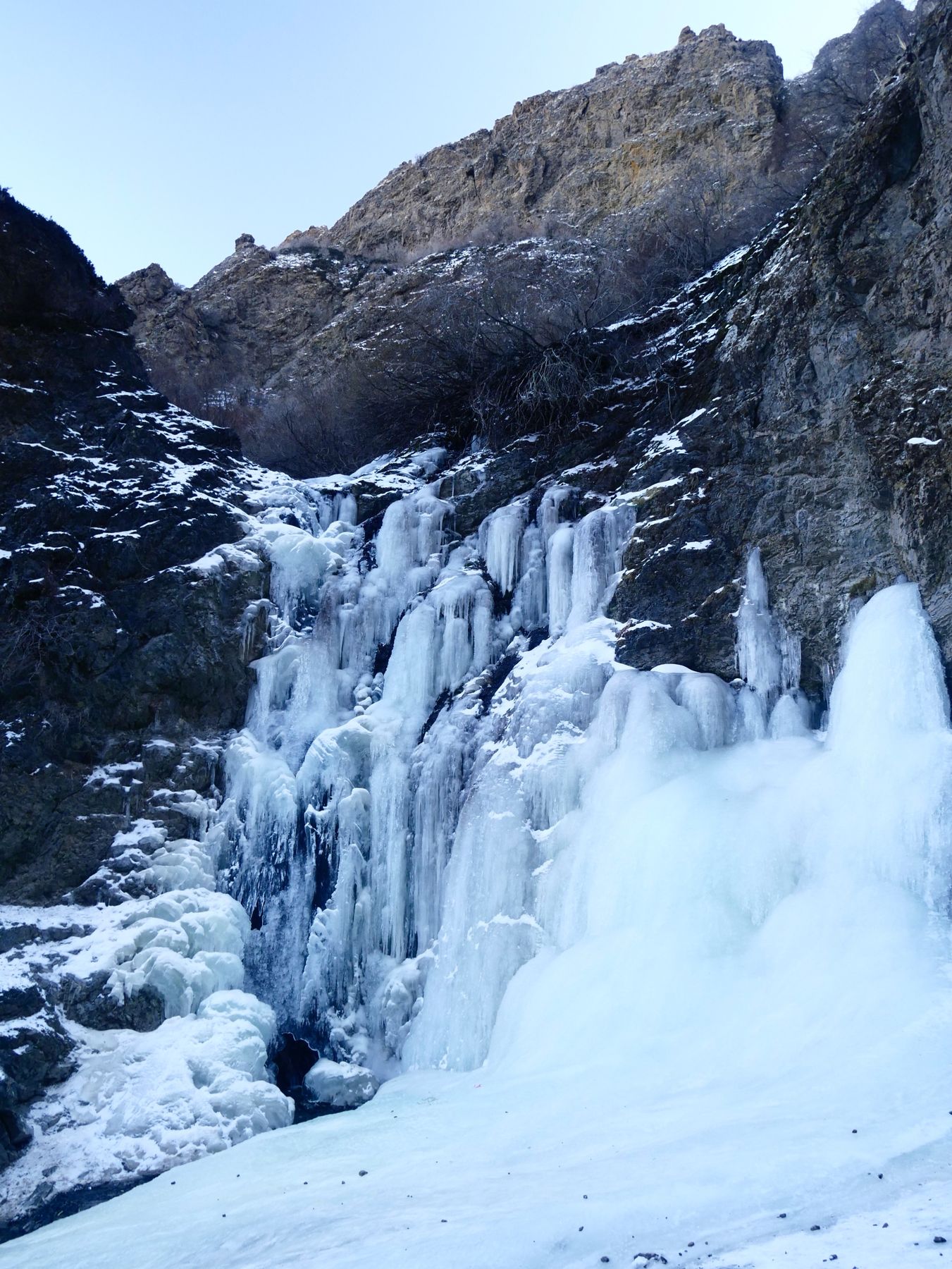 We hadn't heard about this canyon until we got there, and we probably wouldn't have found out about it if we didn't randomly hitchhike to it. I couldn't even find it on any map. But if you want to check it out, it's not that hard to find-
If you zoom into mapsme (which works offline), you can see the Yolin Am Canyon Trail from the end of the Yolin Am road (where the parking lot is). Follow that trail from the Yolin Am parking lot all the way through the canyon. After about 12 km, you will walk out of the canyon and onto a dirt road in a big open valley. There will be a fork in the road. You will need to make a left (going west), towards the Yolin Am road. When you reach another fork in the road, take it south to the dead end. At that dead end you will find a parking lot and a clear trail into the Mukhar Shivert Canyon. It seems that locals come here a lot on the weekends, so you probably won't be alone.
Or, of course, you can go the other way around if you don't want to go through the whole Yolin Am Trail. Just make sure you have some kind of GPS or compass so you don't get lost on the dirt roads.
On this map, Mukhar Shivert is the marker to the left. The right marker is the Yolin Am Canyon. I've marked the Yolin Am trail in blue and the dirt roads in brown.
*There are more dirt roads than that and this map is not 100% accurate.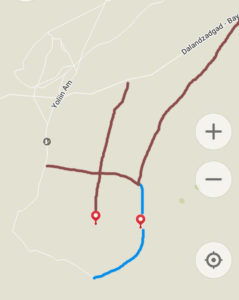 It took us about an hour and a half to walk through Mukhar Shivert Canyon, make lunch, and then get back out onto the dirt road again. There were plenty of families in Mukhar Shivert, so it wasn't hard to hitch another lift back to Dalanzadgad. The first car on the road stopped and drove us all the way there :)
We spent one more night in Baatar's yurt ($4) and got ready to hitch back to Ulaanbaatar the next day.
—
Total expenses of day 25:
$4 yurt
$2 food
$1 shower
$7.50 handmade local artwork (for my parents)
=$14.50
Total expenses so far of 25 days in Mongolia (including the price of getting to Mongolia):
$287.50
*Some photos taken by Felix