Day 11: Buddy and Bottomless Salty Milk Tea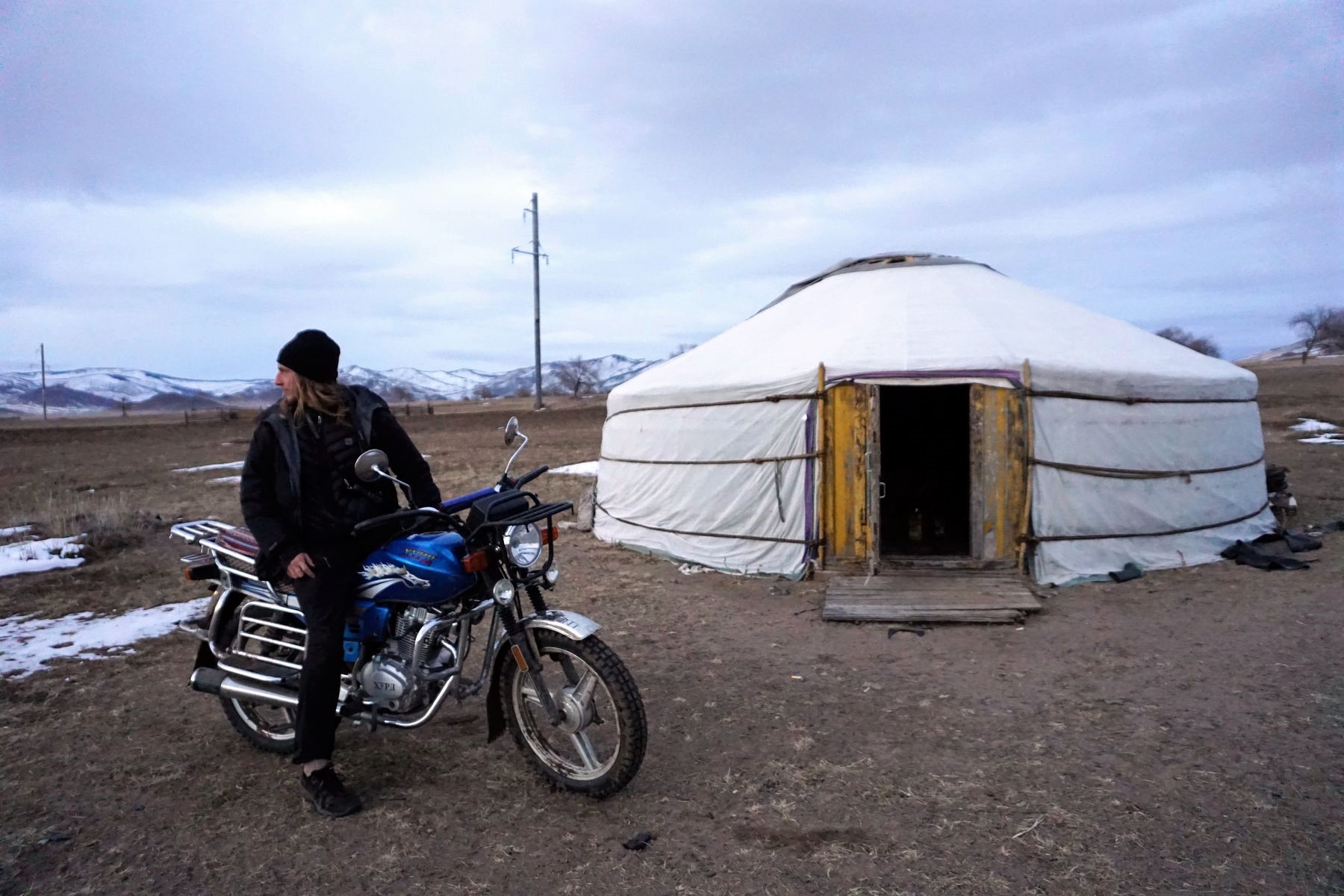 We started hitching from Tosontsengel at around 11:00. We didn't get so lucky this time. Waited in one spot for over an hour before we decided to walk. The next town over was about 50 km away, so we weren't planning on walking there, we just walked to keep ourselves warm.
But walking worked quite well! A young guy picked us up within the first 10 minutes of our walk, asking us what the hell we were doing (well, miming that since he didn't speak English or Russian). We tried to explain that we were hitching to Ulaanbaatar, but I think he understood that as "we are walking to Ulaanbaatar", which is over 600 km away️ :). Maybe he thought we were crazy. He mimed a bunch of stuff that we didn't understand and then took a right onto a dirt road and brought us to his friend's yurt.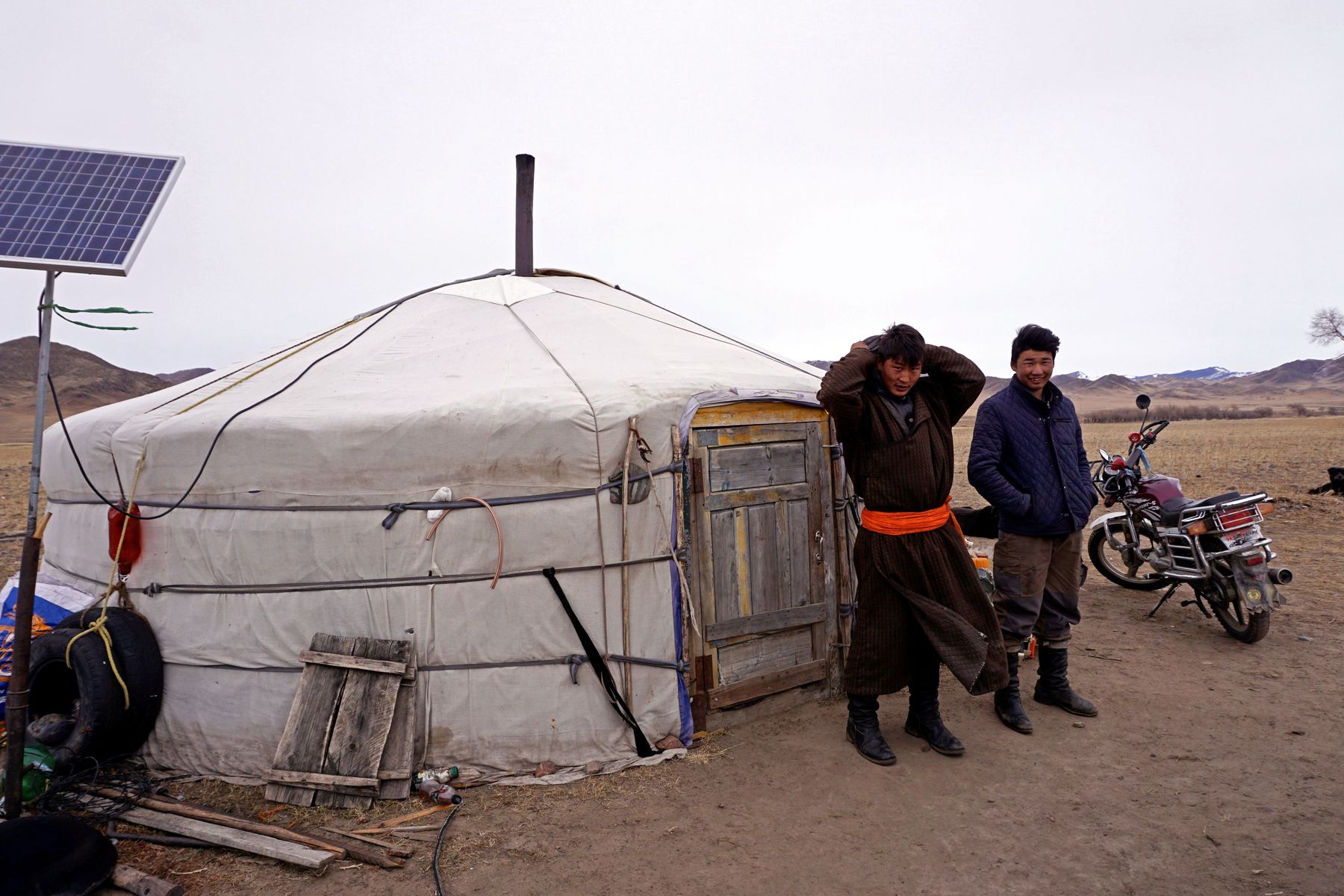 There were a few young guys in the yurt, none of them spoke English or Russian so we couldn't communicate much, but our new buddy clearly told them that we were walking to Ulaanbaatar. They laughed a little bit, and gave us salty milk tea and white bread.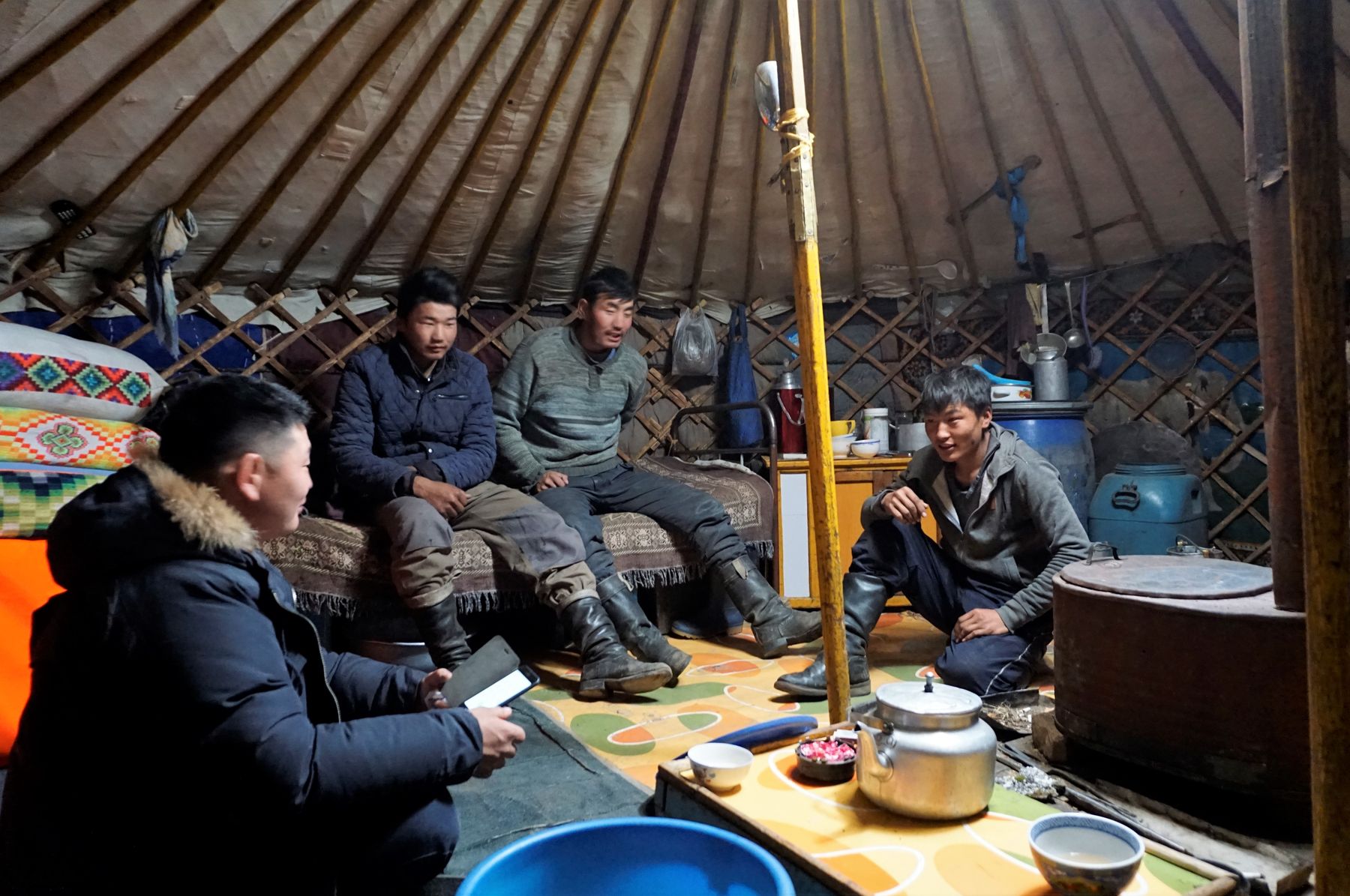 Then our buddy (whose name we can't pronounce or remember- so we'll just call him "Buddy" :)) drove us to his grandma's house in the village of Ikh Uul. It was a little larger than a yurt, but was still just one room and seemed to be colder. Everybody in the house was really nice, they gave us a cup of salty milk tea and white bread, then laughed about us walking to Ulaanbaatar :). His grandparents even called a friend who spoke Russian and had the friend translate that there was a bus going to Ulaanbaatar at 7am the next day.
After the salty tea, we got back in the car and Buddy drove further down a dirt road, away from the town and main highway. We had no idea where we were going, but the drive was spectacular. There was a beautiful winding river, light brown mountains sprinkled with bits of snow, dozens of dried out trees with wilting branches, and a few white yurts here and there.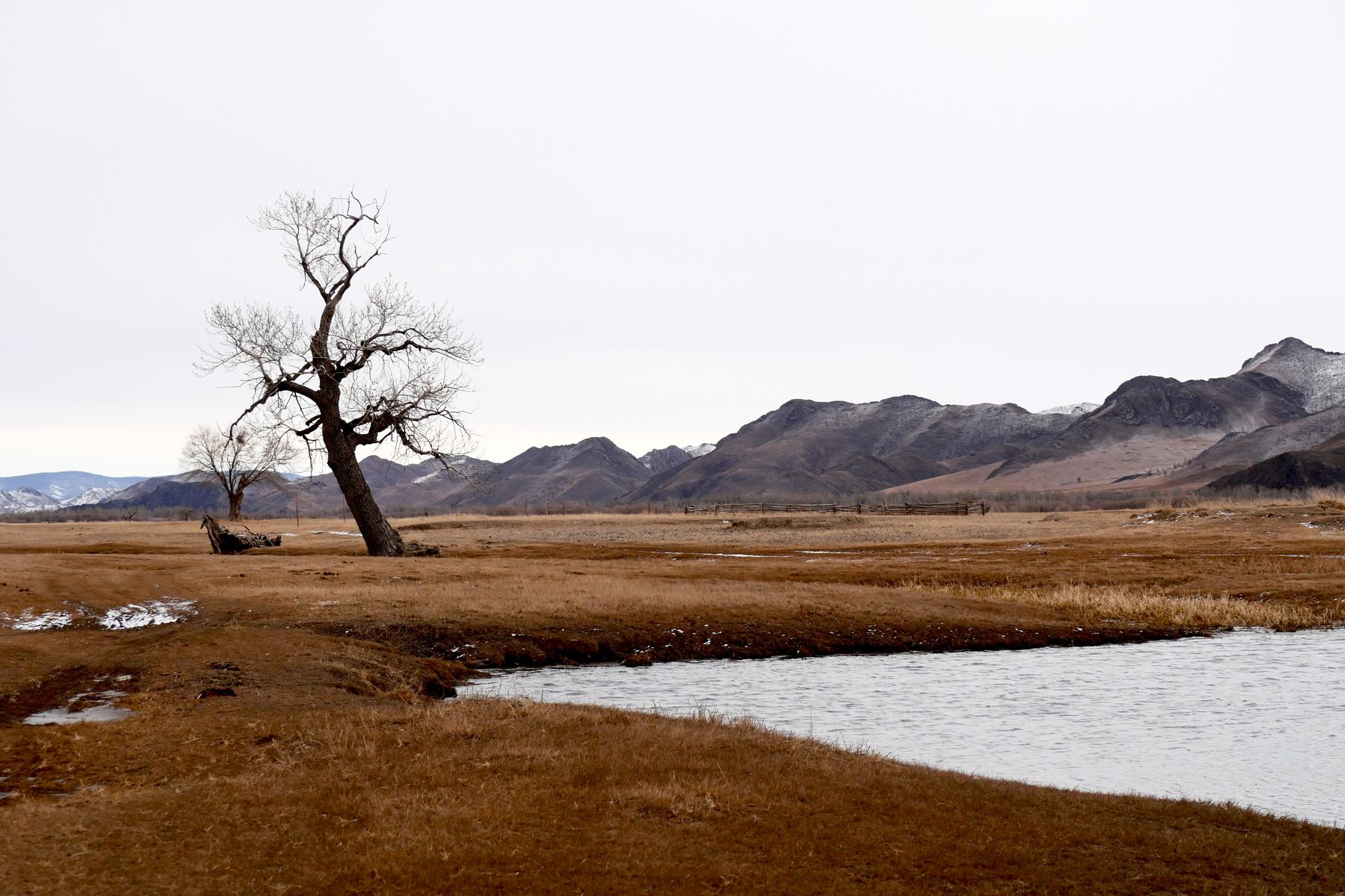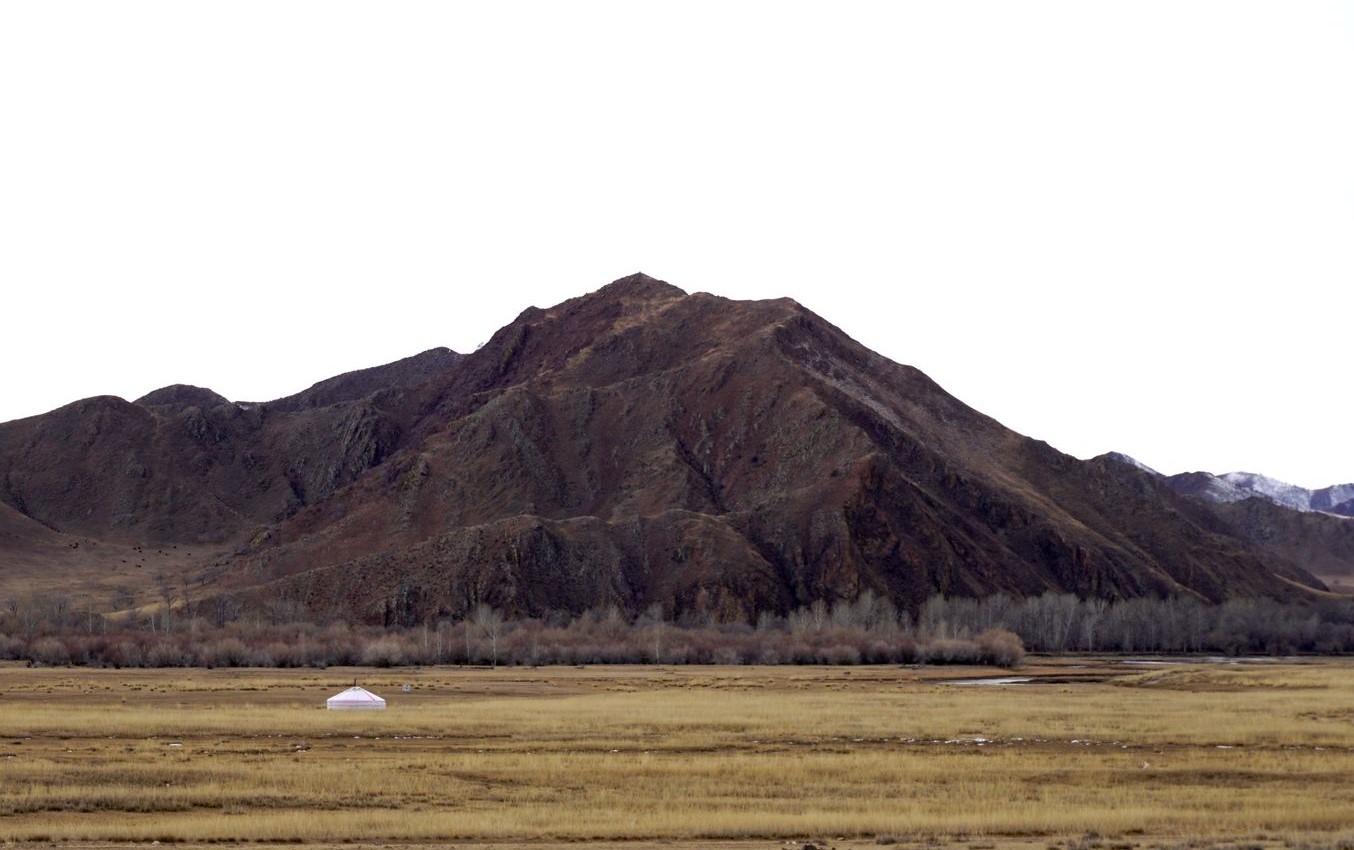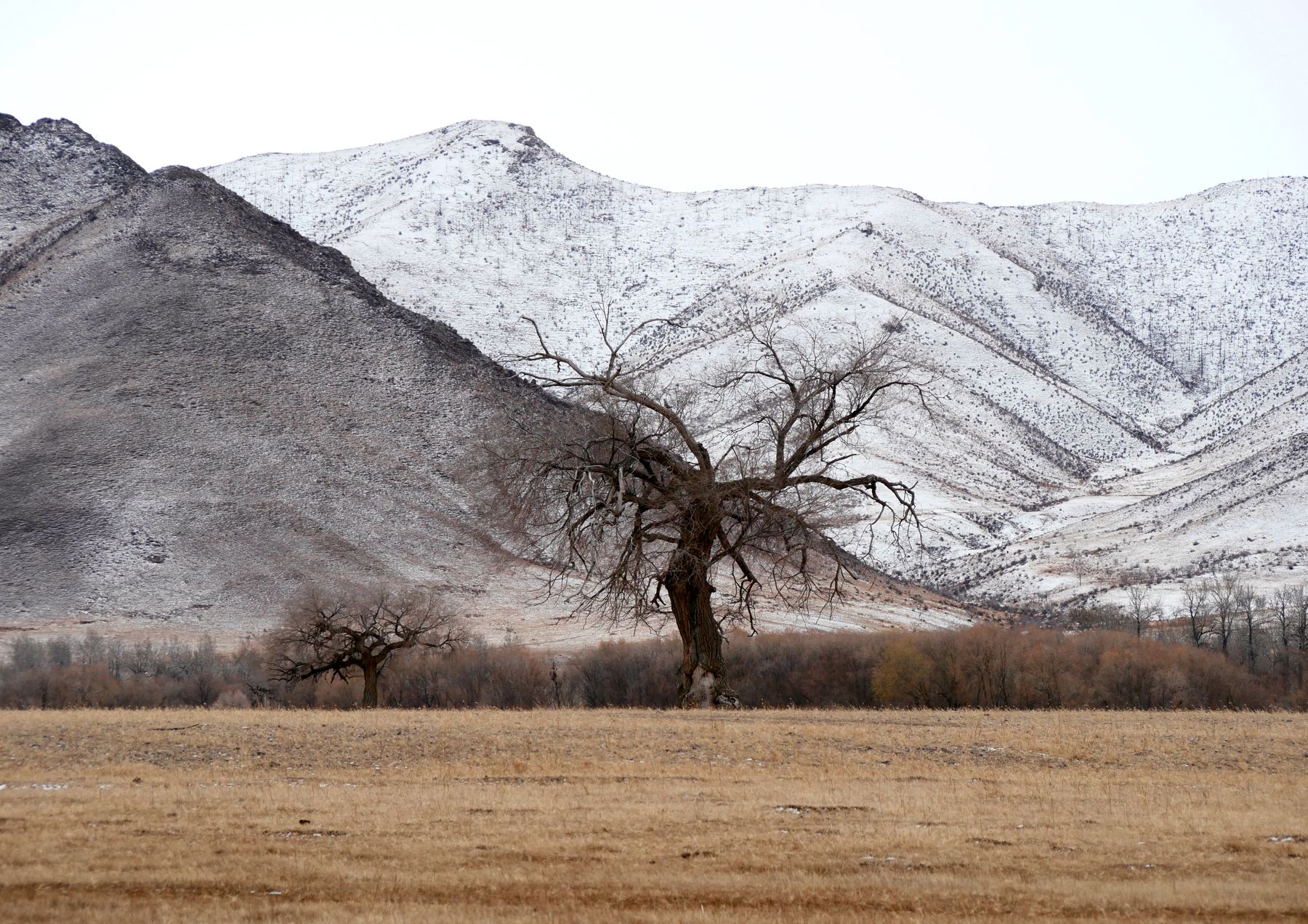 Our next destination turned out to be his mother's yurt, where we had yet another cup of salty milk tea and more white bread. I think he had fun showing everybody these foreign morons who were walking to Ulaanbaatar :). His mom spoke some Russian and told me about the bus again️.
The family yurt was really warm and cozy, and was placed in the most incredible location.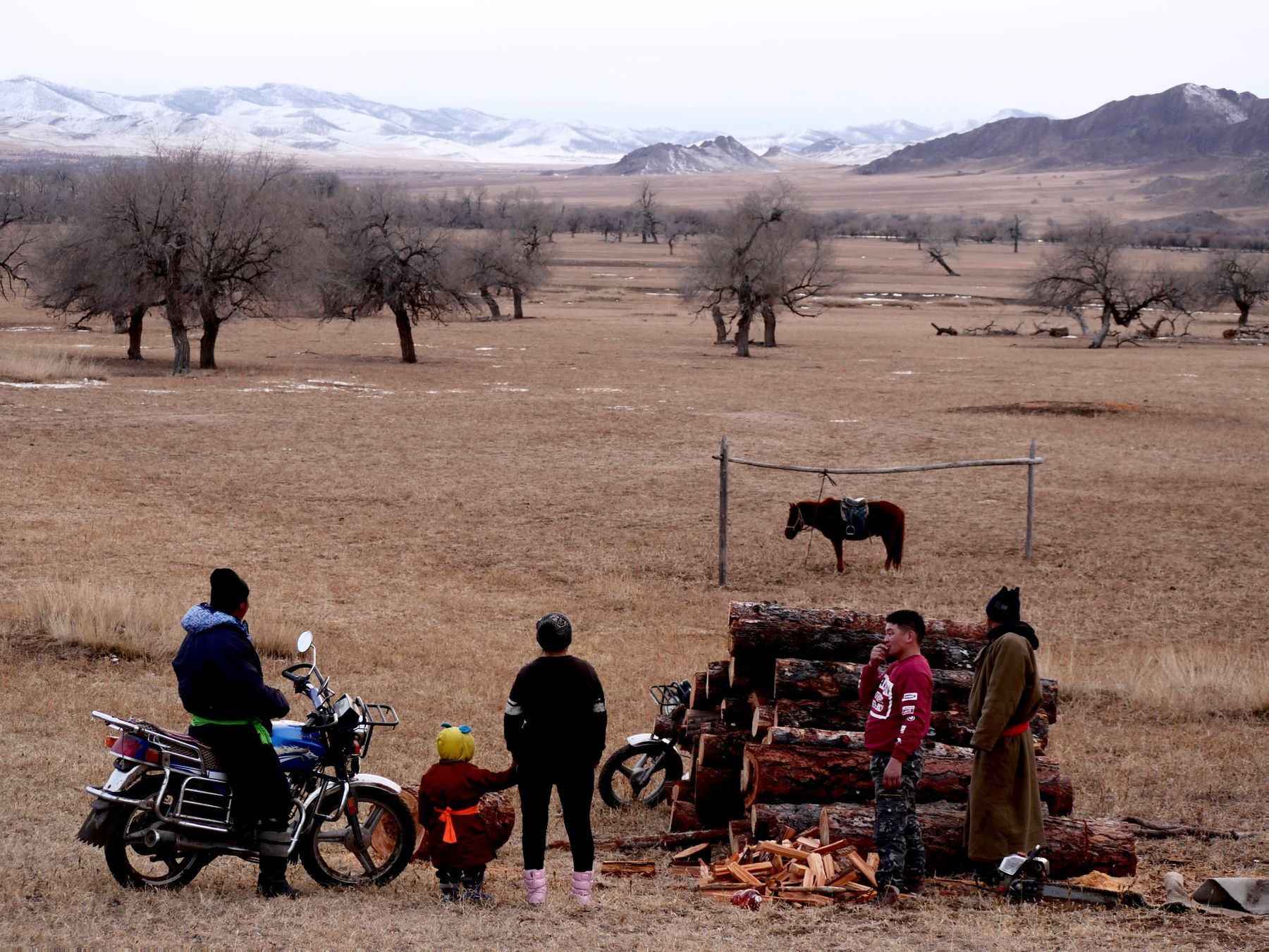 Check out the view from their toilet!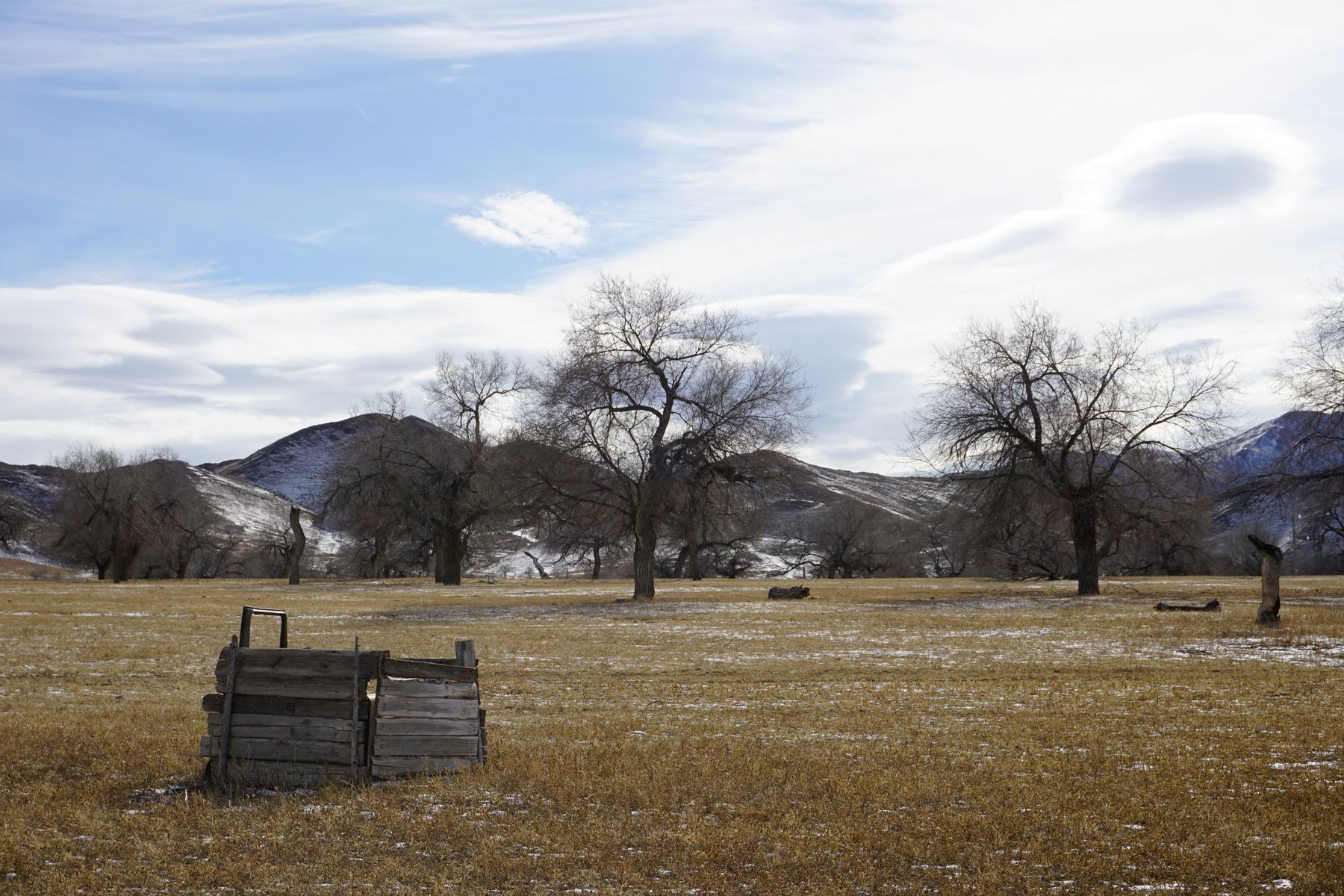 Yep, that is the toilet. Imagine pooping there when it's -45!
Buddy's sister, her two kids, husband, and a few other family members were all hanging out inside this yurt. Buddy's cousin was cutting the meat of a whole sheep and his sister was cooking meat on the fire.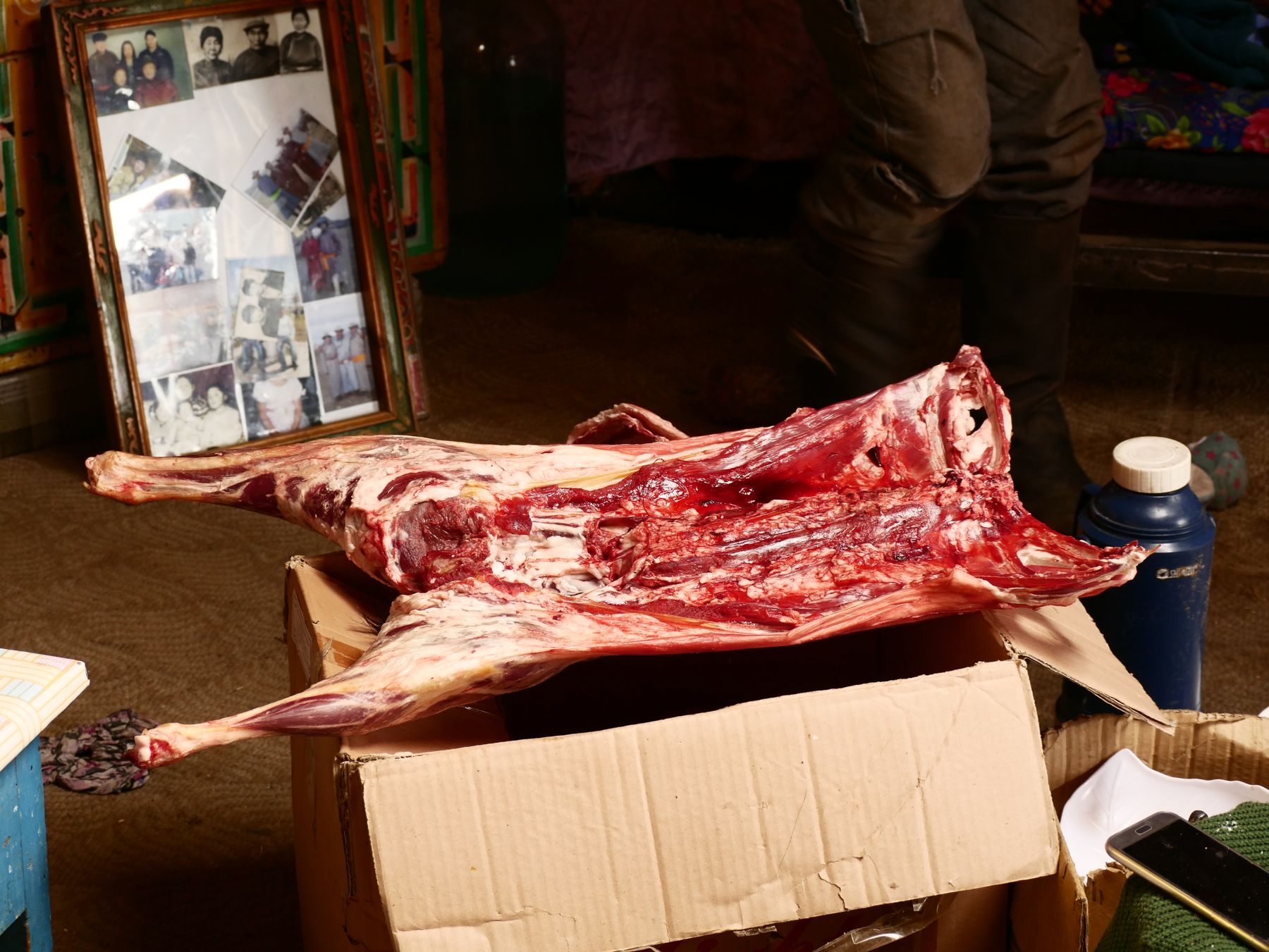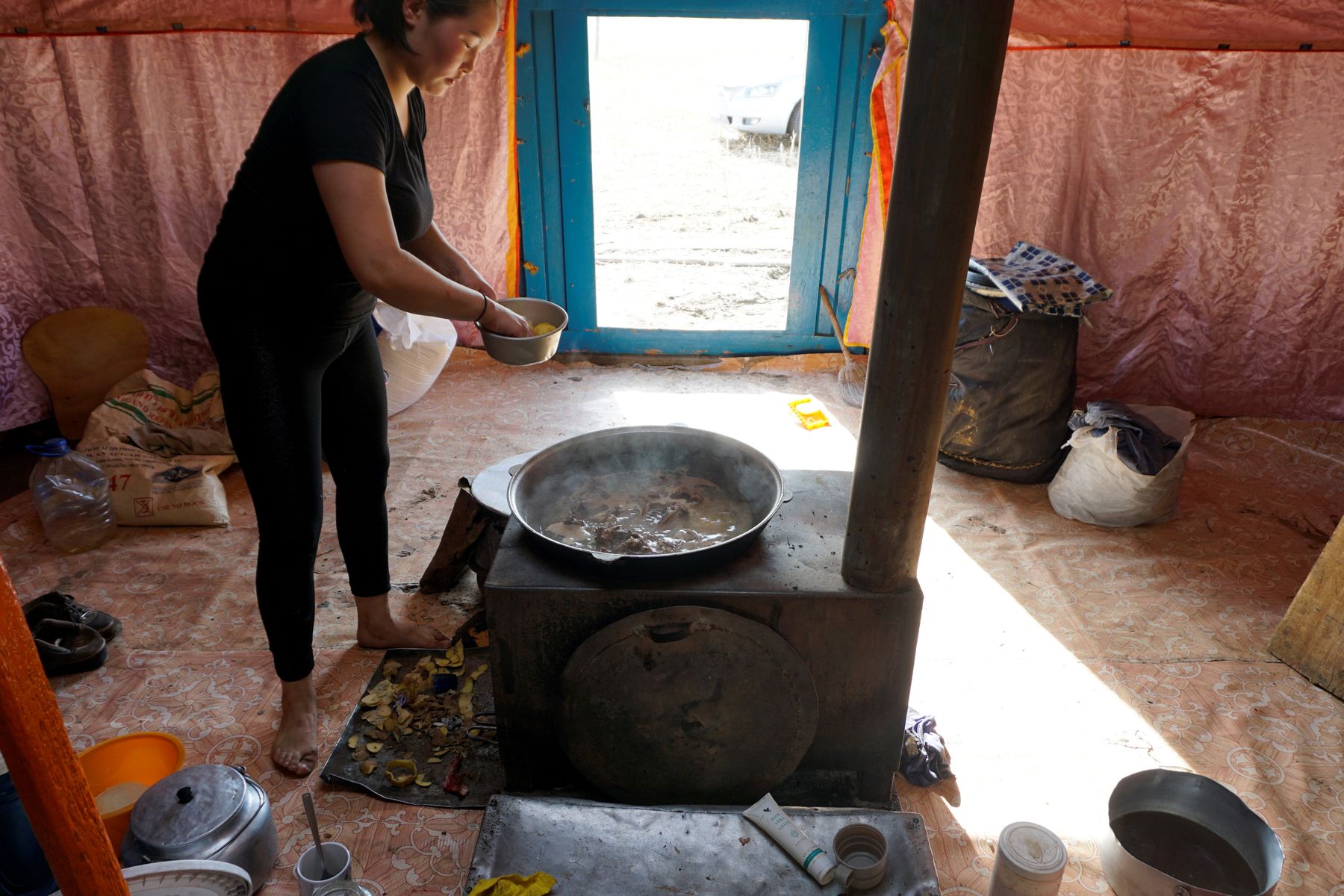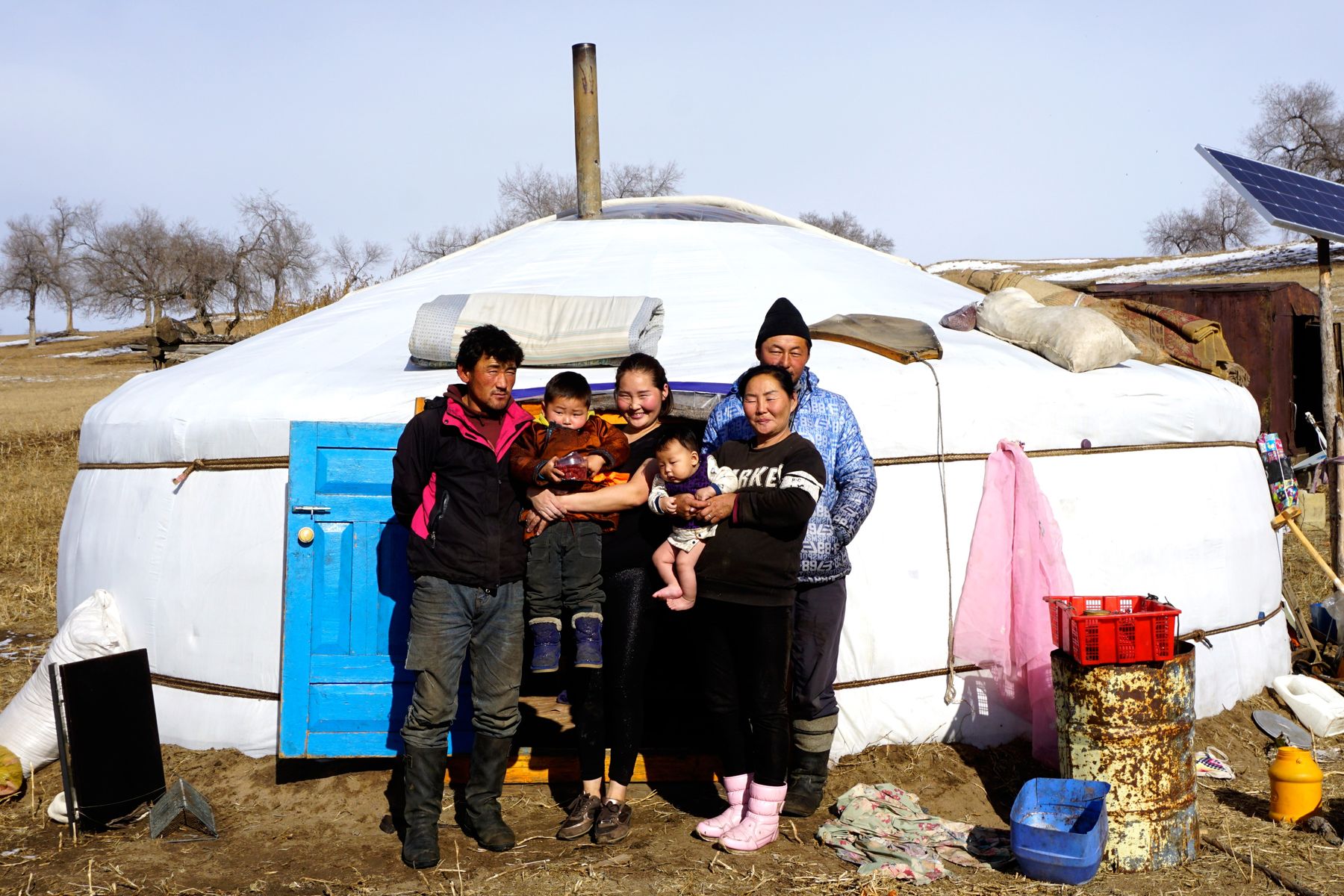 We were never exactly sure what was going on or where our buddy would take us next, but we got back in his car together with his cousin and drove down the dirt road again. He brought some kind of tool with him this time- a thin, shovel-like instrument with 2 rods. He stopped the car at a shack and walked out with this tool. Felix and I had no idea what that tool was, and the first thing that came to my head was, "he's gonna kill a sheep!" We went to the back of this shack, where I was expecting sheep, and then used this shovel to dig garlic out of the ground :). Actually, it wasn't garlic, I don't know what it was, it looked just like garlic but tasted sweet. And we didn't kill a sheep :).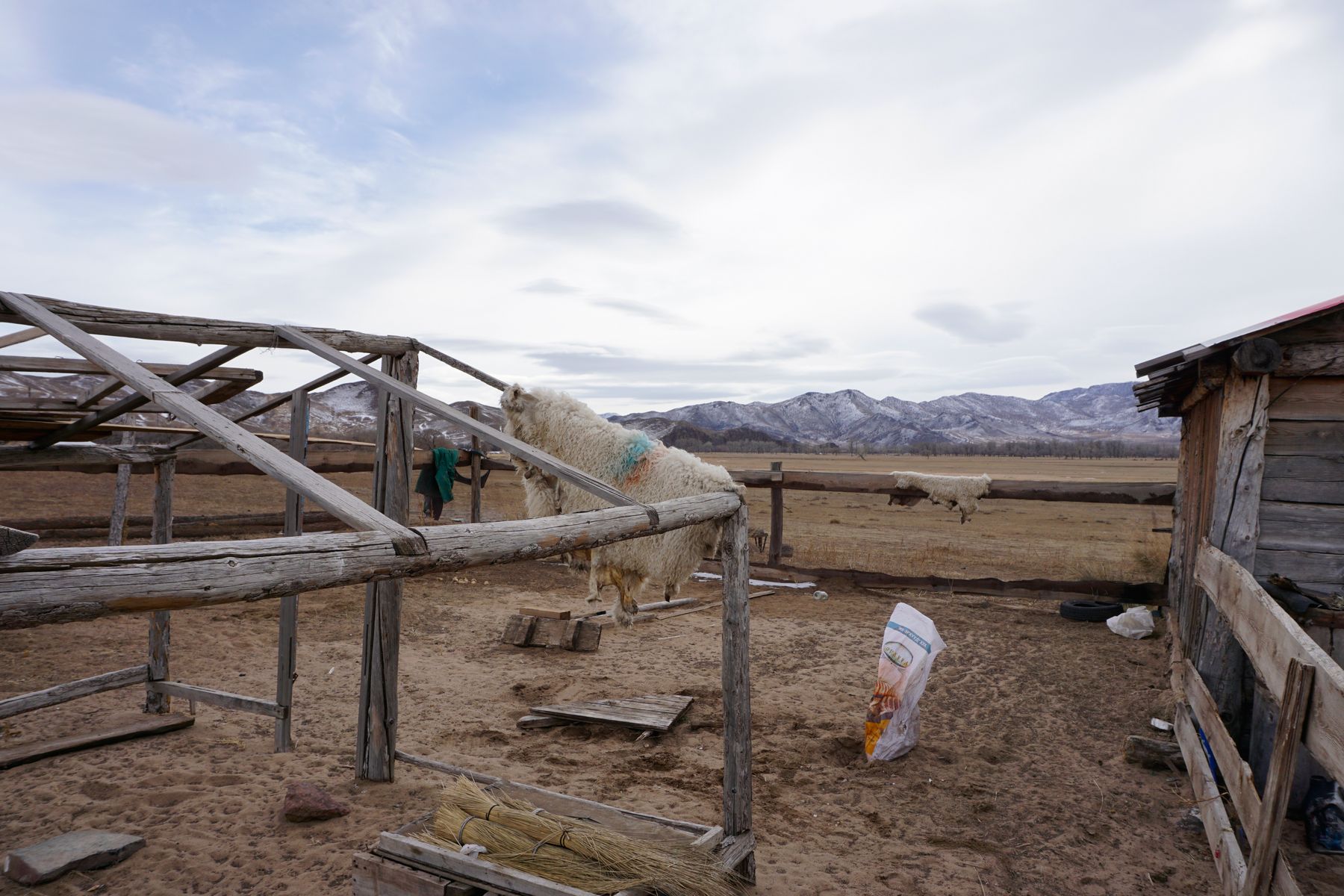 Next, Buddy caught his own horse and brought it back to the yurt. He saddled up the horse for Felix and me to ride on it. We didn't go very far, since neither one of us knew how to ride a horse, but we were pretty impressed by Buddy's horse riding skills!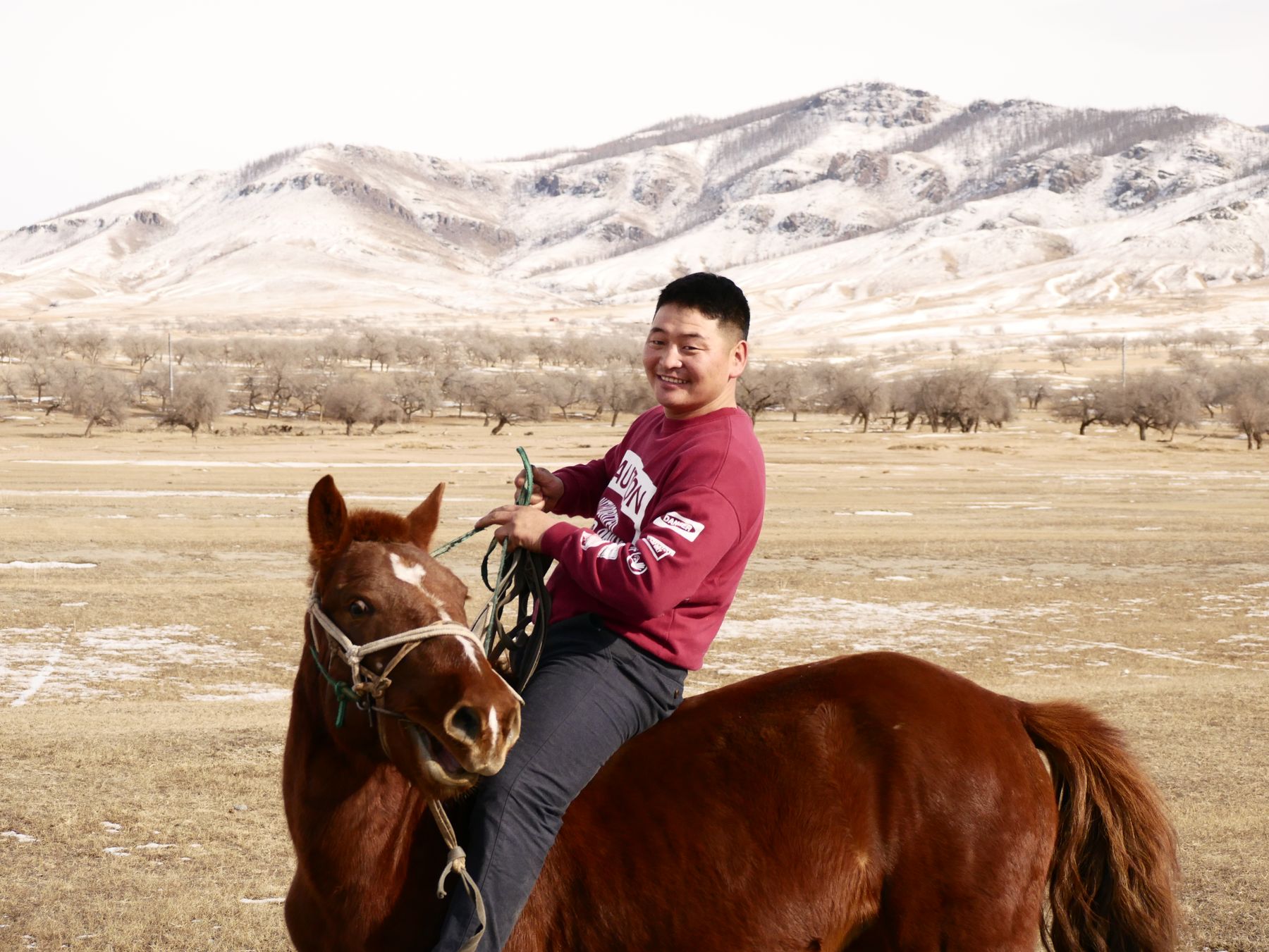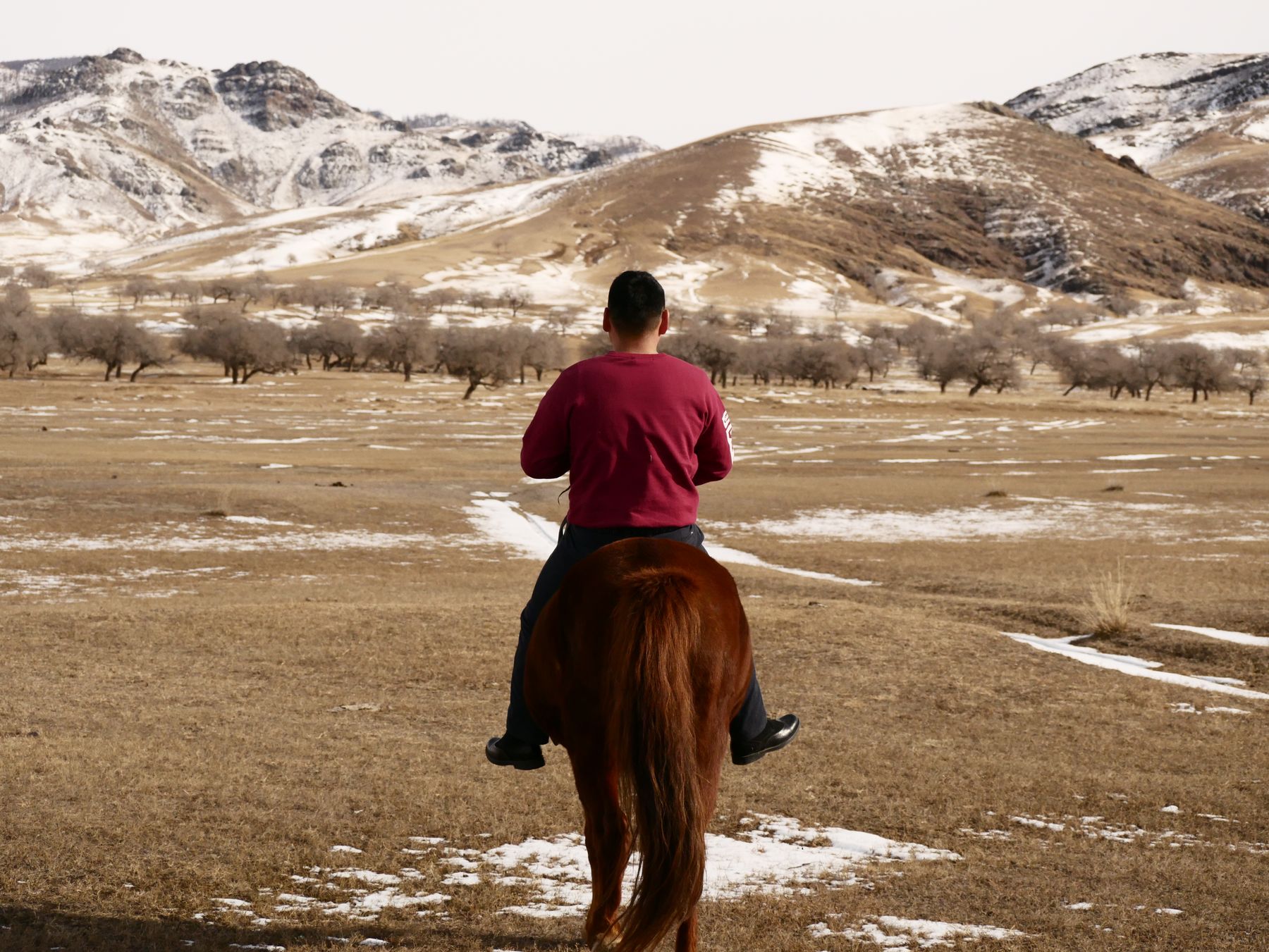 He seemed like a really happy and funny person in general, even though we couldn't understand anything he said.
After the horse riding, we went back in the yurt and his sister made us the best meal I had in all of Mongolia. It was mutton roasted on a fire (from their own sheep herd, of course), along with fresh tortilla shaped softly cooked dough, boiled potatoes, spicy sauce, and some kind of mystery thing that we hoped was pickled vegetables. We ate using just our hands and a knife.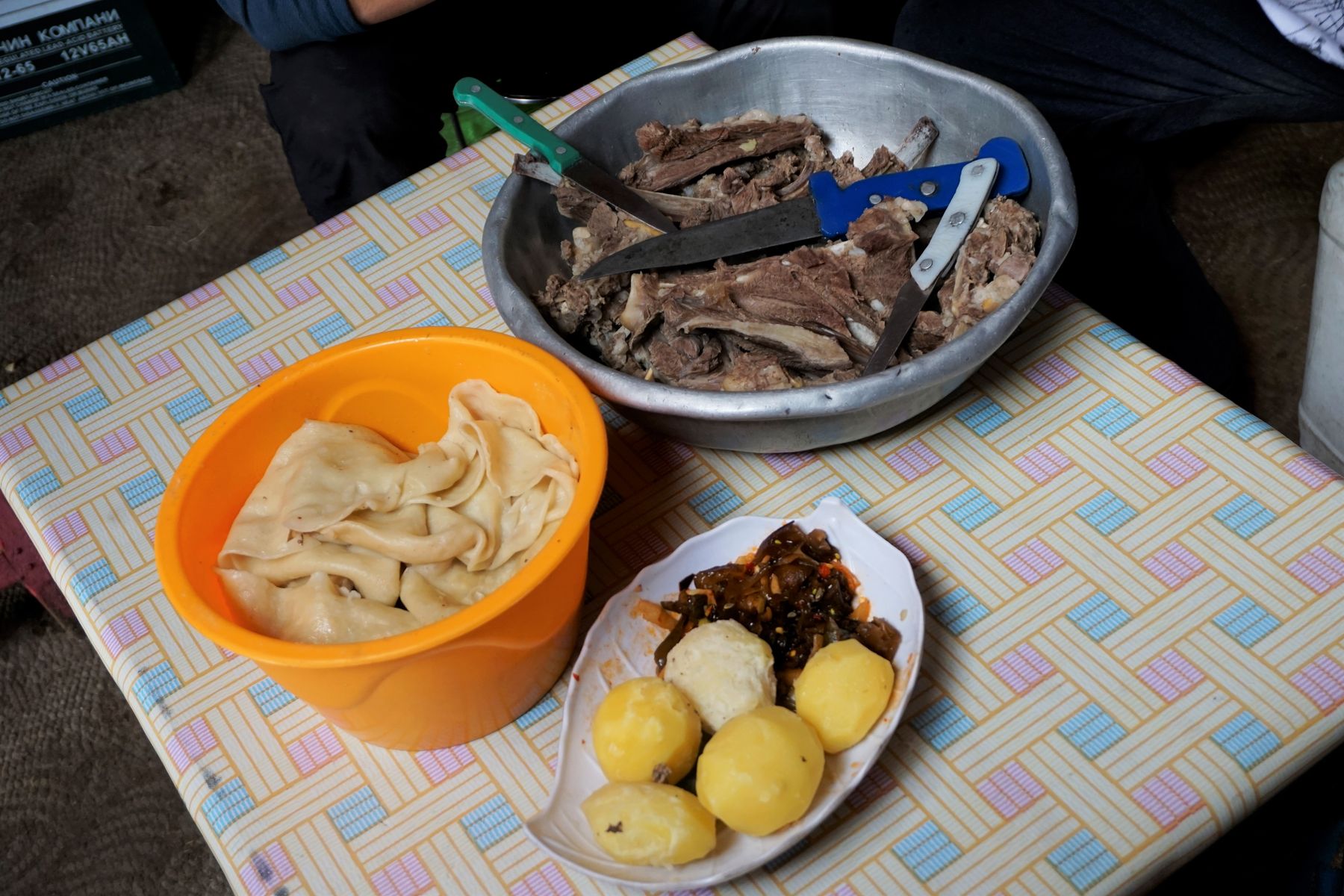 Next, we got back in the car with Buddy and cousin, and started driving eastward, down another long dirt road. We still had no idea where we were being taken but we were excited about the adventure. Luckily, we didn't have any plans for Mongolia, or any specific place to be at any specific time, so we could just go with the flow. And Buddy didn't seem to be very concerned about our time management either :).
We drove up a mountain and got stuck on the way, but managed to dig the car out with sticks after about 20 or 30 minutes.
The destination was quite impressive- we went up to the top of the mountain, where there was a huge black boulder. It was clearly a sacred place for the locals. There was a big ovoo (shrine) facing a fantastic view of the tan and white rolling hills and mountaintops.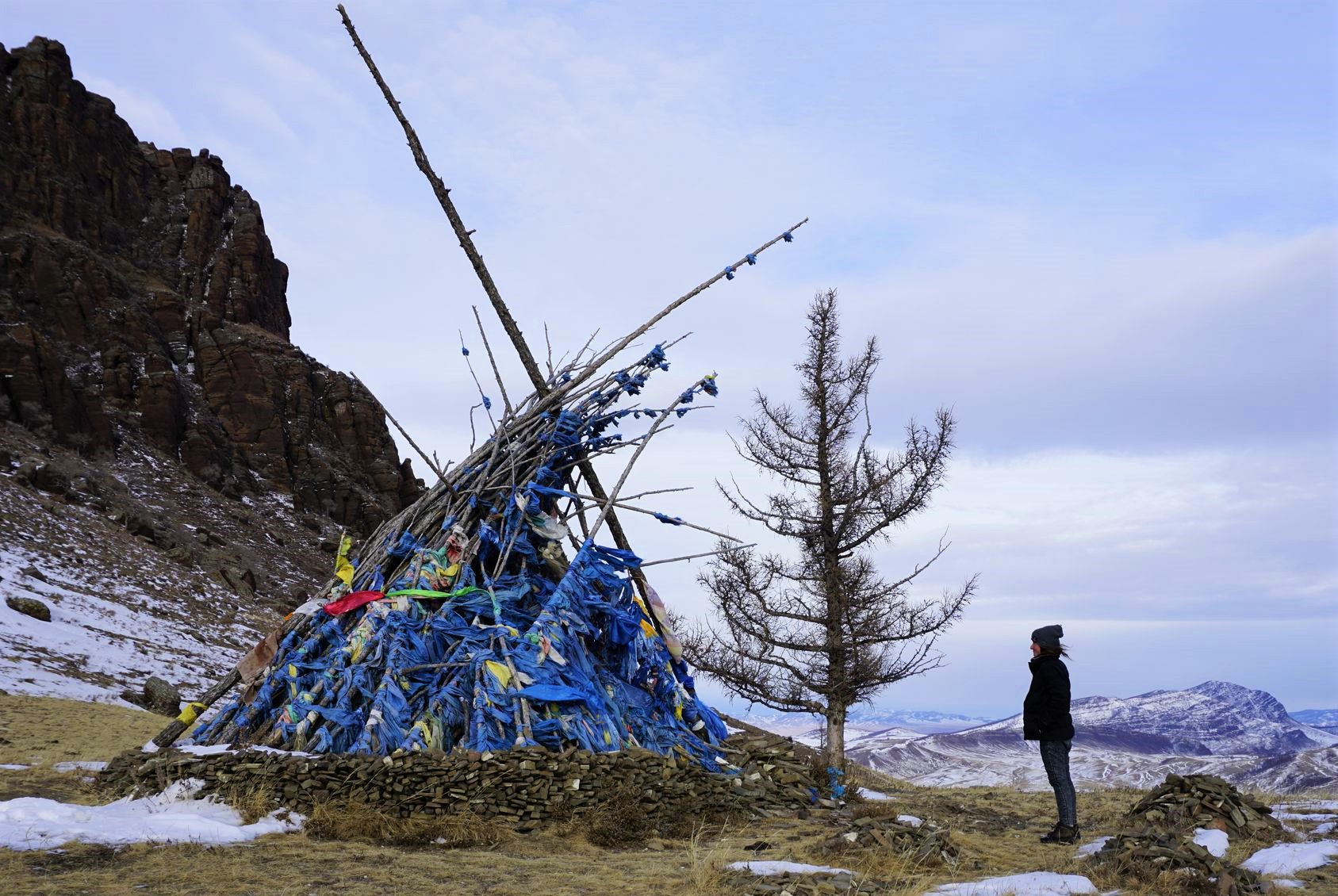 Not many tourists get to see this place, but surely if somebody advertised it enough, it could be turned into one of these "must see" sites of Mongolia. So I'm not telling you where it is! :P
Buddy did the expected ritual, walked around the shrine in circles, spraying fermented horse milk for the spirits of the mountain. Then we walked around the top of the mountain and admired the incredible views.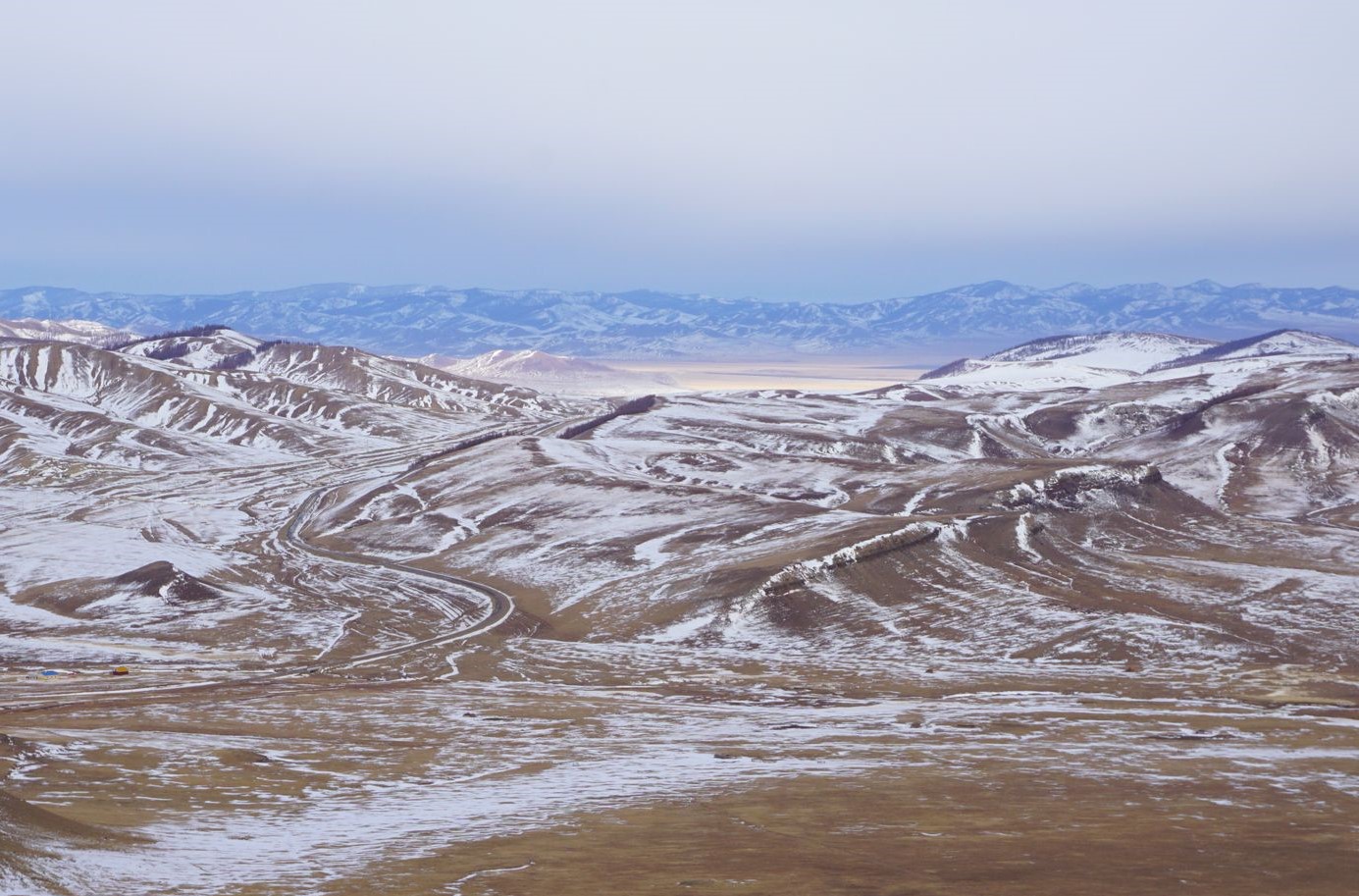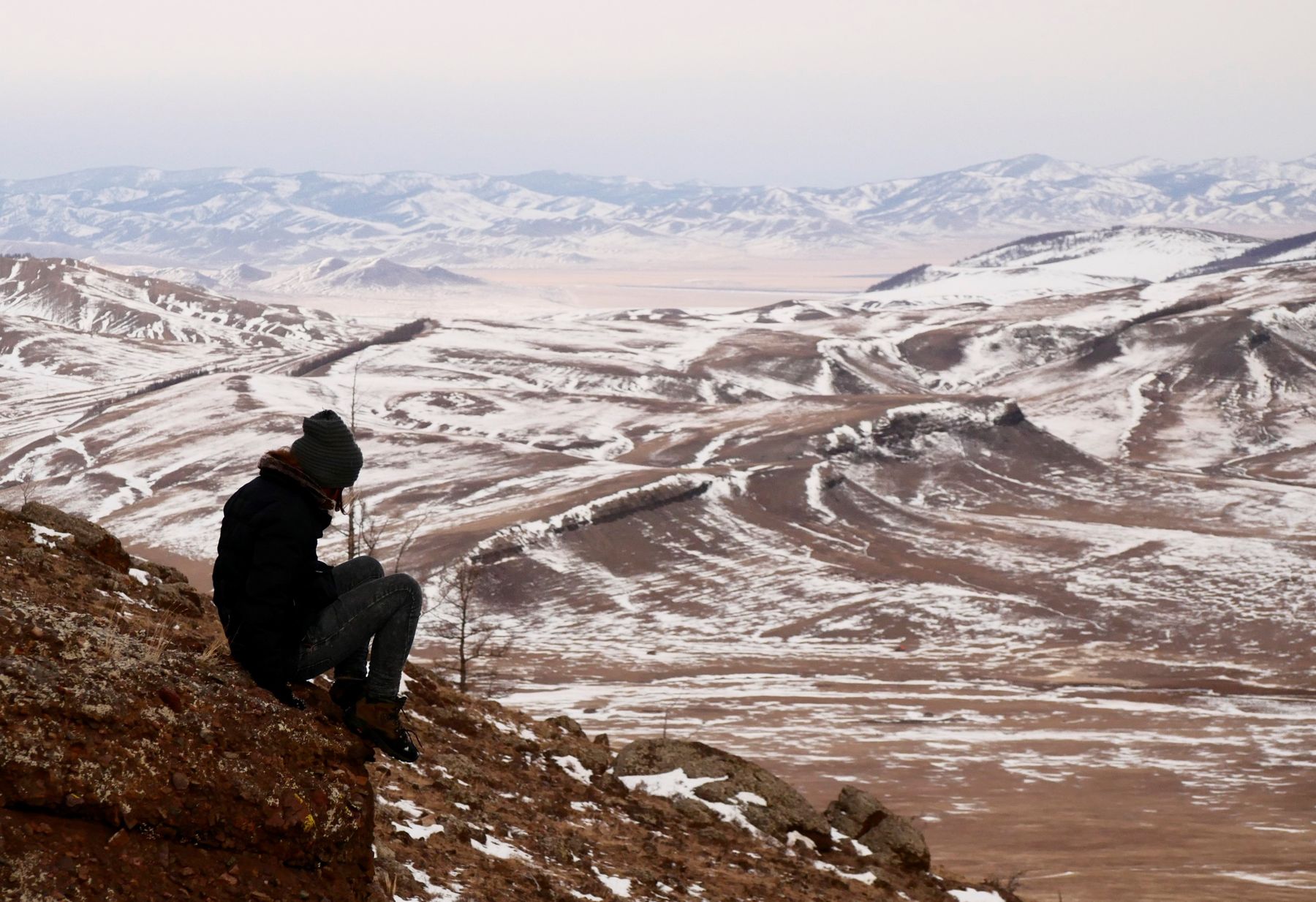 Buddy also brought dry horse poop with him, along with some kind of powder that he lit up in a cave. It turns out that horse poop burns very well! It smoked up the cave where Buddy sprayed the remainder of his fermented horse milk.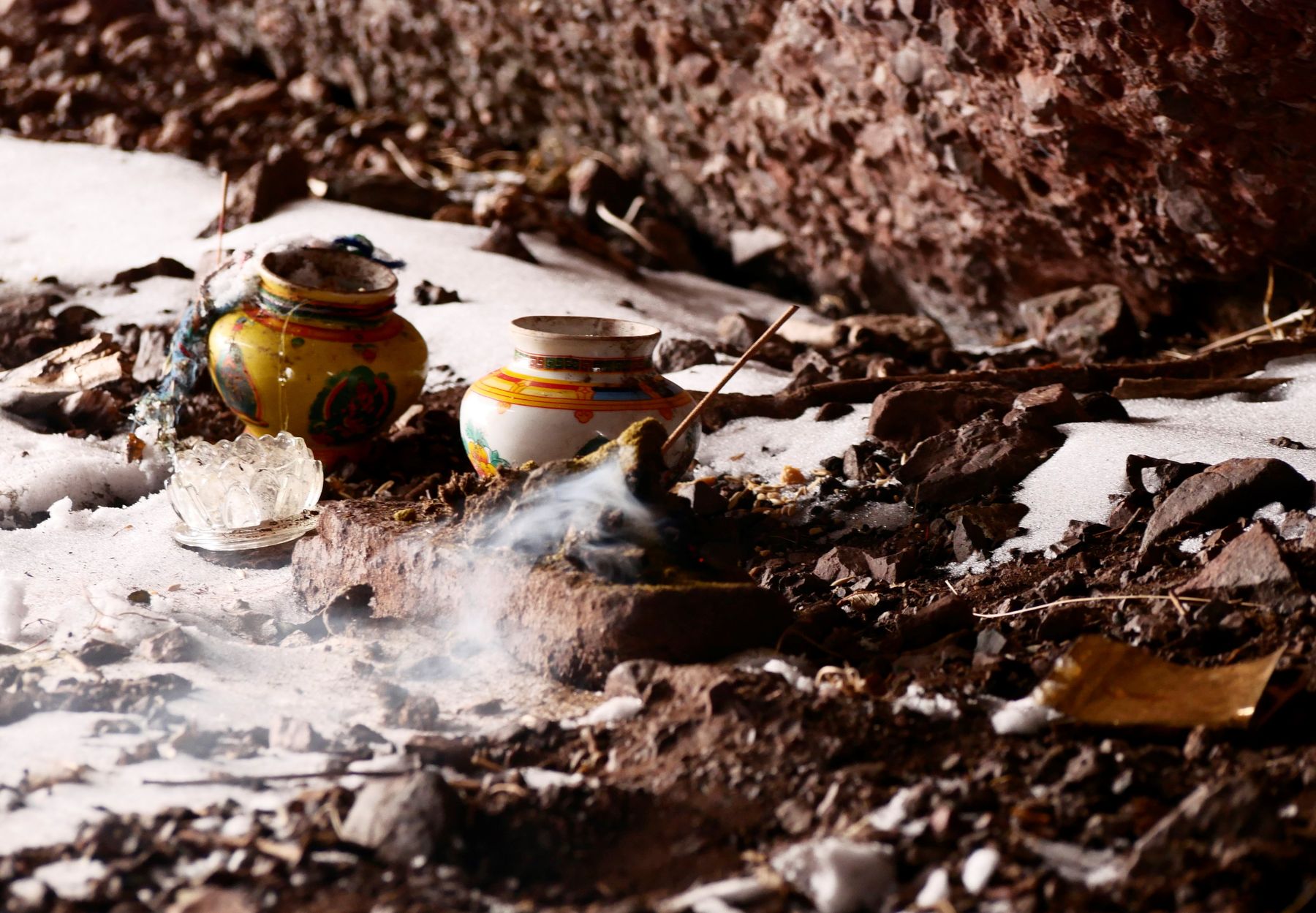 Buddy was so stoked about this stuff that he even brought a second bottle of horse milk for Felix and me to spray! :D
You see, when we were back in the yurt, his mother (who knows some Russian) asked me how old I was and whether I had children or not. I told her 29, and that I don't have children. And I suppose that all villagers (everywhere) think that you must want children! And fuck 29 is old! :D
So Buddy called another friend who knew Russian, passed the phone to me, and had this friend tell me that we were at a very sacred place where you should ask for babies!
I sprayed fermented horse milk on the rock and asked for an RBE and no babies.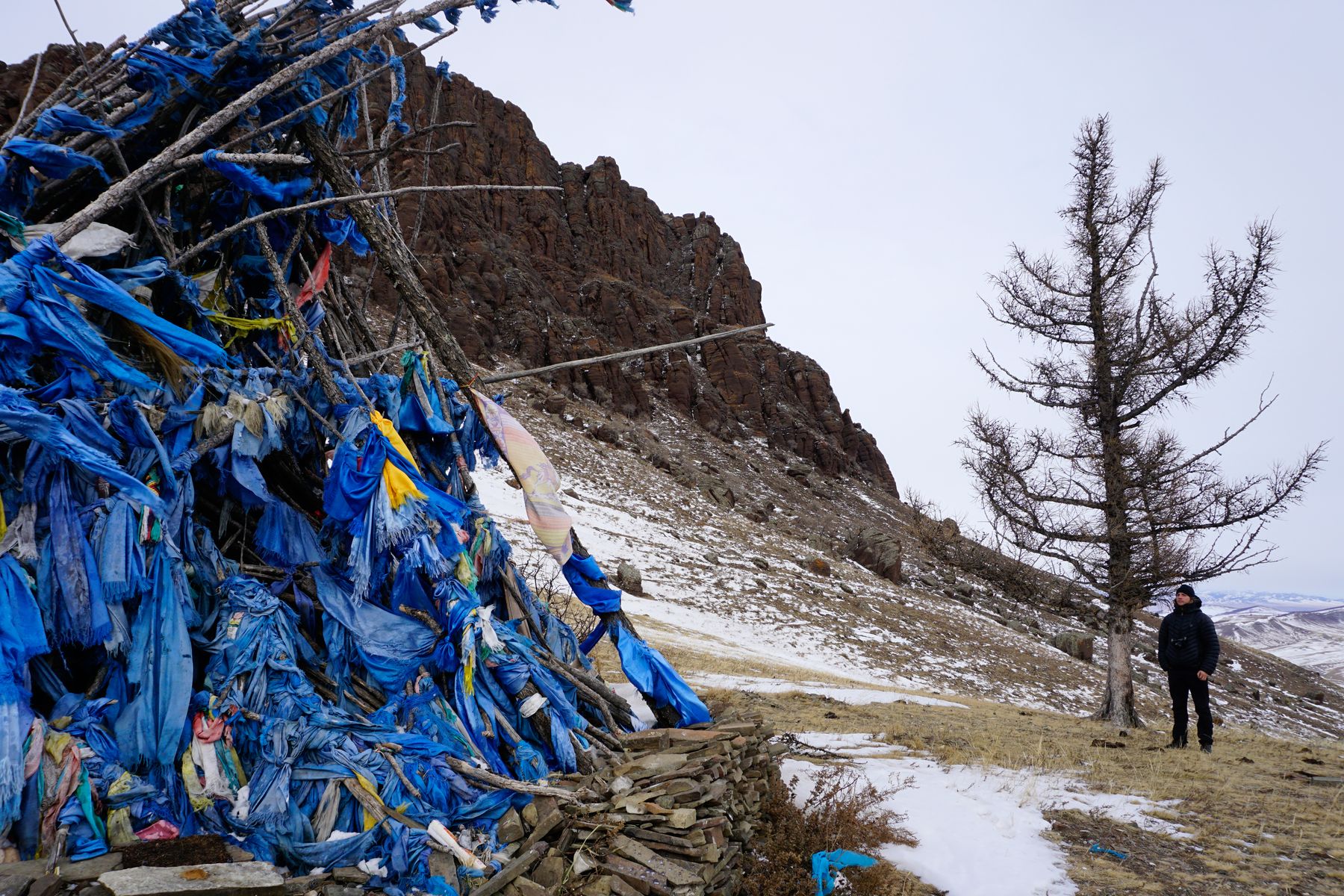 After the rock, we drove back to the family yurt, where more fire roasted sheep was waiting for us. This time it was served with the dough chopped up into noodles, and some broth on the side.
We figured out that Mongolian villagers basically eat the same thing every day, just chopped up in different ways. That seems quite harsh since that basically means eating little else but sheep, flour, milk, cheese curds, and a potato here and there.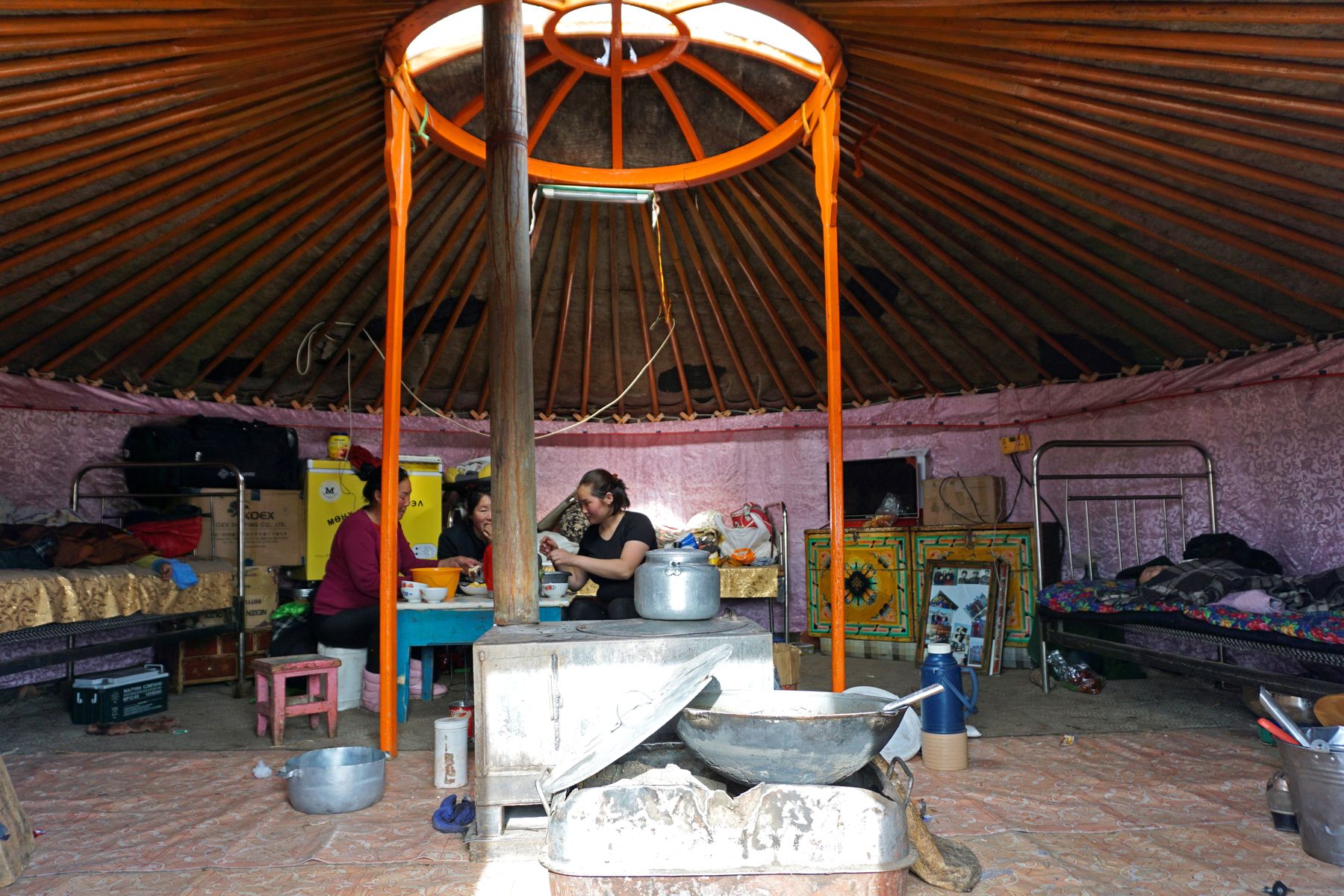 Even though Buddy doesn't speak a word of English, he became our ultimate tour guide. He took us around on his motorcycle and kept on showing us all kinds of things, from his tractor, to his dog, to his pile of wood. He even let Felix drive his motorcycle through the beautiful valley. And in the evening, his mom invited us to sleep in her yurt.
We felt very honored to have this experience. This is the kind of experience that you could never pay for. Because if you did, it would be fake. But this family was so real and so genuine. They welcomed us into their home and shared everything they had with us. They didn't do this because they wanted something in return, they did this simply out of kindness, understanding that we are all human, and in a sense, we are all family. This cultural attribute is common in many traditional cultures, but is quickly fading due to the influence of our trade-based global economy.
Of course, you can always pay for a tour where you can sleep in a yurt, eat fire-roasted mutton, ride a horse and a motorcycle, and see some nice landscape. But when you pay for such a tour, you miss out on the most important part of the experience, which is this genuine trade-free hospitality, based simply on kindness. That is something that no amount of money can ever buy.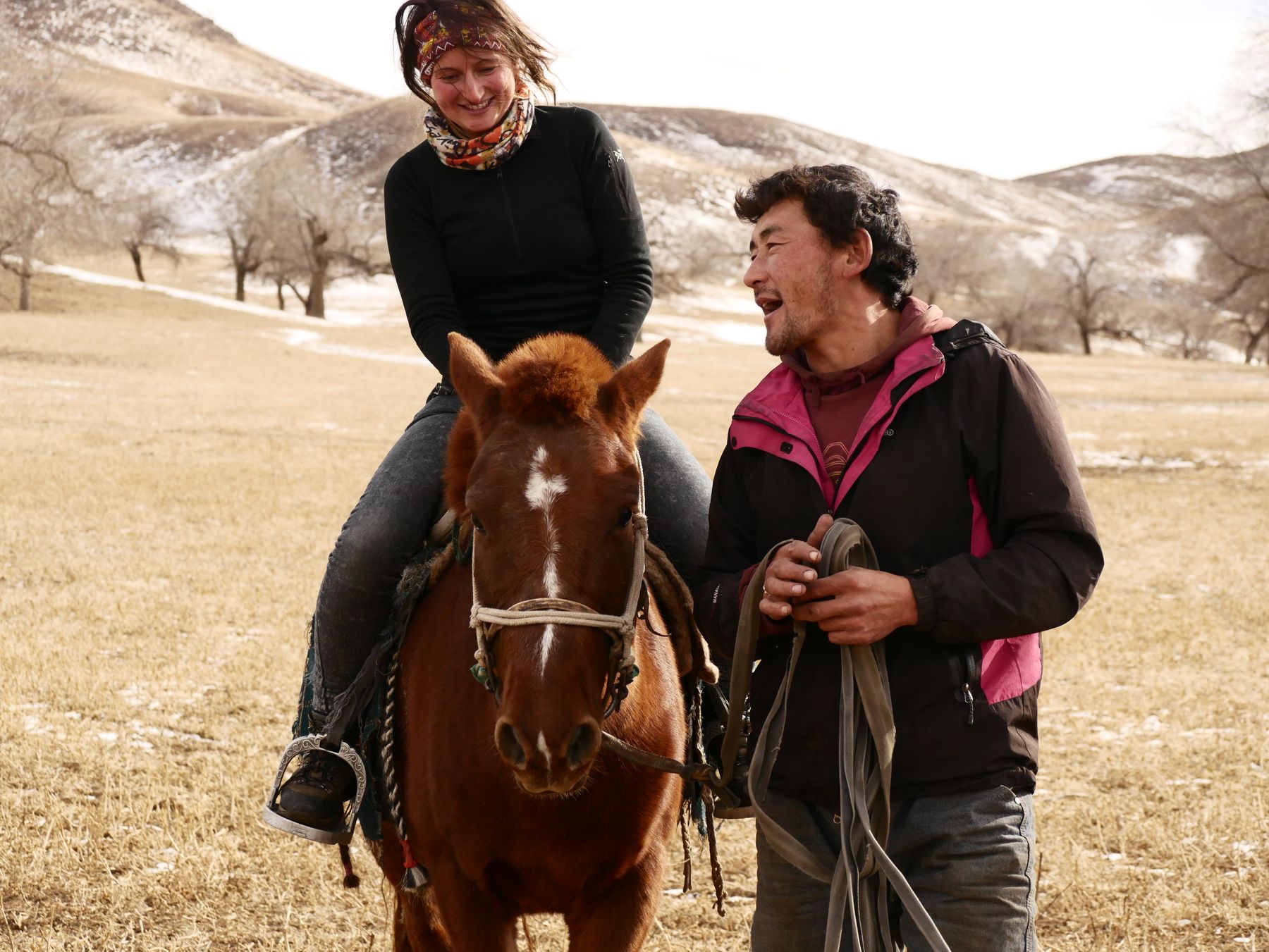 We slept by the fire in the yurt. It stayed warm all night and in the morning, there was hot salty tea waiting for us. I started to get used to the tea at that point :). We shared the only stuff we had, which was jam and chocolate spread, but the family seemed to like it. Mom also made us some amazing fried noodles with sheep and potatoes before we took off.
After breakfast, Buddy's uncle drove us back to the main road on his motorcycle. Another amazing drive.
We thanked him and started waking to Ulaanbaatar :).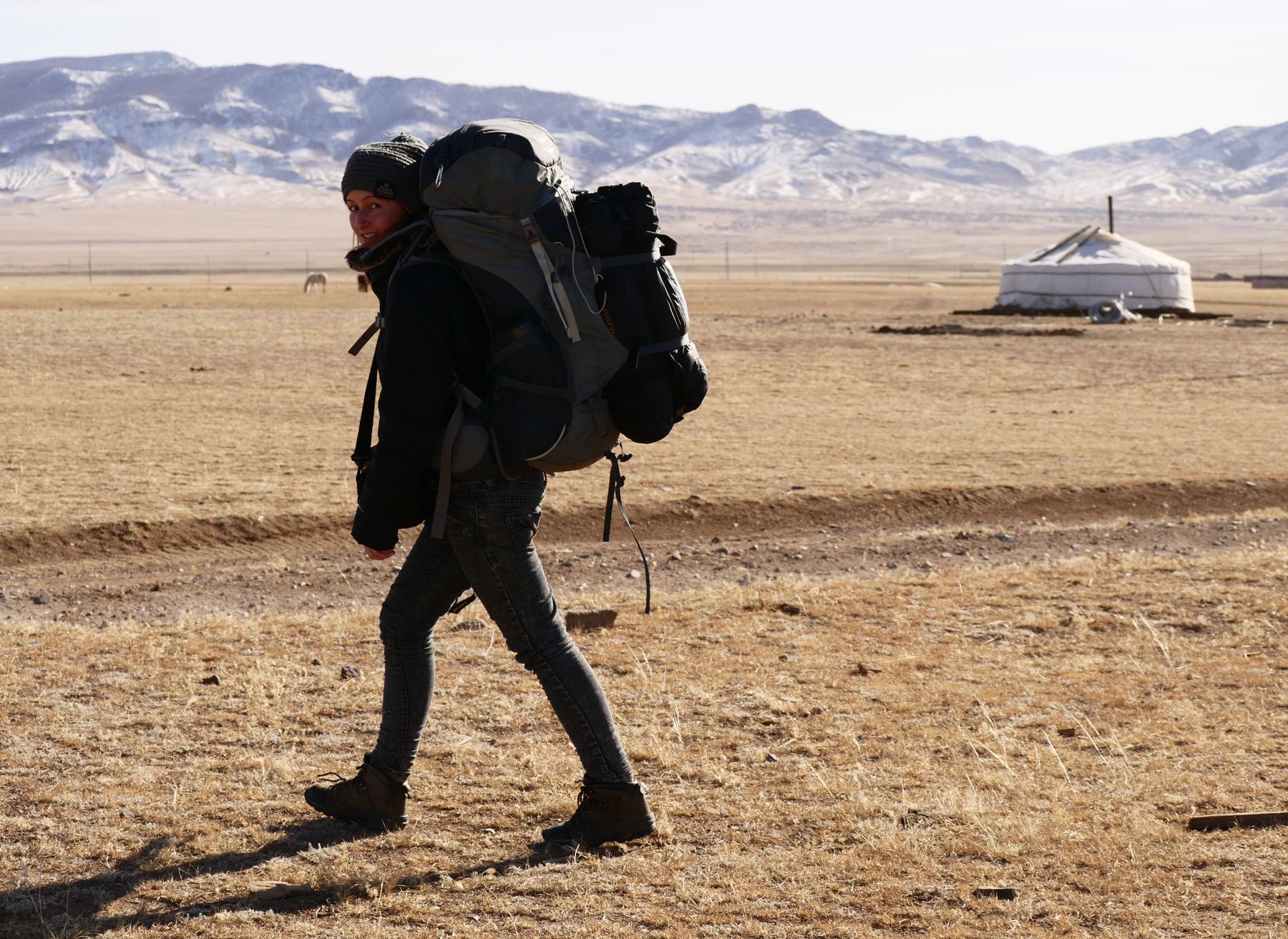 Танай гэр бүлд маш их баярлалаа!